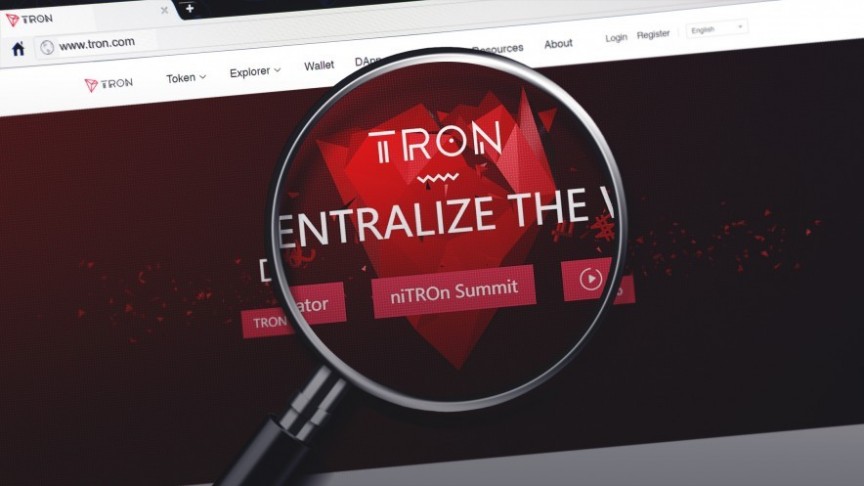 TRON This Year: How the Eleventh Largest Blockchain Is Attracting Attention
Jun 19, 2019, 12:06AM

by
Mike Dalton
In just two years, TRON has become one of the highest-ranking blockchain platforms in existence. What will TRON accomplish in 2019?
In 2017, TRON was created as an alternative to Ethereum, and since then, it has become one of the most successful blockchains. TRON's native token, TRX, is the eleventh largest cryptocurrency by market cap, and the platform boasts a rapidly growing collection of DApps. And, unlike some of its competitors, TRON has been putting business first: it has gone to great lengths to secure partnerships and seek out publicity. Now, many of TRON's efforts are coming to fruition—here's what to expect this year.
Meeting With Warren Buffett
Earlier this month, TRON CEO Justin Sun revealed that he had won the chance of a lifetime: the opportunity to attend a charity lunch with billionaire investor Warren Buffett. Sun, along with several other crypto leaders, will attend the event in order to try to convince Buffett of the value of blockchain technology. Sun will represent the interests of the crypto industry as a whole—but the event will also be a major opportunity for TRON to promote itself in its own right.
Sun is optimistic about the outcome of the meeting, even though Buffett is known to be a very harsh critic of cryptocurrency. Sun has suggested that Buffett sees some potential in blockchain tech, and he has noted that Buffett has admitted his past mistakes. Sun has also mentioned that Buffett relies on a team of younger executives who may be receptive to blockchain tech. In any case, the upcoming event is already attracting coverage from mainstream news outlets like CNBC, which is a good sign for TRON in terms of pure publicity.
New BitTorrent Products
TRON's acquisition of BitTorrent will also bear fruit this year. In January, TRON introduced BitTorrent Token (BTT), and over the next few months, TRON will launch the first applications on which the token can be spent. BitTorrent Speed will allow users to pay for faster downloads, while the BitTorrent File System will give DApp developers a place to store their data. TRON also has plans to release an Instagram-like social media app called BitTorrent Live, which will make use of BitTorrent Token as well.
Tether on TRON
TRON is also making an effort to put other cryptocurrencies on its blockchain. Recently, TRON began to offer a variant of Tether, the world's largest stablecoin. Bitcoin and Ethereum offer Tether tokens as well, but TRON's version of the stablecoin offers significant advantages: fast transaction speeds and near-zero transfer fees. Additionally, Tether is generally used by investors as a store of value, but TRON intends to break away from that: it will focus on making its Tether tokens compatible with DApps.
Swarm Security Tokens
In April, TRON partnered with Swarm in order to support security tokens. These are a special type of cryptocurrency that can only be handled by accredited investors, and they are extremely promising because they fully comply with KYC regulations. As with TRON's other tokens, its security tokens will offer fast transfers and low fees. Investors will also be able to buy TRON-based security tokens with Tether.
The Sun Network
Last but not least, TRON will launch a second-layer scaling solution called the Sun Network later this year. Much like Bitcoin's Lightning Network, the Sun Network will allow TRON to handle high transaction volumes quickly and inexpensively. The Sun Network's testnet went live on May 30th, and the mainnet is set to go live in August. At that point, the network will be fully ready for general use. An optimization process is also planned for September.
Will TRON Deliver?
All of the initiatives listed above could help TRON gain even greater recognition. Despite its success, TRON has been overshadowed by more established blockchain platforms, and, as a result, it has relied heavily on slow-burning hype. There is, however, a downside to the hype: the fact that TRON has made many promises that it has not yet delivered on has attracted plenty of blowback. So if TRON makes real breakthroughs this year, it could win over undecided investors and users.
Assuming that TRON does deliver on its promises, there is plenty to look forward to. In just two years, TRON has already gained a lot of ground, and it still has plenty of time to fulfill all of its promises. By the end of the year, TRON will have many new features that are essential for blockchains, as well as some exciting new applications. The upcoming meeting with Warren Buffett could also help TRON earn mainstream recognition, and 2019 could quickly become TRON's biggest year yet.
Disclaimer: information contained herein is provided without considering your personal circumstances, therefore should not be construed as financial advice, investment recommendation or an offer of, or solicitation for, any transactions in cryptocurrencies.