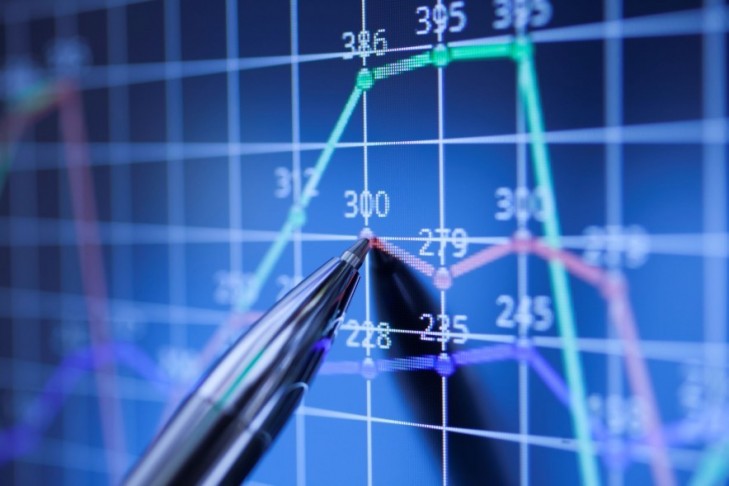 LINK Blasts 33% Higher, XRP and TRX Post Gains, CENNZ Rockets 300%, Oct. 7
Oct 7, 2019, 2:15PM

by
Kevin George
Chainlink bucks a flat market to post a 33% gain on the week. TRX advances on Binance coin freeze and XRP moves higher but competition grows.
LINK
Bitcoin was flat on the week but there were still some decent gainers to be found amongst the top 20 coins. I wrote about LINK in a September 23rd article that:
The move last week has broken a losing streak for the coin in the second half of the year and if the coin can create a base here then a possible retest of the highs is possible.
LINK did create that base and has advanced another 33% over the last week. Price is now $2.25 and the market saw strong volume to power this move, which is a good sign for further advances. Minor resistance will be at $2.5 but the key level will be the all-time highs at $3.75.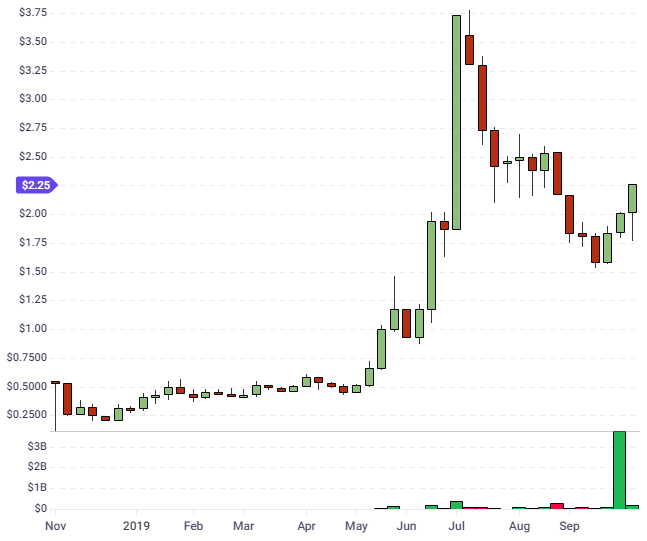 XRP
The price of XRP is also up 8% on the week and is trading near $0.28. The bounce in XRP comes from a familiar level and is support from late-2018. The inability to get through the support level over multiple weeks is a good sign that further gains are ahead.
Although XRP has seen a positive week I have been wary of the hype in the community that surrounds the coin, largely due to the competition that is emerging in the payments space. Another example of this was found in comments by U.S. banking giant Wells Fargo, who stated that their own stablecoin is faster and cheaper than the SWIFT payments network. Wells Fargo Digital Cash utilizes R3's Corda Enterprise software for internal book transfers, when funds move between accounts at the same bank. Using the new stablecoin would allow Wells to move funds 20 hours a day, up from only six to nine hours, five days a week when it relies on systems like SWIFT.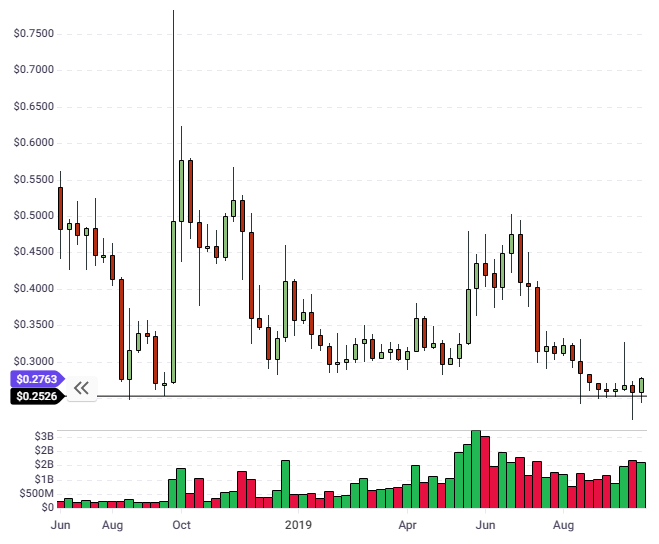 As noted in a previous article, resistance for XRP is at $0.300 and $0.500 and these are the initial targets.
TRX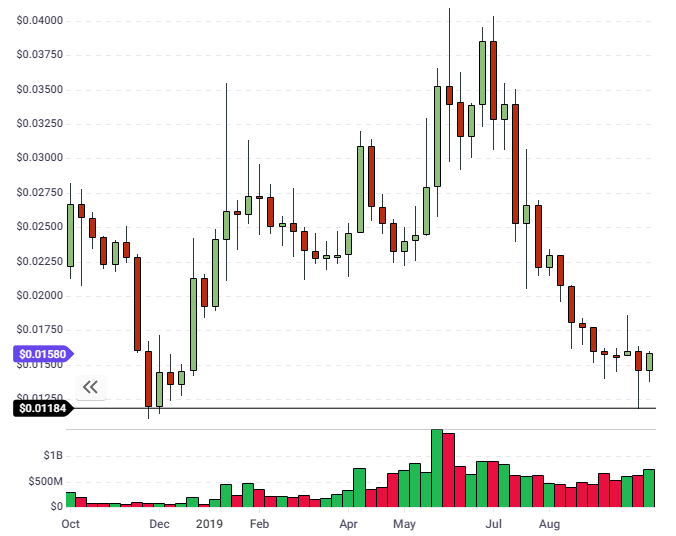 TRX has been a solid gainer with a 13% move higher for the week, which sees the coin trading at $0.016. The move higher in TRX builds on the rally late last week from the December support level and this gives some hope that a low is in for TRX. Resistance starts around the $0.0225 level in the weeks ahead.
A recent development in the coin was news that Binance had effectively frozen 12 billion coins, taking a sixth of the coin's supply out of the circulation. The move by Binance has seen them take the "Super Representative" voting spot in the Tron ecosystem.
CENNZ
A big gainer in the altcoins this week was Centrality (CENNZ) with a 300% gain, which saw the coin rocket into number 67 in the list of coins by market cap. Centrality is an open-source developer platform from Auckland, New Zealand that leverages artificial intelligence, the internet of things, and blockchain into a decentralized application (dApp) suite.
The project was launched on 15 January 2018, where Centrality became one of the top 10 ICOs of all time by selling out of CENNZ tokens within 6 minutes. Strong demand saw 8000 KYC and AML registered buyers and more $265,000,000 USD pledged to the smart contract ahead of the sale.
CENNZ is also looking to target the data market with the company website stating:
Right now, your data is owned by 4 big internet companies and they use it to make huge profits – they also use their power to shut down competition. We believe the Centrality marketplace will put people back in control of their data and allow smaller companies to succeed by working together, this allows for a fairer world for everyone.
Centrality debuted at $0.54 and sold off with the broader market but the spike last week sees the coin trading at $0.08, giving hope that a bottom may have been found. CENNZ has 810 million tokens in circulation.
In other market news, PayPal has withdrawn from Facebook's Libra token project. The move comes after a regulatory backlash from the U.S. and Europe, with even China stating their fears over the Libra coin's effects on the financial system.
Despite the news, a spokesperson for Libra noted,
We look forward to the first Libra Council meeting in 10 days and will be sharing updates following that, including details of the 1,500 entities that have indicated enthusiastic interest to participate.
PayPal may understand that they could push through their own blockchain technology to enhance their current payment systems and it would likely face little regulatory scrutiny.
BTC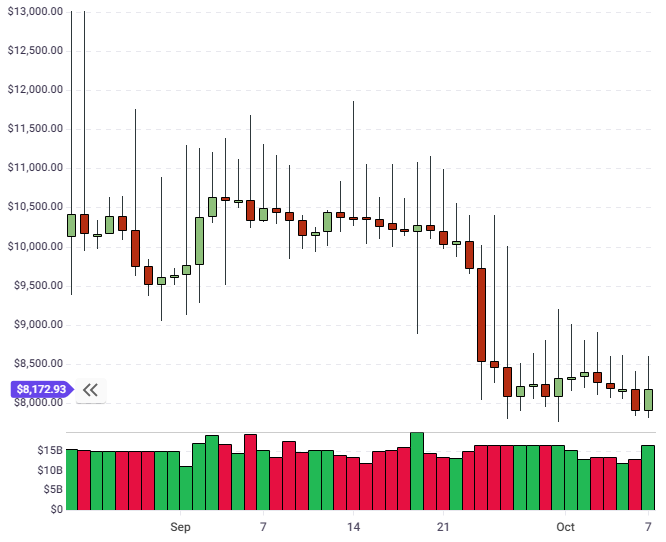 In Bitcoin trading, it was noted that the largest cryptocurrency had elected a rare bullish indicator last week. Market technician Tom DeMark has a sequential indicator that counts daily trading bars. His "TD9" indicator creates a buy alert when any market posts nine consecutive closes that are lower than the close four bars previous. The last time this was seen was at the lows near $3,600 last year, which suggests the potential that Bitcoin may be about to move higher. BTC is up $216 on the day and this could be the possible base for a move above. A move higher in BTC could be driven by events in the financial system which I have noted in previous articles.
Disclaimer: information contained herein is provided without considering your personal circumstances, therefore should not be construed as financial advice, investment recommendation or an offer of, or solicitation for, any transactions in cryptocurrencies.