Editor

In her quest to understand how the world works she studied international politics and political theory. With maturity she came to realize the innate relationship between politics and economics and moved into a new field of study. Naomi is eternally optimistic about the role of Blockchain and cryptocurrencies in the future and proud to be part of the revolution.
READ FULL BIO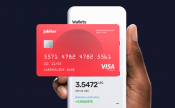 The Jubiter Card: A New Prepaid Crypto Debit Card Arrives
Jubiter has introduced a new prepaid card that allows you to effortlessly spend your Bitcoin holdings everywhere you shop. Find out more below.
Industry
May 01, 2019 - 1 min, 53 sec read
All the post are loaded