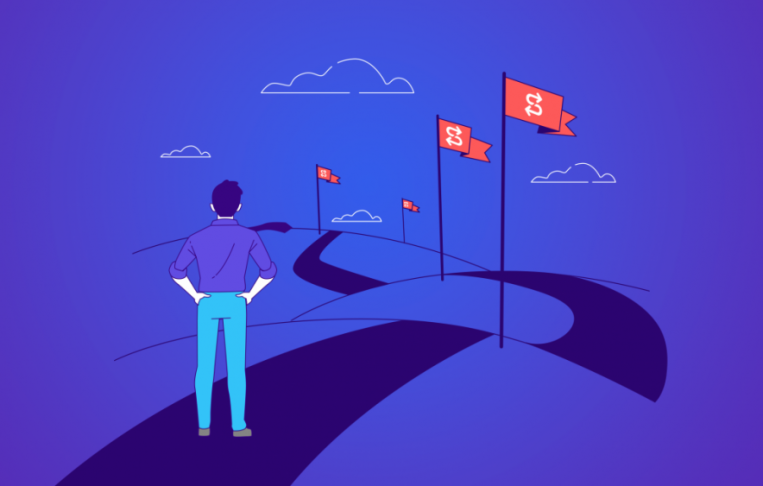 Review of Swapin: A Crypto-To-Fiat Processing Service
Jul 5, 2022, 6:08PM
Brought to you by Swapin.com
Swapin is the first project that shows unique and limitless solutions for integrating the digital economy into the traditional world of finance.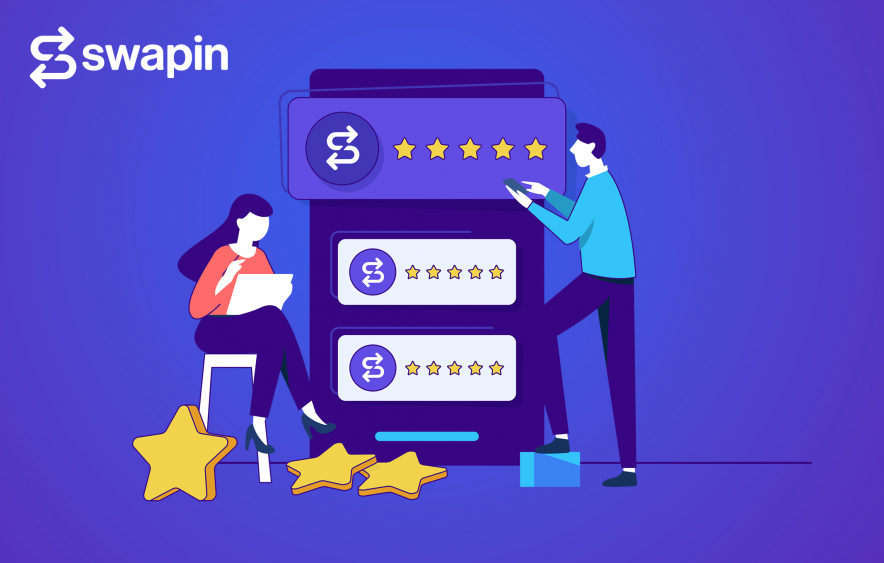 The Swapin platform is the first project that shows unique and limitless solutions for integrating the digital economy into the traditional world of finance. The platform is comfortable to use and provides services for both individuals and businesses: transfers, rent payments, Internet, utility bills, invoicing, payroll, and more.
Operations conducted by Swapin are legal as the company has an Estonian license and complies with European standards. But to achieve such results, the Swapin team has come a long way in establishing and developing the project.
About Swapin
Initially, the project began as Piixpay, then after a while it closed a funding round of €1.88M and rebranded, changing its name to Swapin. The Piixpay platform was founded in 2017 and is headquartered in Tallinn, Estonia. Evald-Hannes Kree is the founder of Swapin and its CEO. Rebranding is connected not only with the name. The application was improved and updated; the marketing policy and the company's development strategy were strengthened.
Kree came up with the idea of ​​creating the Swapin project after he launched his mining center in 2014. During that moment Kree couldn't keep all his assets in crypto as there was a regular need for fiat. He had to convert digital assets into fiat using exchanges and suffered losses. Then he decided to create a project that would bridge the gap between cryptocurrency and traditional currencies.
Swapin B2C and B2B solutions
The Swapin platform provides a wide range of tools for both B2B and B2C segments. Some of them are already actively used by users.
B2C solutions
InstaPay: This tool allows users to send digital assets with automatic conversion into EUR to the recipient, specifying the IBAN account. With its help users can make instant transfers to friends, relatives, or pay for purchases using cryptocurrencies.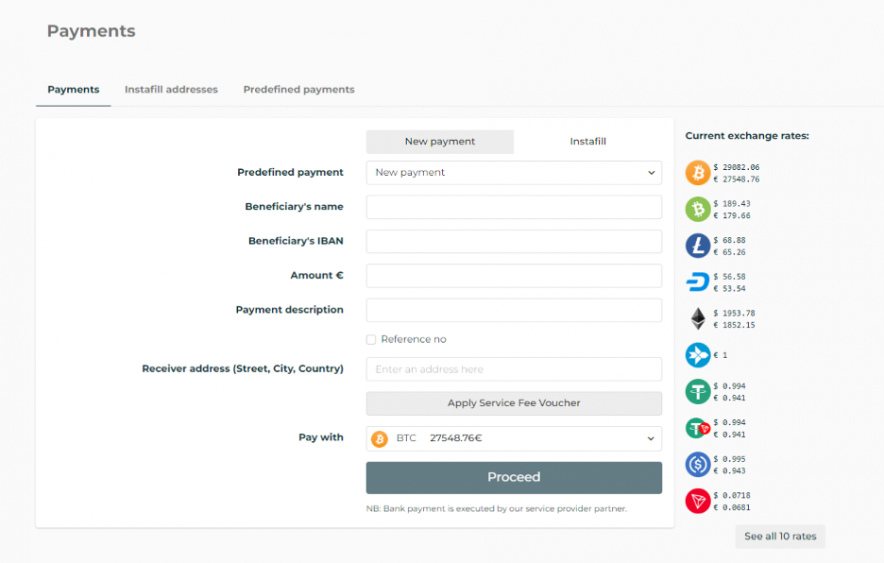 With InstaPay, it becomes possible to purchase real estate, cars and other valuable property.
InstaFill: With this solution, users can automatically convert personal digital assets into EUR to a bank account. The user should link a personal IBAN to a crypto account on Swapin. When the user needs EUR, they should simply replenish the balance in crypto.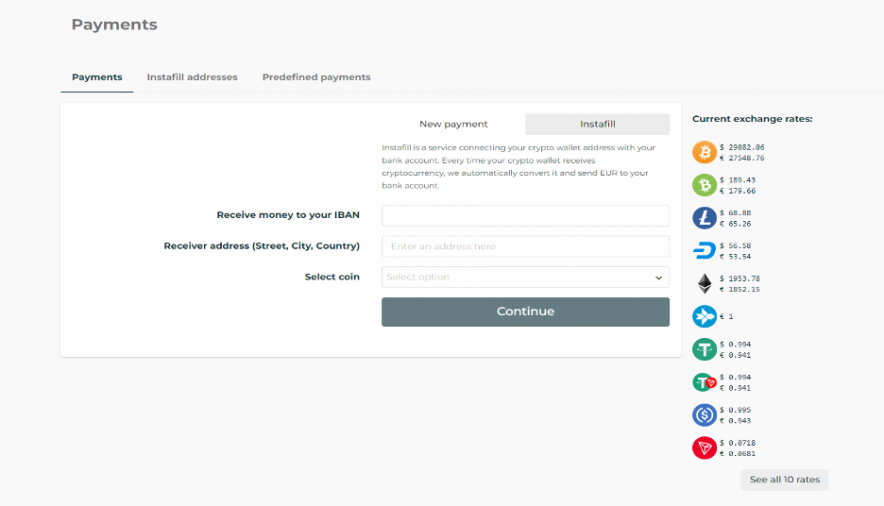 After instant conversion, the money will be transferred to the connected bank account and there will be a commission charged for the transaction.
Predefined Payments: This useful feature enables users to create a ready-to-go template for recurring payments – for example – covering monthly rent, loans or utilities. After making a transaction, you can set up a reminder option about the date of the next payment.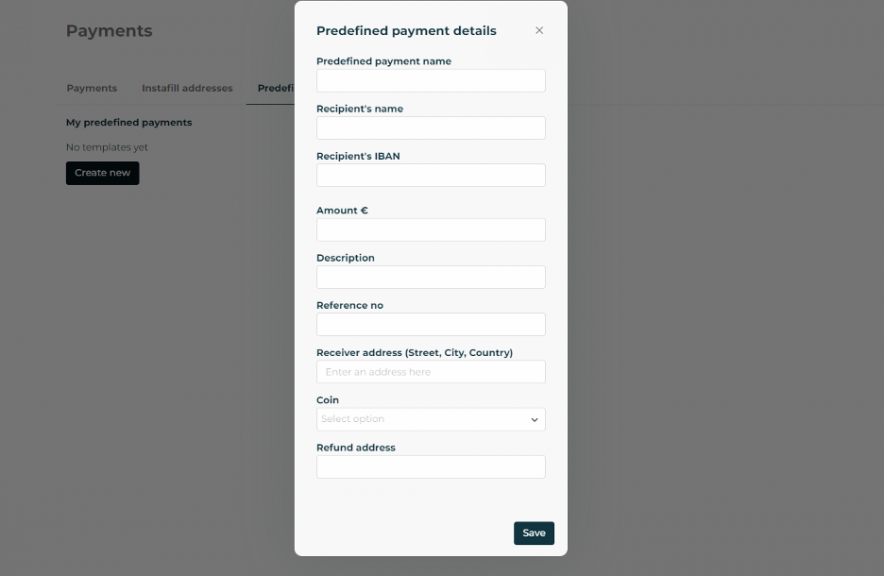 Thanks to Predefined Payments, the user no longer needs to waste time and fill in the same data for the payment
InstaBuy: The function is currently in development. The launch of InstaBuy is planned to be added in the second half of 2022. It will allow users to buy cryptocurrency with VISA/MasterCard or bank transfer.
B2B solutions
CoinCollector: The tool is very easy to use and bridges the gap between cryptocurrency and fiat. With its help, companies are able to bill customers in EUR; bills can be paid with crypto and the company will receive in EUR.
E-com widget: The E-come widget is a solution that easily integrates into any site and allows online stores to accept crypto payments. The cryptocurrency is automatically and instantly converted into fiat currency and transferred to the seller's corporate IBAN account.
Supported currencies and cryptocurrencies on the platform
Swapin platform currently supports 10 cryptocurrencies:
Bitcoin;
Ethereum;
Bitcoin Cash;
Litecoin;
Dash;
Service Coin;
Tether USD (ERC-20);
Tether USD (TRC-20);
USD Coin (ERC-20);
Tron

Currently, only the euro (EUR) is used among fiat currencies, but in the second quarter of 2022 the company plans to add support for the British pound (GBP).
Сommissions and fees
The platform does not take any commision fees from users for opening and servicing accounts. Moreover, the minimum transaction amount is 5 EUR and the maximum has no limit. However, there are some fees for different operations:
Commission for exchanging cryptocurrency for fiat - 0.8% -1.35%;
Commission for transfer to the bank - 0.2% -0.4%;
CoinCollector and E-com Widget Processing Fee – 0.25%;
Credit card acquiring fee – 2%-2.5%.
Swapin Customers
Companies from various fields cooperate with Swapin and actively use the services of the platform. Among them are RE/MAX, Pax World, Aufort Gold and E-Jewels.
RE/MAX
International American real-estate company, which is one of the leaders in this field.
In order to attract more customers, RE/MAX decided to integrate cryptocurrencies as payment for their services. It began using the InstaPay and CoinCollector tools from Swapin. Thanks to these solutions, the company solved the problem of accepting payments in cryptocurrency around the world.
Pax World
Startup based on blockchain technology, which develops multifunctional decentralized metaverse. The company's activities are carried out on the crypto market. Pax World not only cooperates with Swapin but also uses its InstaPay and Predefined payments services for everyday needs.
Aufort Gold
The first company in the world which offers to buy gold for crypto directly on site, thanks to the E-Com widget from Swapin. The Swapin tool helped the company get rid of accounting problems and attracted even more new audiences by allowing users to pay with crypto.
E-Jewels
A diamond jewelry retailer in Europe has begun to face frequent customer requests to buy jewelry with cryptocurrencies. CEO Henrik Hald turned to the Swapin service for help and began using the CoinCollector tool.
With CoinCollector, E-Jewels began to accept cryptocurrencies that are immediately converted into EUR and transferred to the seller's bank account, without any problems with accounting and legal requirements.
Partnership program
The Swapin Partnership program provides users the possibility of receiving stable income from attracting new users.
In order to become a platform partner, the user should go to the "partnership program" tab, register to receive a personal partnership link. Share this link with friends or publish it on social networks. The reward will be accrued from each exchange transaction that the invited users make.
Swapin Team
The team consists of professionals who have extensive experience in the cryptocurrency industry.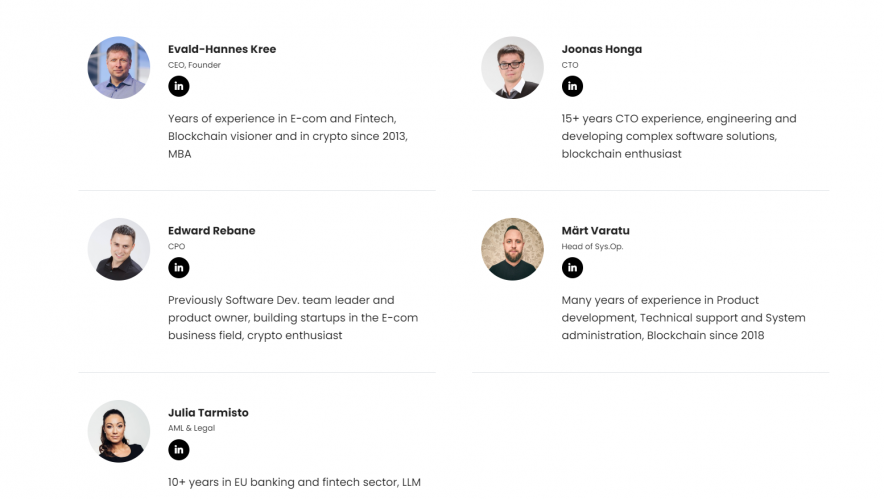 Evald-Hannes Kree, CEO & Founder — Kree boasts an MBA, plus years of experience in E-com and Fintech. He is an early blockchain visionary having been in crypto since 2013.
Joonas Honga, CTO — Honga has 15+ years of engineering experience, developing complex software solutions. Honga is also a long time blockchain enthusiast.
Edward Rebane, CPO — Previously software dev team leader and product owner, Rebane has built several startups in the E-com business field, and is an avid crypto enthusiast.
Märt Varatu, Head of Sys. Ops — Varatu brings years of experience in product development, technical support, and system administration and has been around the blockchain industry since 2018..
Julia Tarmisto, AML & Legal — Tarmisto offers more than 10+ years in the EU banking industry and fintech sector.
Swapin Consultants
The Swapin team also provides consultants who can advise users on working with the platform.

Dimitrij Pruglo — Pruglo is the Founder and CEO of Covesting, and tech investor. Previous experience includes Saxo Bank and SEB bank.
Marek Pärtel — Pärtel is the co-founder and CEO of Estateguru, a popular fintech speaker, angel investor, and freedom advocate.
Toomas Römer — Römer is the ex-ZeroTurnaround CTO, currently working as the Co-Founder & VP of Eng Bolt.
Ian Kalla — Kalla is the CXO Bankish, and a leading BaaS and Core solutions architect.
Partners and Service Providers
Swapin cooperates with a number of companies and uses their services to ensure the secure operation of the platform.
Veriff — the company provides reliable protection and filtering from bots and scammers.
Onfido — AI-based technology evaluates whether a user's government-issued ID is genuine or fake and then compares it to facial biometrics.
My EU Pay — the service offers payment services for individuals and business clients.
Kraken — a cryptocurrency exchange, which is in the TOP- in terms of trading volume.
Coinfirm — an industry-leading risk management service helps to sustainably scale cryptocurrencies and blockchain protocols.
IBAN — the company specializes in providing business solutions for payment verification.
StartupYard — the company supports and invests in new, promising startups
Swapin Roadmap
Swapin has grand plans to develop the project through the end of 2023. Mobile applications will be developed for IOS and Android, Virtual IBAN. There will also be added new assets and payment methods.
Q2 2022
Partnership program: Swapin users can become partners of the program to receive passive referral income, inviting friends or companies to register on the platform. It is worth noting that Swapin will regularly launch promotions to more effectively attract new users and expand the audience.
Multicurrency platform: Today, Swapin supports the conversion of cryptocurrencies only to EUR. But in the near future, the ability to convert to GBP will also be added. According to the Swapin management, the process will not stop there and new fiat currencies will be added.
InstaBuy: Swapin also plans to expand the range of services for B2C segment by adding a new InstaBuy feature. This solution will help users to buy crypto in just a few clicks.
Q3 2022
Expanding the list of available crypto and fiat currencies: Swapin plans to add support for several new altcoins to increase the versatility of the provided services.
Partner Widget: This feature will allow clients, who have fiat currency to buy crypto. It will also allow sellers and their customers to convert income from margin trading, NFTs, DeFi, Play-To-Earn, etc. in cash. Debit card payments will also be accepted.
Portal for merchants: As Swapin's B2B solutions grow rapidly, the company will develop an exclusive merchant portal where business owners or analysts can view transactions, manage customer data, and more.
Virtual IBAN: Swapin will implement support for virtual IBAN accounts to bridge the gap between crypto payments and traditional funding on the same platform. The virtual IBAN will allow customers to send money on their own behalf, and not on behalf of the company, as it is currently.
Q4 2022
Support for SWIFT payments: Swapin like many traditional regulated financial institutions plans to accept SWIFT payments.It is a global payment system that links banks to other banks across borders and helps transmit transaction instructions to financial institutions around the world.
Mobile App (Google Play, Apple App Store): A new multilingual app will be launched at the end of 2022. Users can download it absolutely free through Google Play Store and Apple App Store. Swapin users will be able to get access to all innovative products and services of the platform from anywhere in the world.
Swapin v2.0: The main app will receive a design update based on customer feedback, market demand, and internal company KPIs. Swapin developers constantly work on the next stages of updating the app. There are even more improvements planned in the future.
Updated E-Com plugins for major platforms: Today, E-Com is an easy-to-integrate Swapin fiat-to-crypto payments widget, and works as a plug-and-play setup. It is also compatible with several leading e-commerce solutions: PrestaShop, WooCommerce and more. In the future this support will be expanded, so that any business could use the advantages of Swapin payment solutions.
Q1 2023
License of an electronic money institution: In 2023, Swapin is aiming to get an Electronic Money Institution license. It will allow Swapin to become a complete payment service, imitating many of the solutions offered by large banks. Services include bitcoin purchasing and exchanging it, for example, to EUR and then making the transfer.
Summary
The Swapin platform has made a real revolution in crypto-to-fiat payments. Thanks to the unique solutions provided by the platform, the barriers between the crypto and the bank system will be blurred. The development of the company will help to significantly increase the interest of the mass audience in cryptocurrencies as a payment instrument.
Moreover, the license, publicity, professionalism, fame of the team members, and excellent reviews about the platform on Trustpilot leave no doubt about the reliability of the company. The legality and security of transfers is an example for the industry and it will bring great benefits in the future in regulating the crypto market. Join now!
Disclaimer: information contained herein is provided without considering your personal circumstances, therefore should not be construed as financial advice, investment recommendation or an offer of, or solicitation for, any transactions in cryptocurrencies.