Guest writer

Arnold Viatori is a published academic writer working for a leading cryptocurrency project. He specializes in Blockchain consensus mechanisms and the socio-economical aspects of the technology. An avid diver, he intends to log manta rays sightings into a Blockchain, although a simple notebook would suffice.
READ FULL BIO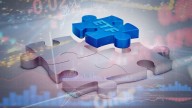 The Illusion of Risk Diversification through Cryptocurrency ETFs
Current cryptocurrency ETFs do not offer risk diversification or reduce cryptocurrency correlation in cryptocurrency portfolio allocation.
All the post are loaded