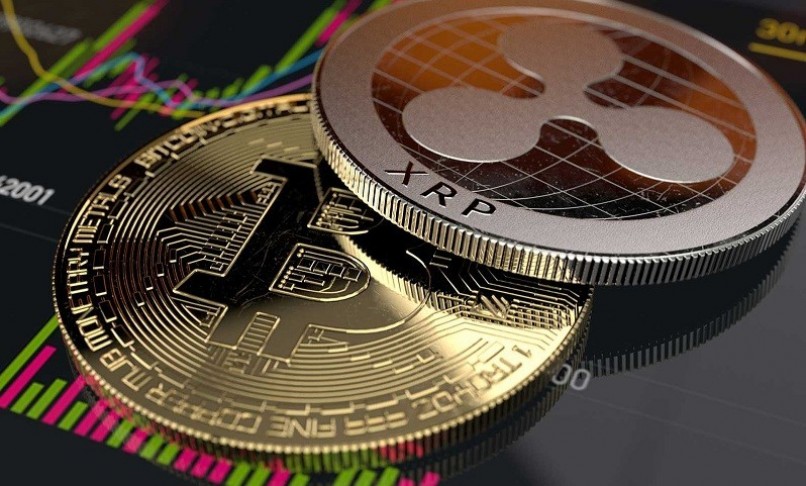 ADA and SOL to Feature in Institutional ETF, STEPN, APE, Apr. 25
Apr 25, 2022, 5:18PM

by
Kevin George
Grayscale adds a new fund for Ethereum competitors. STEPN move-to-earn project makes strong progress. APE coin near ATH but whales poised.
ADA
Grayscale Investments, the firm known for its popular Grayscale Bitcoin Trust fund, has unveiled a new fund that will specialize in competitors to Ethereum, including names like Cardano, Solana and Avalanche.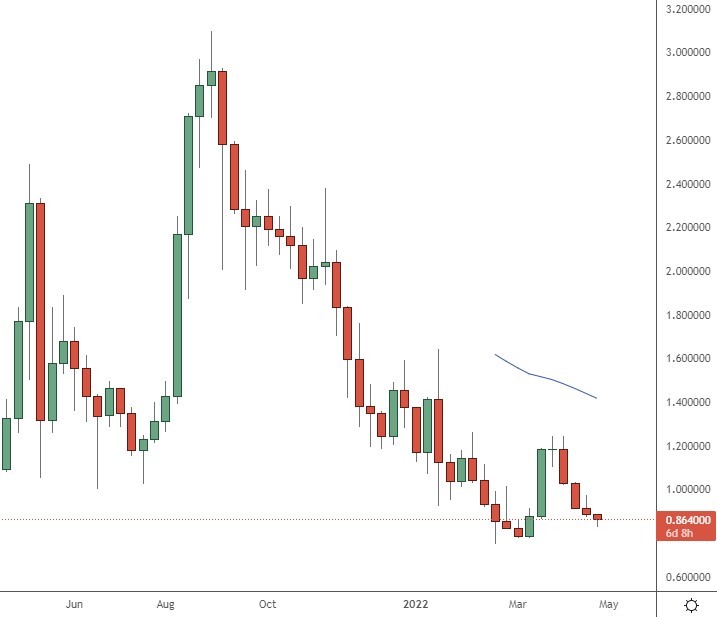 The Grayscale Smart Contract Platform Ex-Ethereum Fund will be the 18th investment product from the world's largest digital currency asset manager. The fund delivers exposure to a collection of smart contract platforms that have been tagged as 'Ethereum Killers' in the past.
The fund will operate through a market-cap-based weighted portfolio that is intended to track the CoinDesk Smart Contract Platform Select Ex ETH Index.
The fund comes forward with a 2.5% annual fee and is made up of the following tokens: Cardano at 24.63%, Solana at 24.27%, Avalanche at 16.96%, Polkadot at 16.16%, Polygon at 9.65%, Algorand at 4.27%, and Stellar weighted at 4.06%
Smart contract technology is critical to the growth of the digital economy, but it's still too early to know which platform will win – from attracting and retaining the most vibrant developer communities, to ensuring the platform is high-speed, flexible, and scalable. The beauty of GSCPxE is that investors do not have to choose one winner, and instead can access the development of the smart contract platform ecosystem through a singular investment vehicle.
Moreover, Grayscale's new fund is one of the first securities exclusively invested in the price of native tokens of emerging smart contract platforms.
The price of ADA was trading at $0.86 as the BTC weakness drags it lower.
SOL
Solana would also gain from investment into the ETF with an almost equal weighting in the fund which means that Grayscale see them as the frontrunners to challenge ETH.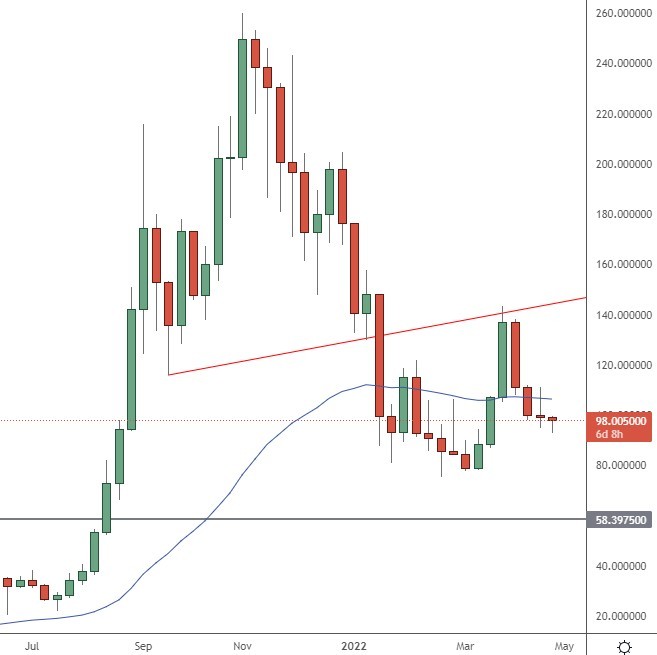 Michael Saylor, CEO of MicroStrategy, makes a tough prediction for Solana and Binance to come up against Ethereum.
In a recent podcast with Lex Fridman, Saylor said of crypto platforms:
I think that in the crypto platform space Ethereum will compete with Solana and Binance Smart Chain.
Solana was launched and regarded as the "Ethereum killer" with its reactionary blockchain which filled the gaps found in the Ethereum blockchain. Solana can record around 60000 transactions per second making it one of the fastest layer-one blockchains.

Ethereum is still the go-to project in NFT sales with over ten times the value, but Solana's integration to OpenSea recently may change that.
The Ethereum blockchain is still moving towards its 'merge' move to a Proof-of-Stake (PoS).
Saylor also spoke of a bright future for stablecoins, saying he believes the world wants two things right now: crypto property as a savings account and cryptocurrency as a checking account.
That means the most popular thing really is going to be a stablecoin dollar. It's not clear that there will be one that will win, the class of stable dollar is probably a one to ten trillion-dollar market easily.
The price of SOL was struggling to hold the $100 level due to the bearish market action.
STEPN
One of the best-performing coins of the year has been STEPN, the native token for the Green Metaverse Token project.
Seen as the first "move2earn" mobile NFT game, STEPN is powered by Solana and provides a platform where players with their NFT Sneakers can walk, jog, or run outdoors and earn tokens in the process.
Since launching in December 2021, STEPN has grown at a fast pace from only 1,500 daily active users in January 2022 to almost 100,000 in March 2022. The STEPN token appreciated 34,000% in just 41 days.
in a blog post on 1 April 2022, which has since been removed by blogging site Medium, developers announced that its business generated a profit of $26,815,807 through the sales of its sneakers on its NFT marketplace and royalty fees in Q1 2022. In order to create more value for the ecosystem, the profit will be used to buy back and burn GMT.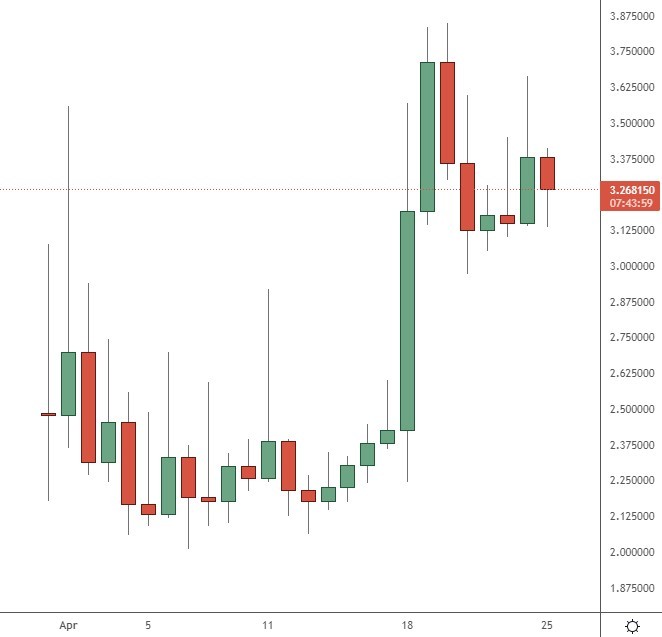 The price of STEPN was consolidating after recent gains and trades at $3.25.
APE
ApeCoin was the largest gainer this week with a move higher of more than 58%.
Analysis from the platform highlighted a massive movement of dormant $APE tokens during the local top hit on April 23. Some of the largest transactions were deposits from cold storage to the Binance exchange. The spike in transaction activity hints that $APE holders could be getting ready to take profits off the table.
When ApeCoin launched last month, the developers opted to reward BAYC NFT owners with free $APE tokens. The project planned to distribute 150 million $APE to NFT holders via an airdrop.
While the airdrop sought to appreciate early investors in the BAYC ecosystem, it has resulted in a large concentration of whales. According to Coincarp's $APE rich list, the top 100 wallets hold over 52% of the approximately 284 million tokens in circulation.
Analysts from Santiment predict the recent rally could gain steam in the short-term before a larger sell-off. That will likely depend on the recent whale movement of coins.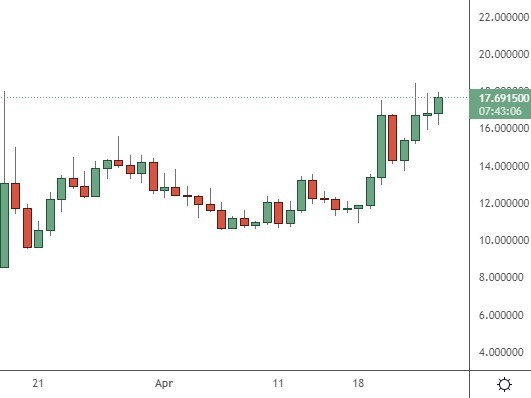 The price of APE was trading at $17.75 which is near the all-time high of $18.00.
Disclaimer: information contained herein is provided without considering your personal circumstances, therefore should not be construed as financial advice, investment recommendation or an offer of, or solicitation for, any transactions in cryptocurrencies.