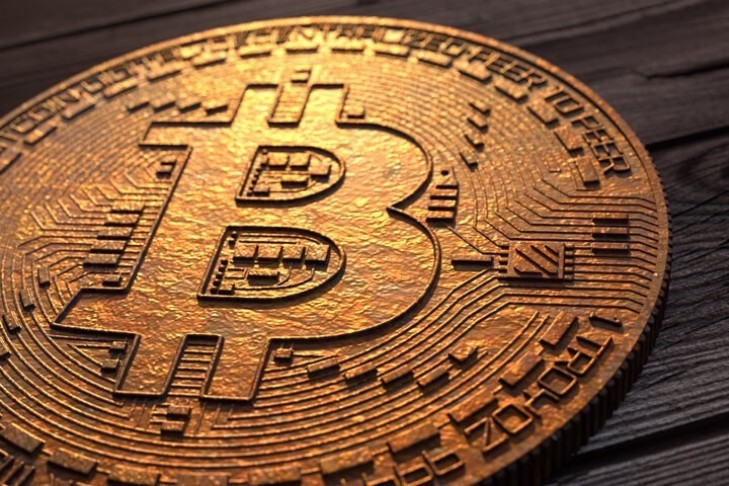 Bitcoin Back Above $20k with Short Squeeze Rally, SOL, MANA, SHIB, Jan. 17
Jan 16, 2023, 8:33PM

by
Kevin George
BTC blows out $500m shorts. MANA adds big gains on Clear Channel news. SHIB readies for Shibarium L2. Binance moves to custody solution.
BTC
Bitcoin was able to retake the key $20,000 level with a 20% rally for the week.
Softer U.S. inflation data gave investors hope that the Federal Reserve is done with its interest rate hikes and that lifted commodities and risk assets.
The move higher in Bitcoin was exacerbated by a squeeze of short positions with nearly $500 million in shorts liquidated since Friday. That was the biggest wipeout of shorts since October 2022, data from Coinalyze showed.
The liquidations saw 70% of traders taking losses as exchanges closed leveraged positions due to margin calls. Crypto exchange OKX booked $256 million worth of short losses on Friday, followed by $125 million on Binance and $42 million on Huobi, according to CoinGlass.
The relief rally has been a welcome boost for the bulls but BTC may find it hard to get traction above these levels as the key bearish pressures remain.
However, the bullish action may remain into the middle of the year with options market data switching. Bitcoin's 180-day call-put skew has crossed above zero for the first time since the start of 2021, indicating that bullish call options expiring in six months are more expensive than puts.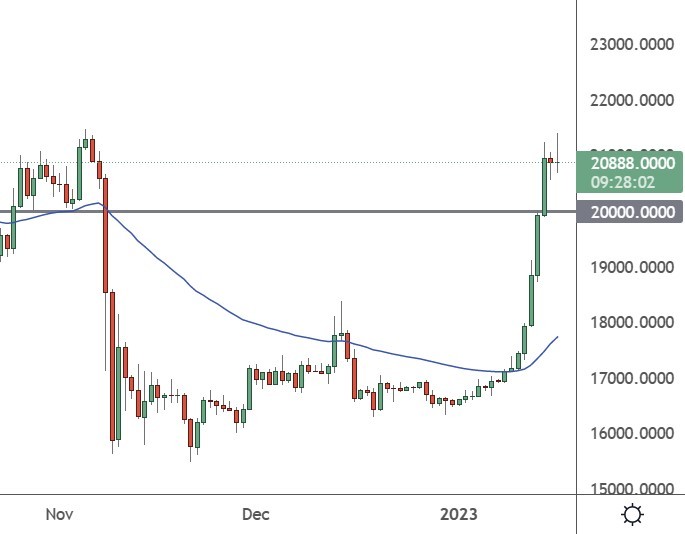 The next target for BTC is around the $25,000 level with the $29,000 adding an obstacle above there.
MANA
The metaverse project Decentraland posted a big 77% rally over the last week as investors look for bargains after the bear market.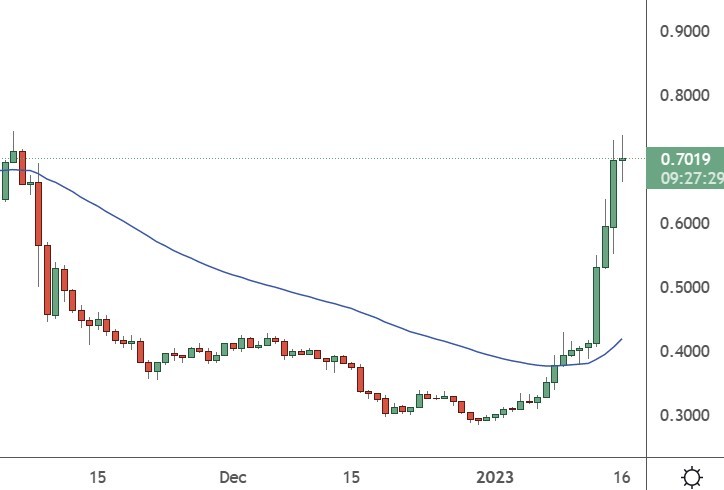 Virtual world projects like Decentraland were hot property in late 2021 after Meta Platforms rebranded from Facebook to focus on the metaverse. However, the sector slumped as NFT prices fell and estimates for metaverse adoption were pushed out to years ahead.
Although investors will have to wait patiently for metaverse-related gains, MANA has soared as value investors jump in with the price now trading around the $0.70 level. MANA previously traded to a high of $5.00 at its peak and the project saw a record land sale of $2.3 million at the same time.
Decentraland was boosted this week by news that Clear Channel Singapore was partnering with LandVault to bring its services into the virtual world. Clear Channel Singapore wants to reach consumers through a different model and will leverage the current traffic in Decentraland. LandVault is the largest builder in the metaverse; with over 120 full-time developers and it has completed over 200 projects for brands including Mastercard, Standard Chartered, and Heineken.
The hot areas within Decentraland include games such as ICE poker and Diamond Hands City, which account for around 60% of the current traffic. A guide to the best Pragmatic Play casinos can be found here: www.newcasinos-au.com/casinos/pragmatic-play.
"The partnership with LandVault has allowed us to incorporate the virtual world alongside the physical world, with interoperability between them. Just as how consumers make credit card transactions at physical stores, they can do the same with their virtual wallets to pay for an experience or purchase wearables in Decentraland," says Kelly Khoo, Chief Executive Officer, Clear Channel Singapore.
"We are providing a first-mover advantage for brands who want to get on board the meta journey and gain early adopters," she adds.
BNB
The price of Binance Coin (BNB) has stabilized after previous fears about the finances at Binance Exchange.
Binance will now allow institutional investors to keep their collateralized crypto positions off the platform, Bloomberg reported on Monday.
The exchange will let investors post collateral with Binance Custody, which holds the assets off the internet in cold storage wallets. Once trades are settled, the assets would then become accessible to the user again. The feature will be a major boost for the exchange traders who will welcome the added safety of their funds. Users' assets would also be protected against on-chain hacks, which are a drawback of hot wallets.
The collapse of the FTX in November has forced exchanges to look at better ways of safeguarding users' funds, as regulators continue to probe FTX over the misuse of customer funds.
"This an exercise to build trust among institutions that their funds will remain safe. Its a positive development that shows Binance is moving toward becoming an institutional-focused crypto exchange," said Markus Thielen, head of research at Matrixport.
"However, this might not be enough as exchanges will likely have to work with external custodians to completely eliminate risks around collateral ownership," Thielen said.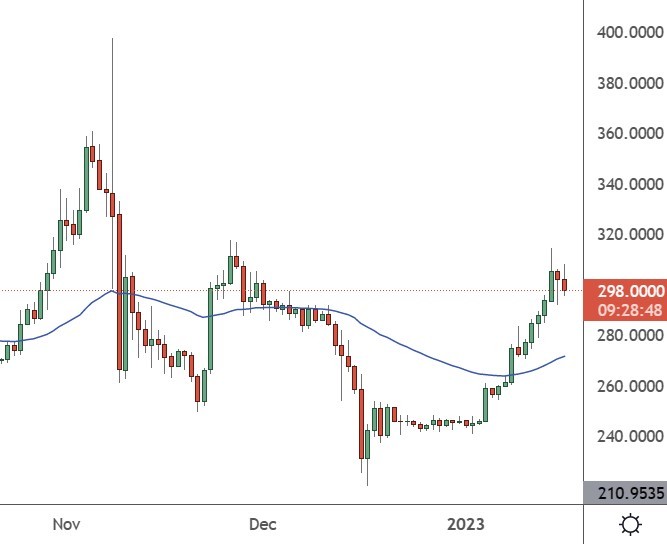 The price of Binance Coin is now trading at $298 after seeing resistance at $300. The coin has rallied from lows near the $210 level which marked the drop in sentiment after the FTX collapse.
SHIB
Shiba Inu developers have given an update on the new Layer 2 network, Shibarium.
The upcoming protocol will join the ranks of Ethereum-based blockchains, such as Arbitum and Optimism, looking to solve the problems of scalability, speed, and costs. A beta test net version is expected to launch in the coming weeks.
Shiba Inu developers said Shibarium would focus on the metaverse and gaming applications with the NFT sector expected to rebound. The Layer 2 network will utilize the BONE native token to pay gas fees and reward validators.
Shiba is also moving towards its own metaverse and MV lands project which can create a more rounded ecosystem to tap into the trends for play-to-earn gaming and NFTs.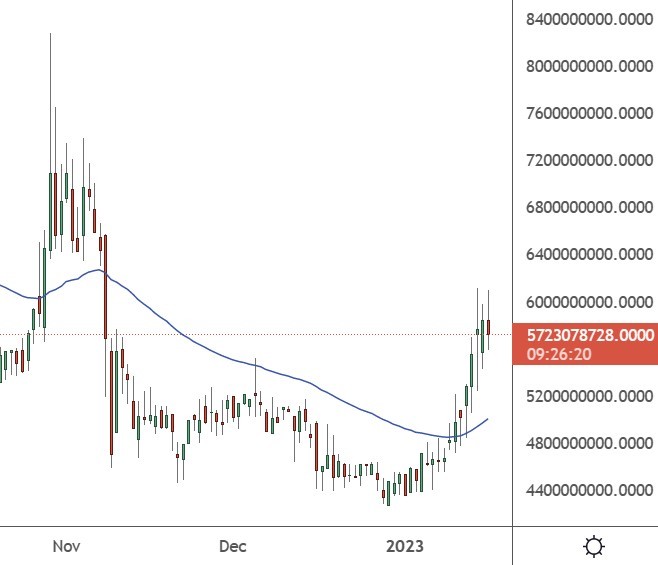 Shiba Inu currently ranks at number 15 in the list of tokens by market cap with a valuation of $5.7bn.
Disclaimer: information contained herein is provided without considering your personal circumstances, therefore should not be construed as financial advice, investment recommendation or an offer of, or solicitation for, any transactions in cryptocurrencies.