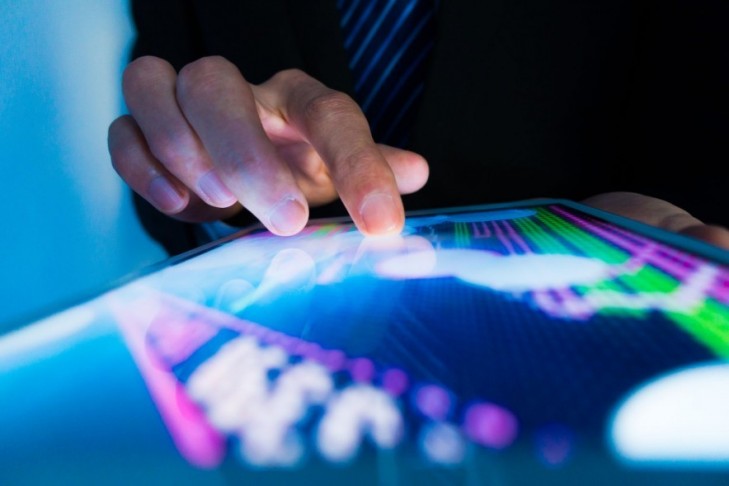 Bitcoin Blasts Higher on PayPal News, ETH, BCH, LTC, Oct. 26
Oct 26, 2020, 10:31AM

by
Kevin George
PayPal set to offer BTC and other crypto options to its 26 million merchant accounts in a huge boost for cryptocurrency adoption.
BTC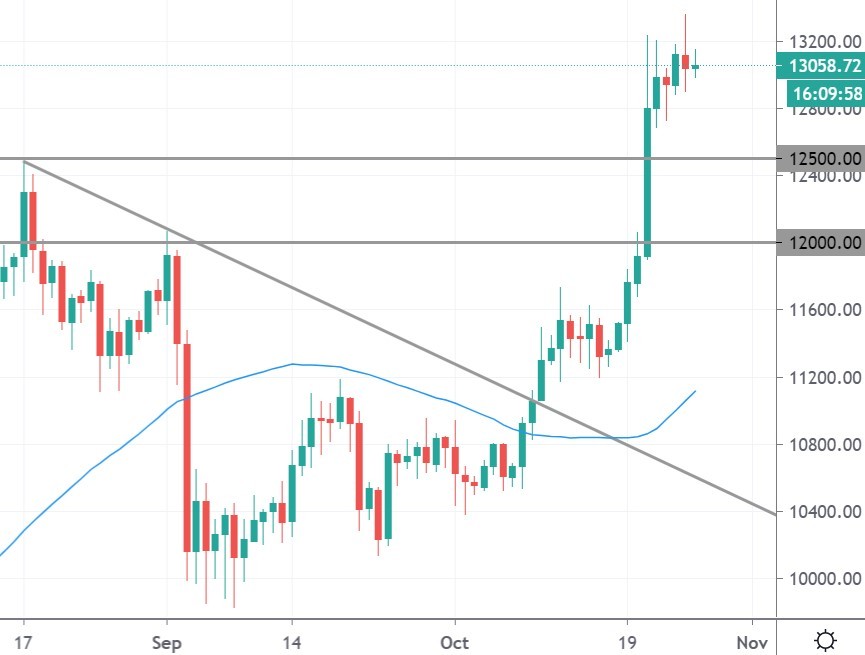 Bitcoin exploded higher last week after an announcement that payments platform PayPal would now accept Bitcoin as a form of payment. The news sent BTC soaring through resistance at $12,000 and $12,500 to test the $13,000 level.
In my article last week, I said that Bitcoin was ready to make a move for the $12k resistance. Institutional positions had grown to a record high and low implied volatility in the options market suggested that a large move could come soon. The PayPal news on Wednesday provided that and BTC is now in a strong position to make a play for the key $14k level, where the rally failed in June this year. I've noted previously that a move above that level could see the world's largest cryptocurrency make a return to the all-time highs of $20,000.
In PayPal's announcement to the stock market, the company said that they would soon accept BTC as a payment option and that users could, "buy, sell and hold" the coin. The company has 26 million merchant accounts and over 400 million users, so the news is a boost for the long-held mass adoption dream of crypto enthusiasts. The company also said that they would accept Ethereum, Bitcoin Cash, and Litecoin, leading to rallies in those coins.
PayPal CEO Dan Schulman commented on the news:
The shift to digital forms of currencies is inevitable, bringing with it clear advantages in terms of financial inclusion and access; efficiency, speed and resilience of the payments system; and the ability for governments to disburse funds to citizens quickly.
His comments about government disbursement are related to the recent attempt by U.S. Democrats to include a digital dollar in the stimulus bills and send stimulus checks to digital wallets. It's clear from these recent developments that governments and corporations see cryptocurrencies as the future.
A report from U.S. investment bank JP Morgan was also bullish on Bitcoin and the cryptocurrency market with the analyst stating:
This week's endorsement by PayPal is another big step toward corporate support for Bitcoin, which in our opinion would facilitate and enhance over time Millennials' usage of Bitcoin as an alternative currency.
ETH
Ethereum got a boost with the bullish market and the addition of the coin to PayPal's initial steps into cryptocurrency. ETH rallied above the $400.00 level on the week and is looking to find support there.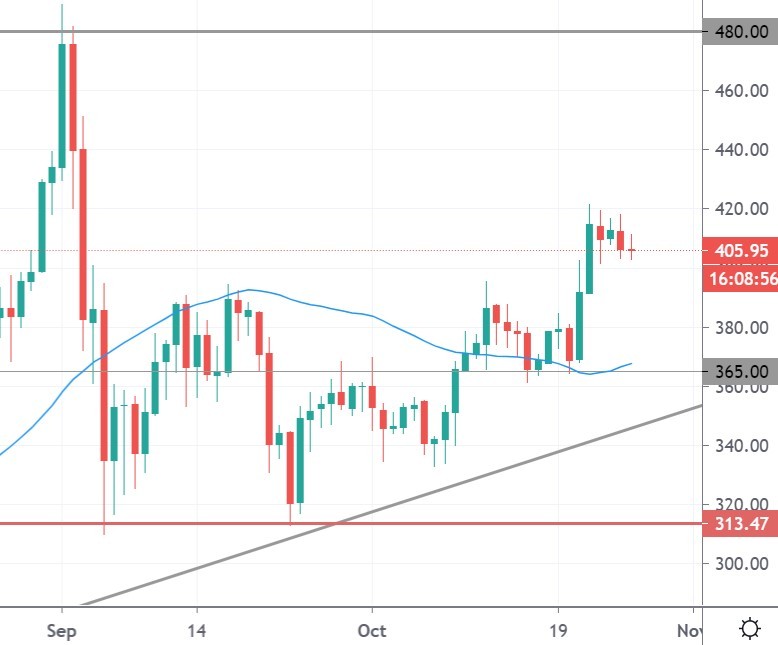 Ethereum is still hoping for a 2020 launch of the ETH 2.0 upgrade with a developer posting an update on its progress.
Basically, as I understand it, we are good to go: deposit contract in the next few days; beacon chain genesis 6-8 weeks later.
The first phase of Ethereum's move to a proof-of-stake blockchain will require 16,384 validators to each place 32 ETH in the deposit contract. The tokens will be "staked" to secure the new Ethereum blockchain known as Beacon, which will initially run parallel to the current blockchain. This will then be a live environment to stress test the PoS technology before a full migration.
The planned timeline for the ETH lockup is 18 months and this will have consequences for the coin supply. Ethereum could also see some teething problems as the developers seek to eventually move all legacy coins onto the new chain.
BCH
Bitcoin Cash was boosted by its addition to the new PayPal service and the coin rallied to highs near $280.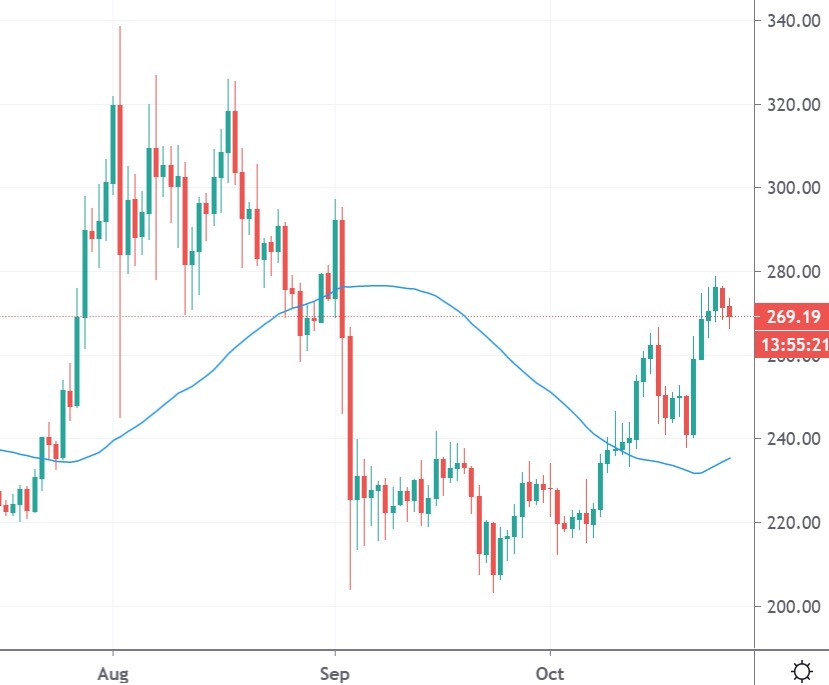 Bitcoin Cash was recently seeing big demand according to crypto investors Grayscale. The company noted that investment flows into "products had surpassed $2.4 billion." The firm saw "unprecedented demand for BCH, LTC, and DLC." These three coins saw an increase of over 1,400%.
BCH will now look for buyers to support the price and the next target on the upside would be a move above $280 to test the support ahead of $300.
LTC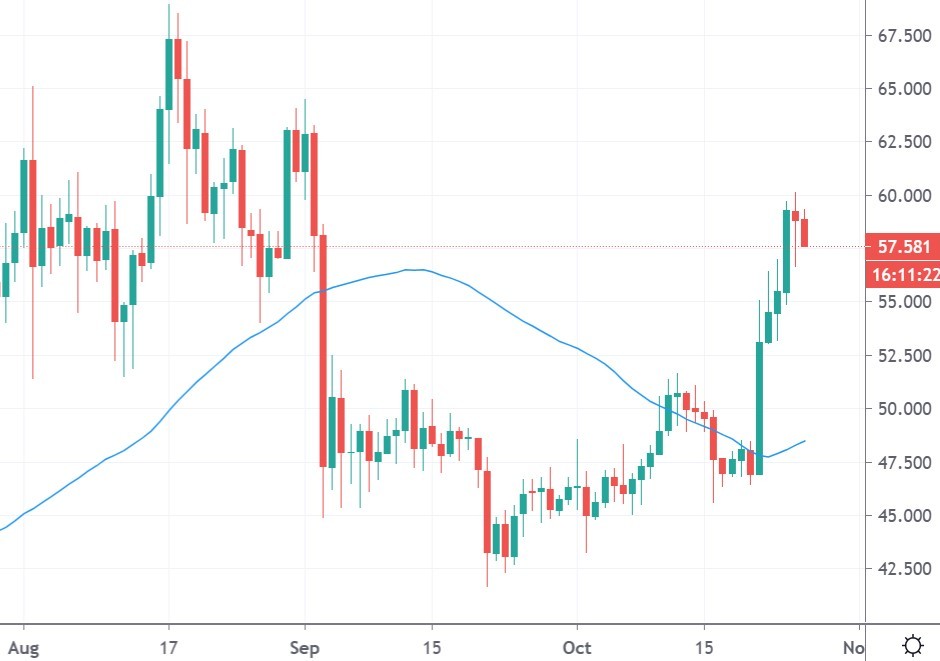 Litecoin's reaction to the PayPal news was a push higher through the $50.00 level to finish the week testing the $60.00 resistance. The news was tweeted by the Litecoin Foundation and the coin's founder Charlie Lee.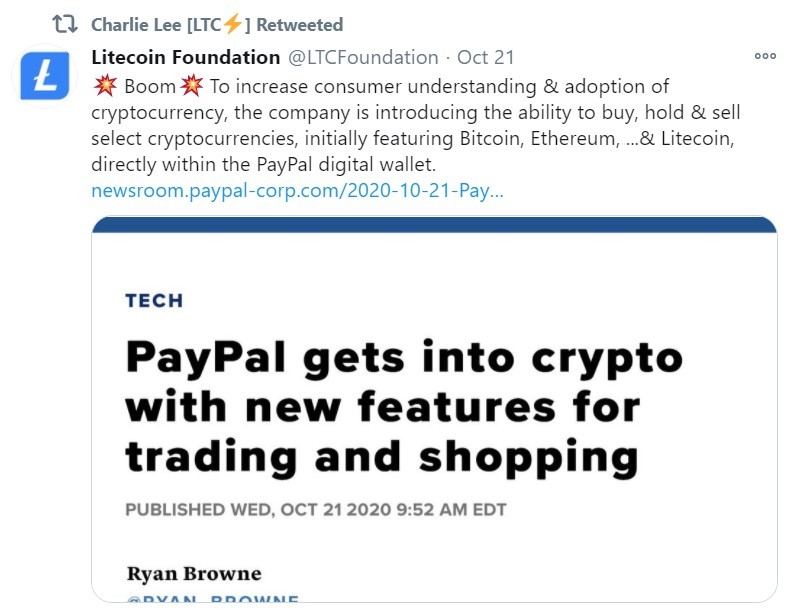 Lee recently noted that Litecoin was looking to make a move into privacy with the coin. He commented:
"I want to make it so that users don't have to worry about giving up their financial privacy by using Litecoin. Even if you're not doing anything illegal, you don't want people to know how much money you have or what your paycheck is."
The project will rely on a technology named mimblewimble, which reduces the amount of data visible on the blockchain. This is done via "extension blocks" which hide input and output data.
LTC sees resistance clustered above $60.00 at the $63.00 and $67.50 levels.
Disclaimer: information contained herein is provided without considering your personal circumstances, therefore should not be construed as financial advice, investment recommendation or an offer of, or solicitation for, any transactions in cryptocurrencies.