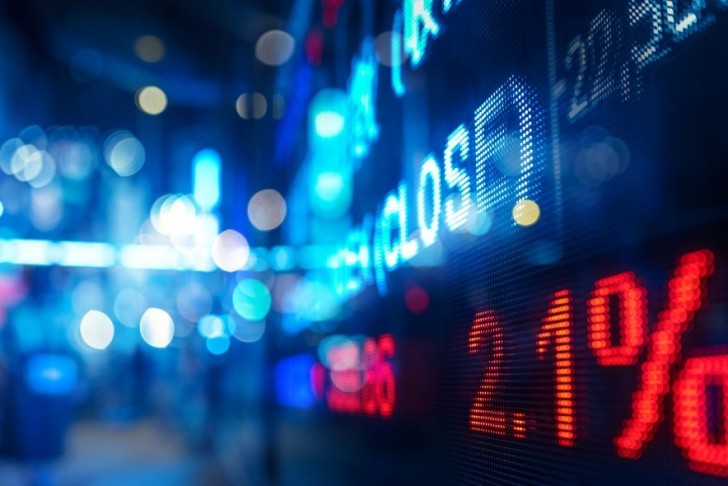 Bitcoin Moves Above $16,000 as JP Morgan See Gold Switch, BCH, WAVES, RUNE, Nov. 16
Nov 16, 2020, 6:49PM

by
Kevin George
JP Morgan see evidence of ETF investor transition from gold into BTC. Two hedge fund legends have opposing views on BTC.
BTC
Bitcoin continued to move higher with a move above the $16,000 level as investment bank JP Morgan saw investors moving out of gold into BTC. Legendary hedge fund investor Stan Druckenmiller has now jumped on the cryptocurrency bandwagon and predicted a bright future for Bitcoin, which is in contrast to the view of Ray Dalio.
The Global Markets Strategy team at JP Morgan said in a report that BTC is seeing larger institutional interest in ETF investments after the news that PayPal would accept the coin. The report said:
In our opinion, the ascend of Grayscale Bitcoin Trust suggests that bitcoin demand is not only driven by the younger cohorts of retail investors, i.e. millennials, but also institutional investors such as family offices and asset managers.
The report also compared the flows of money into Exchange Traded Funds (ETFs) and suggested that some gold investors were pivoting towards Bitcoin, saying:
"Investors that previously invested in gold ETFs, such as family offices, may be looking at bitcoin as an alternative to gold."
One of the key drivers of gold's move to record highs this year was a surge in ETF flows to record highs of over $150 billion assets under management. A weakening dollar, economic shocks, and huge stimulus from central banks saw gold rally to highs at $2075.
Two legendary hedge fund investors have been sharing opposing views on BTC with Stan Druckenmiller saying that it was better than gold. The investor who found fame as a partner of George Soros in the 1990s said he owned a position in gold that was "many, many more times" larger than his BTC position, but that he saw the Bitcoin position doing better. He also cited millennials and silicon valley money as supporters of crypto as a safe haven.
On the flip side, Ray Dalio who runs the world's largest hedge fund Bridgewater Capital said that governments could eventually "outlaw" Bitcoin in order to protect their control over the money supply.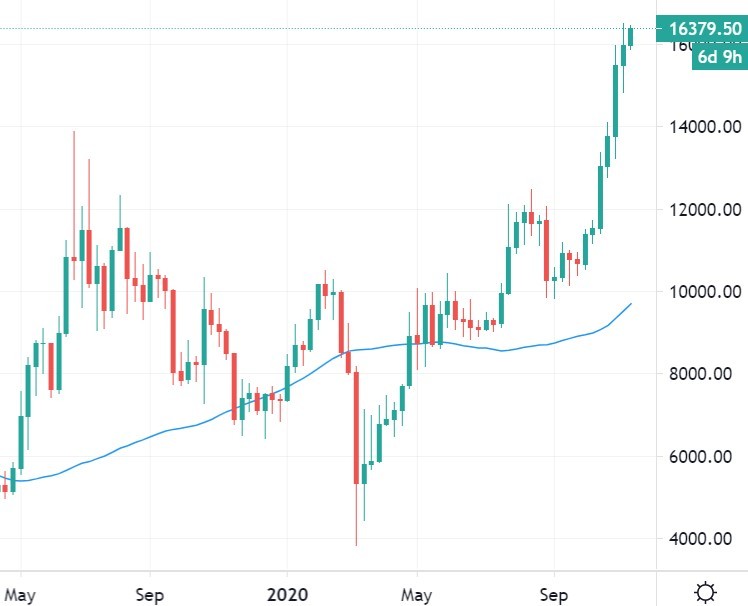 The price of Bitcoin is still marching higher and the all-time highs near $20,000 are the target. If the market hits a new high then the media coverage could see retail investors move back in strongly.
BCH
Bitcoin Cash has been unable to capitalize on the latest Bitcoin rally and the scheduled hard fork for November 15th wasn't helpful for the coin. BCH enthusiast Roger Ver was also critical of the latest upgrade which he wants to see come to an end.
Ver said:
"If PayPal knew that this sort of contentious hard fork was likely to happen, maybe they wouldn't have added Bitcoin Cash at all to their roadmap".
BCH was born from a fork of the original Bitcoin blockchain, with supporters seeing low-cost, peer-to-peer transactions as the core value proposition of BTC. The coin now sees an upgrade every six months and a chain split is possible when the community cannot agree. This led to the BSV fork on November 15th, 2018 and the uncertainty doesn't give investors much confidence in the coin, especially as a longer-term value store.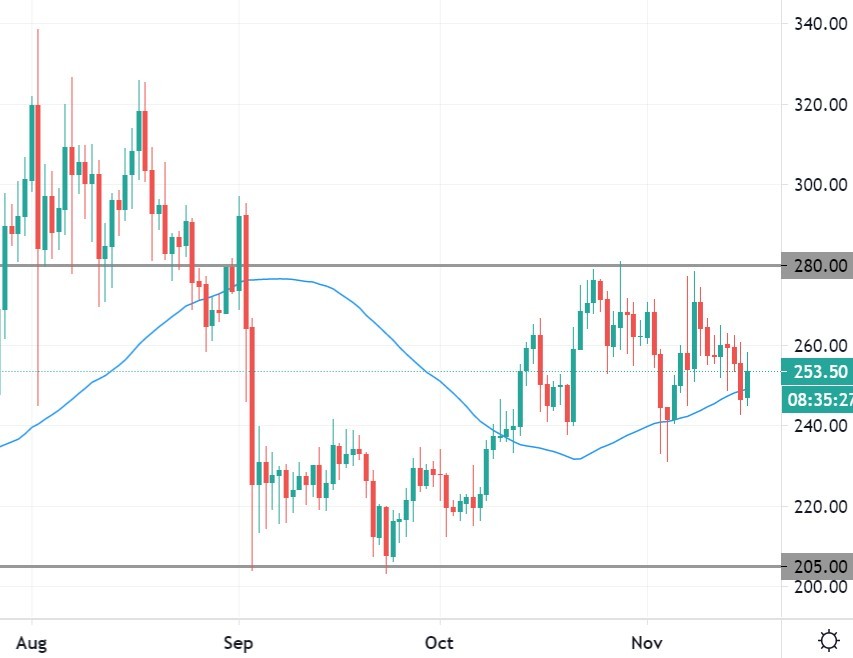 BCH is trading at $253 with the coin looking to make another move through the $280 resistance level. The coin had hit highs near $380 in August but has pulled back ahead of the latest fork and the coin has been lackluster in following Bitcoin's recent performance.
WAVES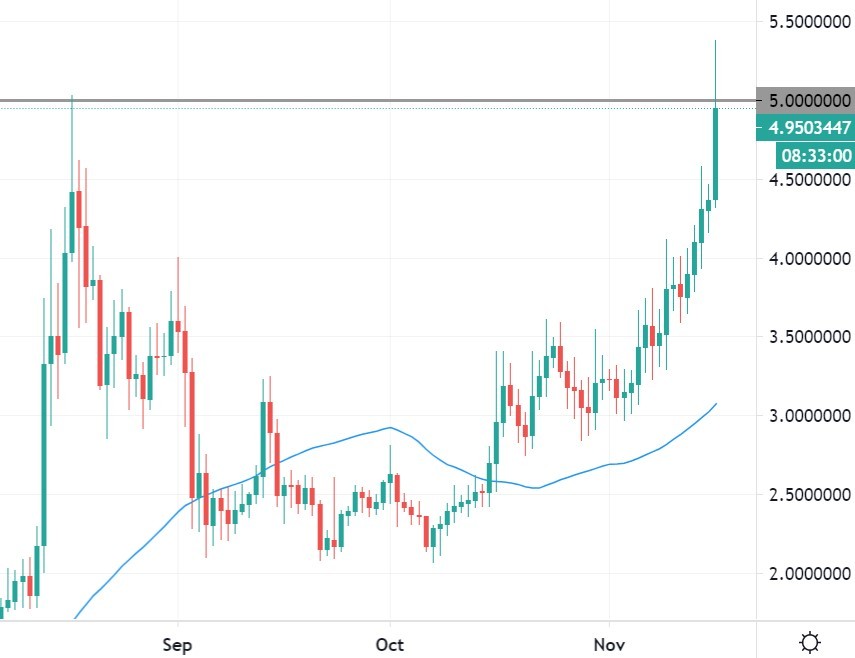 WAVES was one of the better performers on the week with a return of 42% to trade at number 42 in the list of coins by market cap. WAVES has returned to the $5.00 highs seen in August before the coin slipped back to nearly $2.00.
WAVES has been performing well since the Waves.tech ecosystem ported its native token WAVES into Ethereum to enhance the connection between the two networks. The move allows WAVES token holders easier access to numerous decentralized applications (DApps), exchanges, and DeFi protocols that operate on the Ethereum blockchain. WAVES pools will also be more accessible on Uniswap, Mooniswap, and Curve.
The latest developments allow WAVES to piggyback onto the DeFi revolution, which saw its 2020 boom give way in summer. This may be just a pullback for the space and the coin could benefit from further investment activity in decentralized finance projects.
The spike higher in WAVES this week saw the coin trading at the highest level since June 2018 and the next target is the $7.00 resistance from that same year.
RUNE
THORChain's RUNE token was up 68% on the week and the coin now has a market cap of $211 million with a rank of number 68 in the list of coins. The coin has seen an outstanding performance this year with a gain of around 2000%.
The THORchain project is a digital network that allows crypto to be exchanged across chains without writing them onto the blockchain, thereby enhancing speed in the time taken to complete a transaction. The project also provides a borrowing lending structure collateralized by users' assets and liquidity providers can also earn yield.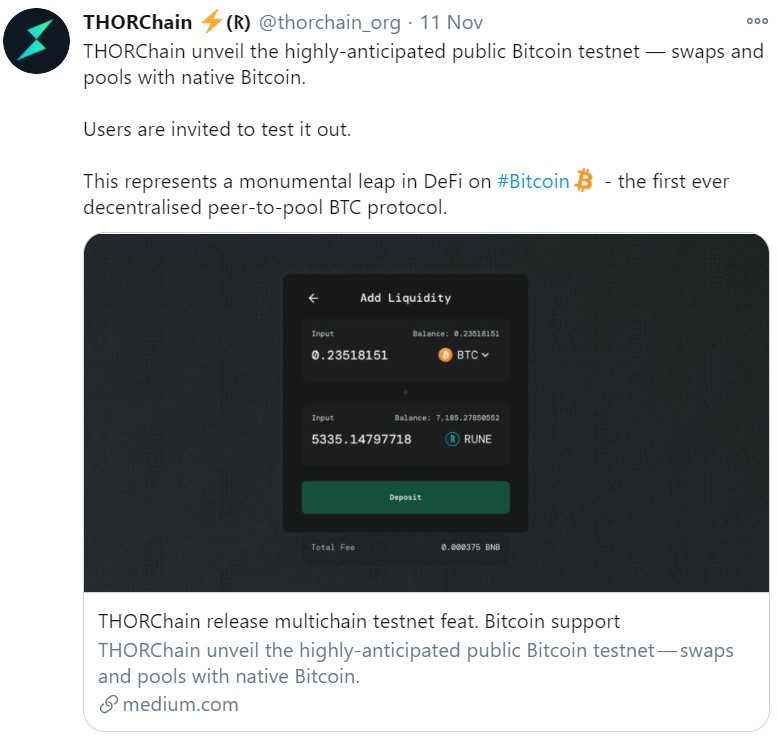 This week saw THORChain unveil the public Bitcoin testnet, which will allow swaps and pools with native Bitcoin. The developers suggest it will be a "monumental leap" for DeFi on Bitcoin, with the first decentralized peer-to-pool BTC project.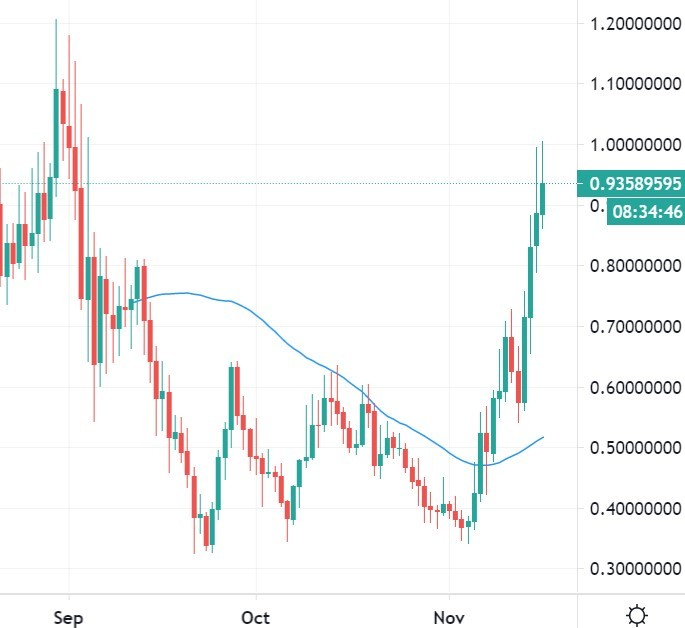 The price of RUNE now trades at $0.935 after a dip to almost $0.300 in October and November. The next target would be the September highs of $1.200.
Disclaimer: information contained herein is provided without considering your personal circumstances, therefore should not be construed as financial advice, investment recommendation or an offer of, or solicitation for, any transactions in cryptocurrencies.