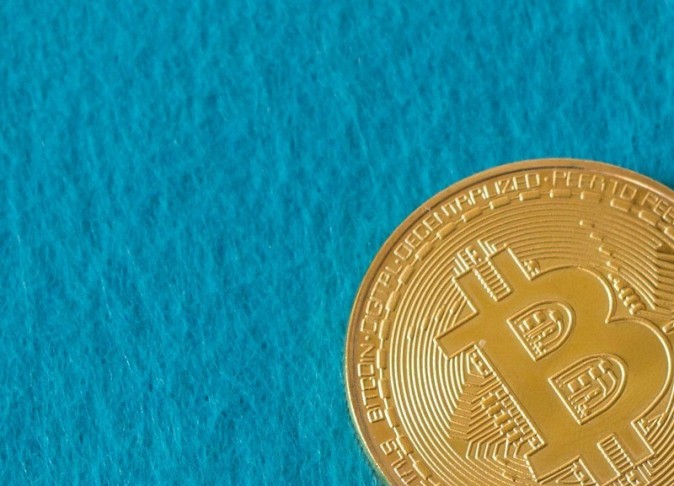 Bitcoin Price Stuck at $19k with Rates and Dollar, XRP, KLAY, APT, Oct. 24
Oct 24, 2022, 4:50PM

by
Kevin George
BTC awaits ECB rates and looks to Fed. XRP loses lead engineer. KLAY has metaverse potential. APT launches from the ashes of Diem.
BTC
Bitcoin produced another sluggish performance this week with the token giving up gains above the $20,000 level to settle closer to $19,000.
The inability to get above the round number at $20k is a warning of further losses but the coin will take its cue from stocks. Stocks produced a bullish +777 point gain in the Dow Jones on Friday and may be setting a price bottom but there are still many risks surrounding Ukraine, while liquidity is becoming a talking point.
The Federal Reserve has been sending money to Switzerland with traders assuming that the central bank or Credit Suisse is the recipient. The Financial Times said, "OK this is eye-catching".
"Outside of crises the swap lines tend not to be used much, aside from occasional small exercises to check their operational readiness and routine stuff."
It's nearly five times the peak amount it took at the depths of the market slump in 2020 ($2.34bn in early April that year), and the NY Fed's data indicates that usage throughout the eurozone crisis never went above $400mn.
The danger for Bitcoin and other risk assets would be another surge in the U.S. dollar if the swap line issue turns sour. A report from Goldman Sachs also predicted a stronger dollar and investors expect the Federal Reserve to raise rates again next month.
"We do not expect the Fed to embark on easing until 2024, and a trough in growth also seems months away," an analyst said.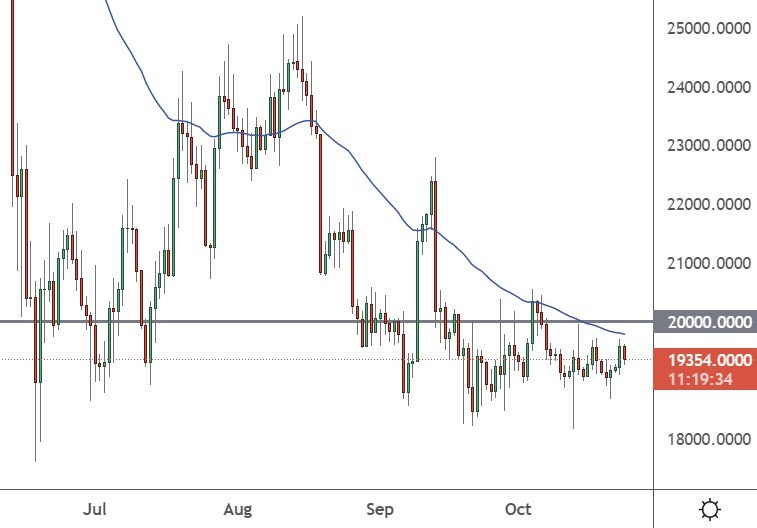 XRP
Ripple's XRP coin was down over 4% this week after the exit of the project's lead engineer.
Nik Bougalis is leaving after ten years in the role and said:
In an Oct. 22 tweet, Bougalis noted that: "my decade-long journey at Ripple has been a fantastic (if exhausting and all-consuming) one. I got to work on a project that I love, towards a goal I believe in. But that journey will be coming to an end in a few weeks."
As for what's next? I'll talk about it when it's time, but I am NOT joining another blockchain project/company, nor am I doing NFTs or DeFi.
He also said that the project would continue to do well without him:
"Its long-term health and success isn't predicated on any one person. I'm confident that it will be just fine, thanks to talented and passionate individuals who contribute and participate, each in their own way."
The move is the latest in a spate of resignations with Polygon co-founder Gavin Wood stepping down from Parity. Other executives stepping down in the last months include FTX US president Brett Harrison, Kraken CEO Jesse Powell, MicroStrategy CEO Michael Saylor, and Genesis Trading CEO Michael Moro.
There was better news with Ripple as they finally received documents regarding a speech from a former SEC director regarding the securities laws brought by the regulator. That would normally have seen a move higher in XRP but traders were not inspired. The price of XRP is now around the $0.455 level.
KLAY
Klaytn Foundation (KLAY) was the biggest gainer this week with a 30% return. The project is an open-source blockchain for building on the metaverse.
The Klaytn blockchain was launched in June 2019 by GroundX, the blockchain subsidiary of Korea's largest mobile platform, Kakao.
The blockchain is set to be one of the hottest crypto sectors in the future with Bloomberg saying it can reach $800 billion in revenues by 2024. That was an upgrade from a previous forecast of $500 million as companies like Walmart and Disney target the virtual universe.
"The Metaverse market may reach $783.3 billion in 2024 vs. $478.7 billion in 2020 representing a compound annual growth rate of 13.1%... As video game makers continue to elevate existing titles into 3D online worlds that better resemble social networks, their market opportunity can expand to encapsulate live entertainment such as concerts and sports events as well as fighting for a share of social-media advertising revenue," the report said.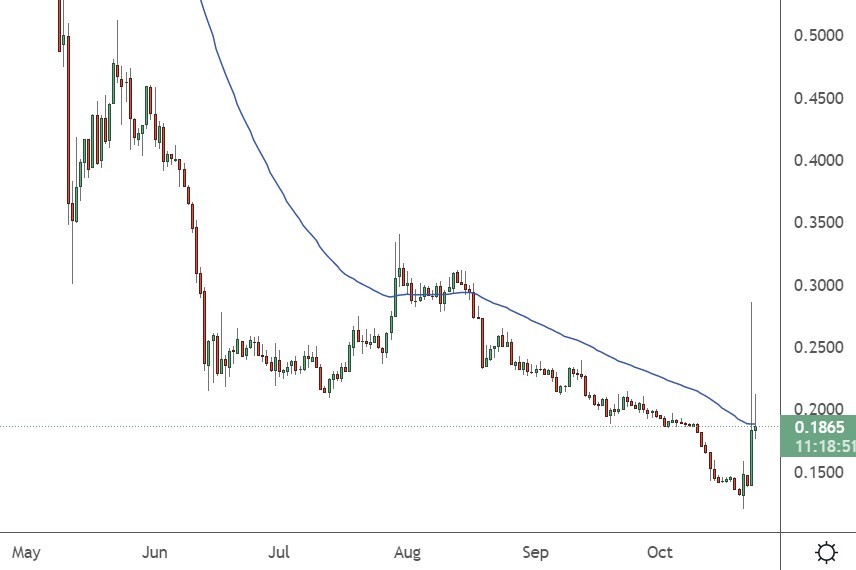 KLAY now trades at $0.18 and has a market capitalization of $565 million.
APT
Meta Platform's failure to launch its blockchain-based stablecoin Diem has seen several of its employees leave and develop their own Layer 1 blockchains. The first of these to launch was Aptos.
Aptos is a scalable Proof-of-Stake Layer 1 blockchain that leverages smart contract programming through Move. The project was founded by former Meta developers, Mo Shaikh and Avery Ching. The project claims that it may reach 100,000 transactions per second with its technology, making it faster than Solana.
Aptos saw some serious funding from the crypto industry with a $200 million seed round led by the venture capital firm Andreessen Horowitz. The project also raised another $150 million at a $1.9 billion pre-money valuation from FTX Ventures and Jump Crypto, before its valuation hit $4 billion in September with money from Binance Labs.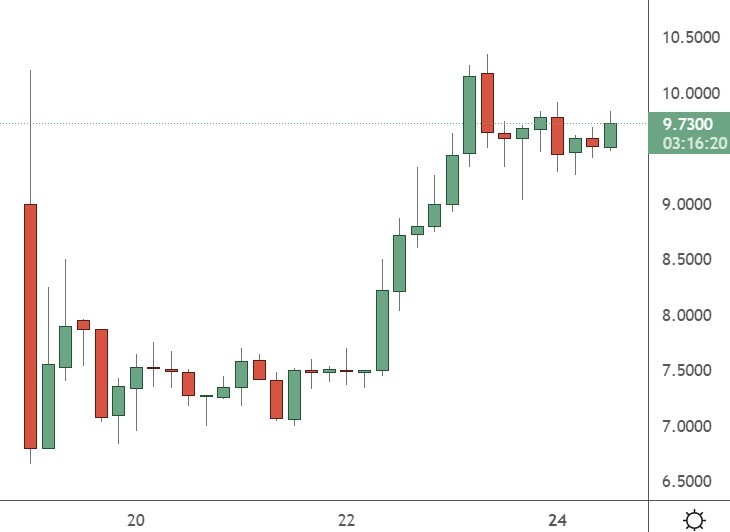 The price of APT is now at $9.73 and it would be worth watching this project in light of the investment interest.
Disclaimer: information contained herein is provided without considering your personal circumstances, therefore should not be construed as financial advice, investment recommendation or an offer of, or solicitation for, any transactions in cryptocurrencies.