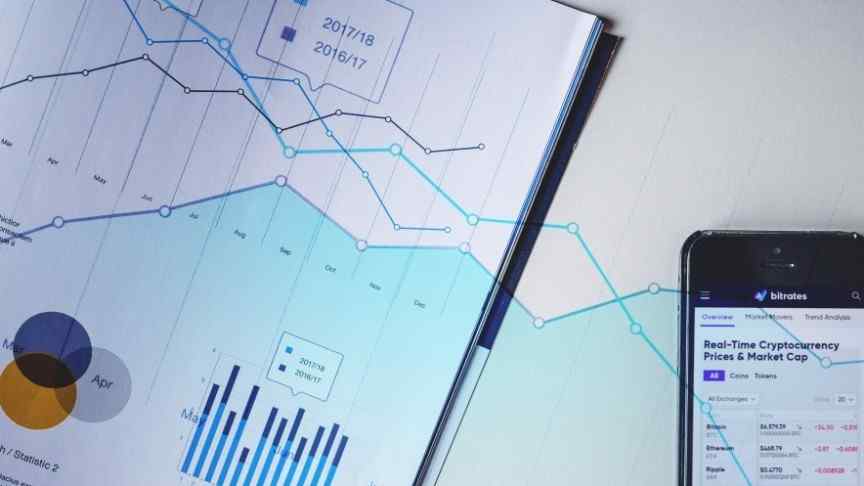 Bitcoin Still Posting Modest Gains, But For How Long? Market Analysis, Sep. 4
Sep 4, 2018, 11:03AM
Bitcoin prices continue to make modest gains, but can these gains be sustained even as Bitcoin Cash, Tronix and Ether run into strong headwinds?
The first week in September has opened with Bitcoin extending its modest gains of last week. A look at some exchanges shows that there are way more buy orders than sell orders. Perhaps there is renewed optimism that Bitcoin prices will now begin to show more sustained recovery. Bitcoin Cash also recorded a great feat, as a stress test conducted over the weekend to challenge the ability of its mainnet to handle huge transaction volumes with a negative impact on the network was successfully done. Bitcoin Cash gained 14% on Monday as a result.
However, it must be pointed out that many of the cryptocurrencies are now approaching resistance areas that have remained unbreakable as far as 2018 is concerned. Will we see a repeat of the same, or will prices eventually begin to pick up? Let us look at what the crypto markets will do this Tuesday in September.
BTC/USD
The weekly BTC/USD chart shows that price action continues to remain within the boundaries of the long-term descending triangle, with a key change. The price action candle for the week has assumed the shape of a pinbar. A pinbar at the resistance line could be pointing in the direction of a reversal. However, this is a weekly candle and we are just starting the week. There is still some space to the upside before price action touches the descending upper trendline resistance (shown in red).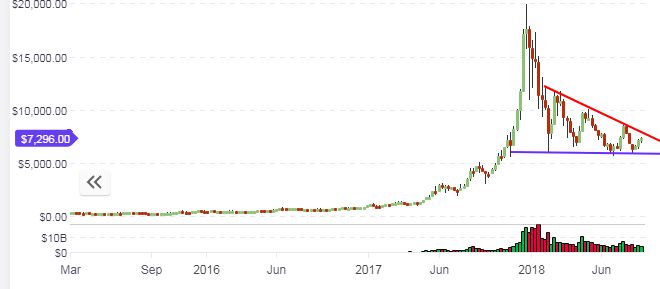 Therefore, the price of Bitcoin long-term may still have more upside momentum in its sails, and we also need to allow the candle close at the end of the week to get better clarity on the long-term outlook for Bitcoin.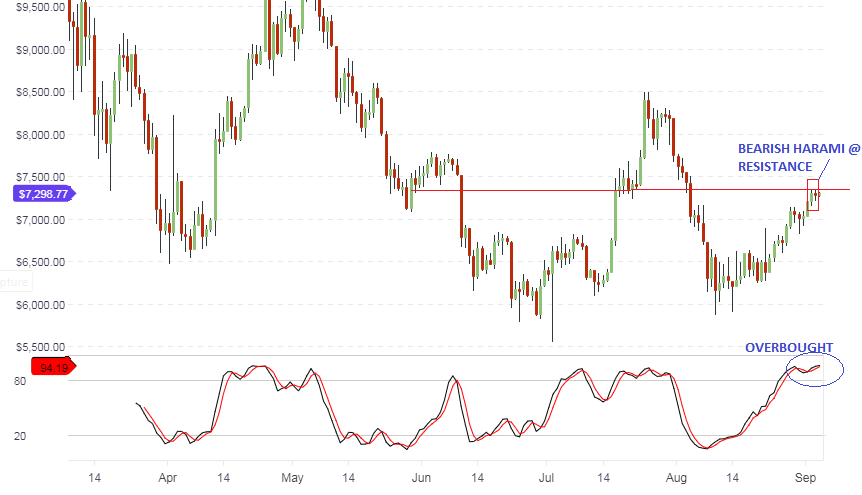 The daily chart shows the presence of a bearish harami candlestick pattern, located at the site of a medium term resistance line at present price levels of just under $7,300. The price action has danced around this resistance in the last 48 hours. It is likely that we will see further tests of this trendline as the day progresses. The bearish harami is not a strong reversal candlestick; we need to see today's daily candle close below the harami pattern for a downside reversal to occur. It is also likely that this resistance will be tested various times today and quite possibly, this week.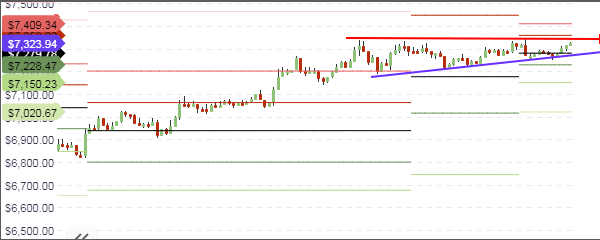 The picture on the hourly chart shows just how precarious day trading could be, as the price action is trading in a very narrow range. It is likely that the trading range for the day will be between the central pivot below ($7,279), and the R1 pivot above ($7,358). Price is presently pushing hard against the R1 pivot. If the price action is able to break the R1 pivot, then price action will make a push towards the R2 pivot. However, it will be quite difficult for intraday price action to break the R2 area, given the fact that price action is already too close to strong resistance areas. Day traders who want to take on their trade positions should be aware that there may not be much upside left in the long term move before price stalls or even retreats. Intraday trades must therefore be done very cautiously.
Outlook for BTC/USD
Long-term: bearish
Medium-term: neutral
Short-term: neutral
BCH/USD
Bitcoin Cash advanced 14% on Monday on the back of successful stress tests, conducted to test the ability of the Bitcoin Cash Mainnet to withstand very heavy transaction volume. The team had requested users on September 1 to carry out transactions and use decentralized applications in order to push volumes into the 7-digit mark. The stress tests were declared a success and the Bitcoin Cash team is mulling the idea of making this stress test an annual event. However, Tuesday has seen BCH give up some of those gains.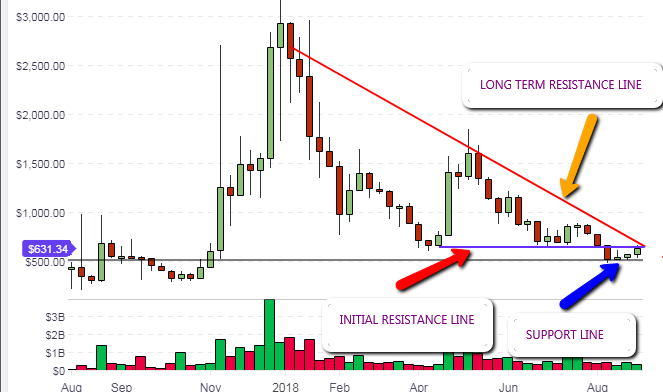 The long term chart shows that price action has bounced off the long term support of $500 and is abutting the support-turned-resistance line at the $631 price level. Coincidentally, this price level is also the same area where the descending trendline that serves as the long term resistance, is also cutting through price action. This strengthens this resistance area, and if things continue as they are without more positive news (or further upside drag from Bitcoin), we shall see prices test this area or even retreat from here.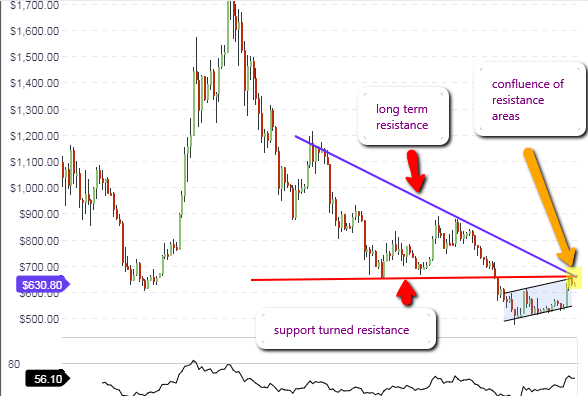 The picture on the daily chart confirms what the long term chart is saying. We see price action located at three resistance reference points: the upper channel line, a support-turned-resistance line and a descending trendline resistance. These will also serve as strong limitations to further upside movement.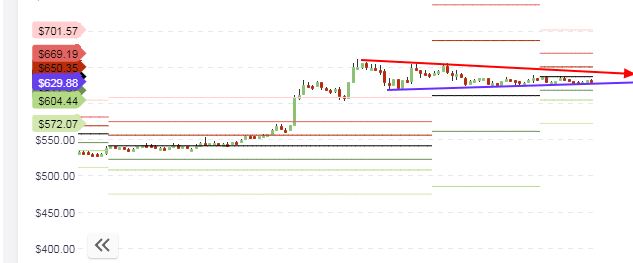 The intraday chart shows price action in a very tight trading range, with upside limited at the central pivot at $640) and the blue support line ($610). This situation calls for very quick scalps, if any day trading should be done at all.
Outlook for BCH/USD
Long-term: bearish
Mid-term: bearish
Short-term: neutral
TRX/USD
Tron prices continue to underperform with very little upside movement. However, the daily chart throws up some interesting scenarios. There is a major downtrending channel, with price firmly being resisted at the upper channel line. Within the context of the major channel, we see an uptrending smaller channel, with price action trending within this channel.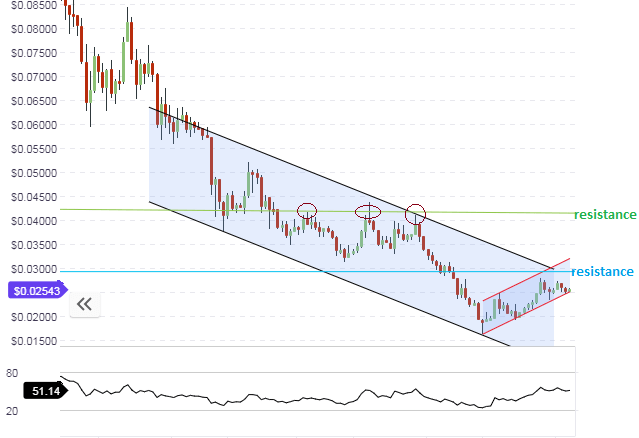 One thing is clear: TRX/USD needs to break above the blue resistance line and the upper trendline in both channels for further upside to be seen.
Intraday price range will be quite thin, although there is some room for the price action to move to the upside. We see price action being supported intraday by a rising trend line, which cuts across the central pivot at $0.0250.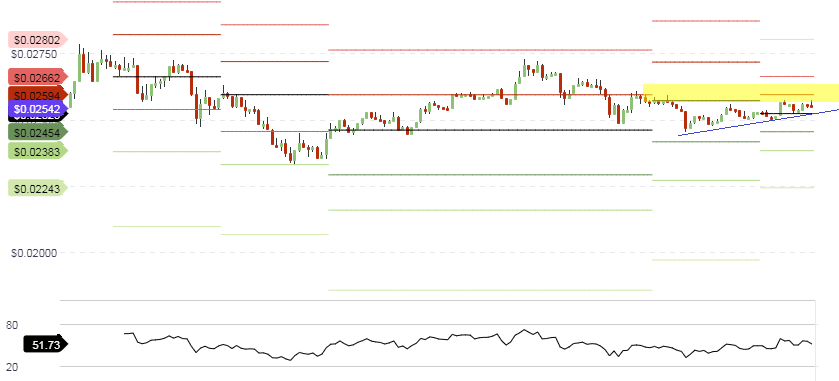 Price action will need to break above the R1 pivot at $0.0259 in order to continue any upward moves. If this is achieved, then TRX/USD will make a push towards R2 and possibly the R3 pivot level as well. In other words, there is still some room for further upside, but this will be limited.
Outlook for TRX/USD
Long-term: bearish
Medium-term: bearish
Short-term: neutral to bullish
Disclaimer: information contained herein is provided without considering your personal circumstances, therefore should not be construed as financial advice, investment recommendation or an offer of, or solicitation for, any transactions in cryptocurrencies.