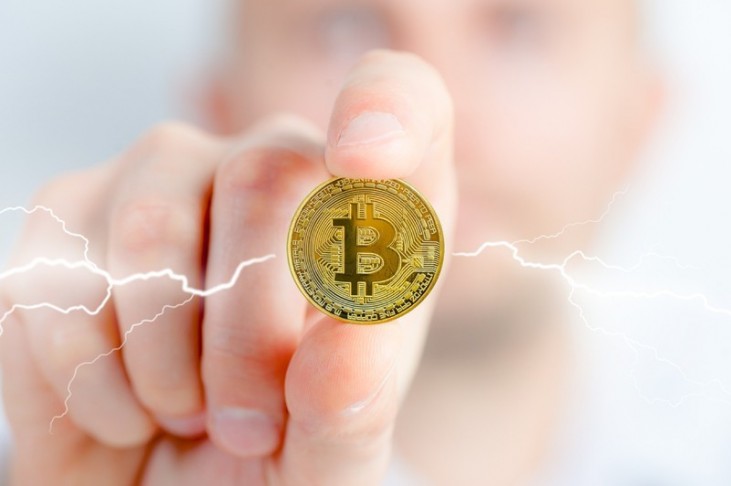 Bitcoin Surges Over 15% with Ordinal NFT Boost, STX, MATIC, CFX, Feb. 20
Feb 20, 2023, 9:01PM

by
Kevin George
BTC rally continues with a 15% weekly gain. STX surges on Ordinal activity. MATIC jumps into the top ten. CFX posts a 500% gain for the week.
BTC
Bitcoin continued the recent rally with a 15% gain for the week.
The latest rally in the world's largest cryptocurrency is being driven by Ordinals Inscriptions which has opened up the potential for non-fungible tokens on the oldest blockchain.
The market is buzzing at the potential for BTC NFTs which improve on Ethereum's offering. Unlike Ethereum NFTs, which rely on off-chain metadata that can be modified, Ordinal Inscriptions enable all data to be written directly on-chain.
Bitcoin's Ordinal NFTs are the brainchild of software engineer Casey Rodarmor, who wanted to improve on this flaw in NFT with the Bitcoin Ordinals protocol. However, there is a mixed opinion on what this can do for Bitcoin. Those in favor believe that Ordinal Inscriptions could create a new direction for the bitcoin community and improve the technology supporting NFTs.
Others see it as a distraction and as more Ordinals are being inscribed, the cost of bitcoin transactions has risen. This is due to the fact that Ordinals include additional, non-financial data on the Bitcoin blockchain that slows down on-chain confirmation times. This data includes images, audio clips, and games.
The Ordinals protocol has seen a revival of interest in bitcoin development and has led to an increase in average block size as an increased number of users join the network, research firm FSInsight said.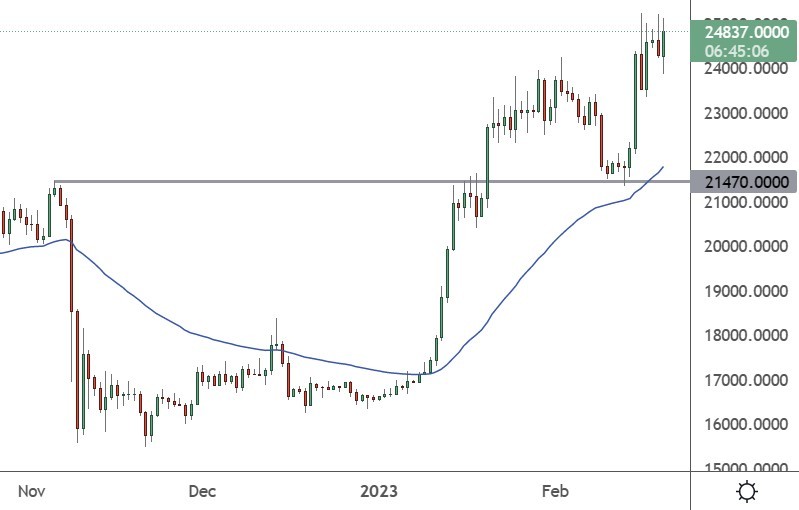 Bitcoin was trading at $21,650 on Monday after the SEC's actions with $21,500 providing initial support ahead of the $20,000 key support level.
STX
Stacks (STX) was a big gainer this week with a 100% move higher as the Bitcoin Layer 2 project benefited from the Ordinals hype.
Stacks Network is a Bitcoin layer 2 network for smart contracts and is aimed at making the bitcoin blockchain programmable with NFT and smart contract capabilities.
Stacks uses a separate ledger to store data outside of the Bitcoin blockchain, allowing developers to build applications similar to those on Ethereum and Solana.
STX was also the first token offering approved by the U.S. Securities and Exchange Commission (SEC), and the token is used to incentivize Stacks miners and participants in the proposed Stacks bitcoin (sBTC) system.
Ordinals went live on January 21 and the number of newly created Ordinals NFTs inscribed crossed the 100,000 mark last week, causing network congestion on the Bitcoin blockchain.
Per Muneeb Ali, co-founder of Stacks, said that the popularity of Ordinals would be good for layer 2 solutions.
"Ordinals on Bitcoin L1 are complementary to Bitcoin NFTs on L2s like Stacks. Ordinals have a natural limit on the L1 scale, and L2s provide a clear scalability path. Wallets like Xverse and & Hiro are amongst the first to release or work on Ordinals.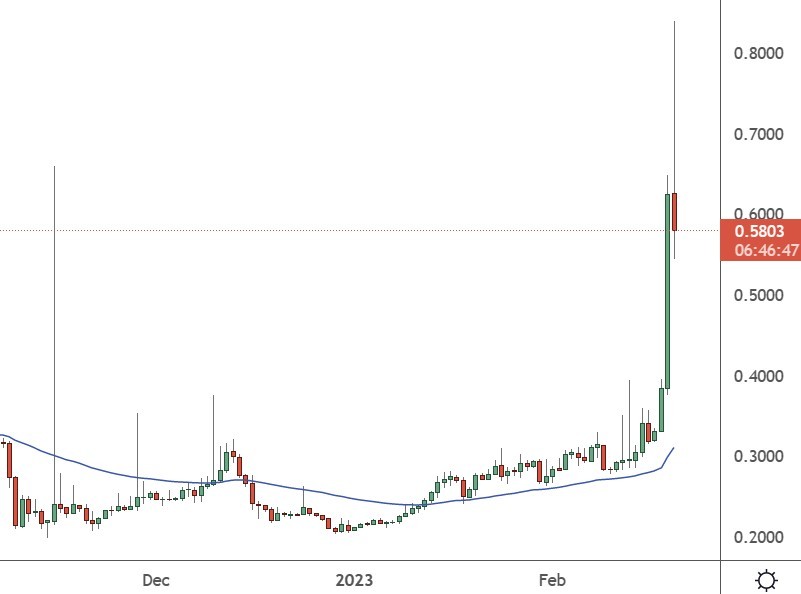 The price of STX soared to $0.50 this week and could continue to benefit from Ordinals in the weeks ahead.
MATIC
MATIC was the best-performing coin in the top ten with a move of over 25% for the week and Polygon's price action has seen the project break into the top ten coins in 2023.
Data from WhaleStats has also shown that Polygon is the fifth-largest crypto asset among the 5,000 largest Ethereum whales.
Polygon is gaining ground due to development activity in the project. Polygon Labs, the development team for Polygon, announced that the beta version of its zero-knowledge Ethereum Virtual Machine (zkEVM) would launch on March 27.
Zk-based technology is seen as the gold standard for scaling and existing rollups like Arbitrum and Optimism have EVM capability but are less secure because they are "fraud-proof" as malicious transactions can stay live for up to seven days. Another boost for MATIC is that Ethereum's upcoming move to Liquid Staking Derivatives may shift toward layer-2 networks after the Shanghai upgrade in March.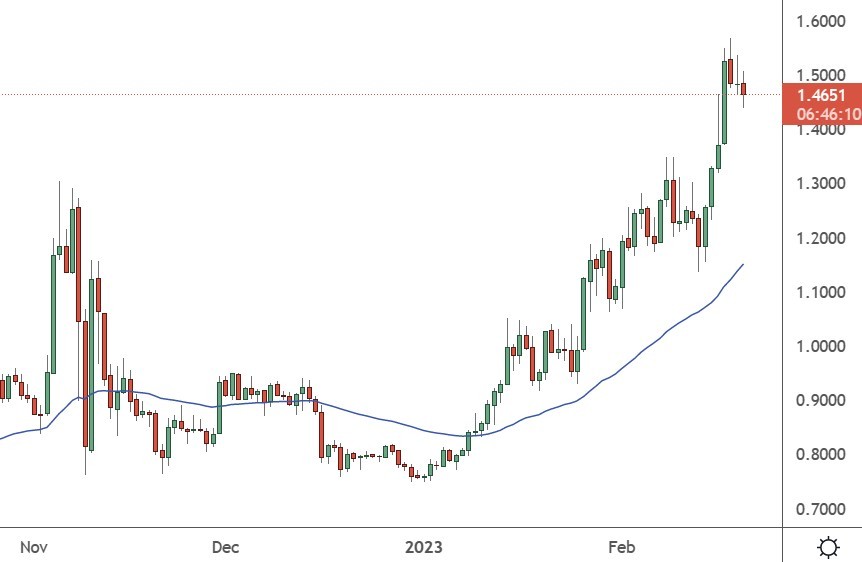 The price of MATIC has driven higher to the $1.46 price level which is a 100% gain for 2023.
CFX
Conflux (CFX) has been a big mover this year and the project surged over 500% last week.
Conflux Network, also known as Shanghai Tree-Graph Blockchain Research Institute, is the only regulatory-compliant, public and permissionless blockchain in China. Conflux is a layer-1 blockchain operating on a hybrid proof-of-work and proof-of-stake mechanism.
Conflux Network announced a partnership with Little Red Book, a Chinese social media platform, to provide nonfungible token services. The partnership will open up Conflux Network to Little Red Book's 200 million users. Furthermore, on February 15, Conflux Network partnered with China Telecom to develop a blockchain SIM (BSIM) card service in Hong Kong. That will provide access to China Telecom's 350 million users.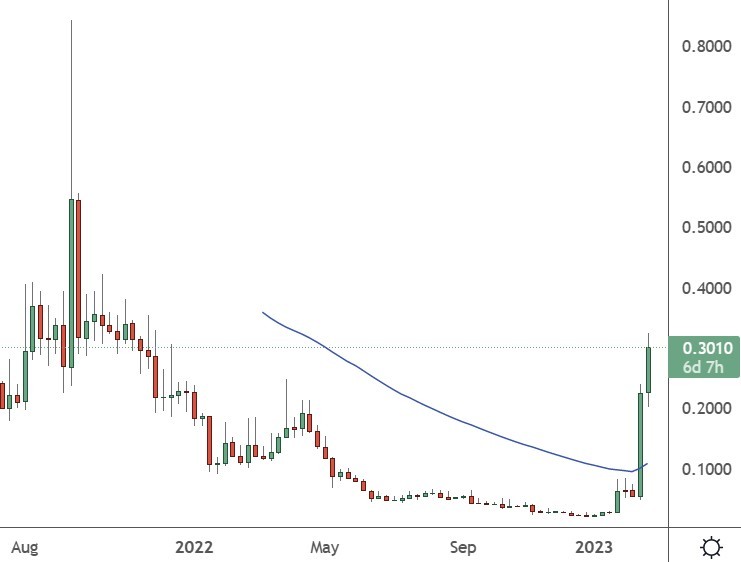 CFX has risen to a price of $0.298 over the last week and has a market cap of $1.5 billion. The project has swiftly moved into the top 100 projects with a ranking of 77 at the time of writing.
Disclaimer: information contained herein is provided without considering your personal circumstances, therefore should not be construed as financial advice, investment recommendation or an offer of, or solicitation for, any transactions in cryptocurrencies.