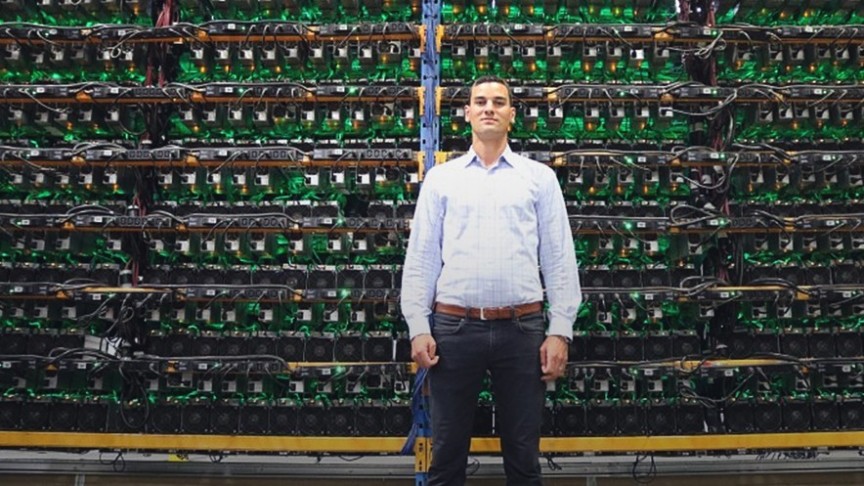 Bitfarms' Wes Fulford: An Industry Leader Brings Us Inside the World of Crypto Mining
Mar 12, 2019, 7:57PM

by
Chris Madill
We join Bitfarms CEO Wes Fulford as he discusses the promising direction of his company and the bright future he sees for Bitcoin and blockchain.
Today, we interview Bitfarms CEO, Wes Fulford. Wes has a longstanding background in the world of investment banking, capital markets, and asset management. Wes is also a self-proclaimed crypto-enthusiast, and he is currently managing the corporate direction at Bitfarms as the company becomes one of the largest vertically integrated blockchain infrastructure and cryptocurrency mining companies in North America.
Bitfarms is based in Quebec, Canada -- a hotspot for Bitcoin mining/data centers thanks to its cold climate and an abundance of renewable energy. The company is ambitious and is currently expanding its operations in Quebec, recently constructing its forth mining farm in the town of Magog. The company fuels this growth with a keen focus on the efficient use of hydro-electricity to power its data centers. Within the North American blockchain industry, Bitfarms is rapidly being recognized as an industry leader, and many in the space are looking to the company and its directors for guidance as the industry adapts to the changing landscape in 2019.
Because of his company's pivotal role in the crypto mining industry, Wes has been selected to speak at the "MPWR Summit" in Vancouver, B.C. this week - an event that looks to bring together the key players in the crypto mining space to examine and discuss the most pressing issues facing the industry today.
In our interview, Wes discusses the reasons why he chose to move his career into the world of cryptocurrency, and how he plans to guide Bitfarms on a path to success in the world of crypto mining. Wes's insights give our readers a glimpse into the sophisticated business behind crypto mining, and his thoughtful responses offer a unique view of Bitcoin's potential in today's market and beyond.
What brought you into the blockchain infrastructure vertical?
Wes Fulford: I started my investment banking career covering the technology sector, and most recently, I led the fintech sector for Desjardins where I became exposed to blockchain and crypto mining companies. I learned about the technology behind bitcoin and quickly realized that this emerging technology could have a major impact on the world as we know it. I became a blockchain and crypto enthusiast in early 2016.
Why did you choose to bring your expertise to Bitfarms in particular?
Bitfarms had already established itself as a global player in the blockchain infrastructure and crypto mining sector. I was impressed with the professionally designed operations, the existing power contracts and Bitfarms 's steps towards vertical integration. My skillset in capital markets and business strategy was complementary to the team.
What sort of potential do you see for Bitfarms in the future?
Bitfarms will continue to grow its operations in Quebec, leveraging its current power pipeline with the medium-term goal of becoming a much bigger participant in the bitcoin ecosystem. We aim to be a leader in this space. We will also evaluate diversifying our service offering to other use cases within blockchain or other data intensive applications.
How does Bitfarms differ from other companies in the Bitcoin mining vertical?
We are in a politically stable operating regime. Being in the province of Quebec, our energy is 100% renewable and it comes at a competitive price. We have taken steps to become vertically integrated in order to compete on a cost basis with other global miners. At Bitfarms we have the flexibility to deploy ASIC hardware from a variety of manufacturers. Our operations are professionally designed with an emphasis on thermodynamics, meaning no reliance on air conditioning. We have a team of in-house electricians who deliver cost-effective infrastructure spending and expedited buildouts. Finally, we have a proprietary software monitoring tool and in-house technicians who can quickly locate and repair problematic ASIC miners, maximizing our hardware up-time.
As CEO of Bitfarms, one of your primary roles is to manage the corporate direction of the company. It is my understanding that Bitfarms financed the company's expansion with their own capital last year, even though the markets were ripe with eager investors during Bitcoin's all-time-high.
Could you elaborate more on why Bitfarms took this approach as opposed to using venture capital obtained from investors, and how it benefits the company?
Our operational growth has been primarily funded with cash flow from operations which means our capital structure is relatively simple. We believe in our operational strength and didn't want to bring on a partner (or partners) during this infancy stage of our growth.
Your company, Bitfarms, is a leader in the Canadian blockchain/Bitcoin mining industry, and as such, you will be speaking at the upcoming MPWR summit in Vancouver BC.
Could you tell us more about the summit, and why it is important to Bitfarms to be a part of this event?
The MPWR Crypto Mining Summit 2019 is dedicated specifically to crypto mining and we are pleased to be recognized as one of the major participants in this industry. We want to discuss the keys to our success and how we envision building in the future. The industry has undergone significant changes within the past 14 months, driven largely by industrial scale operators and infrastructure overspend, and participants are looking to companies like us for guidance.
Could you tell us why Canada is an ideal location for crypto mining, and how you personally see the Canadian industry developing in the coming years?
In addition to its ample supply of green energy at competitive pricing, the Canadian capital markets have demonstrated support for blockchain and crypto - We believe in the potential of this marketplace. The current hardware pricing environment presents an extremely compelling opportunity [to] grow our operations. We are at the forefront of an exciting revolution and I'm sure the best is yet to come.
With your strong background in finance and investment banking, I am curious to know your opinion on the viability of the Bitcoin market.
As the "killer app" of blockchain technology, Bitcoin has weathered multiple cycles while defending its position as the world's largest cryptocurrency. 2018 saw increases in the number of crypto wallets and total transactions vs. the year prior. Applications being rolled-out/developed by some of the world's largest financial institutions are compelling. Pension funds and university endowments have started to deploy capital into crypto and blockchain. There is a place in the world for a global, standardized and decentralized currency. It is much harder to see living in Canada or the U.S. where we benefit from stable government (sort of) and a strong banking system driven by monetary policy.
Where do you see the Bitcoin market in 5 years?
We will see continuing adoption at an accelerated rate as technology improves and new markets participants (ie institutional investors) enter the space, driven by the resolution of various road blocks (ex. Custody). It is easy to forget that Bitcoin has just celebrated its 10th anniversary, so the technology is still quite new, but its resilience has not abated.
Is there a long-term opportunity in Bitcoin?
From a traditional portfolio approach to investment management, specifically hard asset allocation, it has many properties similar to physical gold which is being recognized among traditional financial markets. One could argue that it offers many advantages over gold (ex. Security and transportability). The Bitcoin protocol has capped all-time supply at 21M coins with new annual supply decreasing every 4 years. Bitcoin presents many characteristics of a deflationary asset, mainly a high stock-to-flow ratio. We believe in long-term price appreciation.
Do you have any theories as to why the crypto market is stagnating?
2017 was plagued with bad actors jumping on strong market sentiment. The SEC's scrutiny of certain ICO's being a prime example. The "FOMO trade" is behind us. Like any new asset class there will periods of volatility. 2019 will be [a] year of hard work for Bitfarms.
What sort of opportunities outside of Bitcoin mining exist in the crypto mining sector?
We are building infrastructure for the future, supporting a decentralized and diversified financial economy. We are leveraging our industrial scale data center expertise. We have an opportunity to become a leader amongst global crypto miners and a much larger participant in the blockchain ecosystem. We have the flexibility to pivot as this industry continues to evolve, as our infrastructure could one day serve other purposes within private blockchains. Recently, we signed a first partnership with the blockchain research team of a leading engineering school located in Montréal (ETS) and the Natural Sciences and Engineering Research Council of Canada (NSERC). It's a research project focused on the use of blockchain to track blood donations.
Is Bitfarms pursuing other crypto technologies as part of their corporate strategy?
Historically we have supported other proof of work protocols. Today, the vast majority of our hash power is focused on the Bitcoin network. We regularly evaluate other crypto opportunities and have the flexibility to make dynamic operational decisions.
The team at Bitrates.com would like to extend a huge thank you to Wes Fulford for his thoughtful responses to our questions.
Disclaimer: information contained herein is provided without considering your personal circumstances, therefore should not be construed as financial advice, investment recommendation or an offer of, or solicitation for, any transactions in cryptocurrencies.