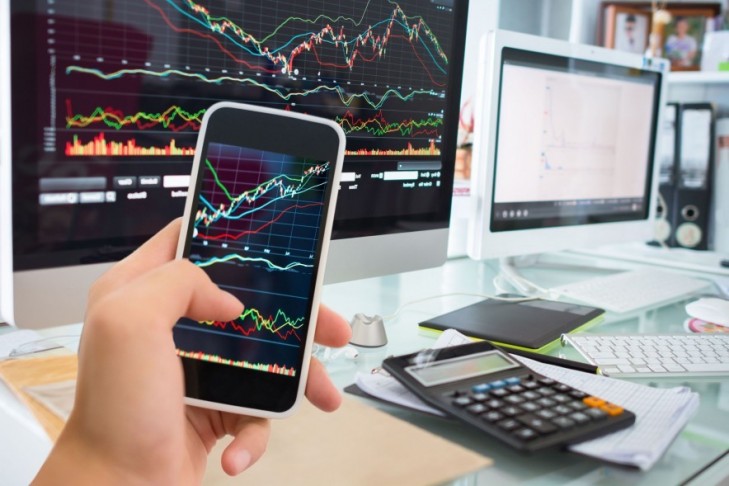 Ethereum Looks for a Base Near $4,000, YFI, BORA, HBAR Dec. 20
Dec 20, 2021, 10:21PM

by
Kevin George
Ethereum has struggled but may look for a rally this week. Defi still dominates with Yearn up 100%. BORA and Hedera also performed well.
ETH
The Ethereum price was choppy in the last week with lows near $3,650 and highs at $4,100.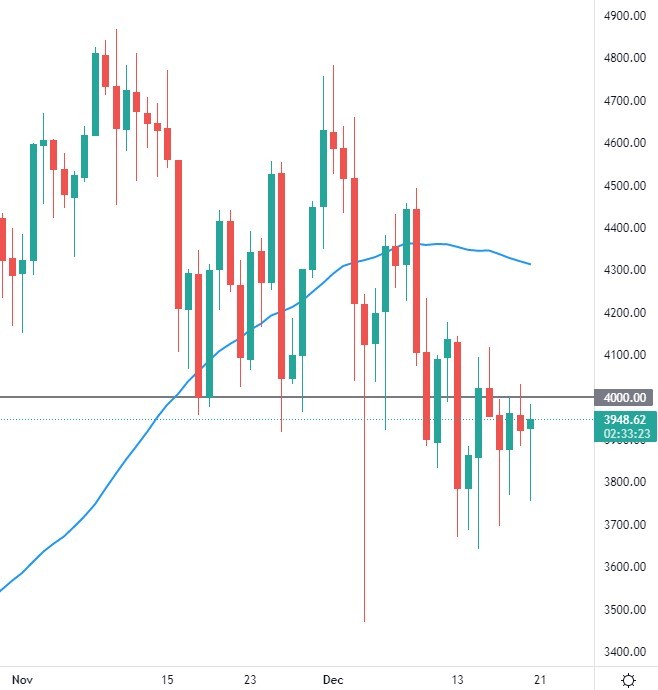 The number two coin by market cap has found a base and a positive day could be on the cards to start the week for a push above $4,100. With the market in bearish mood, it could catch some by surprise with a short squeeze.
Call option demand has risen for Ether into year-end and that also highlights potential for a rally.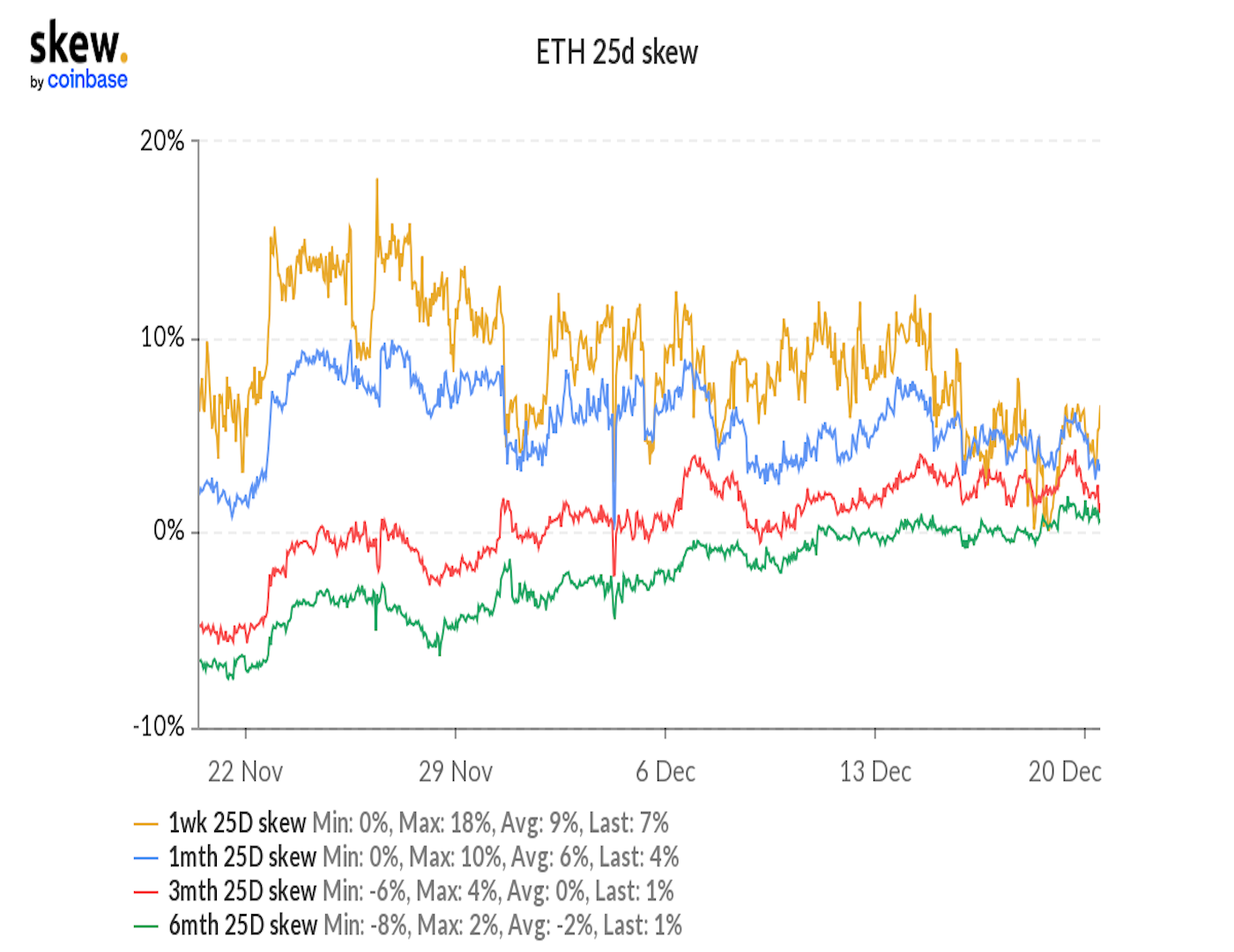 According to Coin Desk:
"Institution-focused over-the-counter (OTC) desk Paradigm saw 18,500 contracts for the $4,400 call option and 14,000 contracts for the $4,200 call option change hands during Asian trading hours. These trades due for expiry on Dec. 31 were executed on Paradigm and booked on Deribit, the leading exchange for cryptocurrency options by volume and open interest."
The two trades were traded live and appear to be a large directional bet for a move higher into year-end
- Patrick Chu, director of institutional sales and trading at Paradigm said.
Ethereum has been outperforming Bitcoin in recent weeks, but both have been dragged lower by regulatory fears and the latest virus wave.
What markets may be missing is that governments in the UK and Europe are moving towards new lockdowns, while Australia and the US may follow. Another western shutdown can only mean further stimulus and a possible return to the bull market of 2020, where huge stimulus packages supported gold and cryptos.
ETH currently trades at $3,950 but a move above $4,000 could target $4,300 quickly and a test of the 50-day moving average.
YFI
Decentralized finance has been leading the market lately as BTC and altcoins have struggled.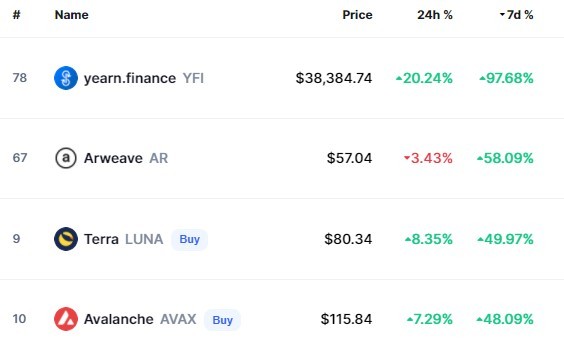 Yearn Finance added 100% to its value in a week where the top-performing coins were dominated by DeFi projects.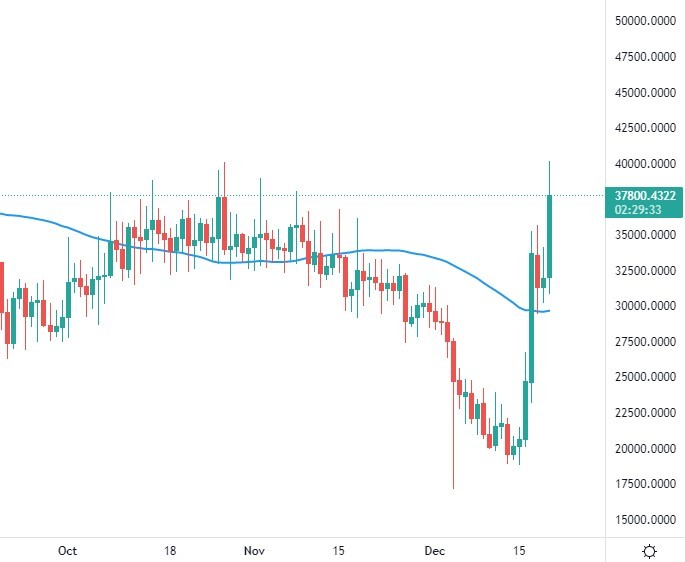 YFI was punished after the May highs near $100,000 but has found a bottom and rallied under $20,000 to $40,000.
The price growth surrounds a move to a new Yearn Governance proposal that would involve big changes to Yearn's tokenomics. The proposal is based on four key steps, to be completed sequentially, to amend the tokenomics of YFI:
First, a portion of YFI tokens would be bought back by Yearn's Treasury and distributed as rewards to YFI holders who are actively involved in Yearn Governance.
Second, four different methods by which YFI holders could be rewarded for locking up their tokens are introduced.
Third, the proposal would grant Yearn Developers the ability to roll out these new features as they see fit.
Fourth and finally, the proposal introduces a restriction on Yearn Governance: only YFI staked in xYFI (beginning in Phase 1) and/or locked (as per Phase 2 and onwards) would be eligible for use in voting.
Yearn currently has a market cap of $1.36 billion, which is a long way from the DeFi market leader in Terra, which has a valuation of almost $30 billion.
HBAR
Hedera Hashgraph was another coin seeing a strong week with a 40% gain to $0.30. The all-time high for the coin came in September at a price of $0.58.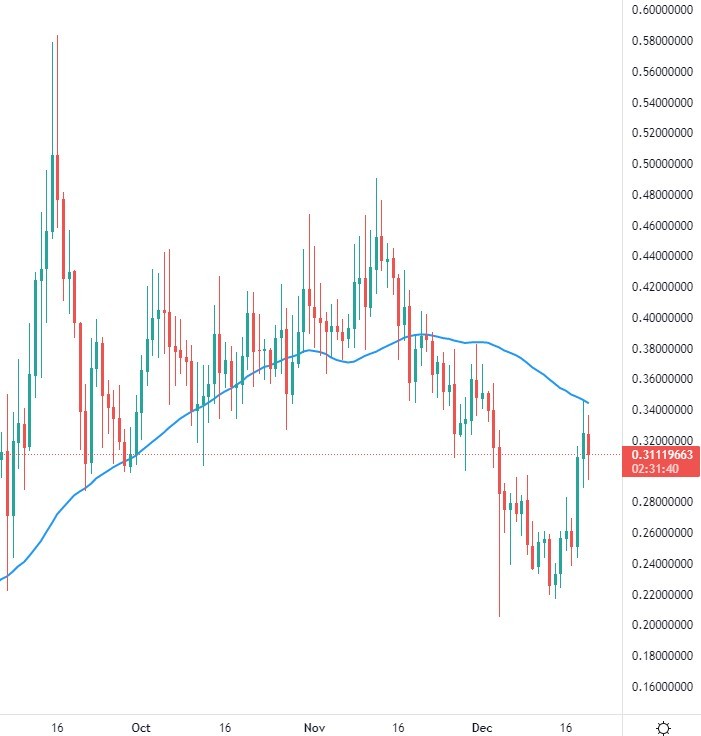 The price move was driven by a partnership between HBar foundation and MetaVRse to support the development of metaverse-related applications. Further interest in HBAR was seen after the company shared a Tweet about Google willing to take crypto payment for Google Cloud and that it "also has agreements with Hedera and others."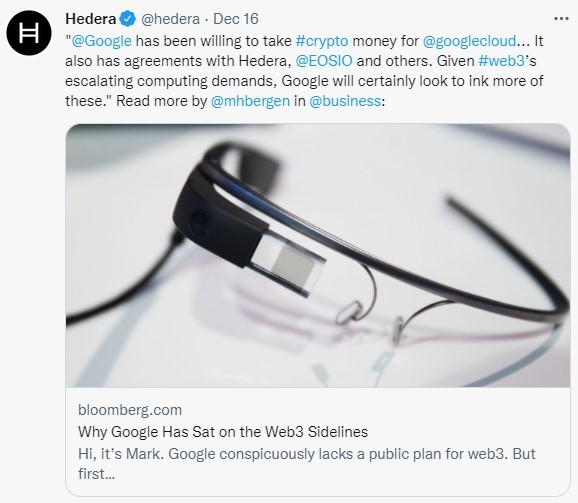 An enterprise-grade, proof-of-stake public network, the native token, HBAR, has risen almost sevenfold this year.
Hedera saw a network usage of over 2K+ TPS on 18th December – A good number reflecting the high network usage activity on its blockchain.
The coin also calls itself "the world's greenest cryptocurrency" and gained popularity after Elon Musk called for a sustainable coin. The latest move to join the Metaverse bandwagon comes at a time when NFTs and other developments are soaring in popularity and value.
BORA
A newer coin that was doing well last week was BORA project, with the coin moving into the top 100 after a rise of 35%.
BORA is a Korean-based project was built on Ethereum with a token that is now compatible with the Klatyn network. The project boasts 50 million users for its games.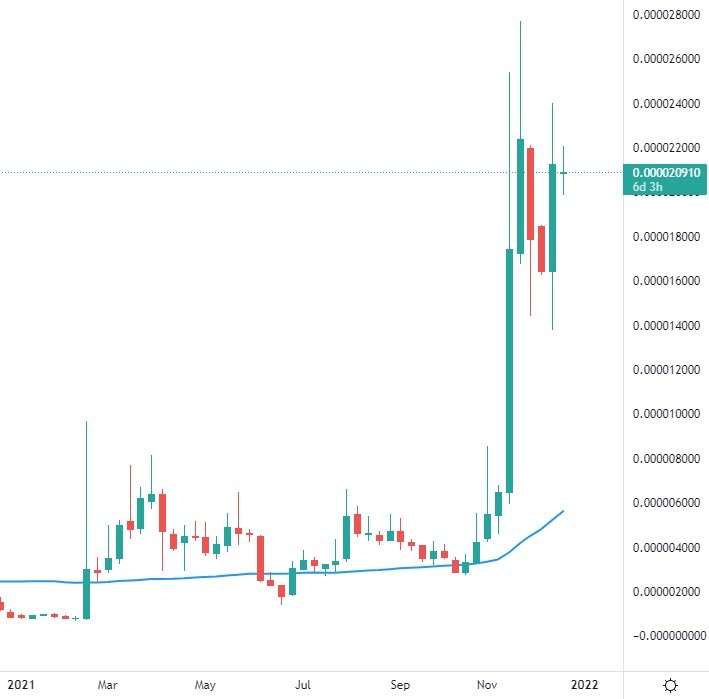 The coin trades at $1.00 with a market cap of $1.2 billion but the company's website is light on information. The project has its own wallet which allows you to store BORA on your desktop.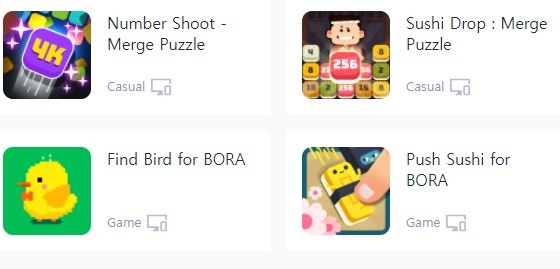 BORA ISLAND is a decentralized entertainment platform focused on producing digital content with a 'play-to-earn" model.
It may be a good sign that the project has crept into the top 100 coins with very little marketing and fanfare.
Disclaimer: information contained herein is provided without considering your personal circumstances, therefore should not be construed as financial advice, investment recommendation or an offer of, or solicitation for, any transactions in cryptocurrencies.