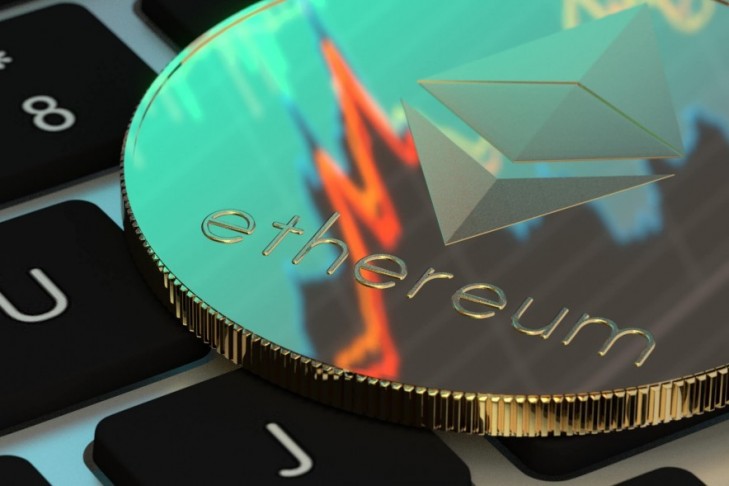 Ethereum Price Outperforms as UBS Sees Short Squeeze, LUNA, TRX Dec. 6
Dec 6, 2021, 4:59PM

by
Kevin George
ETH was 6% lower this week but is outperforming BTC. LUNA gained in a weak market on 3rd largest TVL. TRX slow but cross-chain and metrics grow.
ETH
The Ethereum price has outperformed Bitcoin again this week as the crypto market suffered again. ETH lost just 6% but that was better than the 14% drop in BTC.
Meanwhile, analysts at UBS were talking of the price action in Ethereum and the options market with talk of a potential blast higher to $15,000.
From Zerohedge:
"According to UBS analysis of Glassnode on-chain data, the dip was bought by the smallest and the largest holder cohorts as well as crypto exchanges. In other words, both retail and whale... as medium-sized clients were actively shorting. This sets the scene for the next short squeeze."
"…building enthusiasm about next year's shift to Proof of Stake and a fresh focus on bringing down transaction costs—witness Vitalik Buterin's latest EIP-4488 proposal. ETH got back within striking distance of its all-time high as a result and the BTC/ETH cross just fell through its May low, triggering profit-taking," they added.
The UBS report said of the options market:
ETH options for the March 2022 expiry are dominated by a single large 15k strike worth around USD400m in premium. This setup suggests a reacceleration above all-time highs could create a gamma-driven surge. However, prices stalling or falling would add to the high decay bill and instead open up further downside given the insignificant amount of protection left outstanding into year-end.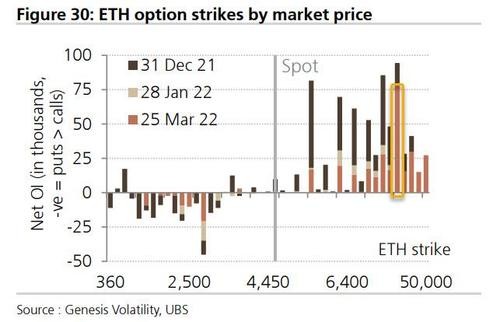 Zerohedge added the $15,000 price tag based on the strike prices, saying:
Over the next few weeks we will likely witness an epic clash over ETH hitting a new ATH around $5,000 and if the shorts finally allow that to happen, the move from there to $15,000 will be fast and furious.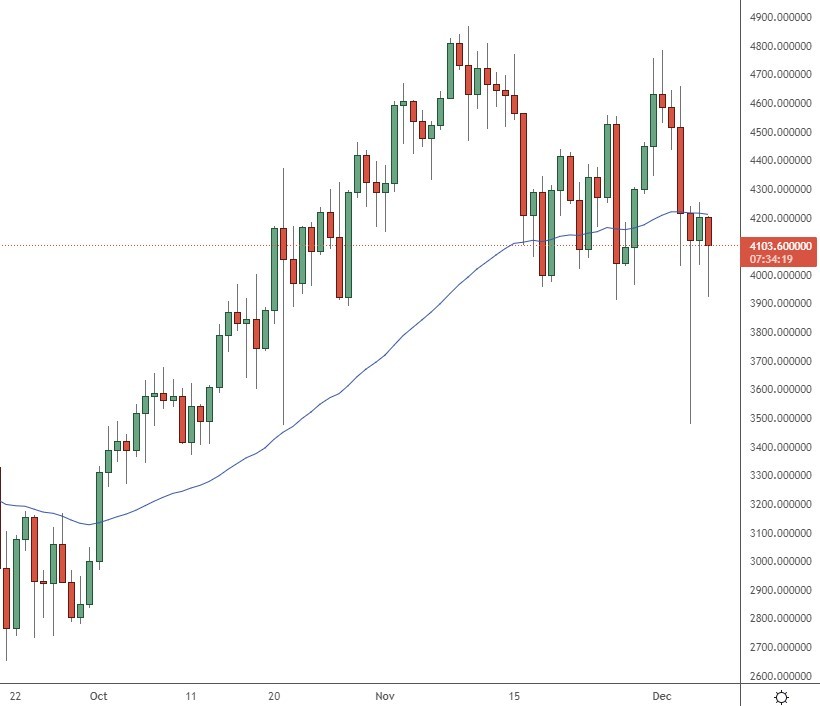 Ethereum has held the $4,000 level into Monday and with stock markets supported by initial Omnicron variant cases being mild, there is potential to move higher.
LUNA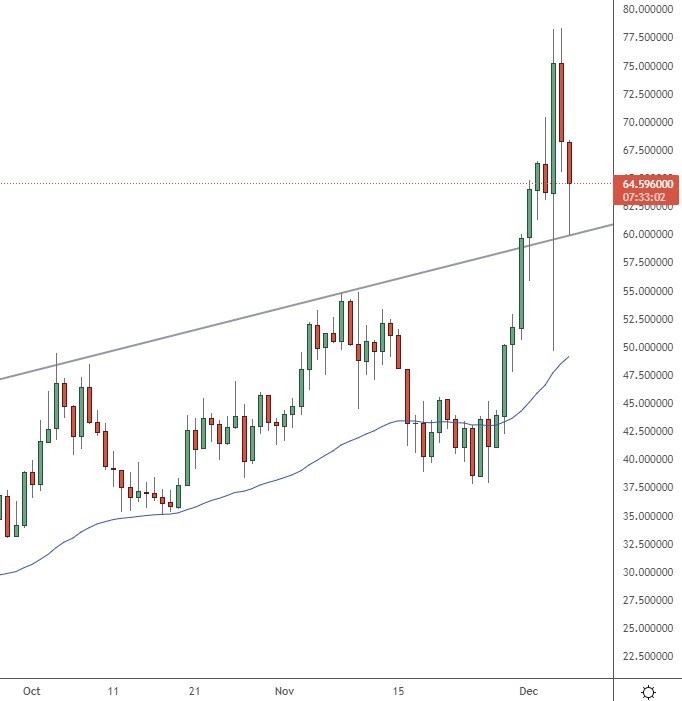 Terra's LUNA coin was trading above $65.00 on Monday after a 33% move higher in the last week. That was the best-performing coin with the next best seeing only a 6% gain. The latest move gives Terra a market cap of $24bn and ranked at number 10 in the list of coins.
The price of LUNA has now gained 2700% since the market crash in May.
A tweet by Wu Blockchain has explained the reason for the growth with the coin growing to $14 billion in Total Value Locked (TVL) with the coin surpassing Solana and Avalanche for third place. Terra is also closing in on Binance for the second spot in TVL.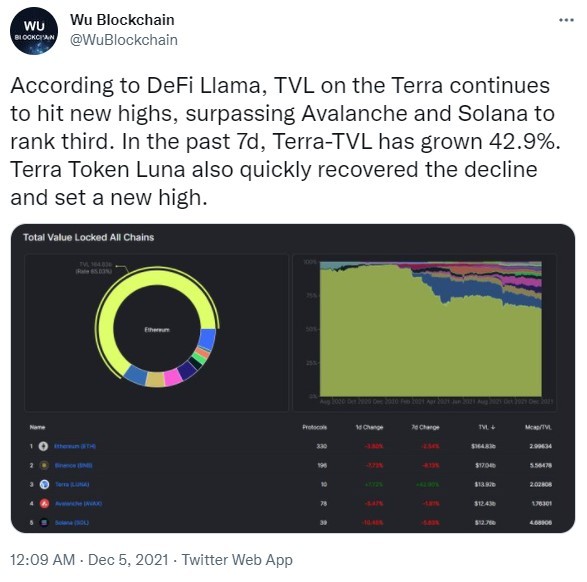 Terra's stablecoin ecosystem is another part of the coin's recent strength with the project rolling out a host of stablecoins, including TerraUSD (UST), TerraCNY, TerraEUR, and the International Monetary Fund's TerraSDR.
This has given the coin more scope for fiat on-ramp and supported its ecosystem. Another recent development was news of a partnership with the Anyswap Network. The partnership aims to bridge layer-1 and layer-2 blockchains and would connect UST to FTM through a cross-chain bridge.
Supply and demand issues have also helped the coin with over 7.2 million LUNA burned recently.
TRX
The price of Tron's TRX coin has struggled of late as money pours into DeFi and other hot sectors of the industry.
A recent announcement was that Tron and BitTorrent are to integrate the Binance Smart Chain to their cross-chain scaling solution, BitTorrent Chain (BTTC).
The solution will help the exchange of cross-chain assets on both networks the integration of chains like the Binance Smart Chain into BTTC will also help to streamline the interaction between TRON and BTT users and the cross-chain DeFi ecosystem.
The protocol has been developed by the core teams of TRON and BitTorrent and utilizes a Proof-of-Stake consensus mechanism and multi-node validation. It also supports off-chain matching and extension of smart contracts through the use of smart chains.
The public-chain users on TRON have recently exceeded 58 million users with transactions over 2.5 billion, with the total locked value (TVL) moving past $11.5 billion. TRON is a leading player in decentralized applications, DeFi, and NFTs, and has the largest circulating supply of stablecoins.
Binance Smart Chain Ecosystem Lead Coordinator Samy Karim commented,
Tron and BitTorrent teams have a huge following from the crypto as well as mainstream tech/crypto audience. With this integration, millions of BitTorrent and Tron users can access the NFT, GameFi, and Infra projects building on BSC, while BSC users' can interact with dApps building on top of the Tron network. This enables the vision of interoperability amongst multiple cross chains.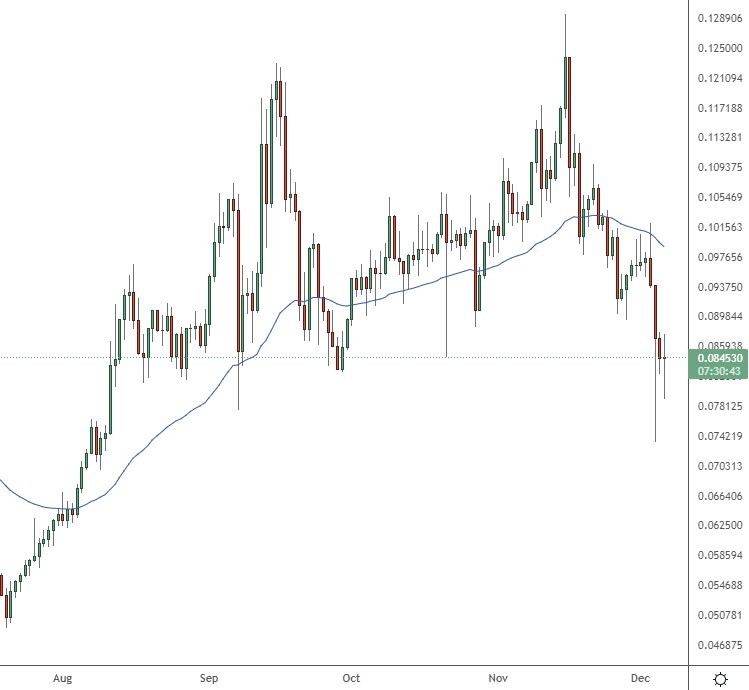 The current price of TRX is seeking to find support at the $0.08 level after seeing highs above $0.12 in November.
BitMart
Another exchange was the victim of a hack with BitMart, which describes itself as "the most trusted cryptocurrency trading platform", saying hackers stole roughly $150m, however, the figure is said to be closer to $200m.
We have identified a large-scale security breach. At this moment we are still concluding the possible methods used.
BitMart said the tokens were transferred from the company's "hot wallets" with the company CEO tweeting:
Mr. Xia said: "In terms of asset deposit and withdrawals, we are confident that deposit and withdrawal functions will gradually begin on 7 December 2021. The detailed timelines will be announced very soon. Thank you."
The exchange is based in the Cayman Islands and said the hack was a small percentage of its funds.
Disclaimer: information contained herein is provided without considering your personal circumstances, therefore should not be construed as financial advice, investment recommendation or an offer of, or solicitation for, any transactions in cryptocurrencies.