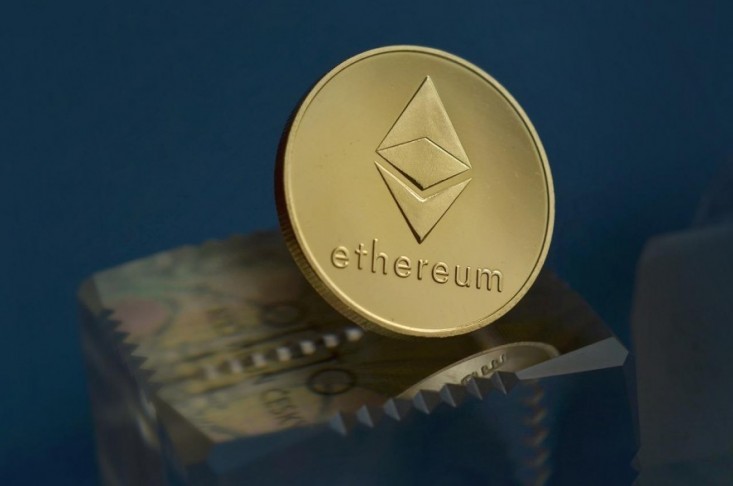 Ethereum Still Lags Behind Bitcoin, ADA, WAVES, HNT, Jun. 6
Jun 6, 2022, 3:31PM

by
Kevin George
Ethereum dips 0.24% as Bitcoin gains 3.4%. Cardano builds on last week's gains. WAVES and HNT lead the gainers this week.
ETH
Ethereum was almost 6% higher on Monday but the coin was still in the red for the week with Bitcoin higher by almost 3.5%. ETH has been decoupling from the cryptocurrency market as worries over its V2.0 upgrade linger.
Ethereum investment funds registered a ninth-straight week of outflows as investors flee the world's second-largest coin by market cap.
CoinShares said:
Ethereum continues to endure, with one more week of outflows totaling US$32m. Ethereum has endured 9 straight weeks of outflows implying destructive investor sentiment. Nevertheless, because the outflows started in December, they solely symbolize slightly below 7% of whole AUM.
Over the last month Ethereum market dominance has dropped from 20% to under 18%.
In a note to investors last week, JPMorgan analysts wrote that $38,000 currently represented the fair market value for bitcoin – roughly 25 per cent up from today's price.
Ethereum's founder Vitalik Buterin commented on recent crypto market turmoil, saying:
In general, the crypto space needs to move away from the attitude that it's okay to achieve safety by relying on endless growth.
Ethereum has marked this week, June 8th, for the long-awaited Merge.
A Ropsten testnet merge will be followed by the final merge, set for later in the year. The merge will fuse the Eth2 Beacon Chain with the Ethereum mainnet and will transition the blockchain from proof-of-work (PoW), to proof-of-stake (PoS) architecture.
Ethereum developer, Tim Beiko, made the official announcement on Twitter saying, "Ethereum's longest lived PoW testnet is moving to Proof of Stake! A new beacon chain has been launched today, and The Merge is expected around June 8th on the network," the developer said, calling it "the first dress rehearsal."
Investors have been pessimistic after recent delays but the coin could get a lift if the testnet goes smoothly.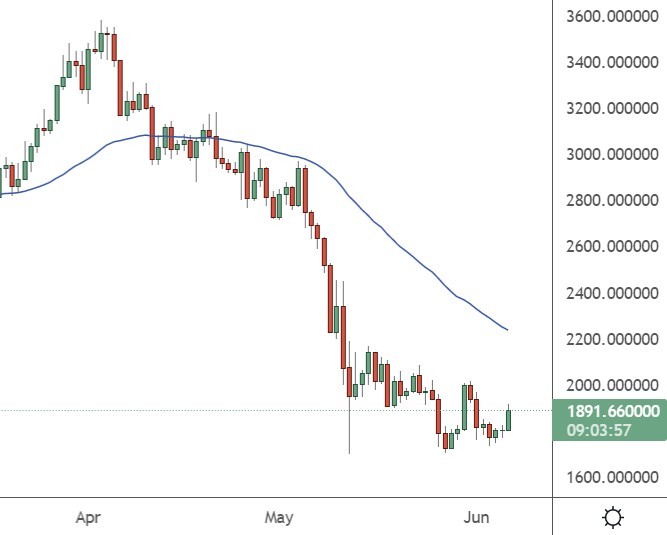 ADA
Cardano registered another week of double digit gains after the coin saw its Total Value Locked (TVL) jumping by 30% in 24 hours.
Cardano has benefited from the launch of multiple decentralized exchanges on the platform.
The network had $114 million locked on the chain as investment flows still struggle after the LUNA debacle. TVL should be looked at with more caution than it previously was, due to the ability for those funds to reverse course as they did in the case of Terra.
Cardano's TVL was only $3 million in February but rose to a high of $326 million by April. That is a sign that investors are positive about the development changes that are happening with the project.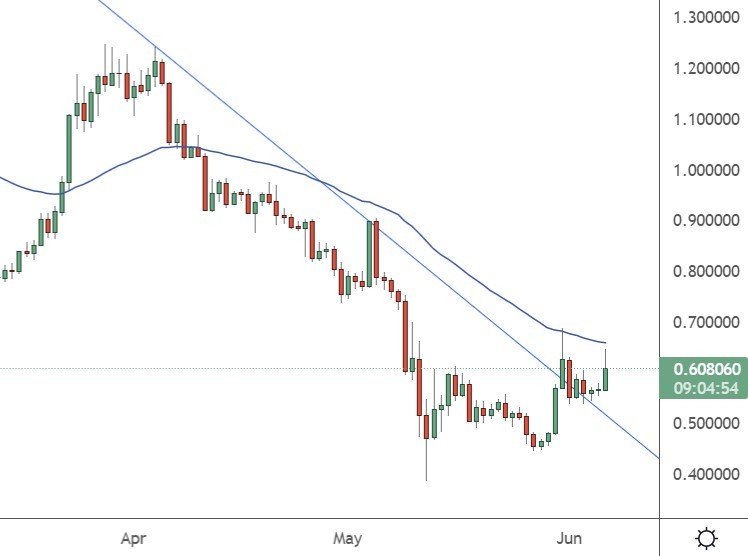 Cardano has seen a positive two weeks but only trades at $0.60 after the recent market downturn.
WAVES
Waves was the best-performing coin in the top 100 this week with a gain of over 45%.
The move higher comes after news of a turnaround plan put forward by the network's founder. As developers look to update the Waves ecosystem, further gains could come.
The steep drop this year came after the project was accused of being a Ponzi scheme.
Waves is a layer-1 blockchain network that was launched in 2016. It's founder was the Ukrainian-born, Russia-based Sasha Ivanov. The coin gained traction at the outset of the Ukraine tensions as investors maybe hoped it would play some part in the country's financial challenges.
But Ponzi scheme accusations burst the bubble in WAVES with investors accusing developers of artificially pumping the coin by buying up coins with liquidity from DeFi platforms. These comments began surfacing in the days prior to the price plunge.
Adding fuel to the fire were Ivanov's own comments, where the founder went after FTX founder Sam Bankman-Fried, who he accused of shorting the WAVES crypto. Ivanov tweeted a thread in which he fought back against the accusations. Ivanov said that Waves growth is the result of its developers' hard work. He then commented on Alameda Research's short position on Waves; which is the research and investing firm founded by Bankman-Fried. Ivanov alleges that Alameda is to blame for the price drop through its shorting and alleged "fear campaigns."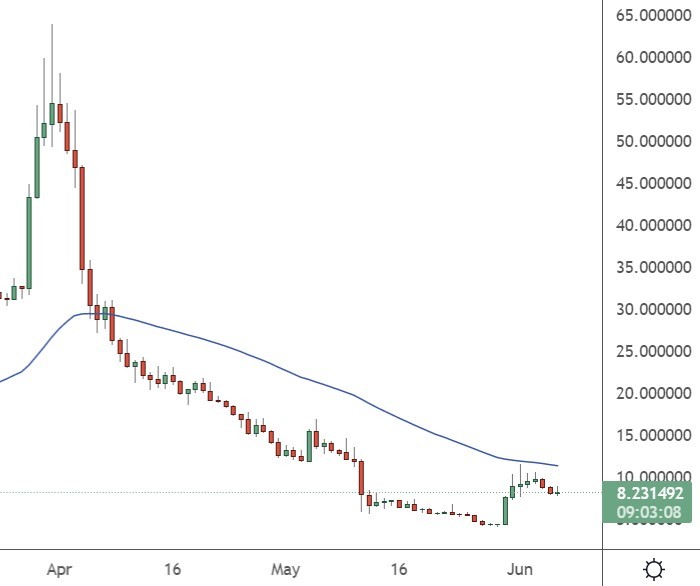 WAVES previously traded at $60 this year before a heavy slump and now sits below the $10 mark.
HNT
Helium (HNT) was also a big percentage gainer at over 30% but like WAVES, that comes after a sharp downturn.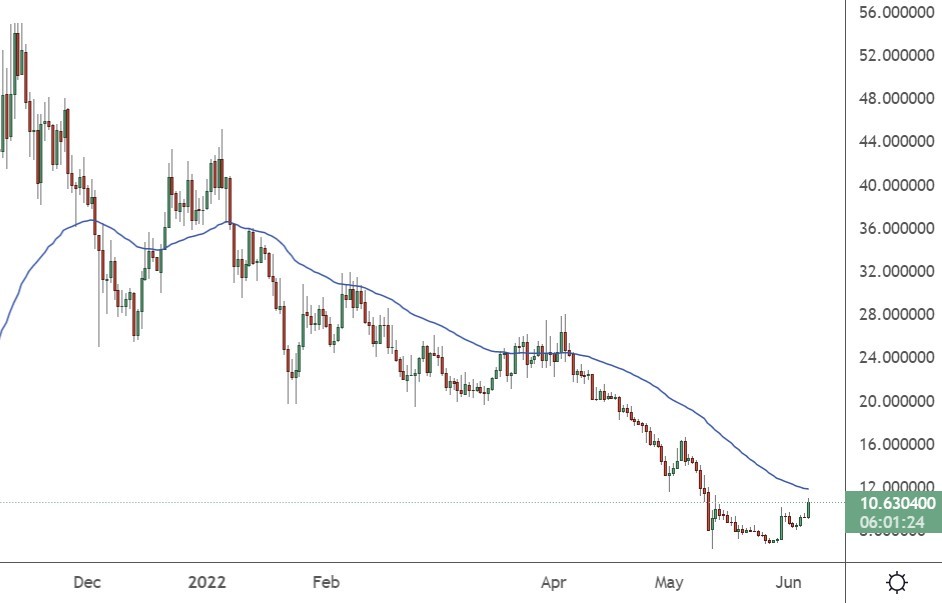 The coin traded at $56 at the end of 2021 but has since slumped to only $10. Helium is focused on creating a global network of wireless internet hubs. Users can access the internet hubs but can also sell their own resources via a home office hub.
The Helium crypto HNT, is the native coin for the project and that is how hub providers are paid. Providers can earn passive income by simply by turning on their device and allowing others in proximity to access it.
Helium is also seeking to utilize Internet of Things (IOT) capabilities for home-based devices. In September, Helium rolled out 5G network hotspots and the company has been receiving attention from large communications firms.
In a recent funding round, Nova Labs was able to secure $200 million in investor capital. Much of this came from venture capitalist firms and IOT fans. But the network also received funding from the likes of Nokia-backed NGP Capital; Telecom Innovation Pool, which owns a major stake in T-Mobile; and Liberty Global, the holding company for Vodafone.
Frank Mong, CIO of Nova Labs said:
Having these companies participate is really big because they're sort of the incumbents in existing infrastructure. As we move to future infrastructure, it's good to see companies like them participating with us as well.
Disclaimer: information contained herein is provided without considering your personal circumstances, therefore should not be construed as financial advice, investment recommendation or an offer of, or solicitation for, any transactions in cryptocurrencies.