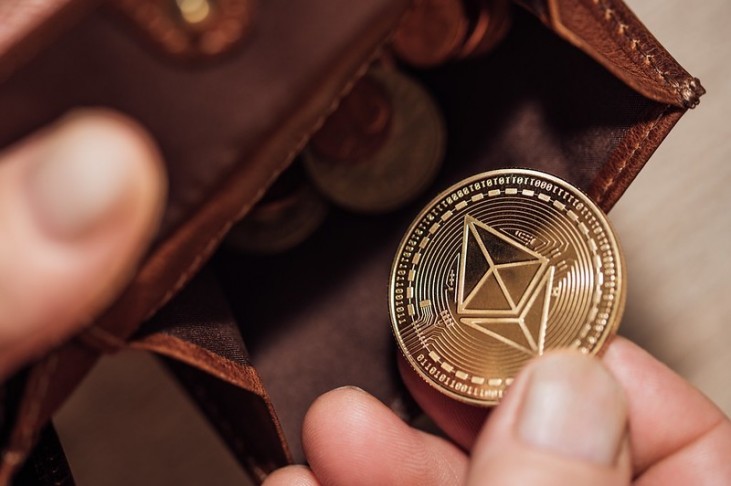 Ethereum Still Shows Signs of BTC Decoupling, USTC, FTX, DOT, Jul. 4
Jul 4, 2022, 9:51PM

by
Kevin George
ETH outperformed BTC to the downside with a 6% loss this week. USTC sees buyers for another shot at stability. FTX founder corners crypto assets.
ETH
The Ethereum price was -6% lower this week as the coin still suffers from a BTC decoupling. Bitcoin shed almost 4% with a move that dipped below $19k after the failure of the 3AC hedge fund.
Ethereum could have a good chance to erase those losses and catch up again once the market's liquidity issues pass. Another factor in the ETH weakness has been a delay in the project's merge.
There was positive news on that front with the Sepolia testnet set to run through its Merge trial this week, which is the second last testnet to trial before the official Merge.
Etherscan said that the Gray Glacier hard fork was initiated on Thursday, which will delay the difficulty bomb by around 100 days, giving developers until mid-October to complete the project's Merge.
Developer Tim Beiko said:
After years of work to bring proof-of-stake to Ethereum, we are now well into the final testing stage: testnet deployments!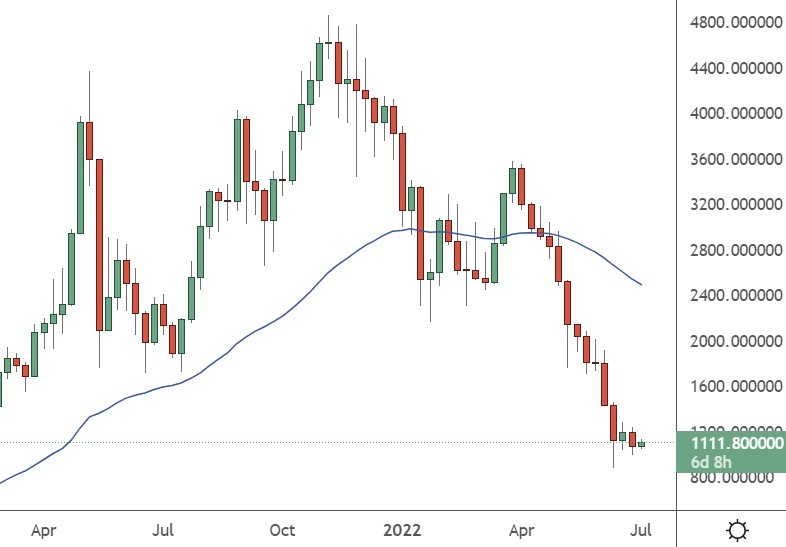 Ethereum trades at $1,100 after investors bailed out on Merge update delays but the coin could see a recovery before that mid-October timeline. The project's founder had previously stated August for the V2.0 improvements, which include speed, energy usage and scalability.
USTC
The phrase "once bitten, twice shy," does not apply to investors in the failed LUNA project and its stablecoin, which proved not to be very stable.
The collapsed UST stablecoin was rebooted as USTC and has rallied over 70% this week as investors hope for a return to parity with the US dollar. That is still a long way from the current price of $0.06 despite the market cap surging from $200m to over $60m in a seven-day period.
The project's rebranded LUNC token, which rose from the ashes of LUNA, is also seeing speculation, and investors on Reddit are discussing the coin's chances of going to $1 once again, despite currently trading at $0.000128.
That is reminiscent of the meme coin dramas from last year and the same predictions for the likes of Shiba Inu. LUNC is not SHIB with a tiny supply of coins in comparison, but investor trust has been lost for the moment in the all-important Total Value Locked (TVL) metric.
FTX
The founder of the FTX exchange, Sam Bankman-Fried has been very active in the crypto downturn.
One analyst at Bankless asked the question: Does Sam Bankman-Fried Own Everything Now?
The ill-fated Three Arrows Capital was forced into liquidation by a British Virgin Islands court after its recent liquidity problems and 'SBF' was looking to take advantage.
His Alameda Ventures fund launched a $500M loan package to save Voyager, which was owed loans by the failed hedge fund. Another firm BlockFi was also in trouble due to an overcollateralized loan of $1B to 3AC and was given a $400M credit line from FTX. The FTX exchange is competing with a digital asset fund to acquire BlockFi.
Bankman-Fried also discussed buying into distressed crypto miners next.
"When we think about the mining industry, they do play a little bit of role in the possible contagion spread, to the extent that there are miners that were collateralizing borrows with their mining rigs," Bankman-Fried told Bloomberg.
"There might come along a really compelling opportunity for us -- I definitely don't want to discount that possibility."
For FTX and the exchange market, traders will continue to keep an eye on volumes in order to see if the recent bear market has created longer-term damage. The exchange's founder obviously believes that is not the case. There was also an SEC inquiry launched into rival exchange Binance over its BNB coin and that would also have a bearing.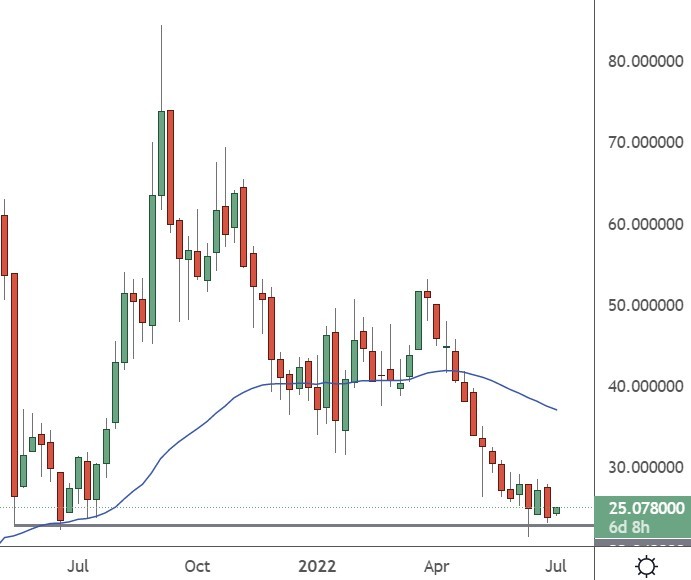 The price of FTT has found support ahead of the $24 levels and now looks for a move higher.
DOT
Polkadot has lost ground to Dogecoin for a spot in the top ten coins by market cap.
DOT had closed to within $500m but has slipped to a $7 billion valuation against the $9 billion of DOGE.
Polkadot's woes are due to the downturn in decentralized finance (DeFi) projects as deposits locked on chains have slumped. That could be a buying opportunity in DOT as the project can capitalize on a revival in the crypto lending and staking market once stability returns. The Polkadot TVL has slumped from $2.5m to $23,400 in the market downturn. The coin is not a full-on DeFi project but future developments could supercharge the valuation.
Dogecoin is waiting for the closure of the Elon Musk Twitter bid which is still not certain. Traders expect the coin to feature on the platform, possibly for tipping or other small payments.
Polkadot announced a new governance model this week with a shift in the "Layer 0" blockchain's governance from a council and tech committee toward a more decentralized and inclusive form. The goal is to improve the decision-making process for the future path of the project.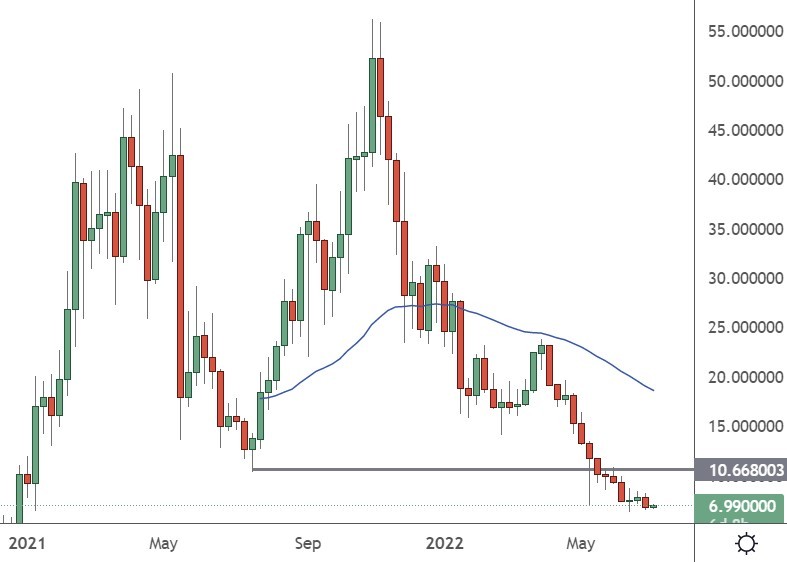 DOT was trading at $7, which is a long way from the all-time highs of $55.00 back in late November.
Disclaimer: information contained herein is provided without considering your personal circumstances, therefore should not be construed as financial advice, investment recommendation or an offer of, or solicitation for, any transactions in cryptocurrencies.