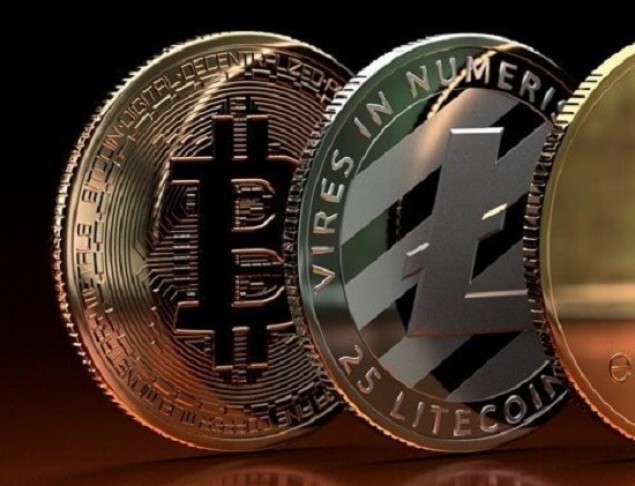 Litecoin Price Rallies 26% with Mining Rewards, MATIC, AR, Nov. 7
Nov 8, 2022, 12:50AM

by
Kevin George
LTC surges after seeing mining difficulty growth and Moneygram app support. MATIC and AR both soar on Meta NFT partnerships.
LTC
Litecoin was higher this week by 26% after the Litecoin Foundation said mining difficulty had reached a new high.
The foundation said that the mining difficulty was peaking at just under 18 million hashes, according to a post on the crypto data site, coinmarketcap.
Mining difficulty measures the average number of hashes required to "solve" a block on the chain. Litecoin miners need to compete against others by generating random hashes to find one lower than the target set by the mining algorithm. The winner gets to add the next Litecoin to the blockchain and earn the reward.
The increase in Litecoin's mining difficulty suggests an increased competition for miner rewards and may be related to Ethereum's move to a Proof-of-Stake model without ASIC mining. Litecoin was often referred to as "digital silver," in the early days of crypto and it is also awaiting a "halving" event. When the coin was introduced in 2011, miners received 50 litecoins (LTC) as the block reward. The reward is then halved every 840,000 blocks (roughly every four years). The third halving will happen in 2023 and reduce the current 12.5 LTC reward to 6.25 LTC.
There was a further boost for LTC after payments giant MoneyGram announced that its U.S. customers would soon be able to buy, sell and hold LTC, bitcoin (BTC) and ether (ETH) in the MoneyGram mobile app. These are all welcome developments for a coin that has been out of the crypto spotlight for a while.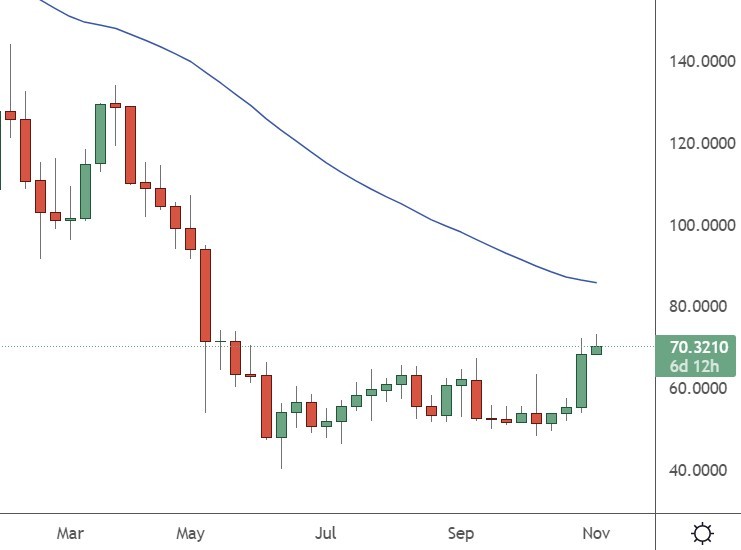 The Litecoin price trades at $70 with resistance coming in a $90 and $130.
MATIC
Polygon (MATIC) has been one of the best-performing projects of the last week.
The latest rally in MATIC came after tech giant Meta said it would use Polygon for its digital collectibles. Meta said that creators can make their own NFTs on Instagram, which they can monetize on the platform. The company added it was testing the new digital collectibles features in the U.S. but will expand to more countries soon.
The opportunity to provide NFT support to Meta is significant news for Polygon and the MATIC jumped almost 20% into the weekend.
Another big corporate heavyweight also boosted Polygon with the news that JPMorgan had performed its first DeFi trade on the Polygon blockchain. The trade was part of Project Guardian, a pilot blockchain program by the Monetary Authority of Singapore. JPMorgan had selected Polygon instead of Ethereum because of its lower transaction costs.
The latest developments highlight the potential for the Ethereum Layer-2 scaling solution. The latest partnerships are part of a growing list of big-name suitors for Polygon. BitPay recently announced support for Polygon and MATIC but the platform has also seen further NFT partnerships with Disney, Robinhood, and Starbucks.
Data from Messari also showed that Polygon had seen a strong third quarter for its NFT sales with the number of active wallets reaching a record high of 6 million, primarily driven by the launch of the Reddit NFT marketplace on its blockchain.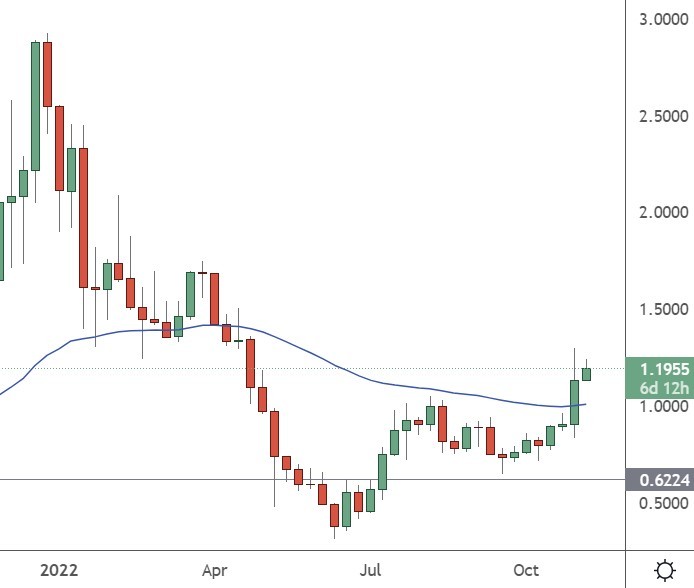 The price of MATIC has rallied to the $1.20 level after a low in June below $0.40. The next target for MATIC is the $1.75-2.00 level.
AR
Arweave was another project that was announced as support for the Meta NFT plans.
A London-based decentralized storage network (DCN), Arweave announced the partnership last week. Meta's inclusion of Arweave for NFT Storage was announced by the protocol's CEO and co-founder, Sam Williams, on Twitter. With the new Meta alliance, Arweave promises to ensure data permanence on the Instagram platform. Announcing the deal, Arweave also tweeted:
"Happy to announce that Meta is now utilizing Arweave for the storage of their creator's digital collectibles on Instagram! Bringing data permanence to the giants of web2!"
Stephane Kasriel, head of Commerce and Financial technology at Meta, talked of the tie-up and Meta's Web3 ambitions for Instagram after rolling out NFT storage infrastructure with Arweave.
Kasriel said the company was set to launch "a bunch of new tools to help creators build their businesses, including a way to make and sell digital collectibles (NFTs) right on Instagram".
The tools will begin its social media Web3 advancements, Meta's new tools, including Arweave NFT storage, will initially be rolled out on the Polygon. Kasriel added that Meta is also expanding the types of collectibles its users can display on Instagram, including videos.
In addition to blockchain advancements, Meta is expanding access to Instagram subscriptions, introducing gifting on Instagram Reels, and adding new ways for people to support creators using Facebook Stars. Meta wants to provide a range of tools for creators on the platform to "make a living".
According to Kasriel, Blockchain has a big role in that because it can bring completely new business models for creators that will give them more control over their material, audiences, and how they monetize. However, Kasriel also said that the blockchain needs to be easier to use for that to happen.
She tweeted:
By introducing NFTs natively on Instagram, we hope to achieve this and facilitate new forms of connection between billions of people & their favorite creators. I wrote more about why we're betting on blockchain to help grow the creator economy here.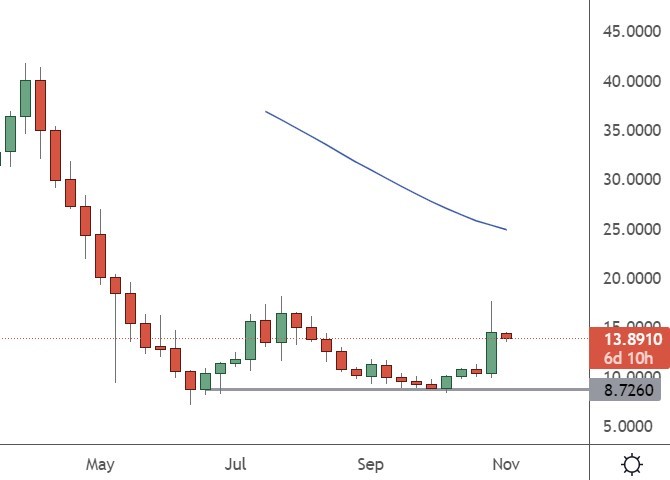 The price of AR has rallied to the $15 level and found initial resistance with the moving average providing resistance at the $25 level.
Disclaimer: information contained herein is provided without considering your personal circumstances, therefore should not be construed as financial advice, investment recommendation or an offer of, or solicitation for, any transactions in cryptocurrencies.