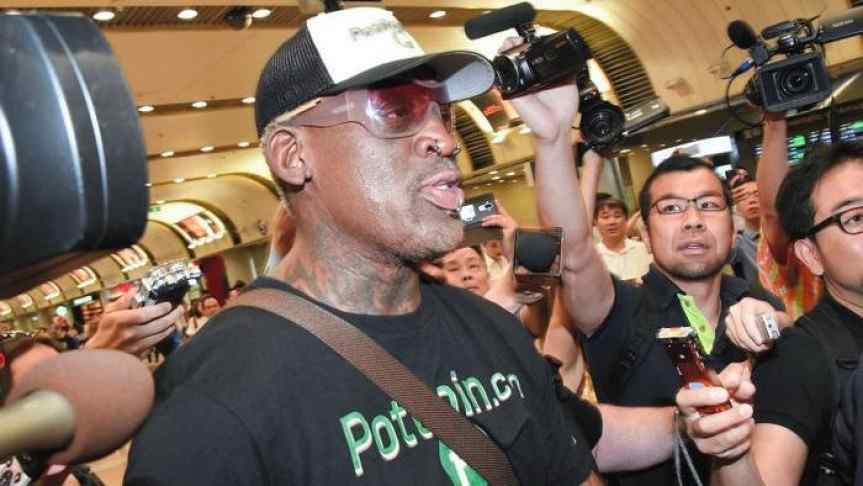 Potcoin to Fly Crypto Flag at Historic Trump-Kim Summit in Singapore
Jun 8, 2018, 4:30PM
Potcoin will sponsor former basketball player Dennis Rodman's trip to Singapore for the North Korea summit on June 12, 2018.
Former Chicago Bulls basketball player Dennis Rodman will reportedly be present at the sidelines of the President Trump and Kim Jong summit in Singapore on June 12, 2018. He will be sponsored by Potcoin, a Canada-based cryptocurrency that provides financial services to those trading marijuana legally.
The former NBA star's agent replied affirmatively to Washington Post when asked whether Dennis Rodman would be making the trip. Although the agent gave little insight into the details and nature of the sponsorship, they confirmed that Rodman's travel and stay will be sponsored by Potcoin. He will, however, not be a part of the official American entourage for the summit and will travel on an independent basis.
Potcoin's Rationale
The rationale behind Potcoin sending Dennis Rodman to Singapore is to gain more visibility. The Singapore summit is historic and the first between a sitting American President and a North Korean leader. Since the event will be covered by global media, Potcoin perhaps hopes to use the event as an advertising platform.
Rodman has a well-publicized and somewhat inexplicable friendly relationship with Kim Jong-Un. In 2014, Rodman gathered North Koreans to play a basketball game and greet the North Korean leader on his birthday. Rodman also traveled to North Korea in 2017 and was pictured wearing a Potcoin shirt and cap. Due to this, the price of the token token saw a major appreciation. The blockchain-based financial company has also sponsored some of Rodman's previous trips to the reclusive nation.
Shawn Perez, Potcoin's spokesperson, seemed to sum up Potcoin's enthusiasm for Rodman and his support by stating,
We at PotCoin definitely believe that Dennis Rodman deserves the Nobel Peace Prize jointly with President Trump and the Marshal Kim Jong Un.
Disclaimer: information contained herein is provided without considering your personal circumstances, therefore should not be construed as financial advice, investment recommendation or an offer of, or solicitation for, any transactions in cryptocurrencies.