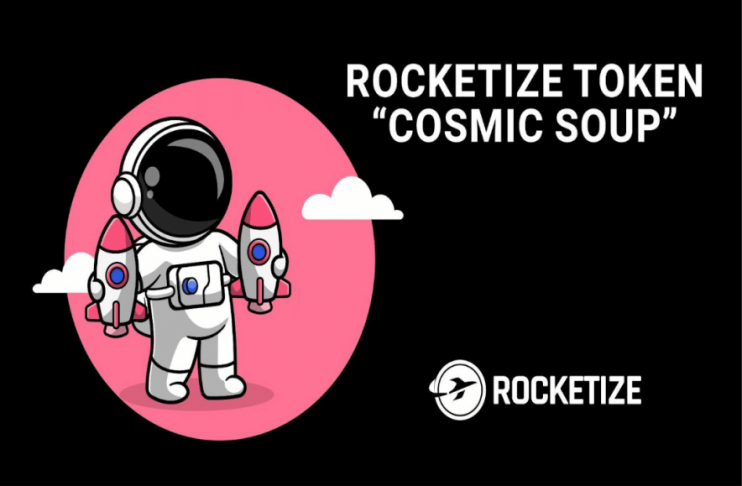 Rocketize Token, the Meme Coin With Smart Contracts, Competes With Chainlink & Aave!
Nov 8, 2022, 10:43PM
Brought to you by Rocketize.io
Rocketize Token (JATO) is an upcoming meme coin with numerous features including smart contracts. Let's see how JATO differs from LINK and AAVE.
Rocketize Token (JATO) is an upcoming meme coin with numerous features, including smart contracts. It is selling for pennies in its presale against other smart contract platforms like Chainlink (LINK) and Aave (AAVE). Let's see how JATO differs from LINK and AAVE.
Chainlink (LINK) - Decentralized Oracle Network With Smart Contracts
Chainlink (LINK) is a decentralized oracle network that links non-blockchain organizations (or data) with blockchain platforms. The external data, like stock prices, is connected through smart contract agreements. These smart contracts are hybrid in nature, allowing secure on-chain and off-chain data computation. Hosted on the Ethereum platform, LINK operates on PoS (Proof-of-Stake) protocol.
The platform supports decentralized data feeds and enables automation & cross-chain interoperability. Its native token is used for fee payment to the network operators who retrieve off-chain data and perform computations. Currently ranking in the top 30 on CoinMarketCap (CMC), its market cap is above $4.2 billion. At present, it trades under $9 against its previous ATH (All-time high) of $52.88, achieved last year. Moreover, the crypto's max supply is 1 billion tokens.
Aave (AAVE) - Decentralized Finance (DeFi) Protocol with Smart Contracts
Aave (AAVE) is a decentralized, algorithmic money market in the DeFi ecosystem. It also features smart contracts for carrying out transactions automatically. Primarily based on Ethereum, it was launched as ETHLend in 2017 but rebranded to its current name in 2018. It is presently working on an NFT (Non-fungible token)-based game, Aavegotchi.
AAVE, which means "ghost" in Finnish, is the platform's native asset that gives voting and governance rights to its holders. It is also used as an intermediary crypto during transactions and for fee payments & discounts on the platform. With a rank among the top 65 on CMC, the token has a market cap of over $1.3 billion as of writing. Currently trading under $95, its last ATH was $666.86 in May 2021. Furthermore, the token has a max supply of 16 million.

Rocketize Token (JATO) - A Meme Coin Packed With Utility Also Featuring Smart Contracts
Classified as a meme coin, Rocketize Token (JATO) is an upcoming crypto bringing much utility to its users. It aims to propel DeFi forward through developments in Web3, smart contracts and dApps (Decentralized Applications), etc. Moreover, the project is also researching cross-chain bridges connecting various blockchains like Fantom, Polygon, Binance Smart Chain (BSC), and others.
Additionally, it has a six-stage-long action plan which includes developing its DAO (Decentralized Autonomous Organization) & GameFi hosting, launching two NFT platforms, and NFT minting events. What's more, the project even has a real space program in the works. The DeFi meme coin has a mammoth supply of 1 trillion and is deflationary. It will be burning half of the 2% tax on each transaction. Currently, 30% of its supply is live in its presale season.
How To Become Earlybird Holders of JATO?
With the presale stage one still ongoing, you can easily become an early bird holder of the token. This stage is selling 93027.98 JATOs against every USDT, with more than $94K collected so far. The simple purchase process involves linking your crypto wallet to its presale page. All that is left is to pay in USDT, BNB, or ETH and collect your tokens after the end of the presale.
Wrapping up, the new crypto JATO is a meme coin full of potential and utility. It offers many bonuses during its purchase, including up to 15% extra tokens on different cryptocurrencies. If you persuade someone to spend $100 on JATO, each of you will earn $40 worth of the tokens free.
For more information on Rocketize Token (JATO), you can visit the following links:
Presale: https://rocketize.io/buy
Website: http://rocketize.io/
Telegram: https://t.me/RocketizeTokenOfficial
Disclaimer: information contained herein is provided without considering your personal circumstances, therefore should not be construed as financial advice, investment recommendation or an offer of, or solicitation for, any transactions in cryptocurrencies.