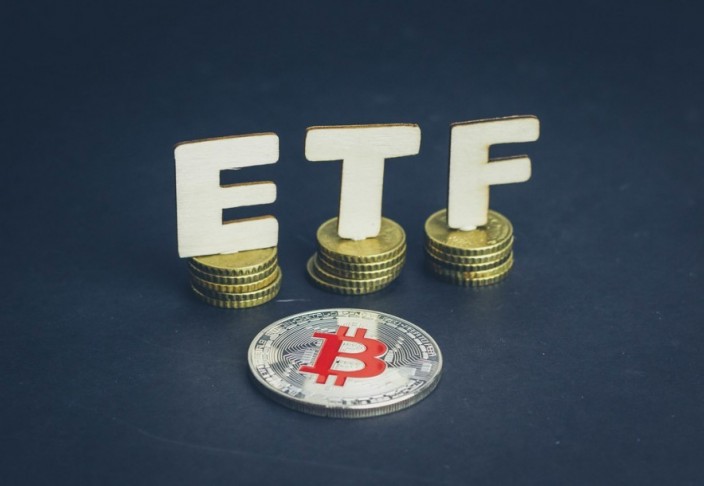 Three Bitcoin Futures ETFs Were Created in October: Are There More to Come?
Oct 30, 2021, 2:49PM

by
Mike Dalton
Three asset management firms have created Bitcoin futures ETFs in recent weeks. Here's what's next for ETFs.
Three crypto asset management firms―ProShares, Valkyrie, and VanEck―have announced Bitcoin futures ETFs in recent weeks. These launches mark a milestone, as they are the first funds of their type to gain approval in the U.S.
What Are Bitcoin Futures ETFs?
Bitcoin futures ETFs are investment funds that allow clients to invest in the performance of an asset without actually buying the underlying asset.
In this instance, Bitcoin futures ETFs track the value of Bitcoin futures, which are already a popular investment in their own right thanks to retail crypto exchanges that trade those futures. Those exchanges include FTX, BitMEX, Kraken, and others.
By contrast, Bitcoin futures ETFs are traded on traditional markets like Nasdaq. This approach should appeal to large investors who do not want to make purchases through retail exchanges or hold cryptocurrency in a wallet.
It is important to note that the ETFs launched in October are specifically tied to the value of futures, which are already a Bitcoin derivative. ETFs tied to the value of Bitcoin itself have not yet been approved in the United States.
Which Companies Launched Bitcoin Futures?
ProShares was the first company to launch its ETF. That fund began to trade on Tuesday, October 19 under the symbol BITO. It brought in $1 billion of investments during the first two days of operation―a record for any ETF.
Valkyrie was the second company to launch a Bitcoin futures ETF. This fund began to trade on Friday, October 22 under the ticker BTFD. It quickly attracted $10 million in trading volume within just five minutes of its launch.
VanEck will launch the third Bitcoin futures ETF under the ticker symbol XBTF. This fund aims to offer a management fee of $0.65 per $100 invested, considerably lower than its competitors' $0.95 per $100 fee. Trading should begin in the coming week of Oct. 31.
Valkyrie has also filed for a leveraged Bitcoin futures ETF, featuring 1.25x leverage designed to attract risk-tolerant investors seeking greater returns. However, Valkyrie has been forced to withdraw its application due to regulatory issues.
No True Bitcoin ETF Exists in the U.S. Yet
Though these futures ETFs are milestones, a true Bitcoin ETF would be tied to the value of Bitcoin itself rather than the value of Bitcoin futures.
To date, no true Bitcoin ETF exists in the U.S, and the U.S. Securities and Exchange Commission (SEC) has repeatedly blocked attempts to introduce such funds.
Nevertheless, some companies are pursuing that goal. One candidate is Grayscale, which already operates a Bitcoin trust. It aims to convert that fund into a Bitcoin ETF by 2022. However, this plan has not yet been approved by regulators.
Other attempts to introduce a true Bitcoin ETF have been underway for at least five years. Early attempts at a Bitcoin ETF included efforts from the Winklevoss brothers, who created the Gemini exchange. Current efforts to gain approval come from VanEck, Valkyrie, NYDIG, WisdomTree, First Trust, and various other firms.
If any of those attempts succeed, a true Bitcoin ETF could go live in 2022.
Other Countries and Funds
Though the U.S. has not introduced a true crypto ETF, some countries have already done so. In Canada, two separate companies―Purpose and 3iQ―gained approval for a Canadian Bitcoin ETF in February of this year. Several other Canadian crypto ETFs involving Bitcoin and Ethereum have gone live since then.
At least one European company, 21shares, offers crypto ETPs or exchange-traded products. Though ETPs and ETFs are similar in many ways, Bitcoin ETFs receive the majority of attention in crypto media due to their broader appeal, while Bitcoin ETPs are considered a stepping stone toward Bitcoin ETFs.
Elsewhere, French asset manager Melanion Capital has launched an ETF called the BTC Equities Universe. Once again, this is not a true Bitcoin ETF. Instead, it tracks a basket of 30 equities affected by the price of Bitcoin, such as mining company stocks.
Will Bitcoin ETFs Ultimately Succeed?
Bitcoin futures ETFs have clearly seen great initial success, with billions invested by large investors in the initial days of their operation.
However, experts such as Valkyrie CFO Steven McClurg have suggested that there will probably be few companies involved. McClurg believes that, although the area will likely grow and attract more firms, there is "probably only room for really three or four of us." He suggests that contract limits will be raised to make room for more investors.
As such, other ETF providers will need to break new ground rather than simply repeating the success of these early Bitcoin futures ETFs. The first true Bitcoin ETF in the U.S. will be a landmark, as will other types of novel investment funds.
Disclaimer: information contained herein is provided without considering your personal circumstances, therefore should not be construed as financial advice, investment recommendation or an offer of, or solicitation for, any transactions in cryptocurrencies.