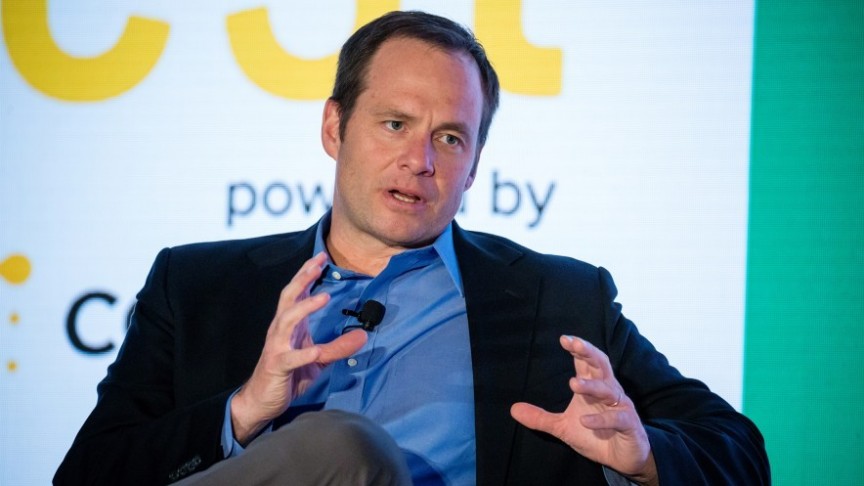 Xapo President and Other Crypto Figureheads Weigh In On Market Downturn
Aug 16, 2018, 9:50AM

by
Chris Madill
In response to a downturn in the market, Crypto figureheads weigh in on today's bearish market trends, and what the future of the market may be.
As the crypto market bleeds off more gains this week, Xapo president Ted Rogers is calling the increasing bearish momentum a possible "extinction-level event" for the majority of altcoins. Rogers does not see this as the end of the market, however, but rather considers the dip in the market an
incredible opportunity to buy more Bitcoin.
Other figureheads in the crypto community do not share Rogers' "Bitcoin Maximalist" sentiment, offering alternative points of view on the recent market downturn.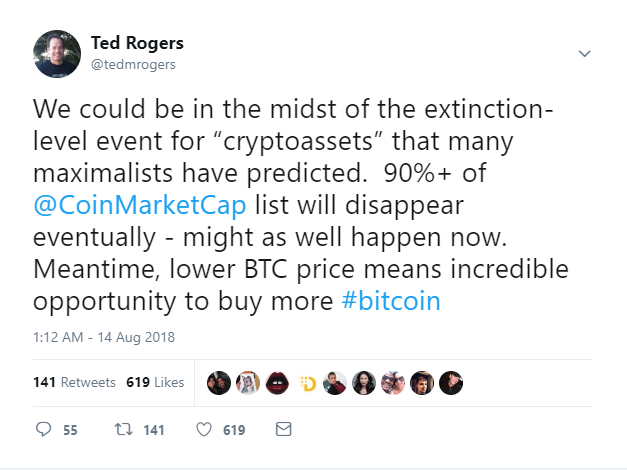 Rogers' comments come at a time when altcoin prices are facing huge declines while Bitcoin is stubbornly holding a firm support level around $6,000. Additionally, Bitcoin is regaining its dominance over the cryptocurrency market, leading "Bitcoin Maximalists" like Rogers to see the current state of the market as Bitcoin's triumphant return as the "true" cryptocurrency. Rogers' comments have been met with mixed responses, with ShapeShift CEO, Erik Voorhees offering an alternative point of view via his response to Rogers' tweet,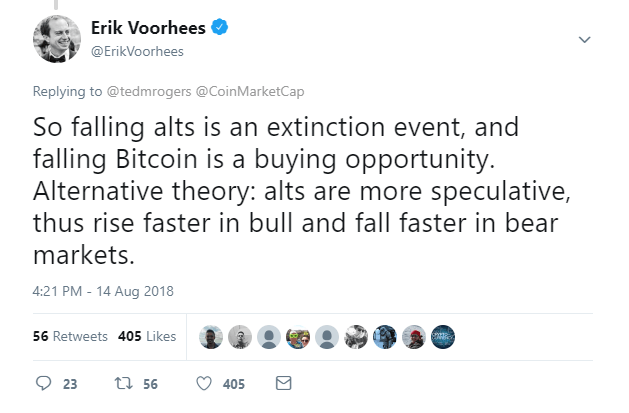 Both Rogers and Voorhees are outspoken about the financial well-being of crypto markets because they are vocationally tied to the crypto market. While Rogers is a Bitcoin Maximalist,and runs the Bitcoin wallet company Xapo, Voorhees runs one of the most popular crypto-exchanges on the planet.
For a more sobering point of view on the current downturn, we turn to Joseph Lubin, Co-founder of Ethereum and CEO of ConsenSys. In a recent interview with Bloomberg, Lubin explained the recent growth of the crypto market is in fact a bubble, which he implied will "pop", something he claims has happened six times already. With each successive bubble, the market sees a huge amount of potential injected into the underlying infrastructure of development teams, leading the cryptosphere as a whole to a brighter, more productive ecosystem,
We build more fundamental infrastructure, we see a correction, and the potential gets even more impressive [...] I absolutely expect that there is a strong correlation between the rise in price and the growth of fundamental infrastructure in the ecosystem and the growth of development in the ecosystem. We are probably two orders of magnitude bigger as a developer community than we were eight or 10 months ago / Joseph Lubin, ConsenSys CEO
Whether someone believes this bearish market is good for Bitcoin, good for altcoins or good for progress, the overall message coming from these crypto figureheads seems to be the short-term forecast may be grim, but in the long term, crypto is destined to return to, or even surpass, the fever of December 2017.
Video source: Bloomberg
Disclaimer: information contained herein is provided without considering your personal circumstances, therefore should not be construed as financial advice, investment recommendation or an offer of, or solicitation for, any transactions in cryptocurrencies.