Writer

Michael is a news reporter for Bitrates with a central interest in international regulations and their effects. Business-minded and a major sports-enthusiast, he broke into writing through data analysis and eventually derivative futures. A firm believer in altcoins and the impact of a market-wide push for development, his attention to the development of blockchain and cryptocurrencies continues to grow. Michael is a resident of the United States.
READ FULL BIO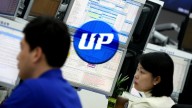 South Korea's Largest Exchange UPbit Cleared of Insolvent Allegations by FSC
The Financial Services Commission has cleared UPbit of all fraudulent accusations claiming the exchange was insolvent this past May.
All the post are loaded