BCH is Winning the Bitcoin Cash War, BTC, ETH, COSMOS, May 6
May 6, 2019, 5:32PM

by
Kevin George
Bitcoin Cash ABC continues to win against its embattled rival. BTC hits key $6k level and ETH could see its own futures contract.
The cryptocurrency market was mixed for the week but the key price development was that Bitcoin finally hit the $6,000 resistance level, in line with my prediction from last week's analysis when I mentioned that Bitcoin was in a "formation that could hint at another rally up toward the key $6,000 level."
Continued support for Bitcoin could attract new investors, especially if the price can stay above the resistance and take out any physical and psychological stops, which could fuel a push higher. Bitcoin is up 83% from its mid-December lows and yet the investment community has thus far been rather quiet about the boom.
The stock market in the U.S. saw a small panic sell this week on news that President Trump's hopes of a trade deal may have hit an obstacle. The President tweeted that he would add strict tariffs to Chinese goods, which would threaten an escalation in the trade war at a time when the global economy and trade is already slowing. Bitcoin's rise in recent weeks is likely related as it may signify a wave of safe haven investment.
BCH
Bitcoin Cash had a strong week with a gain of 18% as the coin continues to outperform its forked rival, BSV. The two coins split in November 2018 with the price trading near $500. BCH currently trades at $281, whilst BSV has slumped to $55.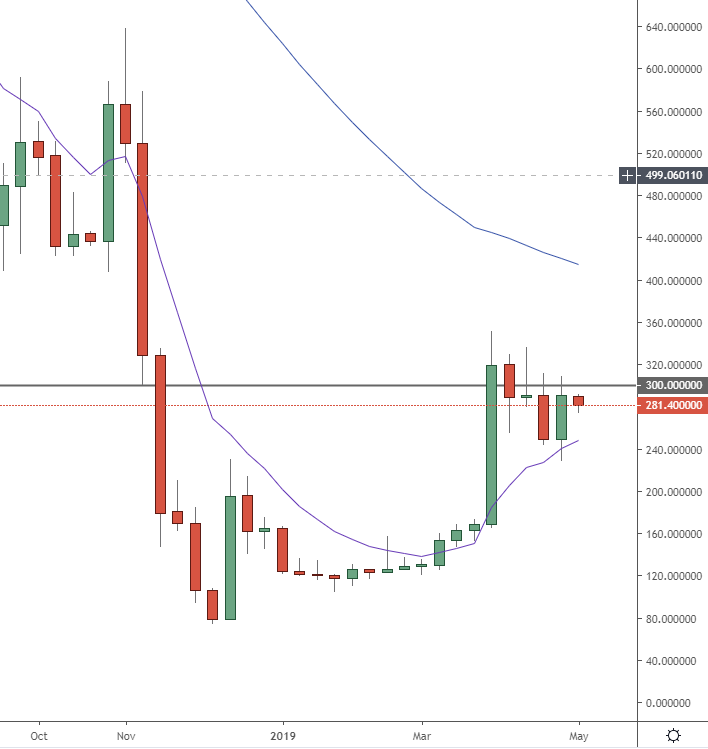 BSV has been rocked in recent weeks by an ongoing feud between its founder Craig Wright and some high-profile members of the cryptocurrency community, whilst the coin has also been delisted by several exchanges such as Binance and Kraken.
The CEO of Binance, Changpeng Zhao (CZ), had tweeted that Wright was "poisoning" the Bitcoin community after he threatened to sue people who disagreed with his claim that he was the original creator of Bitcoin. The move lower in BSV highlights the importance of investing in projects with a strong community and voter decentralization.
Last week's gain saw the price bounce off resistance at the $300 level. This was a support level in late-2017 that led to the large rally across the cryptocurrency space. Getting above this level again could see BCH move to $400 and then a possible run at the $500 level once more. Bitcoin Cash has a market cap of $5 billion, compared to Bitcoin's $100 billion.
ETH
News at Ethereum is that the second-largest coin is set to see approval for a futures contract. Yahoo quoted an anonymous insider from the U.S. Commodity Futures Trading Commission (CFTC) as saying,
I think we can get comfortable with an ether derivative being under our jurisdiction.
If this move goes ahead, it could lead to institutional flows into the ether market. A futures contract would allow investment funds to trade cryptocurrencies as they do with oil or gold, where trades can be settled in U.S. dollars, rather than the underlying asset. This would remove any requirement for custody considerations.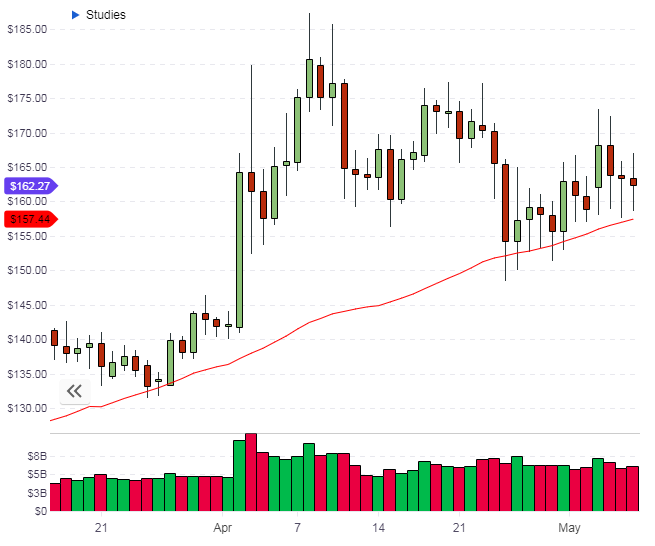 The price of ETH has been consolidating from the rally in early-April and Bitcoin's move towards key support has not yet seen a corresponding push in ETH to its own key level of $200, however, a move to approve a futures contract would see a healthy boost.
ATOM
The Cosmos Hub blockchain launched in March 2019 and is currently at number 14 in the list of coins by market cap with a value of $900 million, which is, ironically, one place below the free-falling Bitcoin SV.
The Cosmos Hub market cap is closing in on some other well-established names with DASH and Monero blocking the path to number 11. These two benefit from a smaller coin circulation of 8 and 4% of Cosmos but with only $120 million in market cap between them, another push higher in Cosmos could see it battling Tron, Cardano, and Stellar for a place in the top ten, with each of those coins having much larger circulations of 19 to 66 billion coins.
The ticker for Cosmos Hub is ATOM, yet confusingly, this is also the ticker of Atomic Coin, which sits at 1701 in the list of coins, so ensure that you track the right project.
Cosmos Hub's website explains the project as an,
An ecosystem of blockchains that can scale and interoperate with each other.
The site continues that:
…before Cosmos, blockchains were unable to communicate with each other…hard to build and could only handle a small amount of transactions per second.
The Cosmos hub seeks to solve those problems and the issues it creates for scalability. It also allows blockchains to commute and transfer value, whilst still protecting their sovereignty. The price of ATOM has surged to $4.76 after Binance listed the token, without the project even applying. Binance's CEO tweeted on the listing, where he stated that "Good tech wins".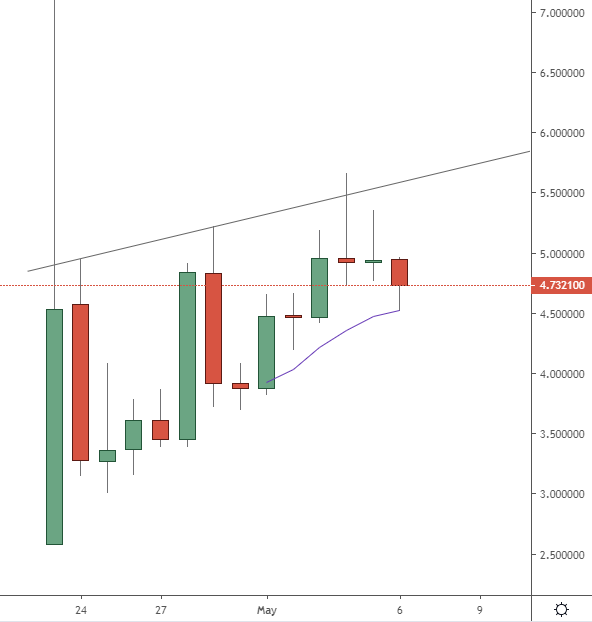 Price has seen some resistance near the $5 level and trails an upward trendline resistance. This is likely a pause from recent gains but because this project has crept into contention for a top ten spot, don't be surprised to see further investment flows.
Keep an eye on this coin in the coming weeks to see if it can displace some of the heavyweights currently in its path.
Disclaimer: information contained herein is provided without considering your personal circumstances, therefore should not be construed as financial advice, investment recommendation or an offer of, or solicitation for, any transactions in cryptocurrencies.