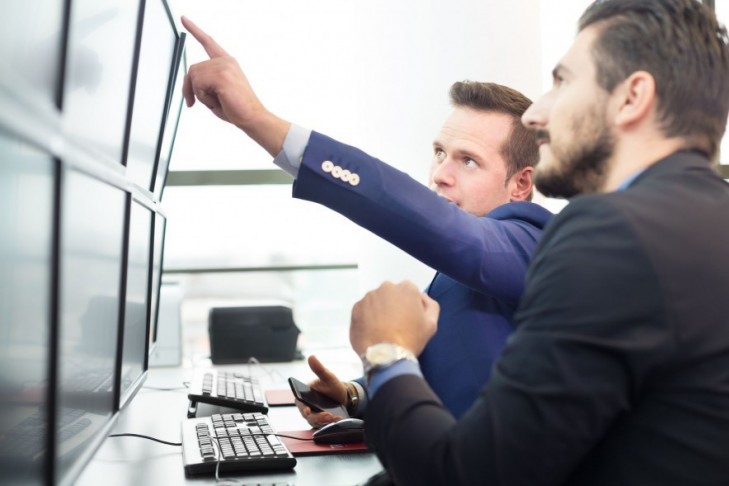 Binance Hit with Regulatory Warnings, USDT in Fed Crosshairs, ADA, CELO, Jun. 28
Jun 28, 2021, 9:43PM

by
Kevin George
Binance Coin was lower after warnings from Japanese and UK regulators. The Fed sees tether as a "threat". CELO gains on Opera support.
BNB
Binance Coin saw losses on the week after the Binance exchange was hit by warnings from Japanese and UK regulators over their operations in the respective countries.
Japan's regulator, the Financial Services Agency (FSA) issued Binance with a warning on Friday that the company was not registered to do business in Japan. That was followed by a similar statement from the UK's Financial Conduct Authority (FCA), which said that Binance Markets Limited was not allowed to undertake regulated activities without prior written approval.
The FCA added that no other entity in the Binance Group "holds any form of U.K. authorization, registration or license to conduct regulated activity in the U.K."
The moves by regulators have followed the crackdown by China on miners, exchanges and, financial institutions. Governments look to be tightening the screw on the decentralized cryptocurrency industry as they prepare their own digital currencies, issued by central banks.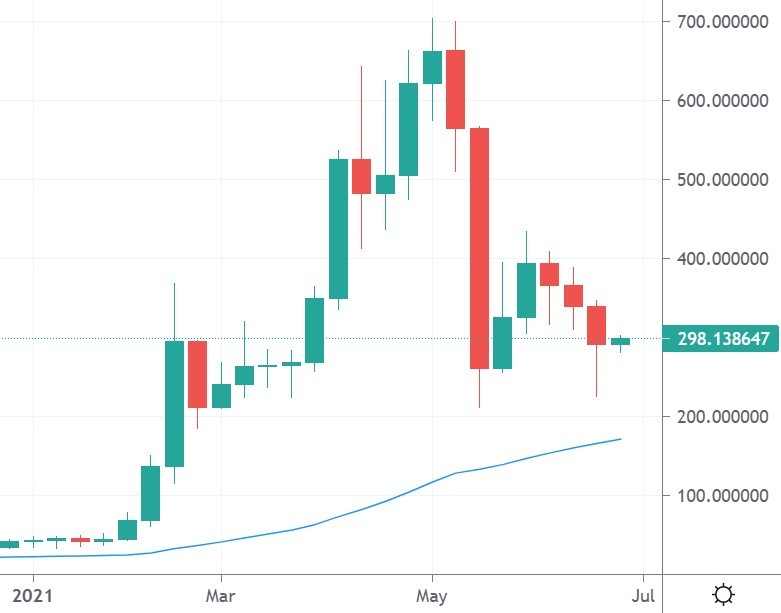 The price of BNB saw highs at $700 in the May crypto peak but now trades just below the $300 level. The weekly chart shows that support has held again around $250 and further gains could be seen. Investors should be wary of the bounce as regulators circle the market, with Binance seeing particular attention.
USDT
The next regulatory headwind for the cryptocurrency came for the Tether stablecoin after a Senior Federal Reserve official called the coin a threat to the stability of the financial system.
In a presentation on Friday, Eric Rosengren, president of the Federal Reserve Bank of Boston, stated that tether was among the "financial stability challenges" that the US central bank is watching.
The US central bank has mentioned stablecoins in the past, but this time they specifically mentioned tether. This is important because the coin is highly tied to Bitcoin and that could rock the market if the Fed takes action against tether.
The reason I talked about Tether and stablecoins is if you look at their portfolio, it basically looks like a portfolio of a prime money market fund but maybe riskier. I do think we need to think more broadly about what could disrupt short-term credit markets over time, and certainly stablecoins are one element. I do worry that the stablecoin market that is currently, pretty much unregulated as it grows and becomes a more important sector of our economy.
The surge in Bitcoin in 2021 is actually creating a larger headache for the coin as the market cap of tether has grown to $62.5bn, from only $10bn in the summer of 2020.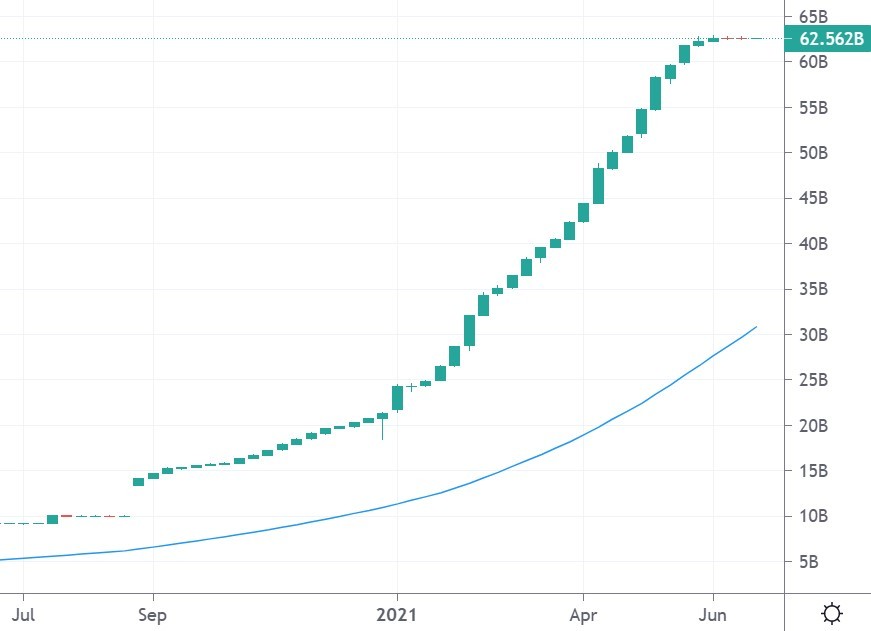 BTC has seen sharp sell-offs in the past when the USD backing of tether was questioned and the swings may be larger with the growth in the USDT valuation.
ADA
Cardano founder Charles Hoskinson was bashing BTC again in a recent podcast where he said that Bitcoin "is its own worst enemy". Hoskinson talked of the coin's competitive disadvantage due to speed and the proof-of-work technology.
The problem with Bitcoin is that it is so slow — it's like the mainframe programming of the past. The only reason it's still around is because there is so much invested in keeping it around.
Hoskinson added that the technology has to be updated to keep up with other coins, such as Cardano, or Ethereum's switch to proof-of-stake consensus with the V2.0 upgrade:
It [Bitcoin] is its own worst enemy. It has the network effects, it has the brand name, it has the regulatory approval. But, there's no way to change the system, even correcting obvious downsides in that system.""My hope is that a compromise can be made where real developers come in, and they start working on doge to create some use and utility for it, so at least it has a value floor and won't collapse.
The Ethereum co-founder sees Ethereum as a winner compared to BTC:
If I had to bet between just those two systems, I'd say nine times out of ten Ethereum is going to win the fight against Bitcoin.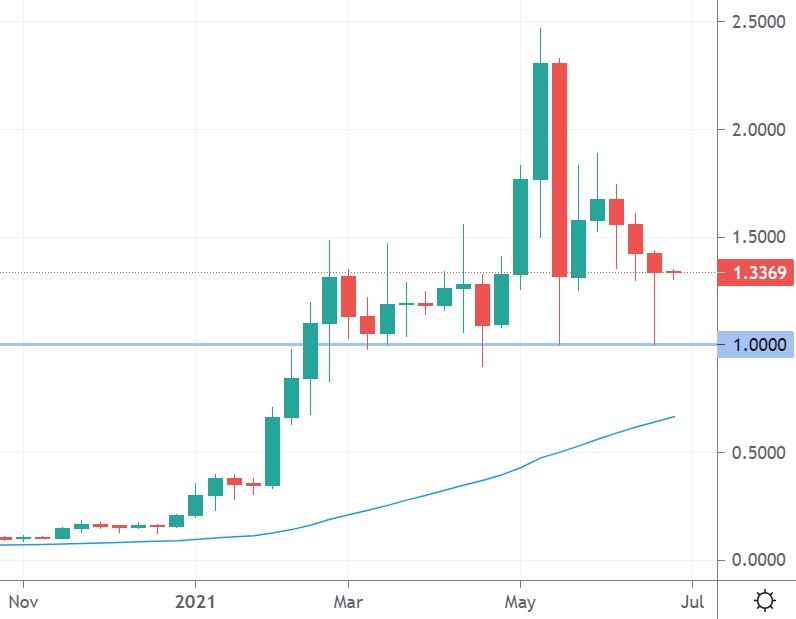 The price of ADA has held up well at the $1.00 level and this has been a strong support level. The coin could try to make a move back toward the all-time highs near $2.50. Cardano ranks number 5 in the list of coins with a market cap of $42bn, but it is only $3bn behind Binance Coin and could replace it if the exchange comes under further pressure.
CELO
CELO has been the strongest coin in the last week with a gain of 82% and a move to a market cap of $917m.
The CELO coin has been moving higher after an announcement by Opera that it would support CELO stablecoins in its crypto wallet app. Cuautemoc Weber, head of crypto and VP of business development and mobile at Opera, stated Celo's "mobile-first approach" aligned with his company's plans to bring crypto payments to millions of smartphone users.
Celo's stablecoins are tied to fiat currency pegs with both cUSD and cEUR said to be backed by a basket of cryptocurrencies, including Bitcoin (BTC) and Ether (ETH), held in the Celo Reserve.
Weber added:
We chose to integrate cUSD and cEUR as our first stablecoins, as a large part of our user base lives in markets like Africa, the Philippines, and LATAM, where access to financial services—such as cash out options—is limited, fiat volatility can be challenging, and remittance costs are high. Celo makes this possible with just a mobile phone number.
Further news for CELO recently saw the venture capital fund Andreessen Horowitz (a16z) choosing T-Systems MMS validator group, a subsidiary of Deutsche Telekom, to delegate its native Celo assets.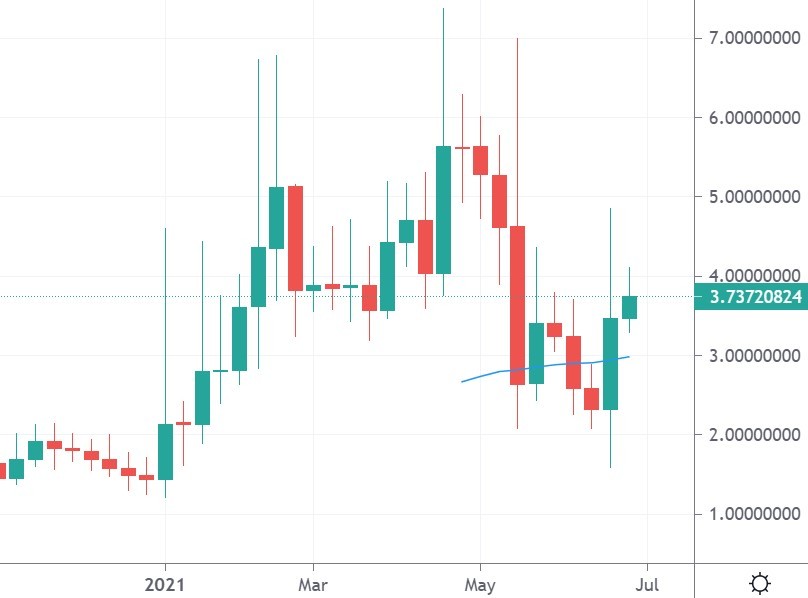 The CELO coin surged to $3.70 this week and now ranks at number 70 in the list of coins with a market cap above $900m.
Disclaimer: information contained herein is provided without considering your personal circumstances, therefore should not be construed as financial advice, investment recommendation or an offer of, or solicitation for, any transactions in cryptocurrencies.