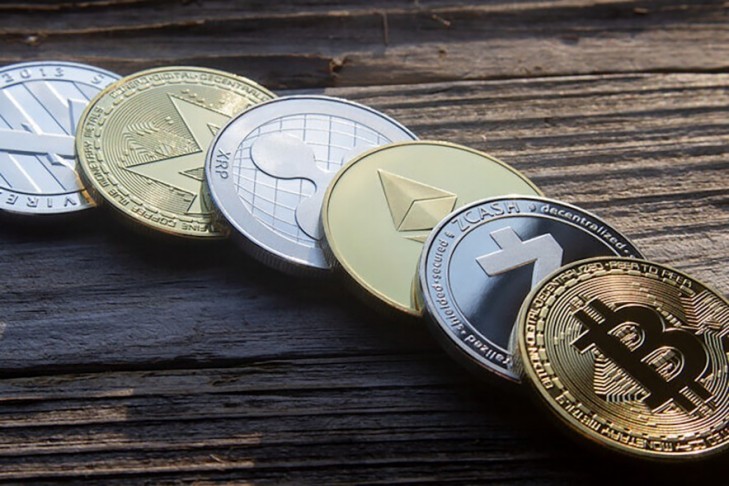 Bitcoin Could Test $25k After a Rollercoaster Week, SOL, MIOTA, SPAL, Sept. 4
Sep 4, 2023, 3:38PM

by
Kevin George
BTC pumps and dumps on Grayscale court win. SOL struggles despite MAKER speculation. MIOTA rallies with traffic patent. SPAL and Klaytn tie-up.
BTC
Bitcoin had a rollercoaster week with a $2,000 rally last Tuesday, which was reversed on Thursday, with the coin down 0.80% over the last week.
News of a favorable court ruling for digital asset manager Grayscale sent the price of BTC soaring. The asset manager won its court case against the Securities and Exchange Commission (SEC), which should see the regulator forced to approve spot bitcoin exchange-traded-fund (ETF) applications from other managers. The federal court said the regulator must review its rejection of Grayscale's attempt to convert the Grayscale Bitcoin Trust into an ETF, JPMorgan said on Friday.
The most important element of the Grayscale vs. SEC court ruling was that the denial by SEC was arbitrary and capricious because the Commission failed to explain its different treatment of similar products i.e., futures-based bitcoin ETFs.
The court argued that manipulation in the spot market posed a similar risk to both futures and spot products because the "spot bitcoin market and CME bitcoin futures market are so tightly correlated," the report said.
JPMorgan added that there was no reason to allow futures-based bitcoin ETFs but deny spot ETFs.
In true "buy the rumor, sell the fact" price action, BTC sold off once the speculation of a court win was confirmed. The decision could still have a positive bearing on the price of Bitcoin, with the door open for a spot ETF from the likes of asset management giant BlackRock.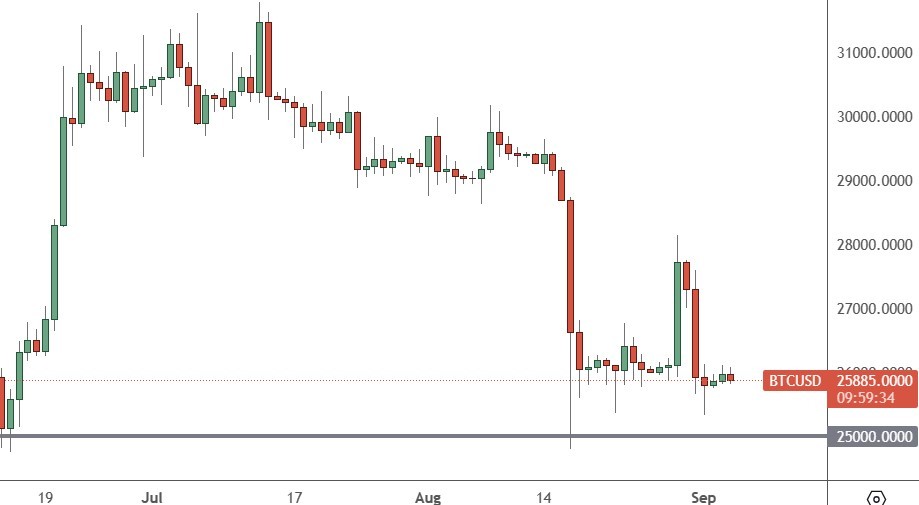 Bitcoin's near-term price pressures continue, and traders should brace for a potential test of $25,000 this week.
SOL
Solana (SOL) was down almost 5% on the week being considered for MakerDAO's new chain.
Anatoly Yakovenko, co-founder of Solana, talked of MakerDAO's consideration of Solana for its upcoming native chain, NewChain. Yakovenko said the move should be seen as a victory for the open-source community rather than a win over Ethereum.
"Maker considering Solana's tech is a win for open source and has nothing to do with Solana's mainnet or sol vs eth. I really hope that people in the Solana community don't use this as some cudgel to attack Ethereum," he tweeted.
MakerDAO co-founder Rune Christensen is proposing to develop NewChain using a fork of Solana's code, which would be a significant shift for MakerDAO, which has been closely tied to Ethereum since its inception.
"Ethereum is awesome. Solana wasn't built in a vacuum, and tons and tons of things that make Solana special were built based on Ethereum's R&D," Yakovenko added.
The plan is part of MakerDAO's "Endgame" upgrade, which is a five-phase plan seeking to improve governance and make the protocol more self-sustainable. The final phase will include NewChain and is expected to take three years to complete.
Cryptopolitan reported recently Ethereum founder Vitalik Buterin had sold his remaining 500 MakerDAO tokens for 353 ETH, approximately $580,000.
SOL currently has a market cap of $8bn and is ranked at number 9 in the list of tokens. MAKER has a market cap of $1bn at number forty in the list.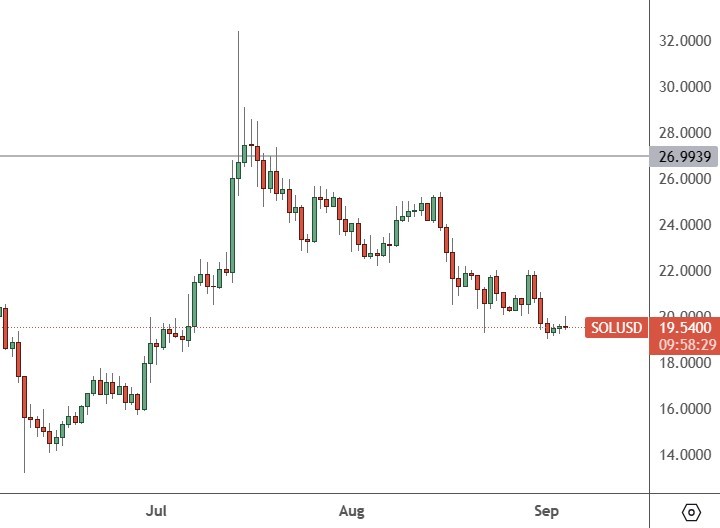 SOL had a recent failure at the $30 level and now trades at $20.
IOTA
Internet of Things (IoT) token IOTA (MIOTA) saw its price surge despite a Binance delisting.
Binance's latest reshuffle will see it removing numerous tokens, including its own BUSD stablecoin.
MIOTA ranks at number sixty six in the list of coin projects by market value. That followed a surge of 8% in a bearish market.
MIOTA saw a surge in trading volume around the 1st of September with an average of $4.5 million per day jumping to $15 million. That had traders speculating about the potential for whale investment.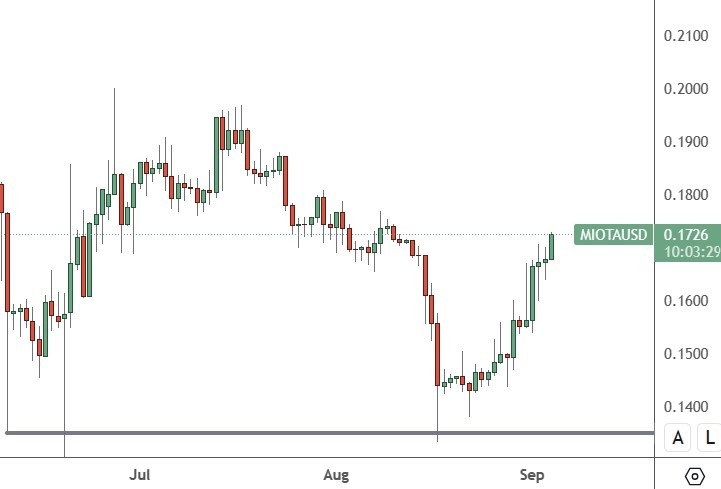 That saw the price of MIOTA rising to $0.1726, and the coin has been able to carve out a price bottom at the $0.1400 level.
A recent patent listing has unveiled IOTA Tangle, which is set to be a blockchain-based traffic solution. This would be the management of traffic via self-driving cars. This could put IOTA on a good footing as competition heats up in the world of electric vehicles.
SFP
SafePal has announced a non-custodial wallet partnership with crypto project Klaytn.
SafePal is backed by industry leaders such as Binance and Animoca Brands, with over 10 million users. The announcement came with renewed interest in combining physical experiences with digital collectibles and will be formally announced at an event in Korea.
The limited edition hardware wallets are a collection of 300 with co-branding of the two firms and unique NFTs.
Veronica Wong, CEO and co-founder of SafePal, said:
"Offering secure, accessible, and affordable noncustodial products and services has always been our top priority in serving as the backbone of Web3 adoption. We are thrilled to provide Klaytn users with a unique memory on-chain and utility in the physical world via the enhanced security of cold storage for assets."
The limited edition wallets are priced at $49.99, with free global shipping. Safepal supports 15 languages and 100+ blockchains with their tokens and NFTs.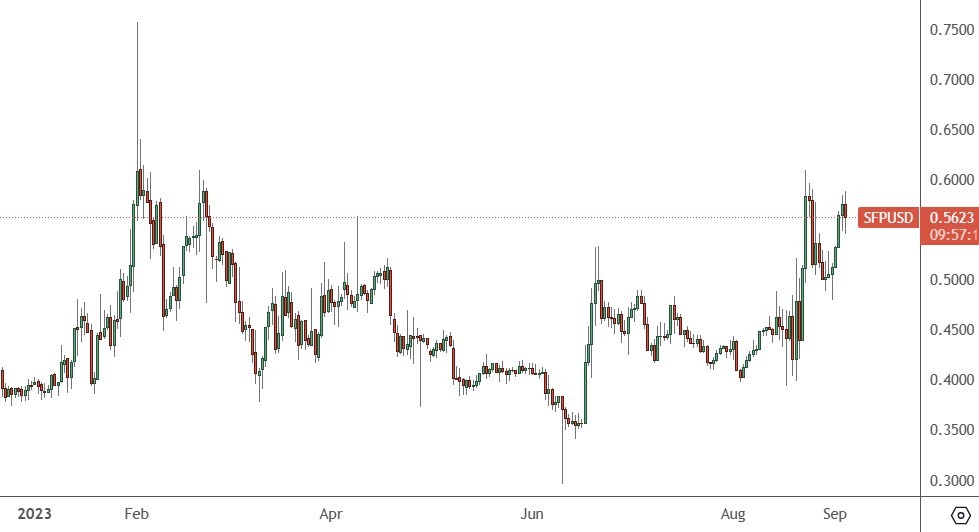 The price of SFP has moved higher to $0.50, but the all-time high on the project is around $4.00.
Disclaimer: information contained herein is provided without considering your personal circumstances, therefore should not be construed as financial advice, investment recommendation or an offer of, or solicitation for, any transactions in cryptocurrencies.