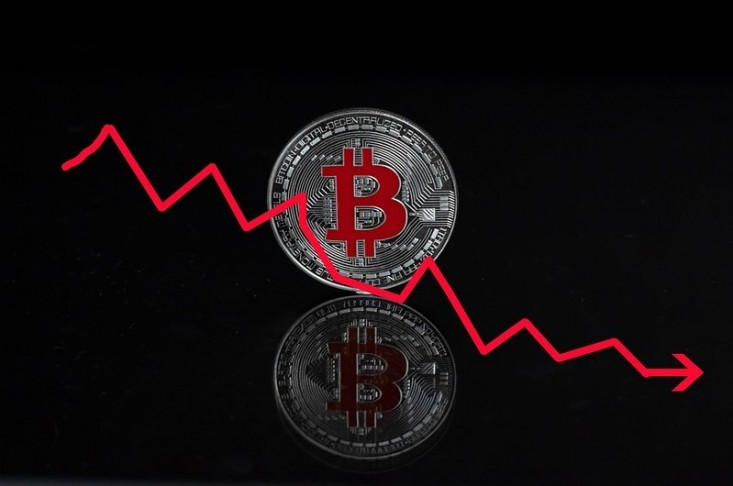 Bitcoin Loses 20% on FTX Exchange Collapse, FTT, TWT, AR, Nov. 14
Nov 14, 2022, 3:24PM

by
Kevin George
BTC rocked after a liquidity crisis at popular exchange. FTT crashes out of the top 100 coins. TWT gains as investors flee exchanges.
BTC
Bitcoin lost 20% of its value this week and lowered the cryptocurrency market after a liquidity crisis at the popular FTX exchange. Sam Bankman-Fried's company ran into problems and rival Binance offered to buy them out.
That deal fell apart after Binance conducted due diligence and its CEO Changpeng Zhao said that acquiring the exchange was "not a win for us".
In a further Tweet, "CZ" said: ''Two big lessons: 1: Never use a token you created as collateral. 2: Don't borrow if you run a crypto business. Don't use capital "efficiently". Have a large reserve. Binance has never used BNB for collateral, and we have never taken on debt.''
The drama started with a November 2 Coindesk headline regarding the FTX sister company, Alameda Research. That was followed by the news that Binance was offloading allof its FTT holdings.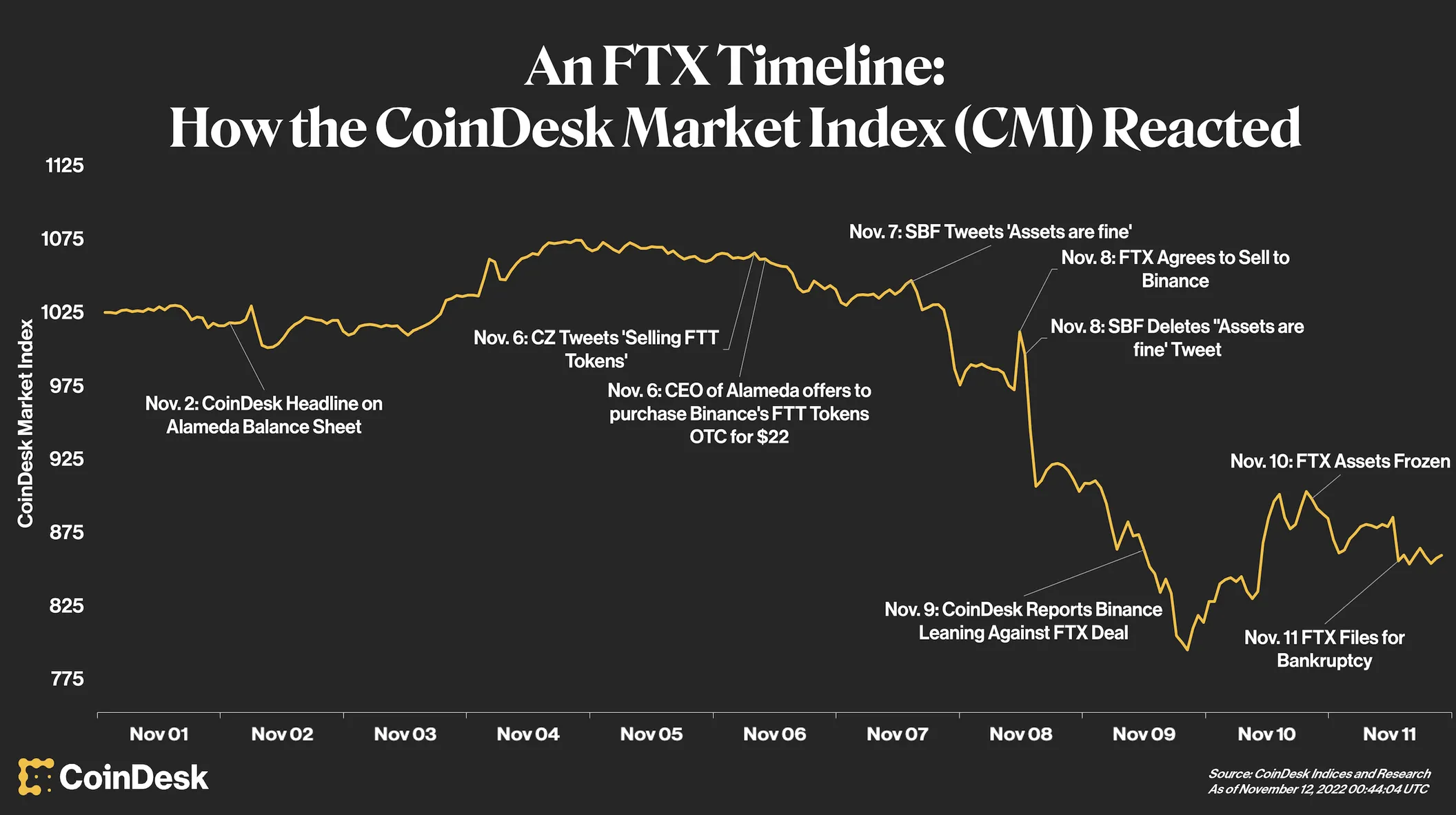 Bankman-Fried tweeted on November 7 that "assets were fine," but that was quickly followed a day later with the news that Binance would acquire its smaller rival and conduct the ill-fated due diligence.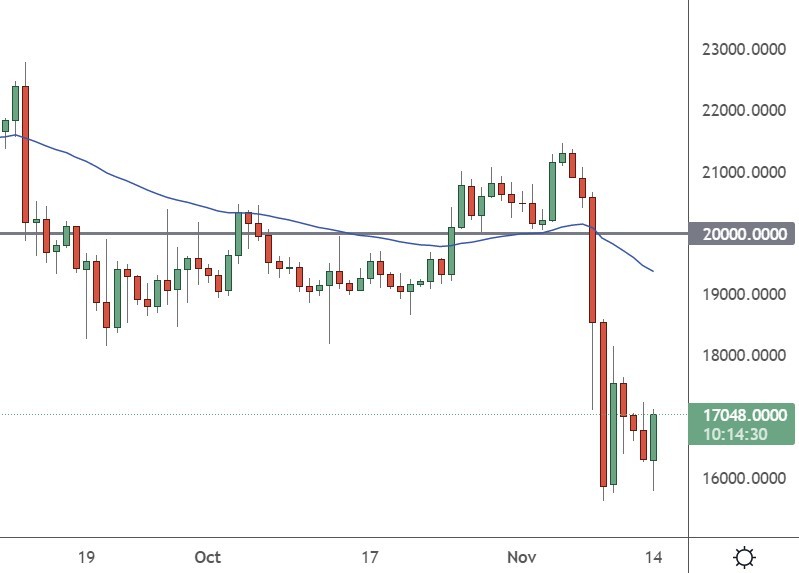 The Bitcoin price hit a low near 15,500 on the week and has since bounced to $17,000. The key resistance is the $20k mark again but there could be selling pressure ahead of that and there is the threat of forced selling.
FTT
The price of FTT collapsed this week with the exchange token caught in the mismanagement of Bankman—Fried.
FTX said it would file for bankruptcy protection for FTX.com, FTX U.S., and Bankman-Fried's proprietary trading firm Alameda Research, alongside other affiliated companies and the CEO has now stepped down.
The collapse of the exchange was a big fall from grace for its founder who lost all of his $15.2 billion fortune in a matter of days. The firm's assets were also seized in the Bahamas and they were facing a criminal probe. The Chapter 11 filing was followed by the $600 hack of the exchange late on Friday. FTX later confirmed the hack on its official Telegram channel, instructing users not to install any new upgrades and to delete all of their FTX apps.
"FTX has been hacked. FTX apps are malware. Delete them. Chat is open. Don't go on FTX site as it might download Trojans," an admin said.
On Twitter, members of the crypto community quickly began to speculate that the outflows could have been organized by a member of Bankman-Fried's inner circle, noting that the simultaneous and sophisticated hacks of FTX and FTX US are indicative of a potential inside job. Twitter user ZachXBT tweeted on Friday that "multiple former FTX employees confirmed to me that they do not recognize these transfers."
The Binance CEO said Monday that regulatory scrutiny will be a good thing:
A lot of consumer confidence is shaken. We've been set back a few years. We've just seen another very big player going down. Regulators, rightfully, will scrutinize this industry much, much harder, which is probably a good thing to be honest.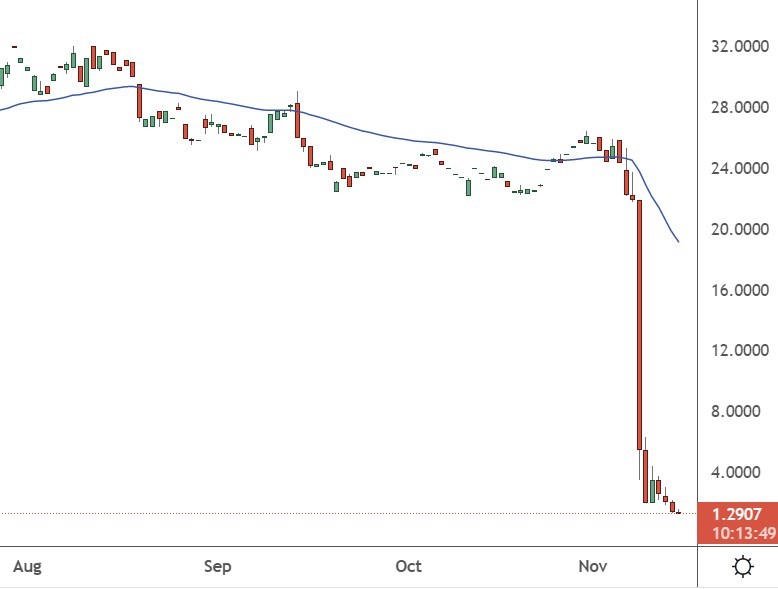 The price of FTT was trading at $1.29 on Monday after a sharp drop over the last week.
TWT
Trust Wallet Token was the biggest gainer this week with a 40% gain as investors feared for their cryptocurrency holdings on exchanges. A Tweet by Elon Musk urged investors to put their coins in cold storage which could even impact other exchanges.
This trend will likely continue and see investors putting a large portion of their portfolios in cold wallets or hardware wallets. Musk said of meeting Bankman-Fried ahead of the Twitter deal:
"Then I was like, man, everyone including major investment banks – everyone was talking about him like he's walking on water and has a zillion dollars. And that was not my impression…that dude is just – there's something wrong, and he does not have capital, and he will not come through. That was my prediction".
I would reaffirm that, if you have crypto, you should have it in a directly accessible cold wallet. Not in an exchange.
"I think there probably is a future for Bitcoin, Ethereum, and DOGE. I can't really speak to the others. But if you've got one of those three in a cold wallet, and off an exchange, I think my guess is it works out well," he added.
Trust Wallet Token is the native coin of the "most trusted and secure crypto wallet". Investors can use the wallet to buy, store, collect NFTs, exchange & earn cryptocurrency and it has a reported 25 million users.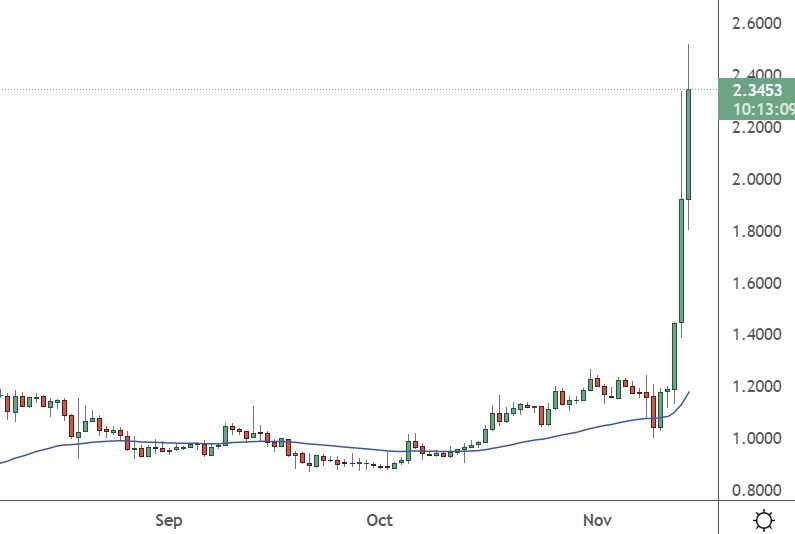 TWT was trading at an all-time high at $2.40 and has a market cap of almost $1 billion to rank at number 43 in the list of the largest crypto projects.
Disclaimer: information contained herein is provided without considering your personal circumstances, therefore should not be construed as financial advice, investment recommendation or an offer of, or solicitation for, any transactions in cryptocurrencies.