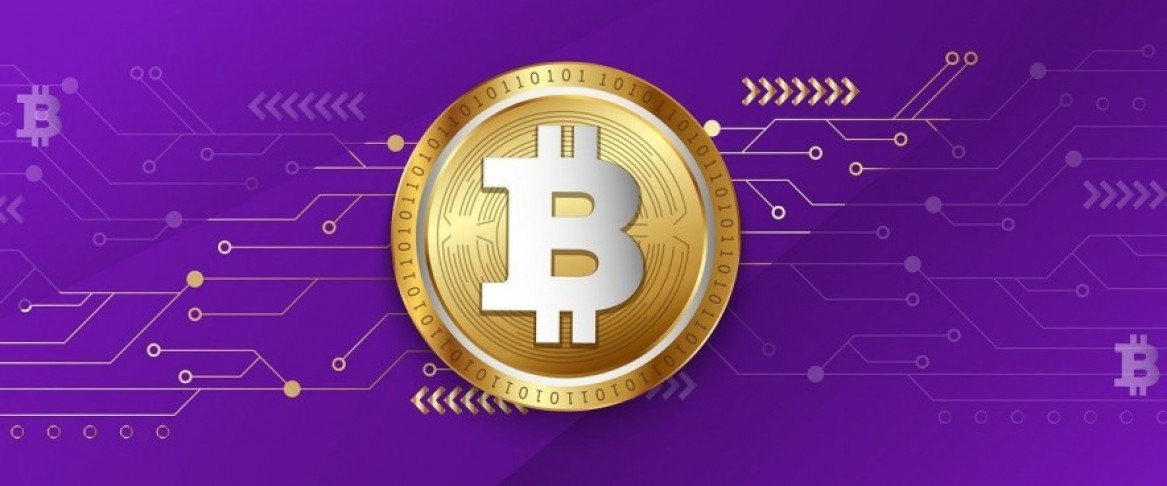 Bitcoin Price Crumbles to $33,000 on Russia Ban, SOL, METIS, Jan. 24
Jan 24, 2022, 9:18PM

by
Kevin George
Cryptocurrency market continues bearish trend as Russia moves to ban mining & trading. METIS sees huge gain on TVL. SOL drops but BofA positive.
BTC
The Bitcoin price opened the week around the $43,000 level but has since slumped to $33,000 after Russia moved to ban cryptocurrencies.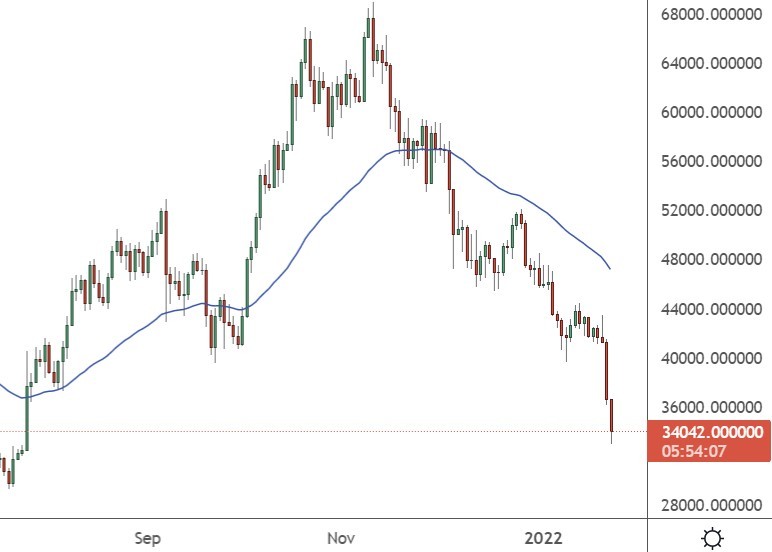 The market initially shrugged off the news, but selling emerged and there are also ongoing concerns about the tightening of interest rates and stimulus by the US central bank.
"There are bigger concerns right now in crypto," Chris Vecchio, senior strategist at DailyFX, said. "What's happening is much more closely tied to global stimulus conditions and central banks pulling back their pandemic era efforts. That, to me, is the prevailing story here."
Russia published a report on Thursday that warned of the speculative nature of digital assets and said they were a bubble. The central bank proposed three amendments to the current regulations: ban crypto as a means of payment, ban the organization and issuance of crypto, and ban financial institutions from investing.
Many in the market are unmoved by the latest crackdown, but maybe they should consider the growing list of countries that are moving against cryptocurrencies, with China and Turkey possibly looking to circumvent the US dollar and decentralized market.
The crypto market saw a spike in liquidations, where traders have insufficient funds to cover their losses, after the surprise market dump.
Bitcoin is now almost 50% below its all-time high above $69,000, which is a significant drawdown. The market saw a similar move lower in July when BTC settled near $28,000 after falling roughly 50% from the first test of the $60k levels.
Altcoins were also dragged lower and the majority of the top twenty coins were down by around 20%, with Ether also lower by 27% over the last seven days.
There may not be an imminent respite for BTC with a potential move to $30k, where stronger support lies.
SOL
Solana was one of the worst-performing coins in the top fifteen coins, with a loss of around 35%.
Coins like SOL were well supported in the market over the recent months and these are now seeing a sharp unwind.
It is not all bad news for Solana with a recent development being the support for the project on the enterprise platform, Fireblocks, which is used by institutions to secure over $2tn in digital asset transfers. The project has $45bn in assets under custody and there has been a wave of assets added to the platform, including Ethereum, Avalanche, and Fantom.
Solana will now have access to more than 800 Fireblocks customers who will be able to securely and easily send, receive, or custody its native token, SOL, on the platform.
Solana and its native token SOL have a market cap of around $31bn and a TVL (total value locked) of $9.65bn. The project has already been popular with institutional customers due to its fast speed and lower transaction fees compared to other layer-1 projects.
Michael Shaulov, CEO of Fireblocks, commented on the high demand for the asset from investors.
"Support for the native Solana token has been much anticipated by Fireblocks customers – within the first weekend of announcing support for SOL, we saw close to 25% of all Solana SOL token volume taking place on the Fireblocks platform," he said.
We are excited to finally make SOL available to more than 800 of our institutional customers and look forward to seeing SOL go live across the numerous products and services that are being powered by our infrastructure.
There was further good news for Solana after Bank of America said that the coin could become the VISA of the digital asset universe. The BofA research note said:
"Solana prioritizes scalability, but a relatively less decentralized and secure blockchain has trade-offs, illustrated by several network performance issues since inception," Shah said.
Ethereum prioritizes decentralization and security, but at the expense of scalability, which has led to periods of network congestion and transaction fees that are occasionally larger than the value of the transaction being sent.
Solana has settled over 50 billion transactions (Visa processed 164.7 billion transactions in the year ended Sept. 30). Solana also has more than $11 billion in TVL and has been used to mint more than 5.7 million non-fungible tokens (NFTs), analyst Alkesh Shah wrote.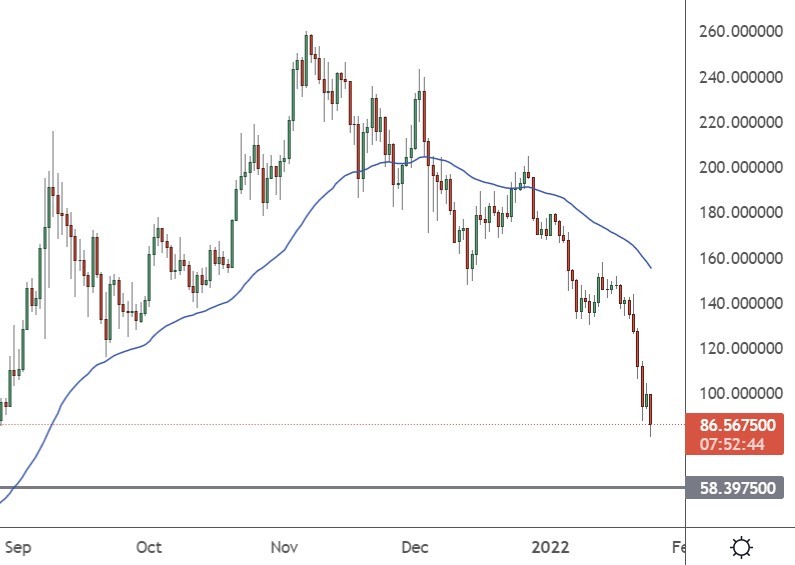 On the weekly level SOL has closed under the $100 level and if the market remains bearish, it may go as low as $60.
METIS
MetisDAO has been on a rollercoaster since mid-December with a move from under $50 to a high of around $317.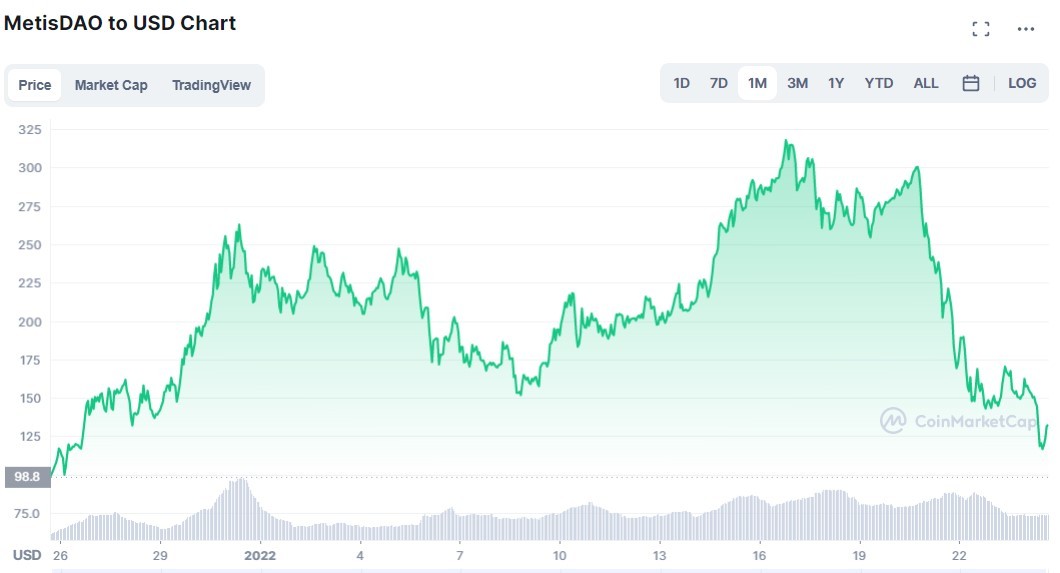 The project has since slumped to around $150 but it is one of the 'Layer-2' projects that are coming up behind the likes of Solana.
Metis has seen its total value locked on the platform rocket by 99,881% in a month after the layer-two project integrated with numerous DeFi protocols and bridges. The largest boost has come from the launch of several new DeFi protocols that are exclusively on the Metis network, including NetSwap, Agora, and Tethys Finance.
These three protocols now account for $325 million of the $353 million currently locked on Metis. The METIS and Agora partnership was only announced on Jan. 19, which led to a bumper two days of investment. This could see the TVL figures on the Metis chain moving higher still.
The coin will now look to stabilize around these levels and could make another run towards the highs as the coin is only ranked 239 out of the top coins by market cap.
Disclaimer: information contained herein is provided without considering your personal circumstances, therefore should not be construed as financial advice, investment recommendation or an offer of, or solicitation for, any transactions in cryptocurrencies.