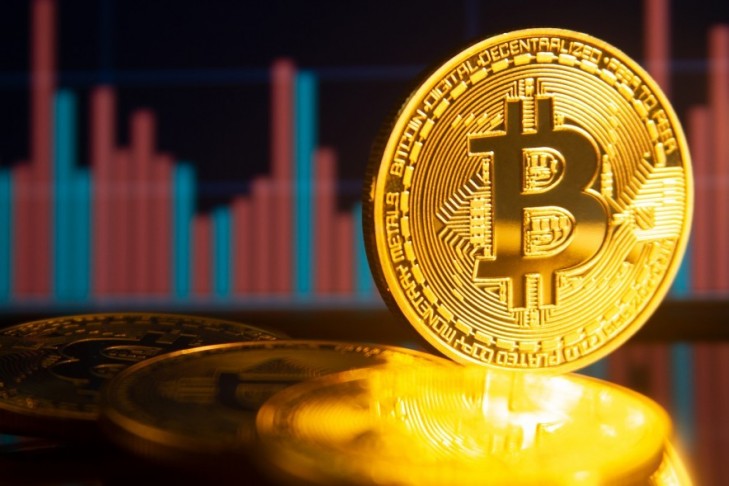 Bitcoin Price Moves Back Above $50,000 Level, ADA, DOGE, FTM Dec. 27
Dec 27, 2021, 5:28PM

by
Kevin George
Bitcoin price adds 10% to trade above $50k. Cardano up 23% on founders new year vision. Dogecoin releases first ever roadmap. FTM jumps on TVL.
BTC
The Bitcoin price is still trying to carve out a bottom with the coin improving by 10% on the week and getting back above the $50,000 level.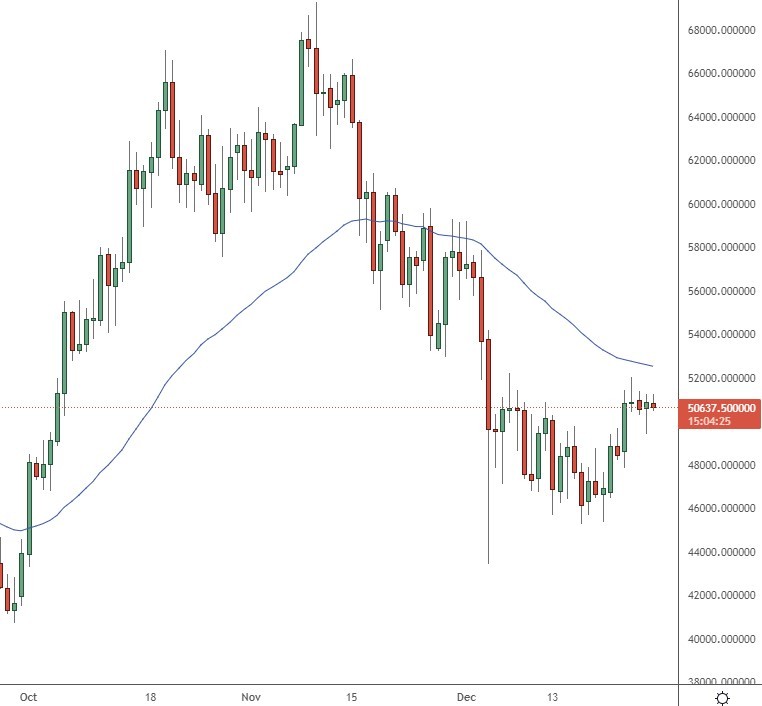 The move higher comes despite another refusal for a spot-backed Bitcoin ETF by the Securities and Exchange Commission. The regulators rejected the latest proposal submitted by investment firm Kryptoin in a letter issued to the investment firm yesterday.
The SEC chair Gary Gensler has made it clear several times that the regulatory agency is not ready to approve a spot Bitcoin ETF. The commission did approve three futures-backed funds in recent months.
Instead, the SEC has approved a few Bitcoin futures ETFs. The Bitcoin futures ETFs grant investors access to Bitcoin futures instead of the real spot price of the leading cryptocurrency. The SEC believes the Bitcoin futures ETFs pose less threat to the investors compared to the spot ETFs. So far, there are three Bitcoin futures ETFs available to US investors.
This latest development comes just two weeks after the rejection of VanEck's spot Bitcoin ETF proposal.
Neither proposal meets its standard "designed to prevent fraudulent and manipulative acts and practices" and "to protect investors and the public interest," the SEC said in the rejection orders published last week.
"The fact that the SEC is disapproving faster than they needed to — we were optimistic about futures, but we're not confident in a 2022 approval," said Eric Balchunas of Bloomberg.
BTC was trading at $50,600 on Monday morning and will look to use the recent gains as a platform.
ADA
Cardano was higher by 25% after its founder Charles Hoskinson released a 'Vision 2022' for the coin.
IOHK is now heavily invested in DeFi one of the key drivers will be RealFi, Cardano's method of providing digital identities to individuals seeking to access this new version of financial services. Cardano aims to provide 1 billion people with digital identities to improve financial inclusivity.
Hoskinson said:
My goal for the second half of 2022 is to figure out how to put all the pieces together to get an end-to-end microfinance transaction on Cardano. So that for real person in Kenya or somewhere with a blockchain-based identity and credit score, stablecoin on the other side, Cardano is the settlement rail. Peer-to-peer, person-to-person, click a button, loan goes to them. They pay it back, it goes to the other side.
He also discussed technical milestones and said, "a formal open-source project structure is going to be formed, kind of like Hyperledger to Linux". The goal of this would be to increase institutional traction.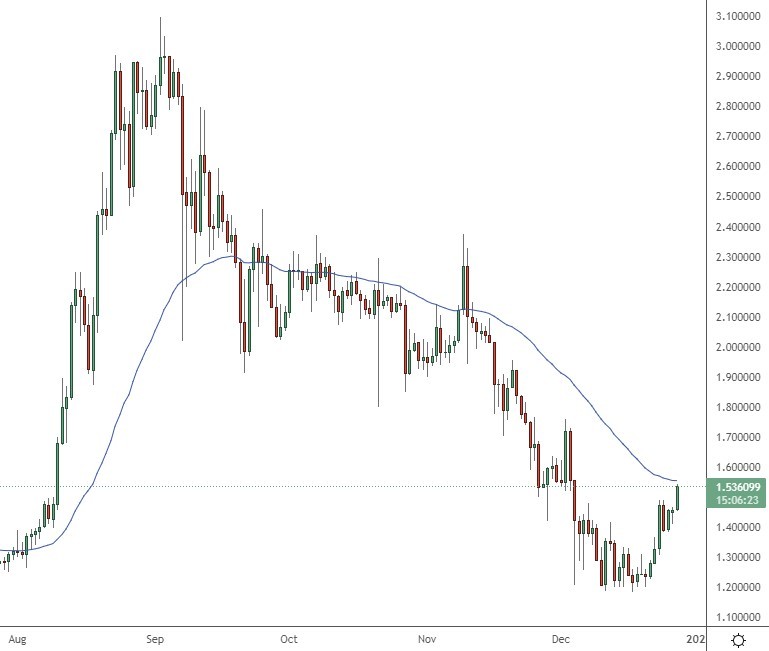 The price of ADA has slumped from highs at $3.00 in early-September and has bounced to $1.53 this week.
DOGE
The Dogecoin Foundation has launched its first-ever roadmap in the coin's eight-year history.
The foundation announced a Dogecoin "trailmap" which explores eight different projects including the launch of LibDogecoin and GigaWallet.
Back in August, the foundation signed the Dogecoin Manifesto, which explained the goal of DOGE and allowed enthusiasts to also sign the manifesto and give feedback on what the community wanted from the project.
The Dogecoin Foundation has some well-known members and advisers, including Ethereum co-founder Vitalik Buterin.
In the new roadmap the foundation said it is working with Buterin on "crafting a uniquely Doge proposal for a 'community staking' version of Proof of Stake (PoS) that will allow everyone, not just the big players to participate in a way that rewards them for their contribution to running the network."
The foundation adds that it has "some influential friends" and a growing group of developers who are ready to contribute development time to these open-source projects.
Elon Musk has been a supporter of dogecoin and said in a previous tweet that it might be "the future currency of earth."
DOGE started out as a joke in 2013, but holds the 12th most valuable cryptocurrency by market cap, according to CoinMarketCap.
In July, the coin's founder Jackson Palmer said that he would not be returning to cryptocurrency as it is "is an inherently right-wing, hyper-capitalistic technology built primarily to amplify the wealth of its proponents through a combination of tax avoidance, diminished regulatory oversight and artificially enforced scarcity."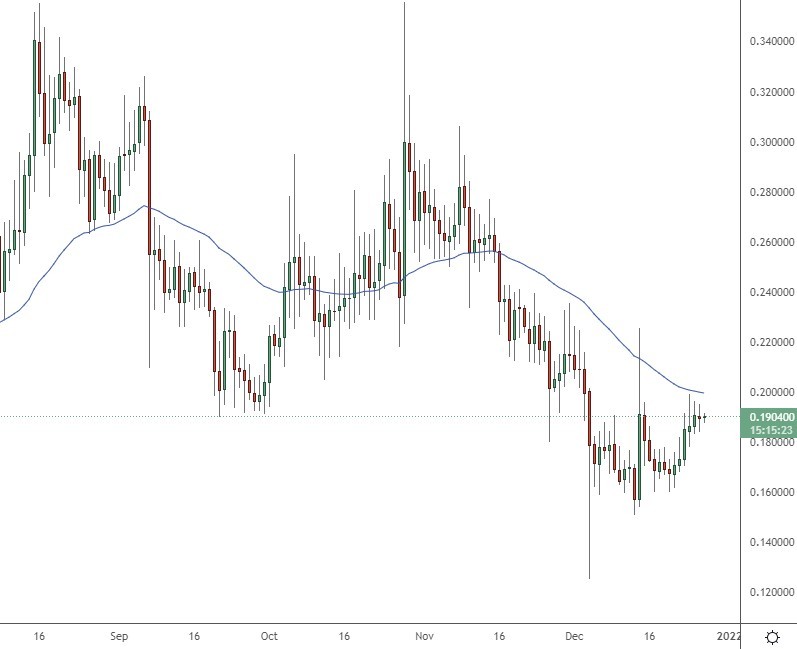 However, other developers are ready to take up the mantle and attempt to propel the coin further. DOGE trades below $0.20 after seeing resistance at $0.3500 in August and November.
FTM
The price of Fantom was one of the best-performers on the week with a gain of over 70%.
The coin is benefitting from the continued growth of DeFi projects and the project is set to surpass Polygon.
In the last seven days, four of the top smart contracts platforms have witnessed double-digit gains in terms of total value locked TVL.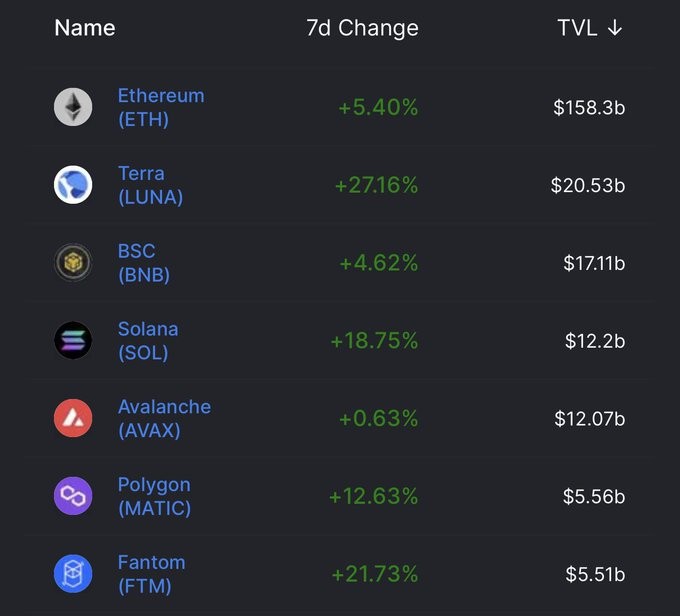 At $5.5 billion, the Fantom project trails Polygon by only $50 million, but is still far from the next competitor in Avalanche at $12 billion.
Fantom's DeFi ecosystem has more than $1 billion locked on Multichain- a dApp that works on top of all EVM-compatible blockchains.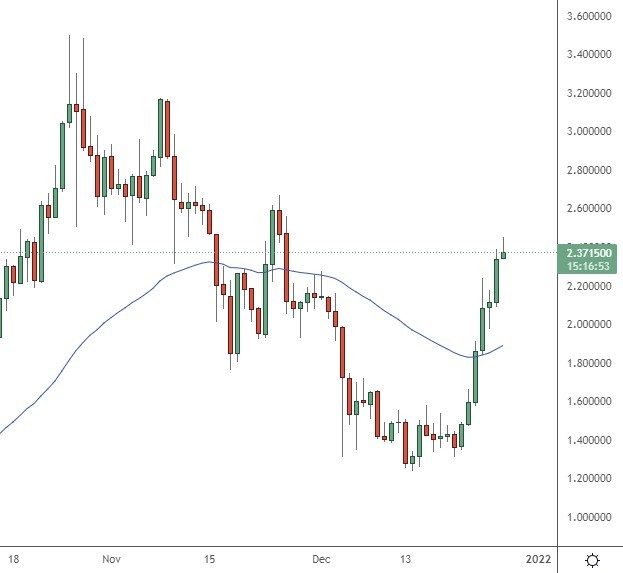 The price of FTM has risen to $2.37 from lows near $1.20 in early-December and the all-time high is around $3.50.
Disclaimer: information contained herein is provided without considering your personal circumstances, therefore should not be construed as financial advice, investment recommendation or an offer of, or solicitation for, any transactions in cryptocurrencies.