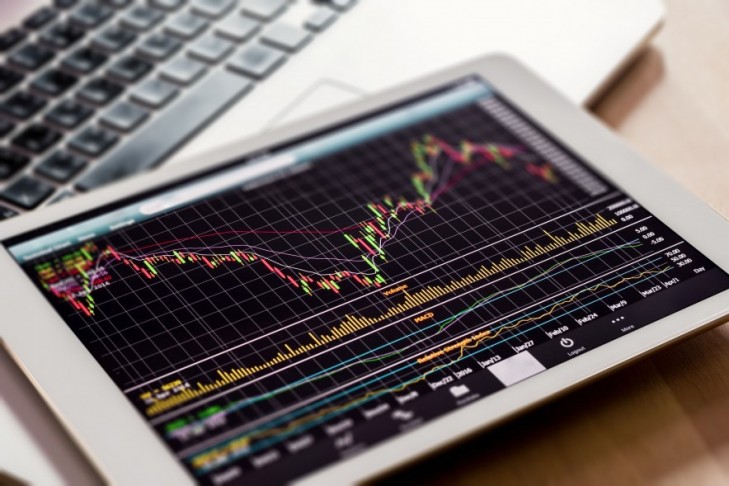 Bitcoin Price Struggles but Adoption Continues, BNB, NEAR, Dec. 13
Dec 13, 2021, 9:56PM

by
Kevin George
Bitcoin was lower on the week but Whatsapp teased a new use case. BNB could get a lift from Shopify. NEAR rises with MoonPay listing.
BTC
The Bitcoin price was lower again this week by 2.7% as the market-leading cryptocurrency continues to struggle.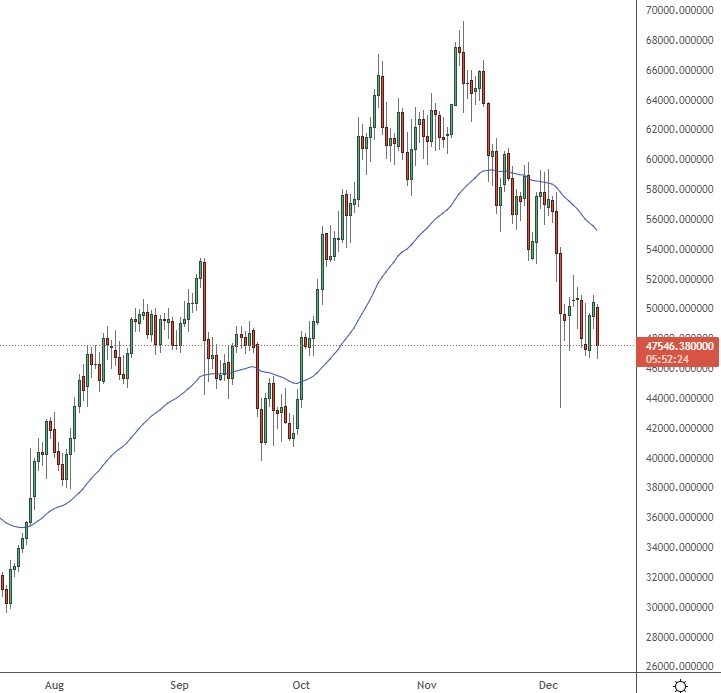 The coin actually hit a new landmark this week with 90% of the coin supply now having been minted. However, the final coin is predicted to be mined around 2140.
Bitcoin's move to new highs back in November was accompanied by a rise in futures open interest to record levels. Nasdaq said in a monthly BTC report:
"The bitcoin total futures open interest in the derivatives market has risen to new elevated levels that have historically preempted increased healthy, liquidation flushes in the market. Although futures open interest is elevated largely because of increased CME Futures ETF demand, the rise is still cause for concern as perpetual funding rates rise higher as price is falling. These dynamics usually signal a derivatives market reset and thus a lower bitcoin price."
This setup suggests a reacceleration above all-time highs could create a gamma-driven surge. However, prices stalling or falling would add to the high decay bill and instead open up further downside given the insignificant amount of protection left outstanding into year-end.
This has been the case with the latest downward pressure on BTC and that has dragged the rest of the crypto market lower with much of the altcoins down by double digits.
I have talked many times about the threat of regulation and the Bank of England said in a report that cryptocurrencies could pose a threat to the financial system.
"Material growth in banks' exposures to unbacked crypto assets would expose them to financial, operational and reputational risks," the central bank said.
The bank called for "enhanced regulatory and law enforcement frameworks, both domestically and at a global level."
BTC is being weighed by regulatory talk and there is also a drag on stocks as investment banks such as Goldman Sachs have increased their expectations for Federal Reserve interest rate hikes
BNB
The future of BNB could get a lift from increased adoption of the Binance Smart Chain after the retail company Shopify teased a MetaMask
Shopify's CEO shared a short video on Twitter that showed a retail shopping cart being linked to a MetaMask 'Connect Your Wallet' feature.
Tobi Lutke wrote: "Probably nothing," hinting with some sarcasm that the future of internet shopping may include crypto wallets.
With more shoppers having access to accounts like MetaMask, there would also be increased access to the Binance Smart Chain and that would boost Binance Coin.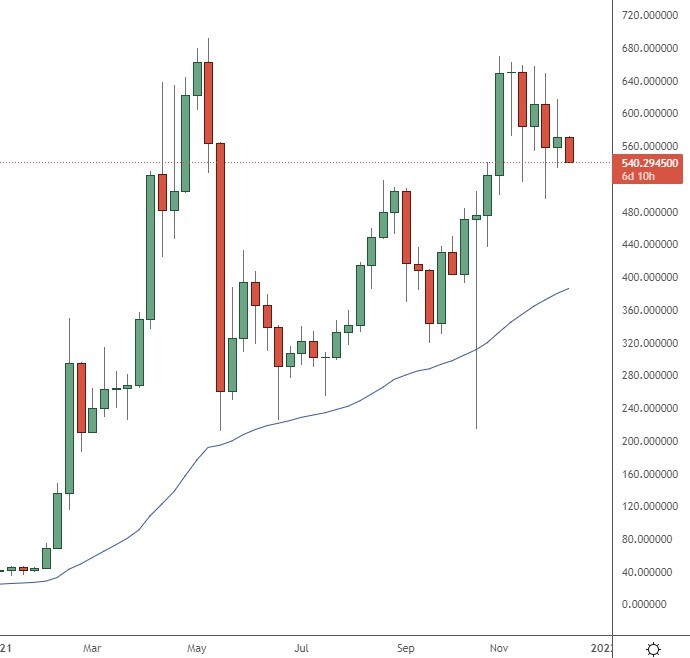 The price of BNB now trades at $540 after slipping from a retest of the highs above $600 with support coming in lower at $400.
WHATSAPP
The messaging service WhatsApp was also moving towards crypto with a new feature that allows US users to send money without paying fees.
The crypto feature will be powered by Novi, a new digital wallet owned by WhatsApp parent company Meta. The company started testing Novi six weeks ago with a select group of users in Guatemala and the US. WhatsApp CEO Will Cathcart and Novi CEO Stephane Kasriel said Novi would be available to some users on a trial basis. Cathcart tweeted:
People use WhatsApp to coordinate sending money to loved ones and now Novi will help them do that securely, instantly and with no fees.
Anyone using Novi in the trial period will be sending money via US Pax Dollar (USDP), a regulated stablecoin issued by blockchain company Paxos Trust of New York.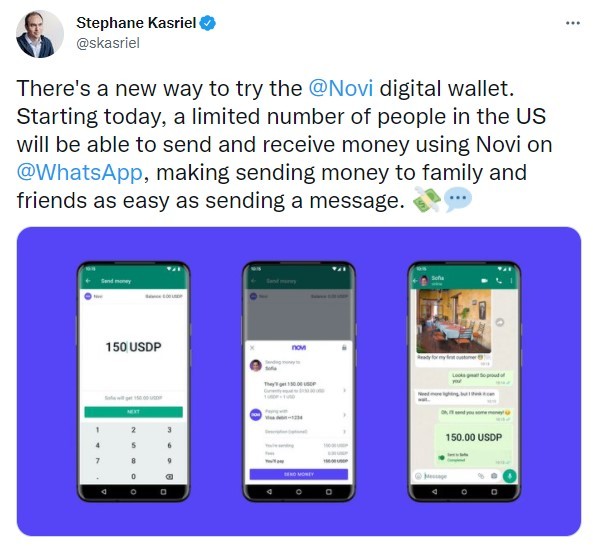 The leader of Novi, Stephane Kasriel said that using the service would: "make making sending money to family and friends as easy as sending a message."
The move by Whatsapp is yet another sign of cryptocurrencies becoming a viable long-term payment form.
NEAR
The best-performing coin this week was NEAR token from the protocol of the same name.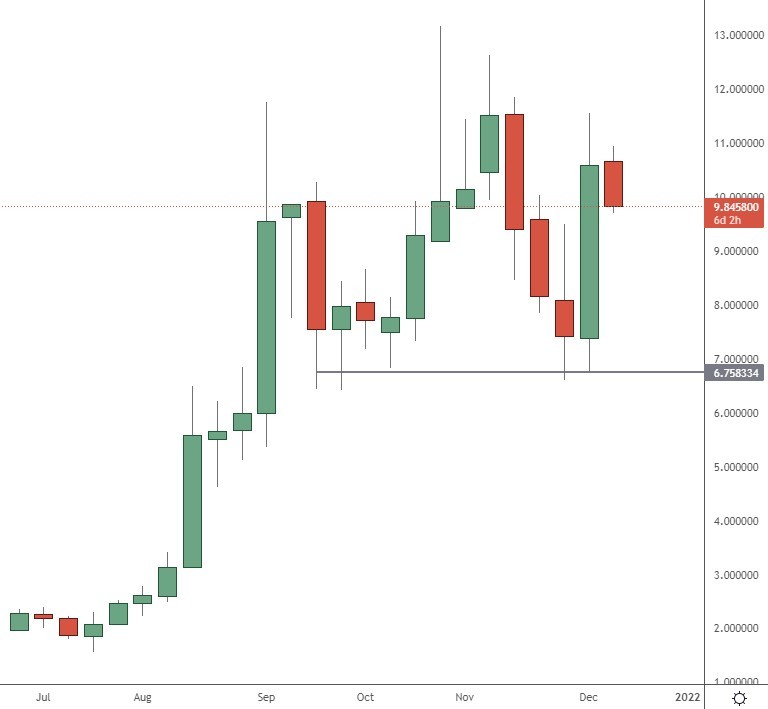 The coin hit the $10 mark and was showing a 33% improvement for the week. The market cap of the project is now over $5 billion.
A recent partnership announcement saw NEAR being available for purchase via MoonPay. The NEAR protocol is backed by top VC heavyweights such as A16Z, Pantera Capital, Coinbase Ventures, and Baidu Ventures.
Ivan Soto-Wright, co-founder and CEO at MoonPay said:
"By providing a direct on-ramp to NEAR, we're giving more people exposure to this exciting and dynamic ecosystem".
NEAR's mission is to give people control of their data, money, and governance, which it achieves through Nightshade: a proof-of-stake blockchain with limitless scalability.
NEAR's ecosystem includes some exciting projects in crypto, such as Mintbase, a platform designed to simplify the minting of NFTs; Aurora, an Ethereum bridge that allows Dapps to take advantage of NEAR's speed, security, and low fees; and Ref Finance, one of the fastest-growing DeFi platforms in crypto.
Disclaimer: information contained herein is provided without considering your personal circumstances, therefore should not be construed as financial advice, investment recommendation or an offer of, or solicitation for, any transactions in cryptocurrencies.