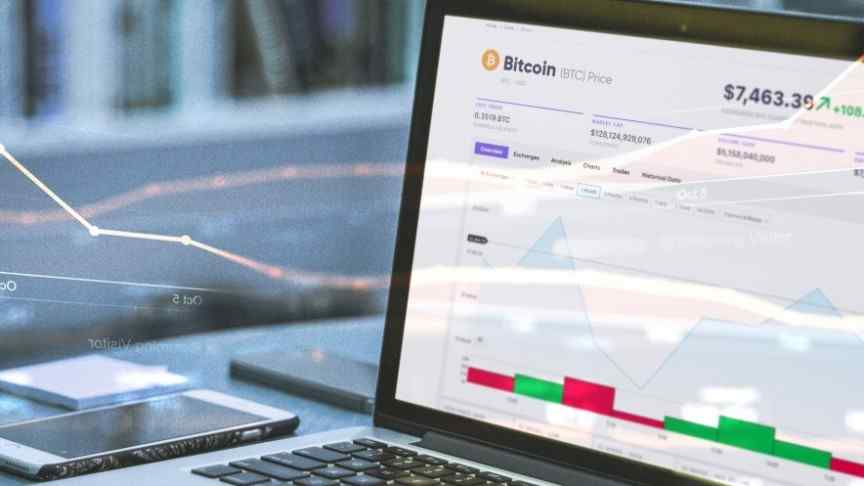 Bitcoin Rally on Hold as ETF Denied, ADA, XMR and XRP: Market Analysis, Aug. 24
Aug 24, 2018, 9:28AM

by
Kevin George
Bitcoin failed to mount a short squeeze rally after the SEC rejected another three ETF proposals, however the price is holding up above $6,500
BTC
Bitcoin failed to mount a potential short squeeze after the U.S. Securities and Exchange Commission (SEC) denied another round of three ETF proposals, including the ProShares application, which I thought might have a good chance of being approved.
The SEC attached the same wording to each of the three rejected ETFs, stating fears over volatility and manipulation as the excuse for rejecting the proposals. Despite the negative result, there was still some hope as the SEC also stated that they would review the decisions so it's possible that this is a delay tactic. The G20 Finance Ministers stated previously that they would push their own decision on cryptocurrency regulations out to October, so it's possible that the SEC is awaiting that event before they commit further.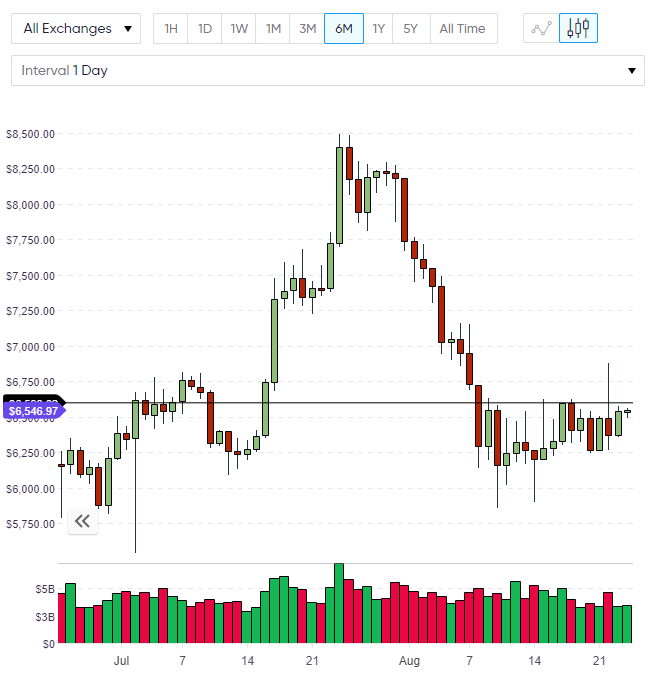 Despite the negative news, the price of Bitcoin has held up well and still trades higher than $6,500. This is possibly due to the review comments from the SEC. The bearish day on Wednesday was a worry ahead of the SEC event, but we have failed to see any follow through as yet. I feel we will get a breakout soon due to the tight range we've been in lately between the $6,000 level and the current $6,500 level. The next move may be dictated by a large investor looking to get out, or by other news that may still see a move higher to clear out the near-record high shorts positions.
The general market has also stabilized and the market capitalization for the cryptocurrency space is currently $212 billion. We saw a high close to $300 billion in late July and a low near $180 billion in the last few weeks, so we are still in the lower end of that range.
ADA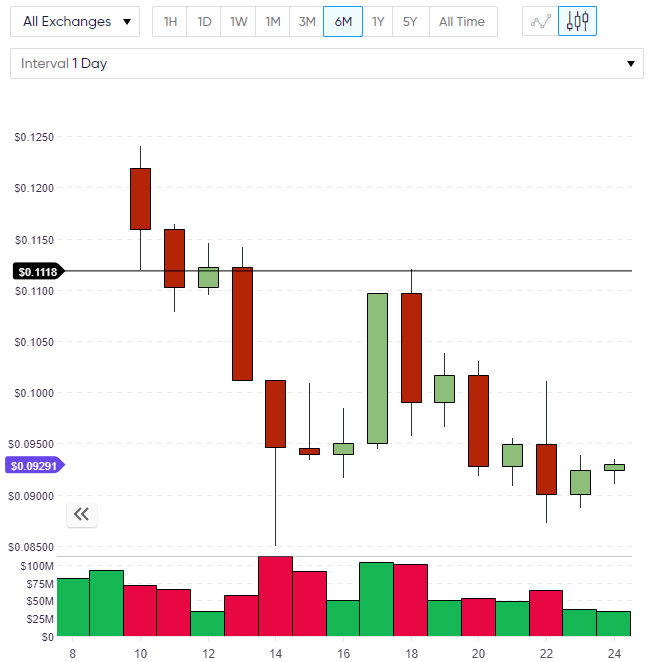 Cardano currently trades at $0.0929 per coin and has been making a pattern of lower lows and lower highs in the last few days as the market tests support near the August 14th lows. This is often a bearish indicator but it's still possible to change that course. A strong close through $0.1000 would set us on a path to testing the higher levels once more.
Cardano is still moving forward with its plans to dominate Ethereum and become the top platform for smart contracts. Cardano is currently developing Marlowe, a language designed to execute smart contracts, which may give them a competitive advantage over Ethereum in areas such as settlement and escrow.
Cardano is currently the ninth-largest coin by market cap with a value of $2.41 billion. The ranking has them sandwiched between Litecoin and Monero, although those rivals have a much smaller circulation of coins and ADA would need to see a news catalyst to vault higher than LTC. Monero's XMR is only $800 million behind, with only 16 million coins available, which is tiny compared to ADA's 25 billion so it's possible that Monero can improve from the number ten spot.
XMR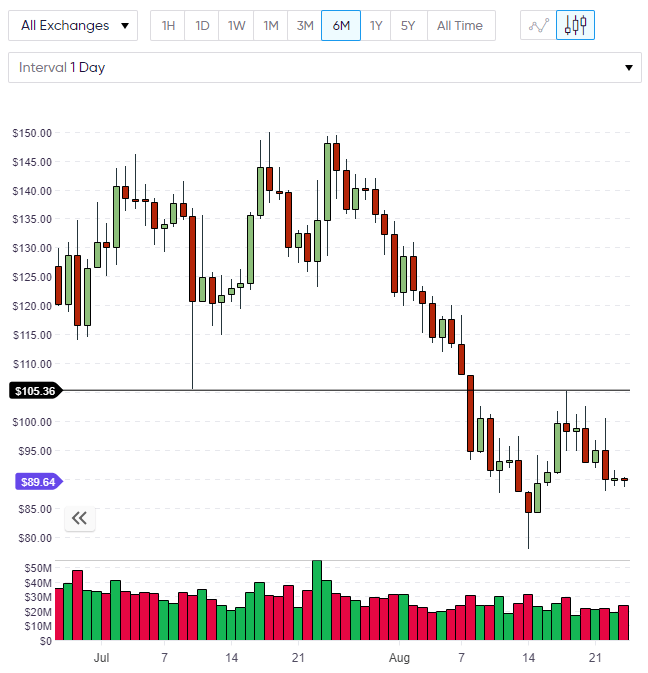 Despite the circulation advantage, XMR doesn't look like it's in the mood for a rally as the price moved higher from the mid-August lows and failed to move beyond the July low. This is now our resistance level for a rally and looks like XMR will want to test the lows again before making a stronger bottom. Support is possible at the $80-85 level on Monero so we will see how this plays out in the coming trading sessions.
On the weekly chart, the $85 level was strong support from late-2017 so it's important that XMR finds some buyers here if we are to avoid a possible sell-off to lower levels.
XRP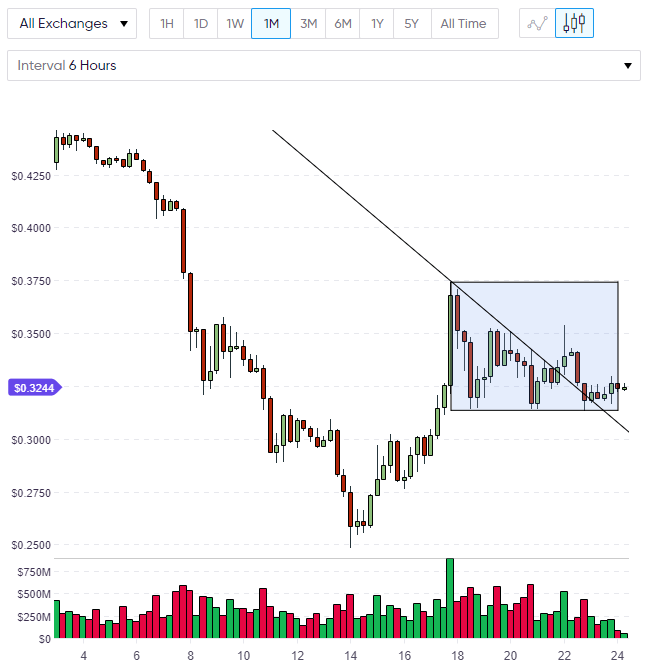 The price of XRP has been consolidating in a range after a strong move from the mid-August lows. We now trade at $0.3244 and we need to see a break of this range to decide the next path for XRP. We have tested the support here a few times so a move higher through the mid-3500s would open up a retest of resistance with the key level on the weekly chart being $0.4750.
David Schwartz, the CTO of Ripple posted a link on Twitter to his blog on the decentralized nature of the XRP Ledger. In the article he stated his view that the ledger was "…also – if not more so – decentralized than Bitcoin and Ethereum."
Schwartz's argument centers around the knowledge that one miner in the competitor coins could have over 50% of the hashing power, whilst a Ripple validator has only one vote. He also noted that Bitcoin and Ethereum are becoming more centralized over time, whereas the XRP Ledger is becoming more decentralized.
His closing remarks were that,
[…] the XRP Ledger is in many ways a more transactional, functional and decentralized ledger than either Bitcoin or Ethereum, which will only increase over time.
Disclaimer: information contained herein is provided without considering your personal circumstances, therefore should not be construed as financial advice, investment recommendation or an offer of, or solicitation for, any transactions in cryptocurrencies.