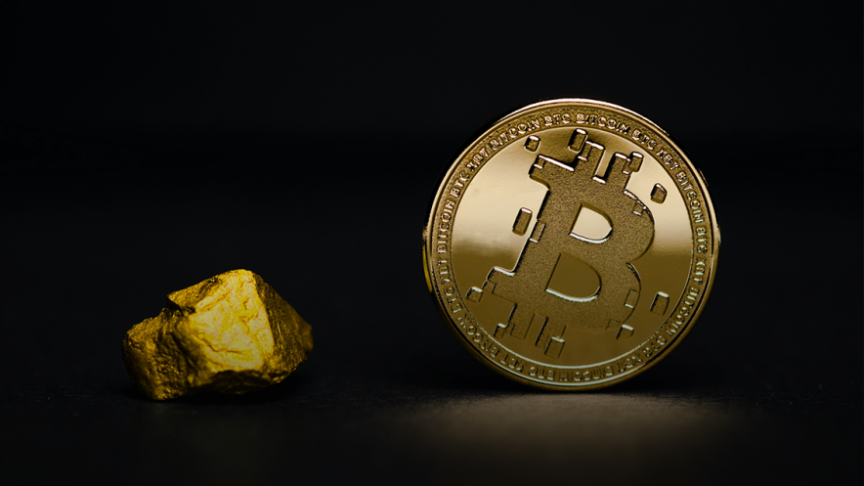 Bitcoin vs. Gold: Will Crypto Investors Choose Crypto Over Gold?
Nov 25, 2020, 9:08AM

by
Mike Dalton
Several high-profile investors and financial firms have recently touted the advantages of Bitcoin over gold. Are those advantages guaranteed?
Gold has traditionally been one of the most popular assets among investors. There are various qualities that make gold a good store of value, such as scarcity, durability, tangibility, and value that is independent of other assets. Institutional investors can also invest in gold-backed financial assets such as ETFs and stocks.
However, over the past decade, Bitcoin has gained traction for many of the same reasons. Though Bitcoin has not eclipsed gold entirely, this fall saw several investors turning to Bitcoin and attesting that it has advantages over gold.
JP Morgan Says Investors Favor Bitcoin
On November 6, JP Morgan's Global Markets Strategy team published a document discussing the behavior of institutional investors. It reports that Bitcoin is outperforming a more traditional alternative: gold exchange-traded funds (ETFs).
JP Morgan based this observation on Grayscale's Bitcoin Trust, which it says outperformed gold ETFs in terms of outstanding shares: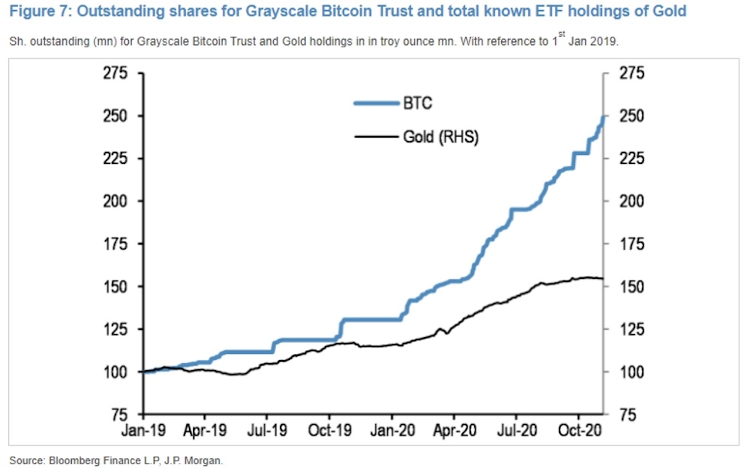 Though there may be many factors at play, JP Morgan suggests that endorsements from companies such as PayPal—which recently introduce crypto trading—may have boosted demand for Grayscale's Bitcoin Trust.
JP Morgan previously stated in October that Bitcoin will compete more intensely with gold due to its popularity among millennials, a group that it believes will become an "increasingly important component of investors' universe."
Pompliano Says BTC Is A Safe Haven
Anthony Pompliano, the founder of Morgan Creek Digital, claims that Bitcoin performed well as a "safe haven" asset during March's stock market crash. He says that Bitcoin "outperformed stocks, bonds, gold, oil, and pretty much everything else" at the time.
When Pompliano made his statement on Oct. 26, Bitcoin offered one-year returns of 83%. By contrast, gold offered 24% returns and S&P stocks offered 6% returns, according to data from the analytics firm Santiment, via CoinTelegraph.
Pompliano argues that Bitcoin prices have little correlation with other assets. However, he does admit that all assets became temporarily correlated during March's market crash, adding that in a liquidity crisis "all asset correlations trend towards 1."
MicroStrategy Says BTC Is Less Risky Than Gold
Michael Saylor, CEO of business intelligence firm MicroStrategy, has said that Bitcoin could beat gold. On November 10, Saylor stated that Bitcoin and gold are "similar & complementary investments." More optimistically, he stated that, "when the Bitcoin Dragon emerges from its lair, the first thing it will eat is the Kingdom of Gold."
Saylor has good reason to endorse Bitcoin over gold: MicroStrategy and Saylor have invested $450 million in Bitcoin, making Bitcoin the company's primary reserve asset.

Additionally, at the end of October, Saylor stated that his firm invested in Bitcoin because it is "pretty confident that Bitcoin is less risky...than holding gold." He also noted that Bitcoin's scarcity and its protection against inflation were contributing factors in MicroStrategy's decision to invest.
Stan Druckenmiller Turns To Bitcoin
Stan Druckenmiller, a billionaire hedge fund manager, announced his own private Bitcoin investment in conversation with CNBC on November 9.
He explained that, although his gold holdings are still much larger than his Bitcoin holdings, he sees considerable advantages in Bitcoin. He explained during the interview that Bitcoin is "thinner, more illiquid, and has a lot more beta." His final comment means that Bitcoin has a greater risk-reward potential than gold.

Druckenmiller's investment is particularly notable because, in 2019, he stated that he was not interested in investing in Bitcoin. As such, the investment represents a complete shift in his stance toward cryptocurrency.
Will Bitcoin Really Surpass Gold?
Though Bitcoin is promising, it is not entirely accessible to institutional investors. There are at least 75 notable gold ETFs and stocks in existence, but there are few Bitcoin equivalents. No regulator has approved a Bitcoin ETF to date. There are only a few notable Bitcoin investment vehicles, such as Bakkt and CME's Bitcoin futures, Grayscale's Bitcoin Trust, and various crypto mining company stocks.
Gold also has a significantly larger market cap than Bitcoin. The entire gold supply is worth about $9 trillion, an amount that is 40 times larger than Bitcoin's market cap.
Finally, even though some investors have found their Bitcoin investments successful, Bitcoin is far from risk-free. Bitcoin prices are highly volatile from year to year. The reasons that Bitcoin has performed well in 2020 are not entirely clear, and investors cannot depend on it to perform just as well in the future.
These factors mean that investors will probably not turn away from gold too soon. However, in the long run, Bitcoin could truly prove that it is an investment that is on par with gold in terms of credibility and value.
Disclaimer: information contained herein is provided without considering your personal circumstances, therefore should not be construed as financial advice, investment recommendation or an offer of, or solicitation for, any transactions in cryptocurrencies.