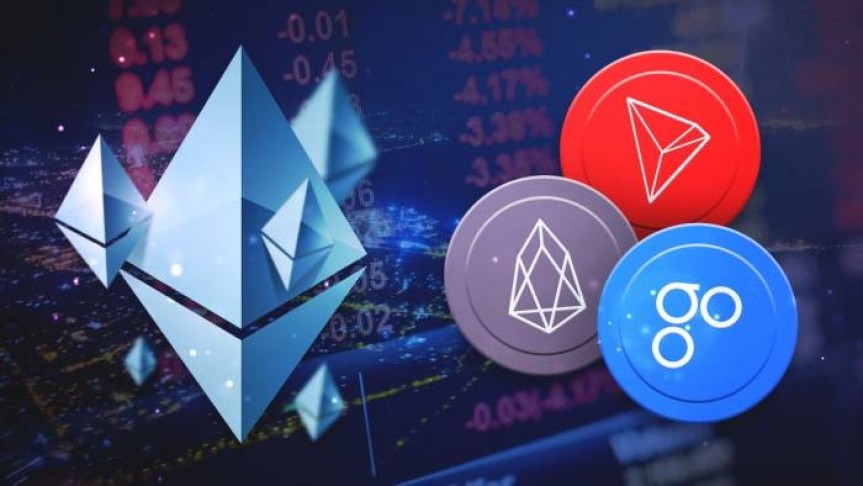 Blockchain Projects Increasingly Moving Away from Ethereum
Jul 1, 2018, 8:49AM
Decentralized blockchain projects have started to move away from Ethereum after concerns over the platform's scalability and volatility.
It is fairly acceptable today to assume that most new blockchain startups are building their projects on the Ethereum blockchain and employ the ERC-20 token standard. In recent times, developing decentralized applications (dApps) on the Ethereum blockchain has proven to be less challenging due to the abundance of developer documentation available for the platform. Companies can also easily host an initial coin offering (ICO) for their project by deploying an Ethereum smart contract. Once these projects mature though, quite a few of them have started to move away from Ethereum in favor of their own mainnet.
Ethereum has been the gold standard for developers of decentralized applications and smart contracts for quite some time now. Since it was the first popular blockchain that allowed the creation and prototyping of Dapps, Ethereum is also home to some of the most profitable and successful blockchain ventures to date.
Once such dApp is CryptoKitties, which has proven to be the most popular Dapp released to date. Publicly released in November 2017, it resides on the Ethereum blockchain. Even though the concept of the app is relatively simple in that it is a game centered around collecting virtual cats, it became infamous for congesting the Ethereum network towards the end of 2017.
CryptoKitties played a pivotal role in highlighting that the Ethereum network was not perfectly scalable and could be bogged down by high trading volumes. By early 2018, transaction fees on the network had surged to record high levels, as is depicted by a large spike in the fee charts. The cryptocurrency also experienced volatility issues similar to Bitcoin in the past year and became unpredictable for businesses building Dapps on the Ethereum platform.
Developers of chat application Kik released a blog post highlighting these issues on January 1, stating that their project's reliance on Ethereum had resulted in an unsatisfactory user experience.
Scalability is not the only reason why some blockchain applications are moving away from using the Ethereum blockchain though. Some projects, like Tron and EOS, have always intended to create their own alternative blockchains for decentralized applications and/or smart contracts. Even though projects of this kind can be technically identified as Ethereum competitors, they tend to rely on the ERC-20 token standard until their respective mainnet is fully developed and operational.
A common theme among projects that migrate away from the Ethereum network is their search for a better blockchain. While some like Kik moved to a rival network in search of improvement, other projects like Tron were forced to develop their own. In a blog post published in May 2018, Tron founder Justin Sun emphasized that the platform needed to be hosted on its own mainnet. He said,
"We must detach from the Ethereum platform and become an independent protocol. We must, in real terms, support dApps with solid infrastructure. This is the only way to propel the industry into a stage of large-scale, rapid growth."
Another blockchain platform that intends to move to its own mainnet is OmiseGO. In its mission to 'bank the unbanked', OMG will need to scale its infrastructure to handle a much larger volume of transactions. Thus, the project was always designed around Plasma, an alternative scaling solution designed by Ethereum cofounder Vitalik Buterin. OmiseGO's developers have proposed that the OMG network migrate to its own blockchain so that the network can handle significantly more load than its rivals can.
The migration process for any ERC-20 project is fairly straightforward. The concerned platform's developers first suspend trading of the token. This time interval, where all trades are settled and unchanging, is when a snapshot of wallet balances is taken. The recorded balance data is then ported over to the new mainchain. Once the entire process has been completed, users are allowed to access to their balances once again and normal trading is resumed.
Successful Migrations
In the past month, two major platforms, EOS and Tron, moved from the Ethereum network to their own blockchains. Both projects have their tokens listed in the top 15 cryptocurrencies by market capitalization, at ranks 5 and 11 respectively. Given that these projects managed to complete the migration process despite their massive scales, it is possible that this will set a precedent for future projects looking to take on a similar endeavor.
EOS was first announced in 2017 by Block.one in the form of an initial coin offering. During the year-long sale period, the platform raised $4 billion in funding for its blockchain-based smart contract platform. The developers of the project touted it as a scalable alternative to competitors such as Ethereum. After several delays, the EOS mainnet was scheduled to go live on June 2, 2018. However, technical issues and phishing plagued the project, pushing the date further back. The mainnet was finally launched on June 14, almost an entire fortnight after a snapshot of the balances were taken.
Tron had a rather straightforward mainnet launch, with most of its proceedings being finalized without much controversy. The project's migration was stylized as its 'Independence Day'. In celebration, Tron's developers handed out TRX tokens to the community during a 12 hour livestream event.
Disclaimer: information contained herein is provided without considering your personal circumstances, therefore should not be construed as financial advice, investment recommendation or an offer of, or solicitation for, any transactions in cryptocurrencies.