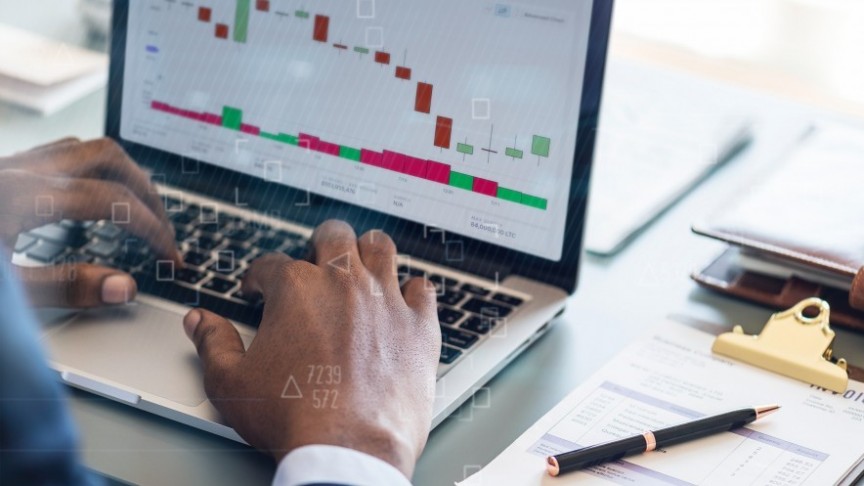 BTC Takes a Hit, Ruining BCH's Birthday Party, along with ETH and XMR: August 1
Aug 1, 2018, 12:35PM

by
Kevin George
Bitcoin has taken a hit this week after failing to break through the key resistance level at $8,500, leaving the latest bull run in doubt.
BTC
Bitcoin has taken a hit this week after failing to break through the key resistance level at $8,500, leaving the latest bullish rally in doubt, and the chances of testing $10,000. Price has since retreated on the week to trade at $7,500, which is below the previous key level of $7,700 approximately.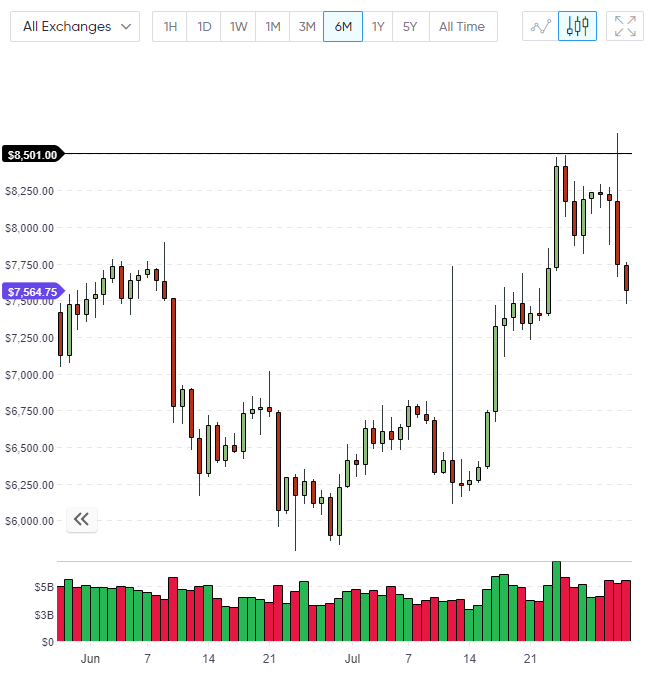 I stated in my articles last week that Bitcoin would see one week of gains as a minimum for last week, but I also stated that a failure to elect a bullish close around the $8,500 level could lead to a sell-off. The price action now is setting up for a bearish engulfing bar on the week and unless Bitcoin can rally and repair the damage then we are potentially looking at a return of the bear market for up to three months. On the daily levels Bitcoin may test the $7,250 level next.
The price action we are seeing is what is known in trading as "buy the rumor, sell the fact". Bitcoin outperformed the overall market in recent weeks as the market moved on the potential of a Bitcoin ETF. Now that the Winklevoss twins have seen their ETF rejected and the G20 have pushed their decisions on cryptocurrency regulations out to October, Bitcoin has seen profit taking and selling. As Bitcoin outperformed on the way up, we may see it sell-off harder than some in the near-term.
One positive for Bitcoin is that we held the monthly resistance at $7,000 for the July close and this could simply be a pullback for BTC. We will watch this week closely and see if we can hold some support levels on a weekly basis and this will give us a better idea on the next path for Bitcoin and the general cryptocurrency market.
BCH
Bitcoin cash has obviously tracked the price of Bitcoin and is down also with the price looking likely to head lower and test the weekly support levels around the $670 mark. We are currently hovering at the daily level of $750 but I don't see that holding in light of yesterday's strong sell-off.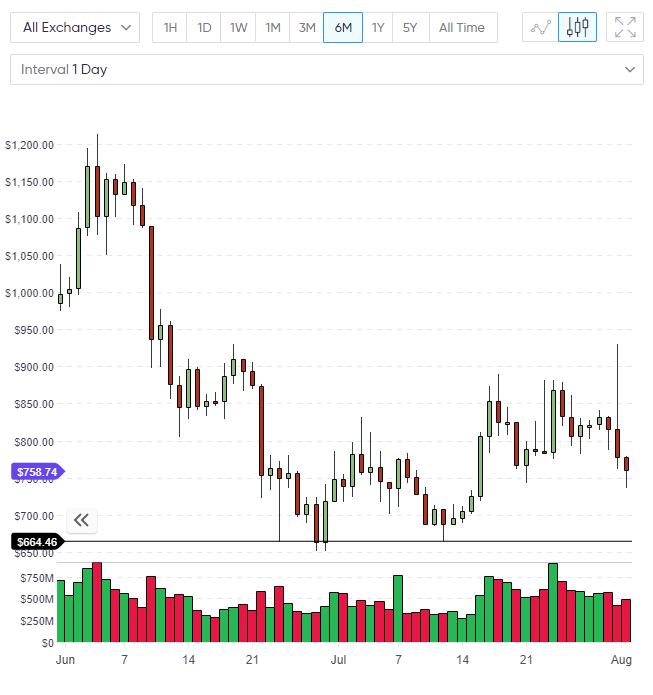 Yesterday marked the one-year anniversary for the arrival of Bitcoin Cash, which is now the fourth-largest coin by market capitalization. Unfortunately, BCH marked that event with a sell-off from resistance but it has still developed an impressive ecosystem in its first year and this pullback will simply mirror the price action of Bitcoin, at least in the medium term, where there will be time to possibly re-price itself higher in comparison to Bitcoin.
ETH
I have been writing in previous articles about the weakness in the general market compared to Bitcoin and this was seen in Ethereum, which was failing to hold onto any gains and was looking bearish on the weekly levels after being unable to take the $485-500 levels. This weakness made Ethereum vulnerable to further selling and we are now aiming lower. ETH is also testing daily support from the end of June and the likelihood is that we will see further losses to test the key weekly support around the $400 and possibly $370 levels.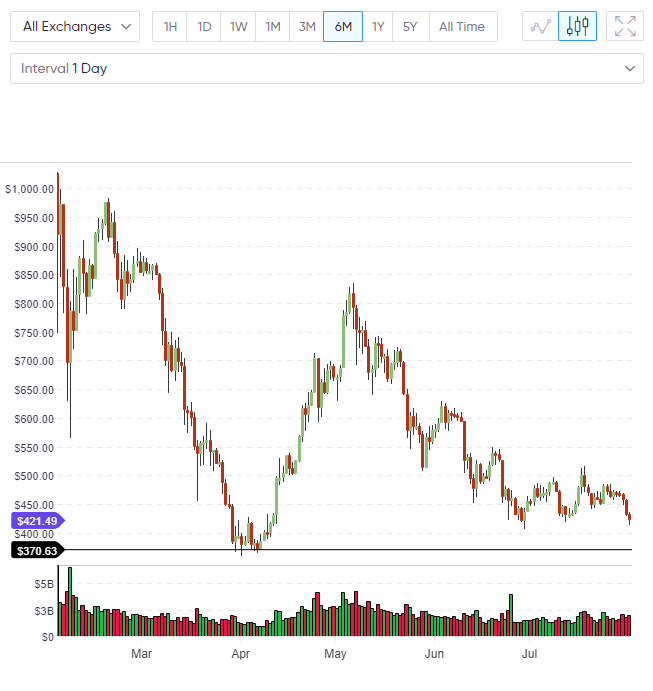 On the monthly chart, Ethereum has strong support at the $495 level and after closing slightly higher for July, it wouldn't be a surprise to see us test this level in August. With the price being so close, it is maybe even beneficial for ETH to test it and try to find some institutional buyers. If we can find support at $495 then it could be the start of further upside in ETH.
In fundamental news, I read in an article last week that Ethereum could see privacy-enhancing being added which are similar to Monero. The technique known as Mobius would only cost slightly more than a standard Ethereum transaction (around $0.06) and would obscure the payment information of ether transactions in smart contracts but in a way that is cryptographically trustless.
XMR
The price of Monero itself has been weak throughout the second half of July and the cryptocurrency market sell-off has added more weight to this with a break through the $130 level on Tuesday. We currently trade at $120 with some light daily support there and the chances of a test of June's $100 lows is looking likely.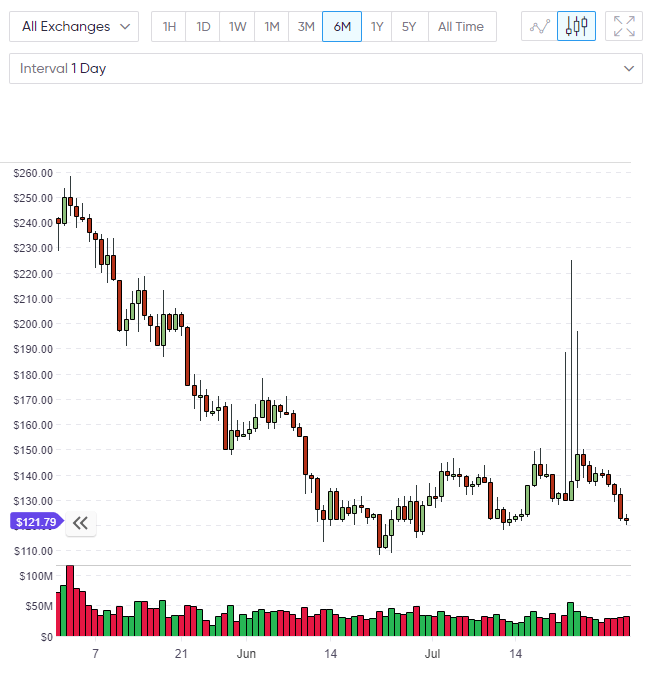 On the monthly chart, Monero is still trending lower with some key support coming beneath the $100 level at around $85. Monero benefits from a low coin circulation with a similar supply to Bitcoin, but it remains to be seen how Monero will play out if the G20, or other government regulators want to clamp down on privacy coins.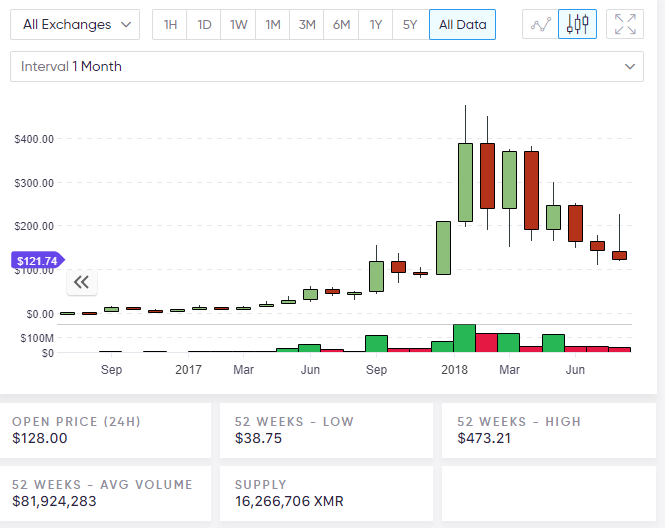 In my next article I will discuss the weekly price action going into the weekend and see how this relates to the monthly closings for July. We are seeing a pullback after hopes of an ETF or pending regulations have disappeared in Bitcoin for the near-term. There may be a new catalyst, however, and the bearish picture for this week could be reversed.
Disclaimer: information contained herein is provided without considering your personal circumstances, therefore should not be construed as financial advice, investment recommendation or an offer of, or solicitation for, any transactions in cryptocurrencies.