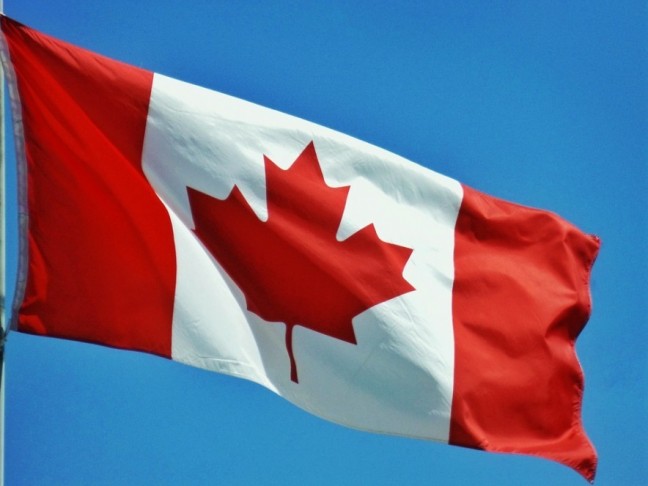 Canada's Emergency Act Means the Country Can Restrict Crypto
Feb 18, 2022, 12:49PM

by
Mike Dalton
Canada will prevent the flow of funds including crypto to the Freedom Convoy movement that is protesting COVID-19 restrictions.
Canada's Emergency Act was invoked this week, giving the country the power to restrict cryptocurrency transactions and regular funding channels.
Emergency Act Gives Power to Freeze Crypto
Canada's Emergency Measures Act was invoked on Monday, Feb. 14 under Prime Minister Justin Trudeau and Deputy Prime Minister Chrystia Freeland.
The newly-invoked powers also give the government the ability to freeze bank accounts and other funding channels benefiting the Freedom Convoy—a movement that is occupying Ontario in protest of COVID-19 restrictions.
Those powers also grant the Canadian government control over cryptocurrency transactions. Canadian financial services are now ordered to suspend services to accounts tied to the protests. This "applies to all funds, including those held in a [bank] account, and [sent to] cryptocurrency wallets," according to a government notice.
At least one Canadian crypto exchange has questioned how extensively Canada can control cryptocurrency. Justin Hartzman, CEO of CoinSmart Financial, told The Globe and Mail that the government "can freeze all these centralized funding platforms if they want, but there are so many more ways to raise funds." Alternative funding methods include direct cryptocurrency transfers and NFT sales, Hartzman said.
It is unclear whether U.S. exchanges are following these orders, or whether only exchanges operating within Canada will be regulated accordingly.
Over Thirty Wallets Blacklisted So Far
Just days after the order, several crypto accounts have already been frozen. Keann Bexte of The Counter Signal obtained a copy of a police order listing the blacklisted accounts from an anonymous RCMP officer via Twitter on Feb. 15.
Though Bexte's original report did not include the original RCMP order, the order was later leaked in full and includes various crypto wallets.
The list of blocked wallets includes 29 Bitcoin (BTC) addresses, as well as one Litecoin (LTC) address, one Cardano (ADA) address, one Monero (XMR) address, one Ethereum (ETH) address, and one Ethereum Classic (ETC) address.
It appears that at least some of those addresses are tied to specific fundraising groups, including Adopt a Trucker and HonkHonkHodl. The latter group raised nearly $1 million in cryptocurrency and is currently in the process of distributing those funds to members of the protest according to recent reports from Vice Magazine.
The order does not freeze crypto wallets themselves. Rather, it prevents exchanges from working with funds from those wallets. "There is a duty to cease facilitating any transactions pertaining to [those] cryptocurrency addresses," the order says.
As such, the order could prevent protesters from redeeming their cryptocurrency holdings for traditional funds on major Canadian exchanges.
Crowdfunding Also Affected by Emergencies Act
The Emergencies Act also puts limitations on crowdfunding platforms regardless of whether they deal in cryptocurrency or traditional currencies.
GoFundMe and GiveSendGo, two U.S.-based crowdfunding platforms used by protestors, are both affected by the new rules. Those crowdfunding platforms are now required to register with the Financial Transactions and Reports Analysis Centre of Canada (FINTRAC). They are also required to report large transactions.
GoFundMe froze funds of its own volition on Feb. 4 prior to the invocation of the Emergencies Act. It also refunded money to donors. On Feb. 11, TD Bank said that it would surrender funds from GoFundMe that had not been otherwise returned.
GiveSendGo, meanwhile, was hacked by counter-protestors on Feb. 14. The attackers briefly shut down the site and leaked the names of 93,000 individuals who donated to the Freedom Convoy. Canadian hacker Aubrey Cottle appeared to claim he was behind the hack in a TikTok video. GiveSendGo is now back online and is continuing to accept donations to the Freedom Convoy movement.
It is still unclear how long the Emergencies Act will remain in place, and how long the Freedom Convoy will be able to resist the restrictions now in place.
The Emergencies Act also includes non-financial measures. Notably, the government can now compel businesses to provide essential services to law enforcement. Law enforcement was reportedly unable to secure towing services prior to the Act's invocation, an obstacle that likely encouraged the new measures.
Disclaimer: information contained herein is provided without considering your personal circumstances, therefore should not be construed as financial advice, investment recommendation or an offer of, or solicitation for, any transactions in cryptocurrencies.