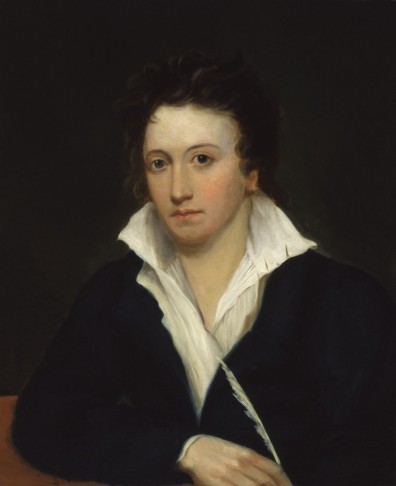 Cardano Bucks the Negative Trend, SOL and GAME Advance, Jun. 29
Jun 29, 2020, 6:09PM

by
Kevin George
Cardano's ADA was the only top 20 coin in the green as Shelley approaches. SOL and GAME advance. AusPost brings BTC options to customers.
ADA
Cardano was the only coin in the top 20 that saw gains last week. The majority of other cryptocurrencies are down 5-8% but ADA managed to produce a 2% advance. The dip in coin prices was once again driven by a sell-off in stocks, with investors worried about further lockdowns in the U.S.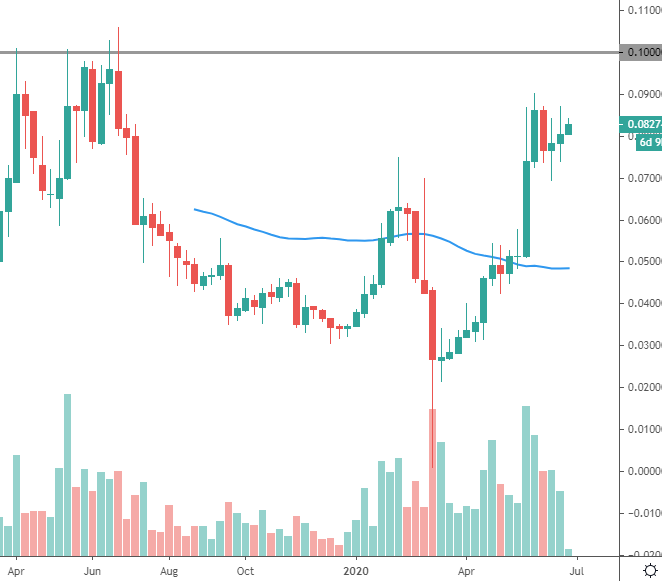 The ADA coin is seeing support as the project's developers get ready to launch the much-hyped Shelley upgrade. The coin has advanced 50% from the end of May after a roadmap was provided on the coming upgrade and the coin now targets key resistance at the $0.1000 level. Cardano's ecosystem will transition from a centralized network to a distributed one and co-founder Charles Hoskinson stated:
This is like Ripple changing its consensus protocol. No cryptocurrency has really done this to this scale after they've rolled out.
He also said that the Shelley transition would likely be complete by the first week of July. At the end of the Shelley era, developers, "...expect Cardano to be 50-100 times more decentralized than other large blockchain networks, with the incentives scheme designed to reach equilibrium around 1,000 stake pools."
SOL
A relatively new coin on the block is Solana (SOL) and another 25% gain last week has the project sitting at number 120 in the list of coins by market cap with a value of $15 million. There are only 17.2 million coins in circulation so this will help its advance versus its rivals.
Solana is the world's first "Web-Scale Blockchain," that gives users a platform to build decentralized apps and marketplaces.
The core innovation that underlays the Solana Network is Proof of History and is exactly what the name suggests — a proof of historical events.
This technology is different from the current standard of blockchain infrastructure, which relies on sequential production of blocks that require confirmation across the network.
The company states that,
Proof of History presents a fundamental move forward in the structure of blockchain networks in regards to speed and capacity.
Speed is an important selling point of Solana and the coin has the ability to match the speed of the Visa payment system, which requires 2.4 second confirmation across the point-to-point path. Solana supports upwards of 59,000 transactions per second with a block time of 400ms.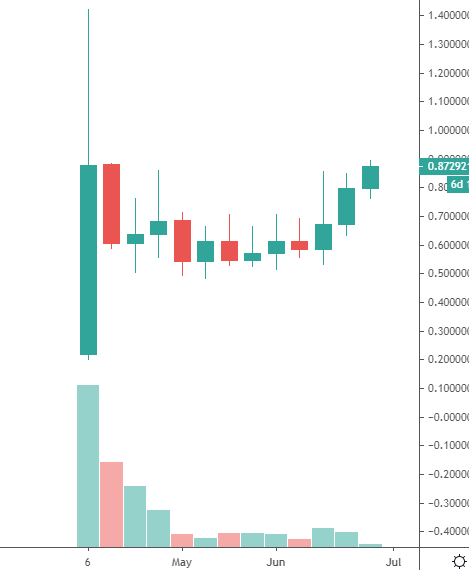 SOL currently trades at a price of $0.87 per coin and is testing the previous weekly highest close. Getting through that level could see further gains ahead for the coin.
GAME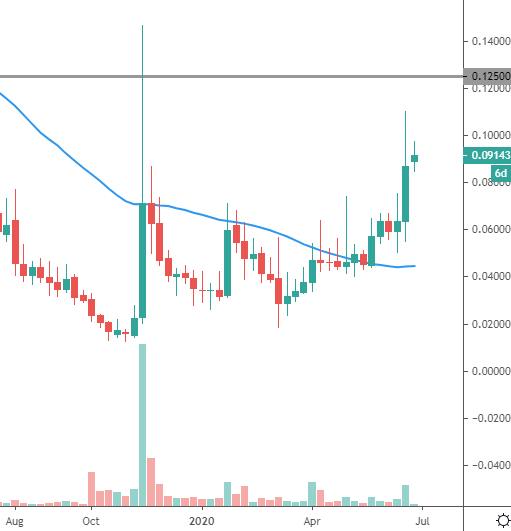 A bigger gain on the week was delivered by Game Credits with a 45% advance. Game Credits provides an in-game currency for the esports and gaming industry. Users can have full ownership of their in-game items on the blockchain and sell them to other users on the secondary market.
Game Credits also recently acquired Nova Blitz, a digital card game that can be played on mobile devices. This game was purchased under the Nova Token banner and will transition to GAME Credits once the move to Ethereum is complete in July.
GAME tokens will also be featured in an upcoming exchange called Barter Trade. This will be an extra source of liquidity for the coin.
One of the features of the new exchange in 2021 will be "algo" trading, which will be the first trading exchange to provide that feature. Algorithmic trading will allow users to customize bots according to their trading strategy without the need for coding skills. Until then, margin trading and "battlegrounds" will be available with the latter providing a competitive element to trading with prizes for trading competitions. The project will also bring a Barter Exchange to market for the trade of P2P goods and services.
The price of GAME moved from $0.060 on the week to $0.100 and key resistance should be around the $0.125 level before further gains are possible.
AUSPOST
The Australian Postal Service is the latest organization to jump on the cryptocurrency bandwagon with customers now free to purchase Bitcoin with cash and card at over 3,500 outlets.
The move is a collaboration with exchange Bitcoin.Com.au, which is based in the state of Victoria.
The exchange CEO commented: "This is a major milestone for digital currency in Australia and around the world. It proves that there are established businesses and organizations that want to learn about new technologies by doing, and not by blocking".
The Australian Tax Office (ATO) previously said that there are 500k to one million Australians with crypto investments. This is still a small number in a country with a population closer to 26 million and highlights the gap to mass adoption globally. Partnerships such as these provide the infrastructure for that build in investment.
Australia Post, formerly Postmaster's General Department, is one of the country's oldest organizations, established in 1809. A spokesperson said of the Bitcoin setup,
We're pleased to now provide the ability for bitcoin bills to be paid at a post office, which will come with a product enhancement that offers ID verification and real-time bill payment confirmation back to the biller.
Disclaimer: information contained herein is provided without considering your personal circumstances, therefore should not be construed as financial advice, investment recommendation or an offer of, or solicitation for, any transactions in cryptocurrencies.