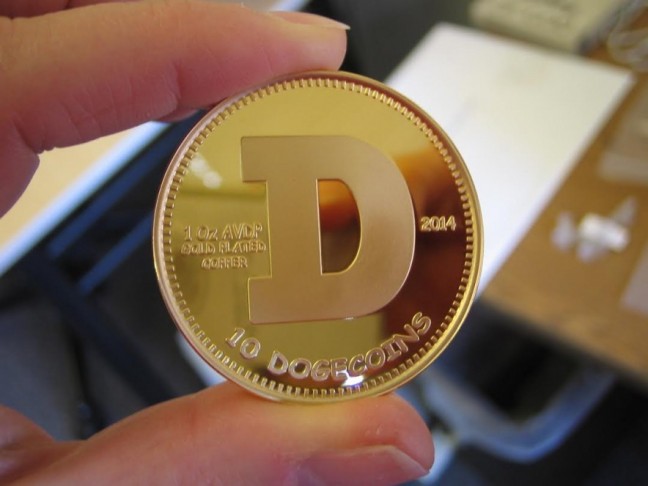 Dogecoin Rallies 350% After GameStop-Inspired Pump, XRP, XLM, Feb. 1
Feb 1, 2021, 3:11PM

by
Kevin George
DOGE surged on speculation after social media-led gains in stocks spilled over. XRP back at recent highs and XLM makes development moves.
DOGE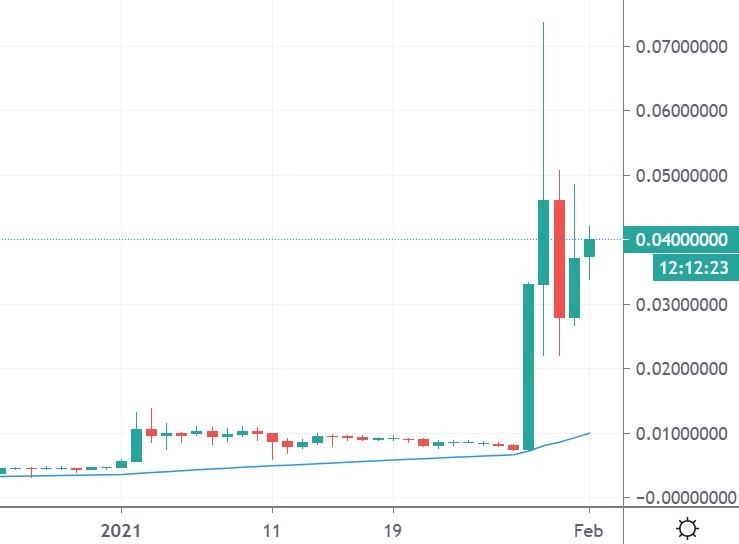 Dogecoin was the top-performing cryptocurrency last week with an advance of 350% on the week and a market cap at $5 billion.
The move higher included a 1,000% overnight pump which soon receded. DOGE has benefited from the stock market fuss over retailer GameStop. The struggling retailer was heavily shorted by a few Wall Street hedge funds and a large group of investors on a Reddit social media board decided to go all-in and squeeze the stock market higher, which led to big losses and a bailout for one fund.
Dogecoin was next for an influx of capital after members of the r/SatoshiStreetBets Reddit group were inspired to move in. The price jumped from lows under $0.01 to almost $0.07 before correcting over the weekend. Dogecoin began in 2013 as a joke between two software engineers but the coin has continued to inspire crypto traders--largely for its meme value.
The r/WallStreetBets Subreddit group has now targeted a silver short-squeeze this week through the iShare silver trust. The goal is to press the short bets of the major banks. The Treasury and White House were watching events last week and this activity has the potential to spill over into other markets, particularly the US dollar.
XRP
The activity in the stock market seems to have spread into XRP, with the coin up almost 153% on the week. The price of Ripple's XRP coin is up almost 50% on Monday alone, which is bullish for a coin set for an SEC lawsuit.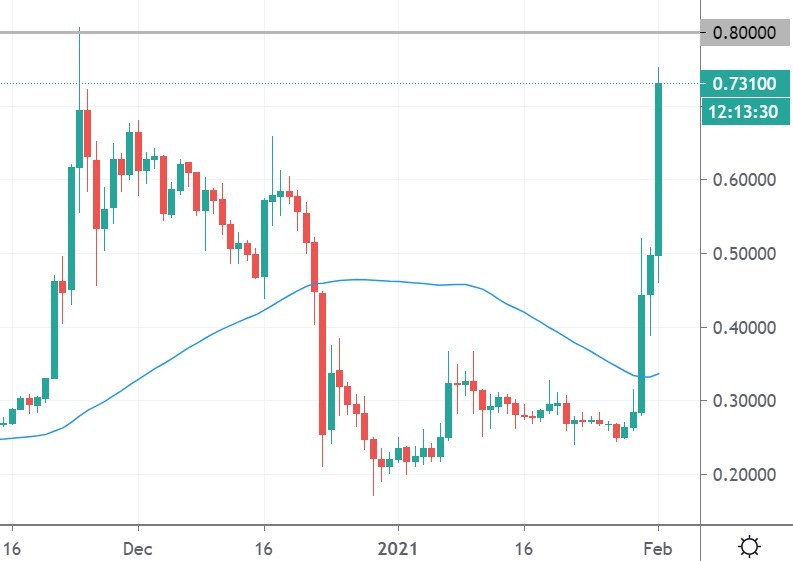 A Telegram group planned to pump the price of XRP today, but the move was expected at 13:30 GMT. Traders need to be wary of these co-ordinated actions as they could get caught up in pump and dump schemes. Ripple's executive face action from the Securities and Exchange Commission with the lawsuit going to court on the 22nd of February.
The SEC alleges that XRP is a security and that a recent sale by three executives was an unlicensed offering. The price of XRP also got a boost from the official response of the Ripple Labs legal team which states that XRP is not a security. The response said:
XRP performs a number of functions that are distinct from the functions of 'securities' as the law has understood that term for decades. For example, the token functions as a medium of exchange. It is not a security and the SEC has no authority to regulate it as one.
Ripple Labs executives including founder Brad Garlinghouse, claim that the token cannot be a security as it functions in the form of a currency, providing a means to store and transfer value. The price of XRP will remain under pressure until the lawsuit is cleared up and the coin was delisted from many of the major exchanges.
The move has seen whale investors move out of the coin and on-chain metrics highlight this with a drop in address holding 1,000 to 10m XRP as prices rose higher recently. As of February 1st, investors with 100k to 1 million XRP coins dropped 3.7%.
XRP now trades near the November 24th highs of 0.7800 with a current price of 0.7270 ahead of the planned "pump". Investors should be cautious after today's move as the price could be vulnerable to a sell-off once the Telegram group's efforts are complete.
XLM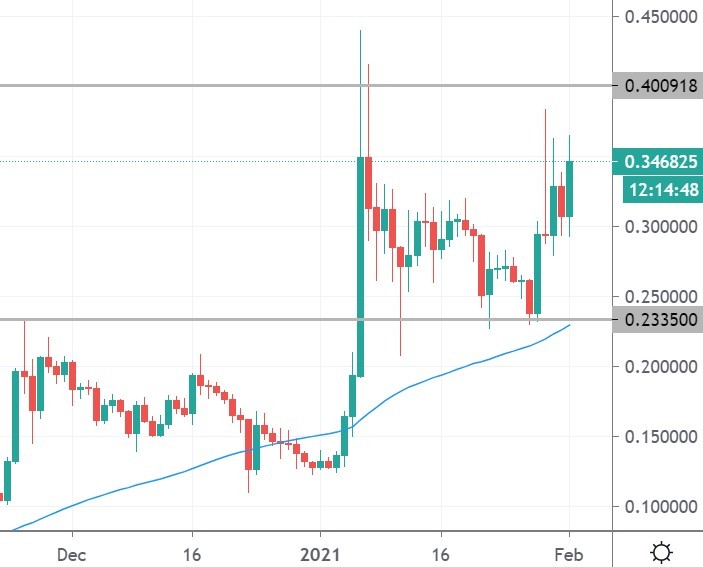 Stellar Lumens was up 30% on the week and the coin is trading near the recent highs at $0.400 after a strong year. The project's XLM coin has seen inflows after the recent delisting of XRP and over 260 million coins were moved by the Stellar Development Foundation and whale investors last week.
Stellar has seen some exciting new developments recently with a $5 million investment in Wyre, a leading blockchain payments company. The move will bring a variety of payment APIs to fintech apps on the Stellar network, including Stellar USDC on/off ramps in foreign currency pairs such as GBP, CAD, AUS, and EUR.
Importantly, Wyre has executed $5bn in transfers since 2013 with to individual users, businesses, and enterprise clients. The platform has grown payment processing by 260% over the last year and also includes compliance and savings accounts. The move by Stellar is obviously an attempt to challenge the likes of PayPal with a blockchain-based system. The SDF CEO Denelle Dixon said of the purchase:
Growing the network of Stellar anchors - stablecoin issuers and on/off ramps - is fundamental to how Stellar connects global financial systems with blockchain technology. Bringing Wyre's industry-leading payment APIs to the Stellar ecosystem will empower businesses, especially anchors, to expand existing payment corridors and develop new ones.
Another recent boost for Stellar was the news that the Ukrainian central bank had chosen its technology to develop its own central bank digital currency (CBDC). Stellar has signed a Memorandum of Understanding with the Ministry of Digital Transformation of Ukraine to work on potential virtual currencies and a CBDC.
Stellar is ranked at number eleven in the list of coins with a market cap of $7.35bn, which is just shy of Binance Coin's $7.55bn in tenth place. A move above the $0.400 resistance could see a further uptrend development in XLM.
Disclaimer: information contained herein is provided without considering your personal circumstances, therefore should not be construed as financial advice, investment recommendation or an offer of, or solicitation for, any transactions in cryptocurrencies.