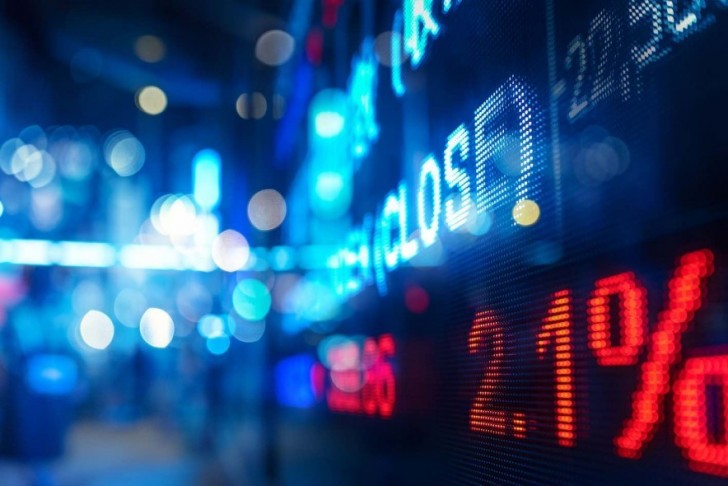 Ethereum Hits a New Record High, Bitcoin Stalls Under $60k, WRX, HOT, Apr. 5
Apr 5, 2021, 7:27PM

by
Kevin George
ETH outpaces Bitcoin with new all-time highs. Wazir exchange sees big NFT gains, but India's government is a risk. Holochain surges on US patent.
ETH
I noted last week that the Ethereum price was "looking to make another drive towards the highs at $2,000." The number two cryptocurrency by market cap did just that and blew through the previous obstacle to see new all-time highs above $2,100.
The last two weeks saw the amount of staking in the coin reach a new high near 4 million ETH. Another development in the works is the release of Uniswap (UNI) v3, which is being targeted for May 5th. UNI v3 will launch on the Ethereum mainnet and the developers have said it will be, "the most flexible and capital-efficient automated market maker ever designed."
Uniswap has said that a new feature will give liquidity providers up to 4000x capital efficiency relative to the current version, which will see higher returns on their capital. Multiple fee tiers will also be added, which will allow users to be "appropriately compensated for taking on varying degrees of risk."
It is also hoped that the new upgrade could solve the problem with high Ethereum gas fees. Uniswap says that gas costs on v3 swaps will be "slightly cheaper" than the current version of the decentralized exchange. The highly-anticipated Optimism layer-two scaling solution will also follow soon after the v3 launch.
Transactions made on the Optimism deployment will likely be significantly cheaper.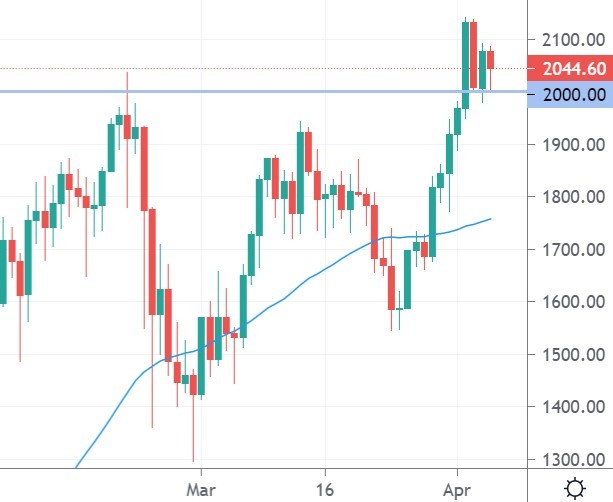 Ethereum now has a line in the sand at the $2,000 level for the next path ahead. A dip below could lead to a deeper correction, while the coin can push higher if support keeps the coin elevated above the previous highs.
BTC
The Bitcoin price has stalled below the $60,000 price level despite a JP Morgan report talking of a $130k price target.
The investment bank noted that increased institutional investment was, "likely to arise from the recent change in the correlation structure of bitcoin relative to traditional asset classes".
The coin's volatile dips have always been a headwind to the coin's acceptance as an asset class but as more come to the sector, higher volumes have smoothed out the volatile moves.
"Considering how big the financial investment into gold is, any such crowding out of gold as an 'alternative' currency implies big upside for bitcoin over the long term," JP Morgan said.
Mechanically, the bitcoin price would have to rise to $130,000, to match the total private sector investment in gold.
In other BTC news, Binance's crypto derivatives platform Binance Futures has seen big growth in its popularity as retail money continues to pour in. Binance runs lucrative trading competitions and this will be enticing traders to take their chances for a chance to win a stash of coins.
Open interest on the exchange's derivatives platform hit a record high of over $10 billion on Saturday, relating to year-on-year growth of almost 4,000%.
Another development coming for BTC is the launch of a micro futures contract on the Chicago Mercantile Exchange. The contract will launch on May 3rd will allow investors to start trading with 0.1 BTC, rather than the 5 BTC needed on the full-size contract.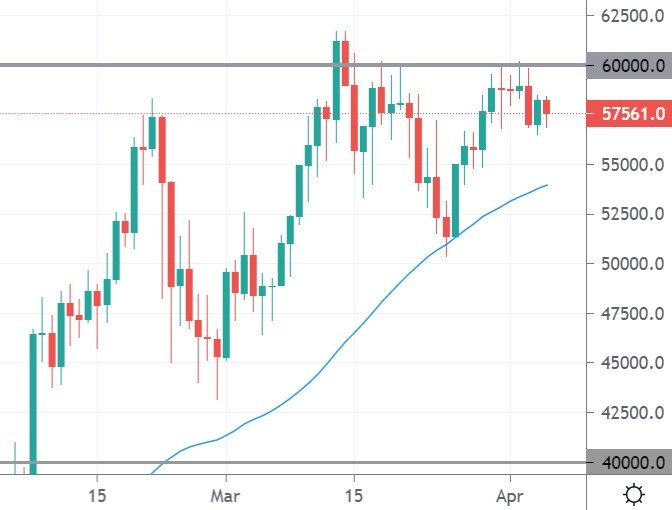 This will be an important week for BTC after a failure to get back above $60k. There is a risk of a further correction if buyers don't emerge at these levels.
WRK
The Binance-backed WazirX cryptocurrency exchange has also been growing in popularity and the native WRX token has soared with an 850% rise in the last week alone.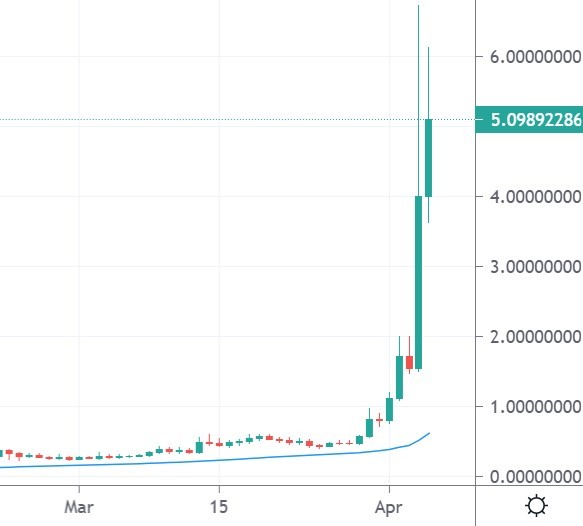 WazirX has moved higher on news that the platform was launching a marketplace for non-fungible tokens (NFTs) for Indian artists. Nischal Shetty, founder of WazirX said:
It will truly transform the market in our rapidly digitising world with a growing interest in NFT across the globe.
The price of WRX has rallied to $5.00 with a market cap of $5 billion, but it is only a couple of weeks ago that we noted a story about the potential for the Indian government to ban cryptocurrencies in the country.
Investors should await some clarity on the government's stance before considering WRX at these prices. The coin is currently ranked at number 83 in the list of the top valued coins.
HOT
Holo has been another strong performer recently with a surge into the top 30 coins by market cap. The HOT token closed out January at $0.00073 but has rocketed higher to $0.027 for a return of 3,500%.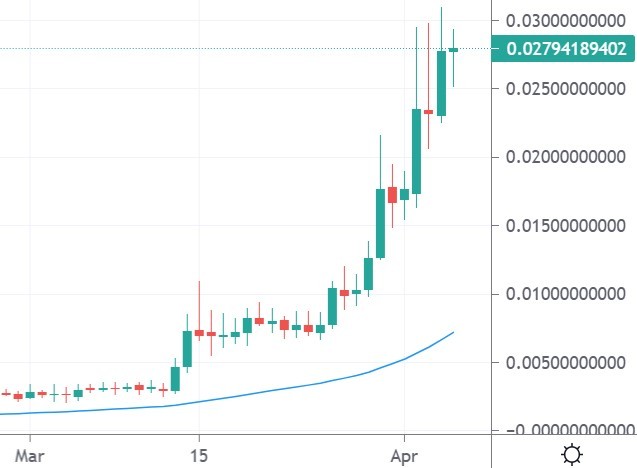 The latest push higher was driven by the March 25th announcement that Holo Limited was granted a U.S. patent for the rrDHT networking innovations within Holochain. The project developers said,
...this patent represents an easy way to represent complex distributed data models, and manage them with high resilience.
Holo clarified in a blog post that the patent was filed to prevent trolls from filing patents on this innovation and also to protect the "rights of the users to have sovereignty over their data." While this is a positive step, only time will tell if Holochain can offer a reliable alternative to blockchain technology. The coin has seen a big surge from just 1 cent in February to a current high above $0.20.
Holo's decentralized data platform seeks to let users own their own data and control their identity. Holo now has a market cap of $5 billion after its recent push higher.
Disclaimer: information contained herein is provided without considering your personal circumstances, therefore should not be construed as financial advice, investment recommendation or an offer of, or solicitation for, any transactions in cryptocurrencies.