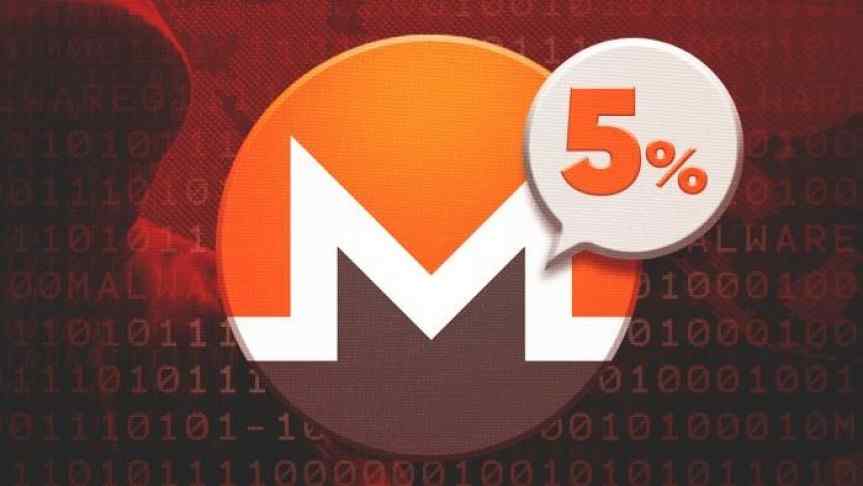 Hackers are Responsible for Mining 5% of all Monero (XMR) in Circulation
Jun 14, 2018, 8:26PM

by
Tom Nyarunda
The amount of Monero (XMR) mined by hackers is at least 5 percent as research didn't take into account web-based or invisible Monero miners.
Palo Alto Networks has released a report on Monero (XMR) with some alarming revelations. According to researchers, hackers are responsible for mining close to 5% of all Monero coins in circulation using malware to "crypto-jack" people's personal computers. Crypto-jacking is a process by which hackers take control of other people's computing power to mine coins.
The research, which only included mining activities that use traditional mining hardware, analyzed the mining process of about 630,000 cryptocurrency coins. Eighty-four percent of the samples analyzed (531,663) were Monero. The large sample portion is due to the fact that Monero is known to be the cryptocurrency of choice for crypto-jacking, likely because it can be mined anonymously.
All told, the illegal Monero mining activities generated 798,613.33 XMR, (over $108 million USD). According to Josh Grunzweig, one of the researchers, the amount represents about "5% of all Monero in circulation at the time of writing," which amounts to 15,962,350 XMR. The research team discovered that the Monero crypto-jackers embedded malware, which uses a Monero address, into the source code of cryptocurrency mining pools.
Illegal Monero Mining is Thriving
The Palo Alto report further shows that the hackers went undetected because they kept small amounts of funds in numerous digital wallets to avoid attention. At least 45% of the wallets connected to the malware showed balances of less than $2.20.
Elsewhere, Japanese police are currently investigating a case of Monero crypto-jacking, which used the CoinHive crypto-mining software, while South Korean police are probing a case involving hackers who stole 70 XMR.
Disclaimer: information contained herein is provided without considering your personal circumstances, therefore should not be construed as financial advice, investment recommendation or an offer of, or solicitation for, any transactions in cryptocurrencies.