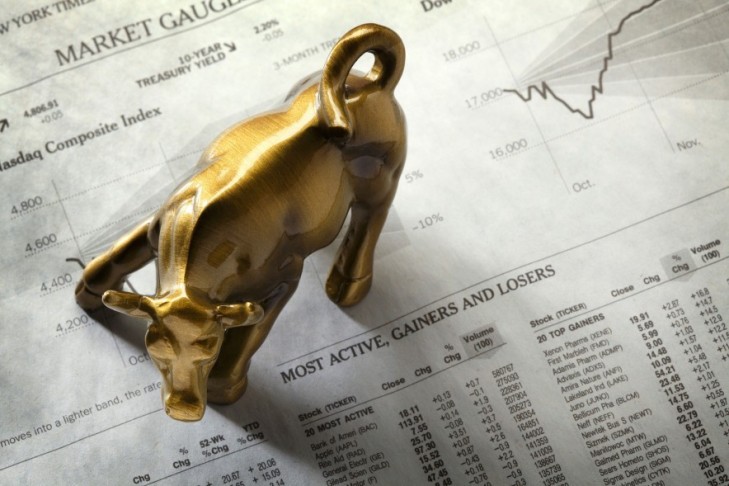 Lift-Off for Cryptocurrency Market as BTC Gains 26%, XRP, LTC, BCH, ETC Apr. 8
Apr 8, 2019, 8:31PM

by
Kevin George
Bitcoin rallies through $4,000 support level with a 26% gain but BCH, LTC and ETC posted stronger gains as market dominance continues to shift.
BTC
The cryptocurrency market finally broke out of its recent consolidation from the mid-December lows with the majority of coins in the top 50 posting double-digit gains for the last week.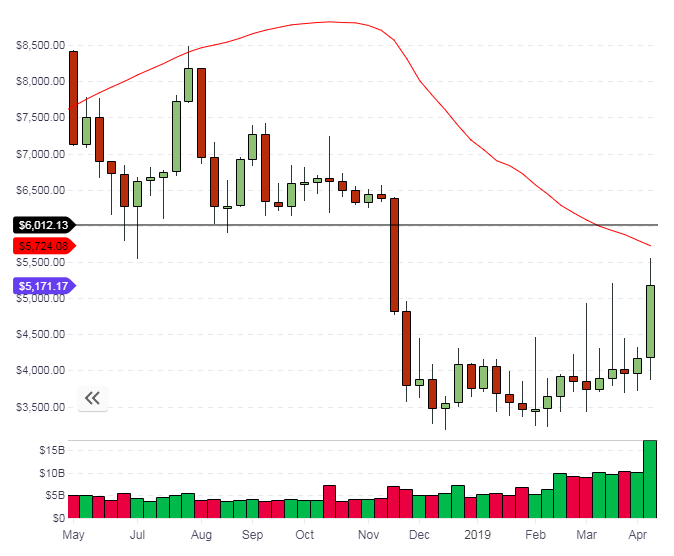 Bitcoin made an impressive move of 26% to shrug off the recent quiet period and take the stubborn $4,000 resistance with BTC now trading around $5,000. The next real target for BTC will be the $5,850-6,000 zone, with the latter price being really strong support before the late-2018 drop.
The move last week will also have grabbed the attention of the wider financial markets and gives hope to increased volumes in the next month. I have long mentioned the institutional money that was sitting on the sidelines and through the Fidelity offering, we now have professional custody solutions that could lead the way in for large investors and further validate the cryptocurrency market.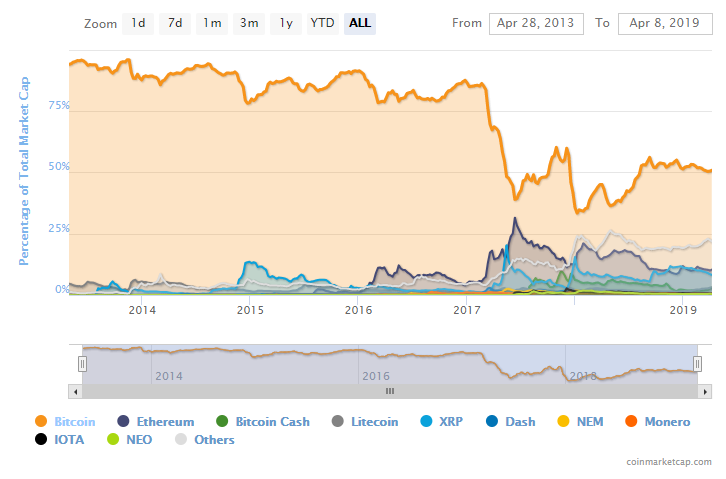 The market capitalization of the overall market is now $175 billion and we may see a test of $200 billion, which was last seen in November 2018 when Bitcoin had a value of $100 billion. Bitcoin's dominance of the market has dipped to 50% and we are seeing a clear downtrend which will be worth watching. Similar to a price chart, if BTC cannot hold the 50% level then a retest of previous lows at 35% is possible. Interestingly, Ethereum had an 18% dominance at that level and now has only 9%, which highlights the changing dynamics of the market.
XRP
The price of XRP saw a 14% rally over the last week to close around $0.39 and the chart highlights the importance of the move after it rallied from a reliable uptrend support level from early-2018.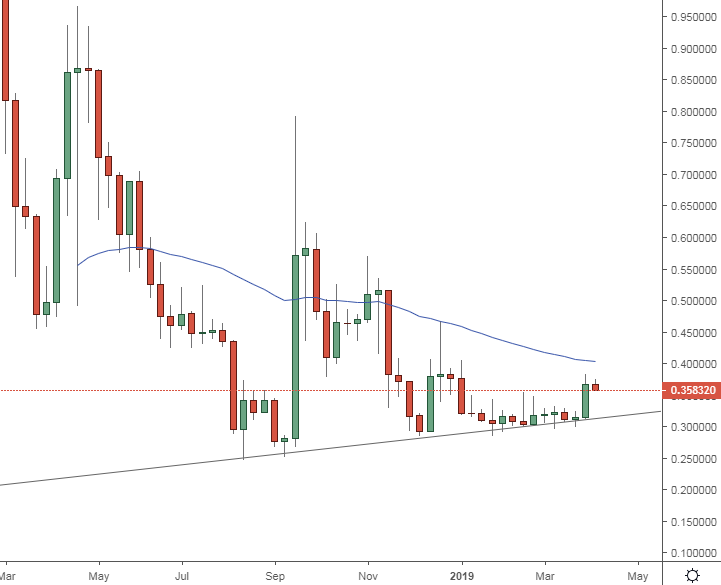 Resistance for XRP is above $0.40 where the 50ma resides and this could be tested later this week if we see a follow-through in the market.
In recent new,s a global IT consultancy with revenues of $19 billion noted that its Quartz blockchain offering now aligns with RippleNet. Tata Consultancy Services (TCS), which is part of the Indian conglomerate Tata Group states that its banking platform services 1 billion accounts. I noted in a previous post that Facebook was looking at the $2 billion remittances market in India through a Whatsapp cryptocurrency solution and TCS is active in this segment also, where cross-border payments from expats to family back home is a huge market.
LTC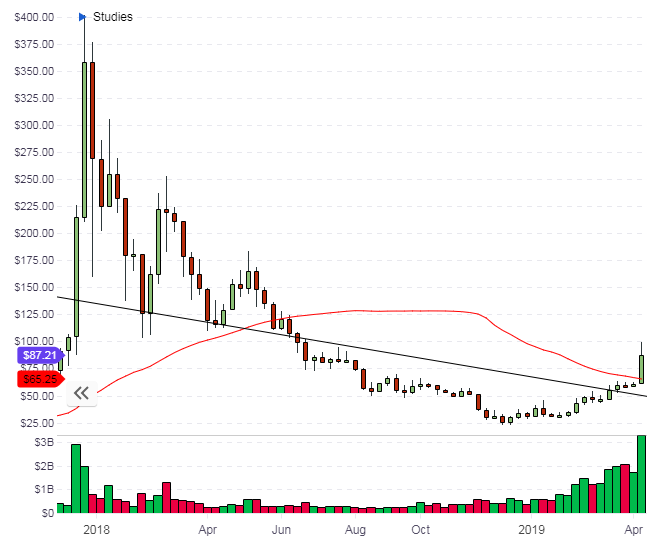 Litecoin was a big performer on the week with a 47% gain over the last week, following on from its market-leading performance from the mid-December lows. Volume has been building in LTC and the price touched $100 last week before settling near $87.00. LTC has cleared the 50 moving average and is trading back within a potential channel with $175-225 being potential targets in the weeks ahead.
BCH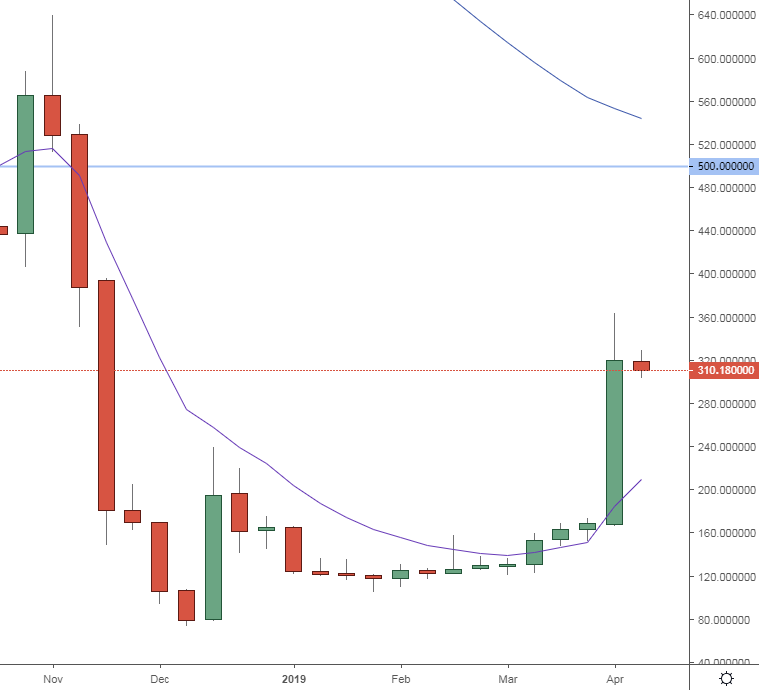 Bitcoin Cash was the best performer in the top 50 coins by market cap with a gain of 83% over the last 7 days. The move in BCH saw it gaining significant ground on LTC and is now only $17 million in market cap behind LTC. BCH now trades above $300 with resistance overhead coming in at $500-520.
ETC
Ethereum Classic has confirmed the mid-December low with a rally above resistance near $5.00. The price touched $8.00 on strong volume and we could see the market attempt to re-take the $10.00 mark, where the 50 moving average also resides.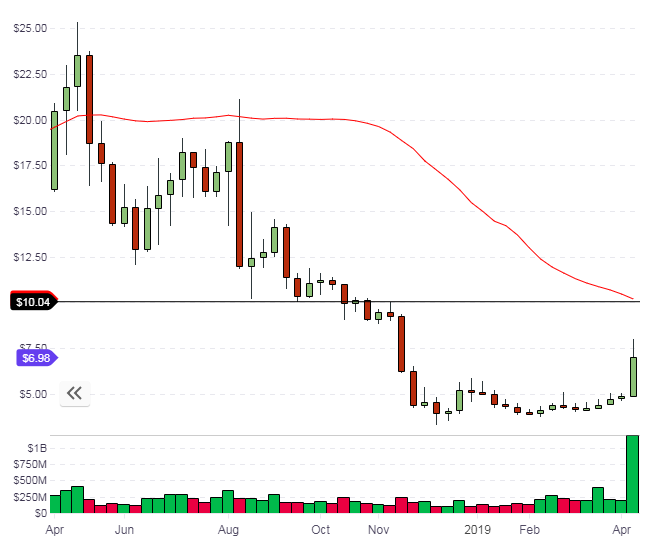 As the market shows strength we may see a revival in altcoins with many seen as a cheaper alternative for retail speculators and many strengthening due to their on-ramp capabilities, where investors may look for the value aspect of cheaper coins. If this dynamic does take hold then it would align with comments I made previously, where history has always had a two-tier monetary system, with a store of value and a transactional component. With this in mind, BTC could be the store of value and a fork such as BCH used as the transactional currency.
The move in ETC is a welcome recovery from the 51% attack in January 2019 where 54,000 ETC were stolen. Part of the reason for ETC's recent appeal may be down to the coming Atlantis upgrade. This is not likely to happen before September 2019, however, the current prices would be attractive for value investors. ETC is now at 17th place in the list of coins and trails NEO by only $50 million.
Going forward in the markets we need to look for follow-through this week and see if BTC can test the $6,000 level in coming weeks. It's likely that significant resistance will be in play at that level and any move through will likely trigger a stop run which would propel the market higher.
Disclaimer: information contained herein is provided without considering your personal circumstances, therefore should not be construed as financial advice, investment recommendation or an offer of, or solicitation for, any transactions in cryptocurrencies.