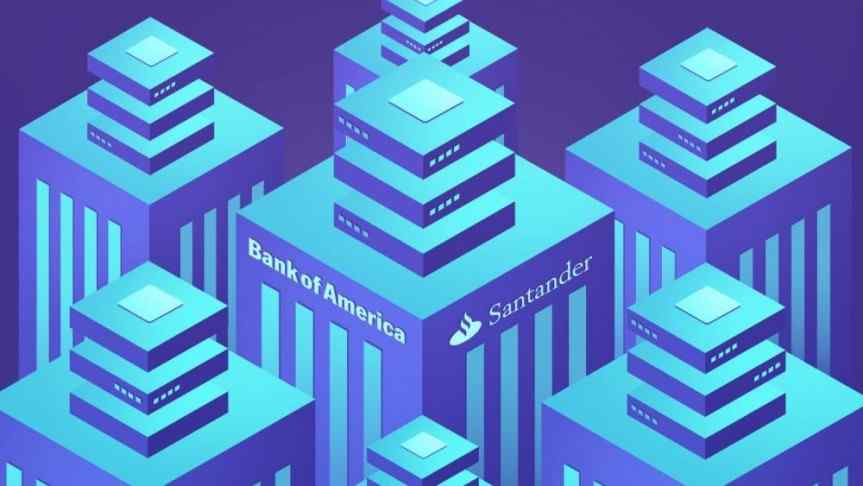 More Major Banks are Developing Blockchain Projects
Apr 14, 2018, 9:17AM
Bank of America has filed a patent to replace their data-sharing systems with Blockchain technology. BoA leads the way with many other major banks also adopting Blockchain applications.
Bank of America will implement Blockchain technology to replace a part of their existing data-sharing systems. Announced on April 12, BoA filed an application at the U.S. Patent and Trademark Office (USPTO) for a permissioned Blockchain to securely record and authenticate personal and business data. MasterCard and Santander Bank have also recently announced plans for Blockchain projects.
According to Bloomberg, Bank of America has the most enterprise-level Blockchain projects of any major company. To date, the bank has applied for more than 40 patents. This latest filing suggests that BoA wants to use the Blockchain to merge their existing data storage platforms into a single secure network with restricted access. The goal is to increase efficiency and security by reducing the number of data storage locations as well as points of access.
"In this way, the individual or entity may securely store on the blockchain all records relevant to service providers, then provide the service providers with secured access to said records such that the providers may access only the specific records for which they are authorized, e.g. a healthcare provider may access only the healthcare records on the blockchain."
Also this week, Santander Bank announced the launch of its first cross-border payments system, which makes use of Ripple's Blockchain. Initially only available to customers from Spain, U.K., Brazil, and Poland, Santander plans to expand the service to more countries in the coming months. The service, dubbed One Pay FX, will transparently deliver super-fast payments. Santander's Executive Chairman Ana Botín signaled that more Blockchain projects could be on the horizon for Santander. "Innovation is going to continue and you have to be ahead of the pack."
Mastercard also reported this week that it will hire new developers specialized in Blockchain technology. The company has previously explored how to speed up transactions by utilizing the Blockchain and has signaled that it aims to aggressively enter the Blockchain-patents game as well. These are just a few of the numerous recent developments suggesting that distributed ledger technology has begun to successfully disrupt the banking sector as many predicted.
Disclaimer: information contained herein is provided without considering your personal circumstances, therefore should not be construed as financial advice, investment recommendation or an offer of, or solicitation for, any transactions in cryptocurrencies.