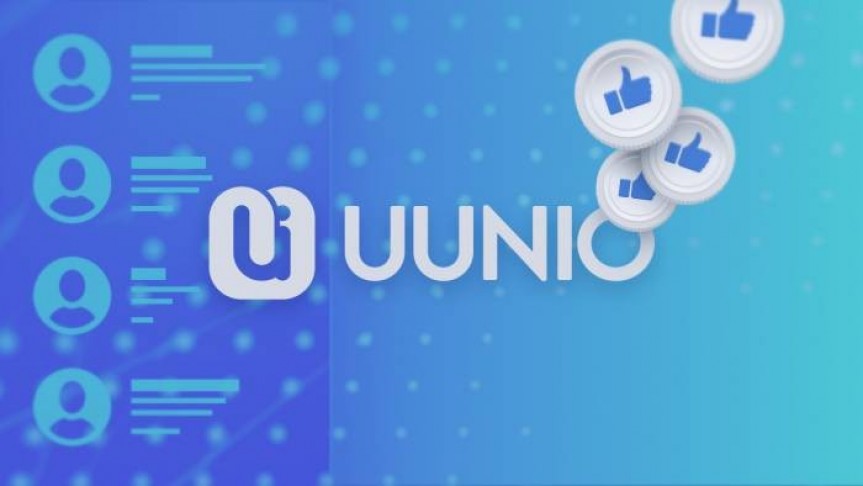 New Blockchain Social Media Platform Challenges both Facebook and Steemit
Jun 20, 2018, 11:15AM

by
Chris Madill
A new social media platform is harnessing the blockchain in order to redefine how users interact with social media, rivaling Facebook and Steemit
A new content and social media platform is harnessing the blockchain in order to redefine how users interact with social media and the internet. The platform, UUNIO, looks to stop the exploitation of online content creators by rewarding users with crypto-tokens in exchange for quality content. Although the idea of a crypto-rewards system in a social media platform is not new, UUNIO promises to improve on the concept originally founded by blockchain social media platform Steemit.
UUNIO's whitepaper makes reference to the social media behemoth Facebook, pointing out how the platform makes unimaginable amounts of money by selling the content its users create. While it may seem fair to some that Facebook could sell user-data to advertisers or big-data analytics companies in exchange for providing development and support for their platform for free, UUNIO believes that Facebook users are not being given appropriate remuneration given the large amount of revenue generated by the sale or exploitation of the content contributors. UUNIO promises to solve this problem by distributing a large portion of big-data profits back to the content creators through the issuance of their UNIFUL coin,
Revenue created by selling big data of user information will be redistributed to the users. This will be done by compensating all activities within the content platform accumulated into big data, such as posting, liking and sharing contents, with UNIFUL coins. UUNIO can provide an alternative social media model, where its users are actually compensated for their contribution to the business model of the social media.
UUNIO's approach is similar in nature to that of Steemit, a well-known social media platform built for bloggers. Both UUNIO and Steemit offer rewards to users who create or curate content, which are distributed based on how many "votes" or "likes" a certain piece of content received from other community members. The main difference is in how the two platforms determine which content is most valuable.
Steemit allocates "voting-power" based on how much monetary value is in any given user's Steemit wallet. The more money a user has, the more important their vote is, allowing the very "rich" users to effectively determine which content is "trend-worthy". In essence, this unfair balance in the democratic system of Steemit leaves many new users unable to profit from their content, despite the quality of their posts, while enabling the rich to get richer through the act of collusion and self-voting.
UUNIO aims to solve this problem by ensuring every user's vote is equal, that is, guaranteeing every user an equal chance to "trend" on the platform, and ensuring the content created on UUNIO is truly representative of what its community wants to see.
Social media and cryptocurrencies are not just the domain of ambitious startups like UUNIO and Steemit. Mark Zuckerberg, Founder of Facebook, began 2018 with a thoughtful post on the merits of centralization vs decentralization in the world of technology. In his post, Zuckerberg describes decentralization as a way to "give people the power", something he claims is part of the core ethos of Facebook. Facebook has also hired David Marcus, former CEO of PayPal to head the company's new "blockchain division". When looking at the combined efforts of UUNIO and Steemit, and the growing interest from IT giants like Facebook, many believe that crypto and blockchain could eventually redefine how we interact with social media.
Disclaimer: information contained herein is provided without considering your personal circumstances, therefore should not be construed as financial advice, investment recommendation or an offer of, or solicitation for, any transactions in cryptocurrencies.