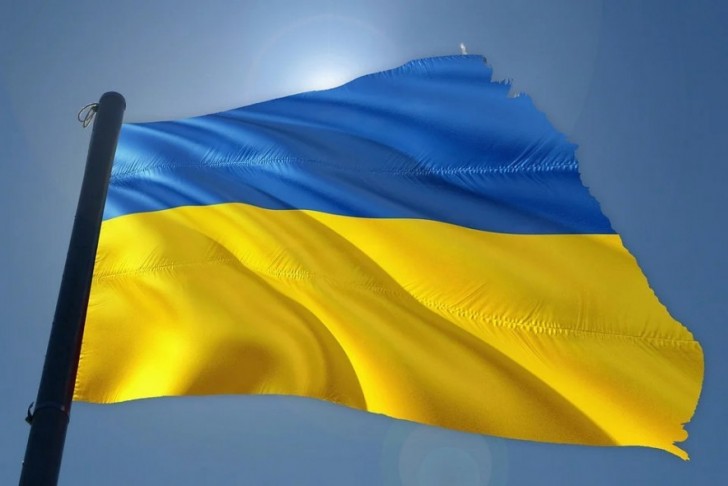 Non-Fungible Tokens Are Being Used to Raise Funds for Ukraine
Mar 4, 2022, 9:12PM

by
Mike Dalton
NFTs are being used to raise funds for Ukrainian relief as the country's armed conflict with Russia continues.
As military conflict between Russia and Ukraine develops, fundraising and charity efforts are increasingly turning to non-fungible tokens, or NFTs.

These collectible blockchain tokens give projects a way to quickly sell digital art and media and earn cryptocurrency (typically Ethereum) in return. Then, the funds raised can be donated to a charity that provides aid to Ukrainian citizens. Several of these efforts are now underway: here are some of the most notable.
RELI3F

In late February, a group of digital artists joined together to create RELI3F, a collection of 37 digital artworks to be auctioned as NFTs.

By Feb. 27, the group announced that it had sent 185 ETH ($550,000) of funding to three Ukrainian charities. Those charities were Come Back Alive, Hospitallers Ukraine, and a local media fund set up by partners of Kyiv Independent.

The amount sent represents half of the 371 ETH ($1.1 million) that RELI3F raised during its sale. The remainder will be saved in case of demand for specific needs such as medical supplies. RELI3F also said that it collected 60 ETH ($170,000) in secondary funds, which will be donated to Ukrainian artists and other recipients.
TIME's Artists for Peace

TIME Magazine has launched a series of NFTs to raise money for Ukraine. The collection is titled "Artists for Peace Collection" and features 60 artworks. Bidding began at 0.22 ETH ($650) and initial sales ended on Wednesday, March 2. TIME's OpenSea page says that 123 ETH ($350,000) of NFTs has been traded so far.

The magazine says that it will donate 100% of proceeds to relief efforts in Ukraine and that creators will not take royalties from sales. OpenSea, the NFT marketplace handling the auction, will waive fees for the entirety of the auction.

TIME initially began to auction its own magazine covers as NFTs beginning in March 2021. Since then, it has expanded the site to include a gallery called TIMEPieces, which consists of four other NFT art galleries plus the Artists for Peace Collection.
UkraineDAO
UkraineDAO has auctioned an NFT version of the Ukraine flag to raise funds for charity. Those funds are now being donated to Come Back Alive, a relief group for Ukrainian military members, and Proliska, an NGO focused on the contact line between government-controlled and non-government-controlled areas of Eastern Ukraine.
On Mar. 2, UkraineDAO said that it had raised $6 million in ETH. The next day, it fractionalized the NFT and distributed its LOVE token to contributors. The group says it will continue to accept donations even though the NFT sale is over.
The effort was organized by the NFT groups PleasrDAO and Trippy Labs, along with Nadya Tolokno of the music and activism group Pussy Riot.
Ikonia's Stand With Ukraine

Ikonia, a digital art platform, has launched an NFT sale called "Stand With Ukraine" that aims to auction more than 43 million editions of a Ukraine-themed NFT.
Each NFT will be priced at $10 each, meaning that the sale could raise as much as $432 million. The proceeds will go toward Ukranian charities, and buyers can choose from one of three charities that their funds will go towards. Those charities include the Return Alive Foundation, the Everybody Can Fund, and the Ukraine Humanitarian Fund.
The piece on auction (above left) was created by digital artist Felipe Posada of The Invisible Realm. Posada has also auctioned other non-fungible tokens (center, right) through major marketplaces including Rarible, Crypto.com, and Foundation.


Other NFT Sales
Various other groups are also auctioning NFTs on more limited scales. A group of former Georgian students is auctioning a series of NFTs called Peace Soldiers and will donate the revenue from those sales to Ukrainian charities.
Meanwhile, a Vancouver-based tech company called OddFutur3 is planning to donate part of its proceeds from its NFTs to Ukraine. The company is creating zodiac-themed NFTs to commemorate the Lunar New Year. 5% of proceeds from those sales will go to Ukrainian charities, according to an announcement.
Art Gallery Auction House (AGAH), a group led by Danil Pan, is auctioning a series of 80 NFTs. Funds will be donated to Endaoment.eth, an Ethereum-based charity that has donated $650,000 of crypto to Ukrainian non-profits as of Feb. 28.
While cryptocurrency and NFT fundraisers could help provide relief to Ukrainian citizens, the conflict will likely impact the cryptocurrency sector as well. The full scope of cryptocurrency's role in the conflict will become clear as events develop.
Disclaimer: information contained herein is provided without considering your personal circumstances, therefore should not be construed as financial advice, investment recommendation or an offer of, or solicitation for, any transactions in cryptocurrencies.