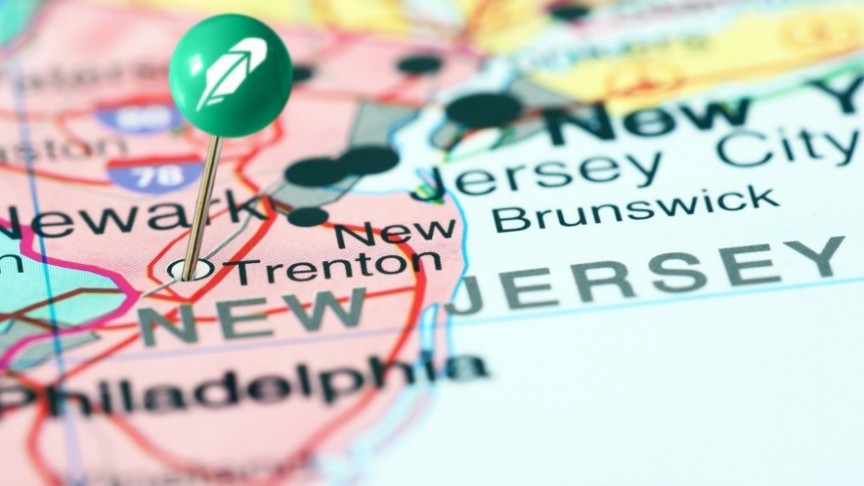 Robinhood Crypto Expands Free Trading Services to New Jersey, Now in Seventeen States
Jul 10, 2018, 7:18PM
Robinhood Crypto has announced that citizens of New Jersey can now use the platform to trade Bitcoin and Ethereum, effective immediately.
Zero commission trading platform Robinhood has announced that its cryptocurrency platform will now be available in the state of New Jersey. Since its launch in February 2018, the service has slowly expanded to a current total of seventeen American states with more to be added soon. The Robinhood team has stated its intention to aggressively push into new regions over the coming months.
Robinhood rose quickly to prominence early this year with its zero trading fee model for equity investments. The exchange has since expanded its range of services to include zero fee trading for cryptocurrencies. Investors can currently only use Robinhood Crypto to trade Bitcoin and Ethereum. Although it only offers trading for the two most liquid cryptocurrencies, it also provides real-time market data for 14 others. This, along with the fact that the company has announced that its new services will be launched in phases, suggests the potential for more cryptos to be added in time. Robinhood has been adding new states on a one-at-a-time basis since day one, which it says is due to the different regulatory approvals and licensing it needs to obtain in each state.
Robinhood's Promise
Robinhood co-founder Vlad Tenev recently lashed out at cryptocurrency exchanges for charging investors exorbitant fees on trading. He believes that the market needs to be disrupted and Robinhood's zero commission trading service will be a gamechanger for the crypto trading industry. Tenev also stated that the company has a very small profit margin due to its unique business model and its only aim is to break even. Despite low profits, Robinhood managed to raise $363 million in May 2018 to expand its operations.
While Robinhood has already taken a large market share in terms of crypto trading platforms, it could now also be looking to offer complete banking services. According to some media reports, the exchange is planning to enter the mainstream financial and banking industry. It is in negotiations with regulators to obtain a banking license which would pave the way for it to offer core financial services to existing customers and potentially challenge Coinbase as the de facto leader in the American cryptocurrency trading industry.
Disclaimer: information contained herein is provided without considering your personal circumstances, therefore should not be construed as financial advice, investment recommendation or an offer of, or solicitation for, any transactions in cryptocurrencies.