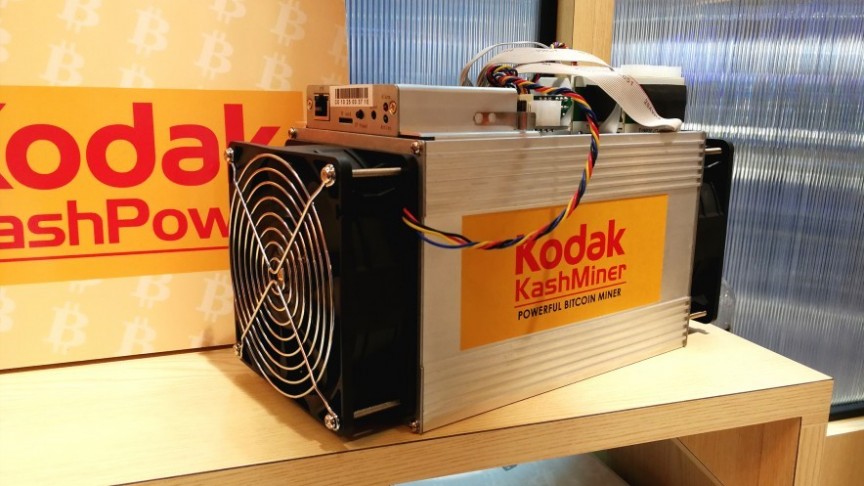 Spotlight Officially Cancels KashMiner Project as Kodak Denies Licensing Its Name
Jul 17, 2018, 9:40PM
As Spotlight drops the Kashminer project, Kodak denies having ever granted them a license to use its brand name for the KashMiner.
Spotlight USA has abandoned its plans to launch a Bitcoin mining rig under the Kodak brand name. The KashMiner was initially introduced during the CES show last January and promised unrealistic investment returns.
Spotlight originally proposed a two-year lease scheme for the KashMiner device, in which investors would pay a $3,400 upfront fee. The company then guaranteed a $375 monthly profit would be generated from the Bitcoin mining process, which would be later distributed according to a revenue-sharing model between the company and the investor. However, Spotlight's marketing material presented a very simplistic investment plan, neglecting to take into account the increasing difficulty of mining Bitcoin. The project's sloppy calculations raised widespread skepticism. The famous economist Saifedean Ammous went as far as to warn people about a potential scam behind the KashMiner device.
Ammous said on Twitter,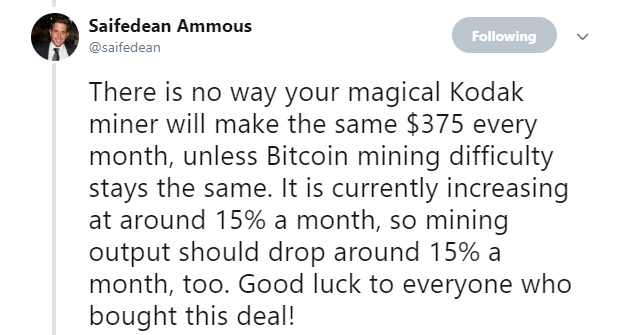 Questions About the Kodak Connection
During the CES exhibition in Las Vegas, Spotlight's CEO Halston Mikail said that investors showed great interest in the product. Furthermore, he added that Spotlight had already installed 80 KashMiner devices at the Kodak headquarters in New York, while 300 more were expected to arrive shortly. According to BBC's report though, a Kodak representative denied these claims, calling them factually inaccurate. Spotlight is a licensed partner with rights to use the Kodak brand for LED lights but has never licensed the KashMiner mining rig with Kodak.
Despite the Kodak spokesman's denial, whether or not there is a link between the KashMiner and Kodak seems uncertain. Kodak has shown interest in entering the cryptosphere, with its native "KodakCoin," a cryptocurrency for professional photography rights management. Kodak announced that the Kodakcoin would be distributed through an ICO in January. The ICO attracted 40,000 investors and raised the company's shares by 120% shortly after. Kodak had to delay the offering in order to restructure the process and comply with SEC regulations.
In addition to the Kodak fallout, Mikail said that the SEC prevented Spotlight from moving forward with the project and the company is now looking to privately continue its operations in Iceland, a location known to be friendly to mining activities, due to its low temperature and cheap electricity.
Disclaimer: information contained herein is provided without considering your personal circumstances, therefore should not be construed as financial advice, investment recommendation or an offer of, or solicitation for, any transactions in cryptocurrencies.