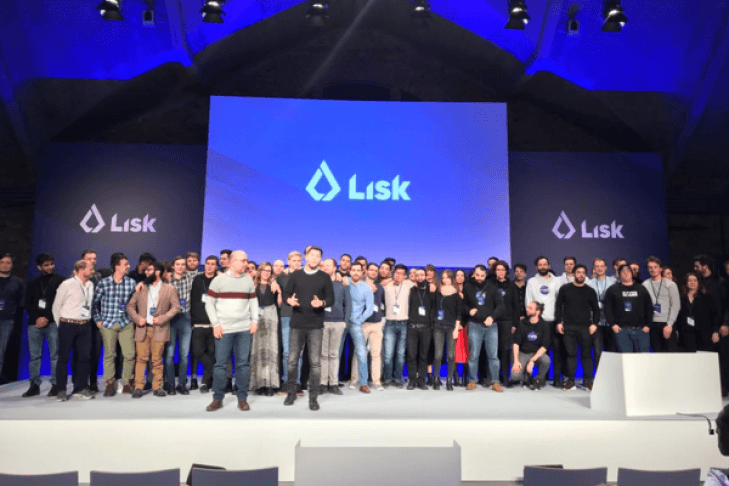 Successful Lisk Relaunch Has Pizzazz and Substance
Feb 21, 2018, 1:39PM
New logo, website, technical updates and Lisk Academy all announced at Tuesday evening Berlin event.
Lisk hosted its much-anticipated relaunch event at Berlin's Westhafen Event and Convention Centre yesterday even at 19:30 CET. The relaunch was watched live by a crowd of 500 and almost 10,000 online viewers via a live stream. It outlined how the new Lisk will encapsulate the company ethos: "We enable Blockchain creators."
The Foundation behind the LSK cryptocurrency and Blockchain platform revealed a rebrand including a new logo and its updated platform on which developers can build decentralized applications (DApps). There were a number of announcements including the new Lisk Academy, which is central to co-founder and CEO Max Kordek's stated ambition that Lisk become "more about enabling people" than the "tech project" the Blockchain started out as. Speaking ahead of yesterday's relaunch, Kordek commented:
"We basically want to distribute it to the people to make it accessible so that everyone can build on it."
The new Lisk Academy's focus is on educating tech and non-tech individuals to build Blockchain applications on the new Lisk platform. Another key announcement, which had been touched on by Kordek prior to the event, was the launch of Sidechains connected to the Lisk Mainchain.
Lisk Rebrand Methodology
Christian Vatter, owner of the Rlevance business consultancy, and the branding expert behind Lisk's relaunch outlined the 'data backed' methodology behind the changes announced yesterday. Design updates were made in partnership with award-winning design agency Taikonauten, and the platform's functionality updates were based on consultancy with an expert panel. 2000 feedback posts generated by a Lisk Slack channel, also provided the relaunch team with crucial data on user requirements for the optimized development platform.
New Lisk Logo and Product Re-Naming
As well as a new logo, several products within the Lisk ecosystem were given new names and icons. Lisk Core was left untouched, but Lisk JS will now be known as Lisk Elements, Lisky becomes Lisk Commander and the Lisk App the Lisk Hub.
The New Lisk Website
The relaunch event included a tour of the new website, which goes live today, February 21st, 2018, at 12:00 CET. The concept behind the website redesign makes the homepage as "all-inclusive as possible to cater to different audiences," while specific destinations within the site will speak directly to particular target audiences such as developers, app commissioners, and the wider Lisk community.
Launch of The Lisk Academy
The new Lisk Academy, which will be headed by Jacob Kowalewski will provide education on Blockchain technology more broadly and specifically using the Lisk platform and tools. The two core pillars of the Academy's syllabus are Blockchain Basics and Blockchain Business.
Initially, the Lisk Academy is launching with premium written content, graphics, and features that will be rolled out over the coming months. They include:
Blockchain Builders
Community Contribution
Gamification Tailored Profile Experiences
Educational Meetups
Accredited Lisk diploma
Lisk Platform Technical Updates
The central technical update to the Lisk platform is the launch of Lisk Sidechains. These will allow developers to build scalable apps on 'Side' Blockchains to that of the Lisk Mainchain, without 'bloating' the core Blockchain or potentially corrupting it. Lisk's STK is based entirely on JavaScript, the most commonly used programming language in the world, with a view to making it as accessible as possible to developers.
A new API will also be implemented, the P2P transport layer rewritten, as will the database layer in order to facilitate the full support of atomic block writes and a 64-byte data field is being added to type O transactions.

Lisk's user fee structure is also being updated to a dynamic pricing model after feedback that the current 25 LSK charge for 'delegate registration' paid by developers is too high.

The relaunch presentation concluded with an overview of the Lisk Foundation's finances, the announcement of sponsorship of upcoming open-source projects and impending organizational changes such as the hiring of new staff.
Lisk Relaunch Branded Success but Price Drops
Observers have largely commented positively on the relaunch event both in terms of its organization and the substance of improvements to Lisk. Threads on Reddit and Twitter are also congratulatory. LSK spiked to $32.41 shortly after the start of the relaunch event but was followed by a drop with LSK down to around $25.5 Wednesday morning.
Disclaimer: information contained herein is provided without considering your personal circumstances, therefore should not be construed as financial advice, investment recommendation or an offer of, or solicitation for, any transactions in cryptocurrencies.