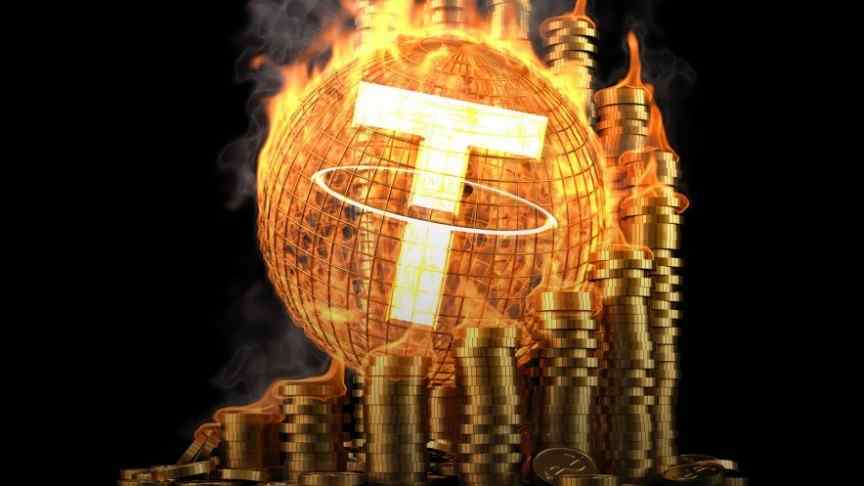 Tether Burns 500 Million Tokens, Calls It a "USDT Redemption"
Oct 25, 2018, 12:31PM
The world's largest stablecoin USDT has been embroiled in controversies of late. Is that why Tether decided to destroy 500 million USDT tokens?
Tether Burn
Seattle-based Tether recently announced that it "just destroyed 500M USDT from the Tether treasury wallet." Tether's website declared that it had "redeemed a significant amount of USDT from the circulating supply of tokens" and therefore decided to "leave the remaining USDT (approx 466m) in the wallet as a preparatory measure for future USDT issuances." Tether's white paper outlines the guidelines for Tether issuance as well as redemption, which can both be observed on the OMNI blockchain via the Tether treasury balance.
Stifling Supply Intentionally?
After the dollar pegged coin traded as low as 86 cents on the dollar on the 14th of October, over 680 million USDT tokens have been transferred to the Tether treasury wallet by a Bitfinex controlled address. Bitfinex has close ties with Tether and is perhaps the biggest market for the cryptosphere's largest stablecoin. The exchange's accounts show it has sold nearly 100,000 Bitcoins since September, which some are arguing was "the real burn", suggesting that the Bitcoin selloff was a move made to pay for the USDT redemption. However, Bitfinex has stated in no uncertain terms that they are not curtailing their supply on purpose. Representatives from Bitfinex say their decision has nothing to do with fixing Tether's 1:1 parity with the dollar but rather because there is a higher amount in circulation than required for operational purposes. Currently, Tether's circulating supply stands at 1.97 billion USDT.
Bitfinex Hits Back
Tether and Bitfinex have both been at the receiving end of plenty of allegations stemming from widespread distrust, partly due to data listed on popular aggregator CoinMarketCap. Bitfinex recently launched a staunch defense on Twitter against what they believe is a FUD campaign against them:
https://t.co/sJ3VxufDli is the sum of USDt dep/wds to/from Bitfinex. We are not 'publishing' fake numbers; the API method is called 'movement_volume' and isn't part of our ticker API. Not pushed by us, pulled by CMC. Another not-so-brilliant example of anti Bitfinex/Tether FUD. https://t.co/elGnsVfCfA

— Bitfinex (@bitfinex) October 23, 2018
CoinMarketCap responded by shifting the onus back on Bitfinex, citing the fact that Bitfinex did nothing to clarify the situation despite direct requests and repeated attempts to communicate with the exchange.
More Stablecoins, More Skepticism
Several new stablecoins are emerging at the same time as Tether seems to be on a downward spiral. Goldman Sachs backed Circle's USD Coin (USDC), which received $140 million in VC funding, was listed on leading US crypto platform Coinbase earlier this week. However, has also USDC attracted some skepticism in the crypto community due to the terms listed in its user agreement. According to the agreement, Circle reserves the right to blacklist certain accounts, freeze funds, terminate accounts, and report suspected illegal activity to law enforcement agencies. While some see this as the necessary regulations for the survival of stablecoins, other see as it as a form of authoritarian control that has a tremendous potential for abuse.
Audit Controversy
It has been alleged that no USD-backed stablecoin provides full audits but instead merely issues attestations proving reserves. While Tether has been berated by the community for failing to produce a full audit proving they have the USD reserves to back their stablecoin, none of the newer stablecoins, including TUSD (TrueUSD), GUSD (Gemini), PAX (Paxos), and USDC (Circle) have provided full audits either. They have, however, hired renowned auditing firms such as Cohen & Co, BPM, Withum, and Grant Thornton respectively. Gemini's Cameron Winklevoss has said via Twitter that the lack of audits thus far is due to the fact that there is no framework for this kind of audit available:
There is no financial report framework w/r/t to audit conformity w/ a stablecoin. So you can't perform an "audit." You must instead rely on a 3rd party to attest to whether an assertion (that there is a 1:1 peg) is accurate.
While this new flurry of stablecoin projects is good news for the industry, the accompanying FUD is not. If these new projects hope to learn from Tether's struggles, it is essential that they find an effective way to address the controversy around fiat-pegged coins.
Disclaimer: information contained herein is provided without considering your personal circumstances, therefore should not be construed as financial advice, investment recommendation or an offer of, or solicitation for, any transactions in cryptocurrencies.