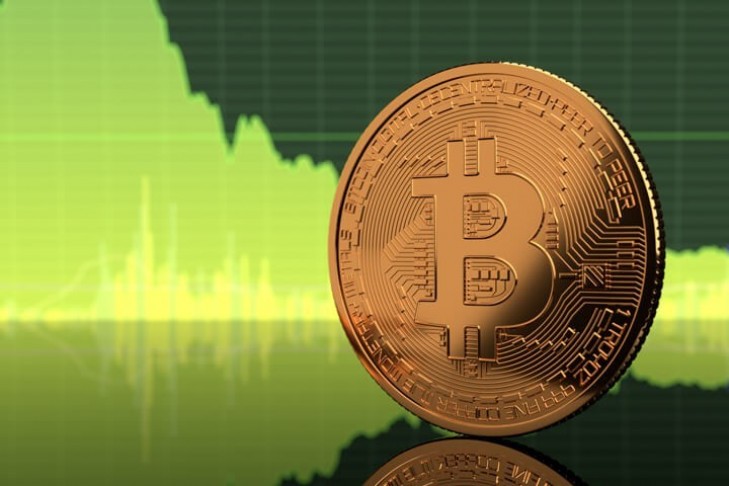 What Should You Buy in the Crypto Rout when Ray Dalio is Long? BTC, HT, AVAX, May. 24
May 24, 2021, 5:13PM

by
Kevin George
BTC slumps to $30k on the week, world's largest hedge fund funder is long for inflation and anti-dollar outlook, defi and green could be winners.
BTC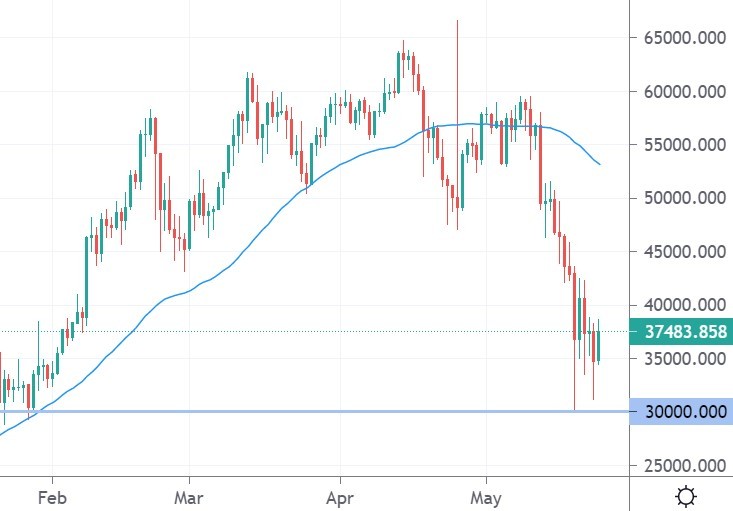 Bitcoin slumped to fresh lows on the week as regulatory fears and clampdown in China saw a further unwind of positions. The price of BTC traded as low as $30k but has bounced to $37,000. However, another big-name investor is long the coin for its anti-dollar and inflationary prospects.
Ray Dalio, the billionaire founder of Bridgewater Associates, which is the world's largest hedge fund, said that the US dollar is facing two clear risks. The first is an inflationary threat and devaluation risk not seen since the 1970s, while the second is a threat of being unsettled by China as the world's reserve currency. The hedge fund titan also declared in an interview with Coindesk that he "owns some" Bitcoin.
Dalio previously said of BTC that:
Its own biggest risk is its success. No government wants to have an alternative currency.
That's a point I made in these articles many times and have stated over the last weeks that the price bubble was heading into a collision with regulatory action from the likes of the Securities and Exchange Commission (SEC). The European Central Bank Chief Christine Lagarde also threatened a global regulatory approach.
The regulatory issue was brought home again last week as China moved to enforce a strict position on mining in the country.
Chinese Vice Premier Liu told a group of finance officials that the government would "clamp down on bitcoin mining and trading activity" as part of its goal to achieve financial stability. China has moved to regulate and clean up exchanges in the past but targeting the mining sector is a new policy.
The price of Bitcoin could see a further bounce if it gets above the $40,000 price level this week.
HT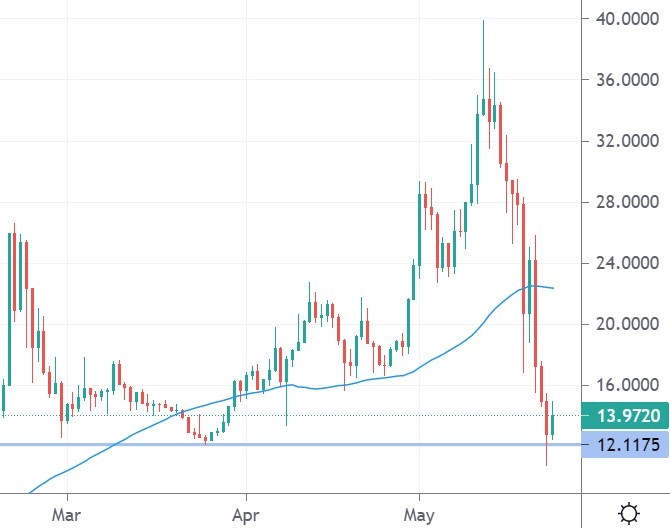 One of the biggest losers of the week was the Huobi Token (HT) which was hit by the China crackdown.
Huobi announced that it would scale back some of its products and services, while it also said that it would reduce its sale of mining equipment and hosting operations.
Due to recent dynamic changes in the market, in order to protect the interests of investors, a portion of services such as futures contracts, ETP, or other leveraged investment products are temporarily not available to new users from a few specified countries and regions.
The country's Financial Stability Development Committee of the State Council called for a clampdown on crypto mining and trading, while three financial industry associations sent a more targeted message to Chinese banks and other institutions that have supported cryptocurrency firms.
The price of HT has crashed from highs above $30 to trade at $14 and the coin's market cap has slumped from over $6bn to less than $2.5bn.
AVAX
Avalanche has lived up to its name with a drop to $18 on the week after the coin traded close to $60 earlier in the year.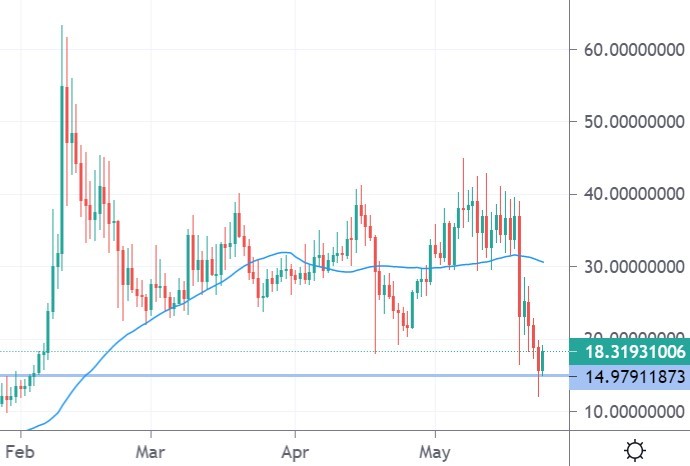 The coin was off another 50% on the week, but the point of these moves is that the coins are now trading at a discount and if you believe in a particular project then it is a good time to get involved. The regulatory picture has shown that there is risk in exchange tokens and pure currency plays as governments crack down on competition to their central bank digital currency (CBDC) dreams.
The best investments are probably going to be in projects that operate outside of government remits and that would include those with scalable technology or decentralized finance (DeFi) products such as loans. The CBDCs will want to be the currency in the same way that the US dollar is the currency, but a huge ecosystem of service providers and infrastructure companies support that. The digital world would likely work in the same way.
Avalanche is a suitable type of application because it is an open-source platform for building decentralized applications at scale. Stablecoin issuer Tether was a recent launch with the project putting its USDT token on Avalanche. Tether operates on nine networks, but the use of the blockchain is a seal of approval. ChainLink is another that works closely with Avalanche.
The Avalanche project also has a much faster transaction speed than the likes of BTC, ETH, or Polkadot and is also CPU-optimal for more energy efficiency.
The price if AVAX has found support at the $14 level and may look to bounce here, but the potential for consolidation at the lower levels is possible in cryptocurrencies in the short-term, with these prices may be looking like a bargain over time.
FTM
Fantom has seen a rollercoaster in recent weeks and the area of energy-efficient cryptocurrency projects is one that should be considered by investors.
Fantom is providing some of the lowest kWh per transaction in the crypto market and that is boosting demand. The recent change of heart by Tesla regarding crypto payments was based on the energy usage of BTC and it's clear that "green coins" could be part of the next investment wave in the same way that companies are divesting from fossil fuel investments in the traditional finance world. Fantom has seen increased demand from developers after a recent upgrade.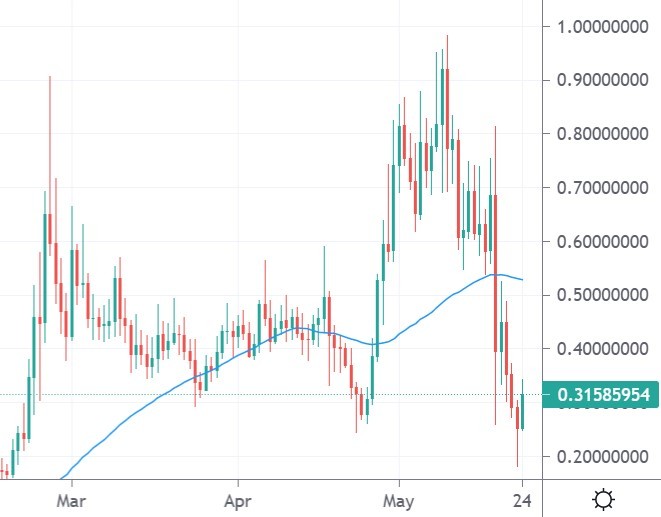 The price of FTM has slumped to $0.30 after a rollercoaster move from that level to almost $1.00.
Disclaimer: information contained herein is provided without considering your personal circumstances, therefore should not be construed as financial advice, investment recommendation or an offer of, or solicitation for, any transactions in cryptocurrencies.