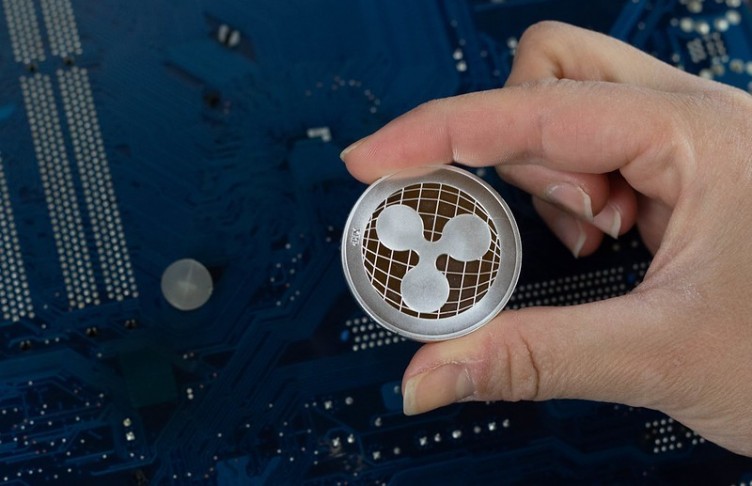 XRP Price Supported on Court Development, MATIC, META, DCR, Apr. 18
Apr 18, 2022, 8:52PM

by
Kevin George
XRP higher in a bearish market on judge ruling. MATIC higher despite plunge in NFT vols. DCR soars ahead of a key upgrade.
XRP
The XRP price was 5% higher in the week which bucked a bearish trend as Ripple Labs won a major victory in the SEC pre-trial hearings last week. The judge ruled for a second time that Ripple could use written statements by an SEC official that would damage the SEC's case. With this evidence permitted in trial, Ripple has an increased chance of winning.
Last week, Judge Sarah Netburn ruled against the SEC, saying that she would not reconsider her prior ruling on the Hinman statements. Prior to the filing of the SEC lawsuit, William Hinman publicly said that cryptocurrencies were not securities. The use of his words in court was a major battle in the pre-trial hearings; Ripple Labs wanted to use it, and the SEC wanted Ripple to be banned from using it.
Last week, Netburn decided that Ripple Labs could use the statement for a second time. So, now, Ripple can use evidence that would be favorable to the claim it's trying to make, that XRP is not a security. However, Hinman's comments are only one employee of a large organization and may not be seen as the official SEC take on cryptocurrencies.
The current Chair of the SEC, Gary Gensler, has said as recently as two weeks ago that 'most' cryptos are securities, while "Some, probably only a few, are like digital gold; they may not be securities. Even fewer, if any, are actually operating like money," he added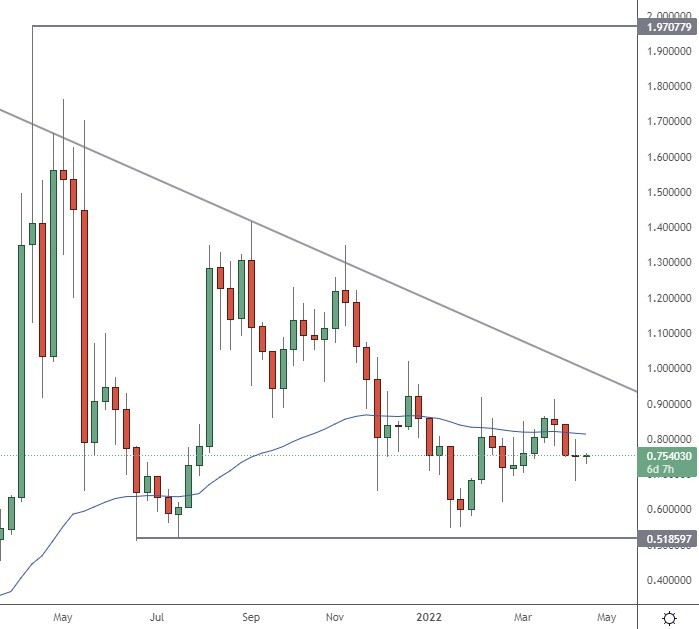 XRP trades around the $0.75 level and will follow the lead of Bitcoin until any settlement. Bitcoin was lower ahead of the US tax deadline.
MATIC
The Polygon network announced this week that it had committed to going carbon neutral and climate positive this year by releasing a "Green Manifesto: A Smart Contract with Planet Earth." They also made a $20 million pledge to offset their carbon footprints and buy extra credits to become carbon negative.
Polygon was lower on the week and many platforms are struggling with a collapse in the NFT market. Opensea has dominated Ethereum-based NFTs, but Polygon NFT collections were also available on the platform and demand has now severely subsided.
At the beginning of this year, sales crossed 2.68 million NFTs in a month. Last month, just a little over 500k NFTs were sold. With demand falling, the monthly volume of these NFTs fell also, From $80 million in January to $49 million in March, marking a 38% decline in sales.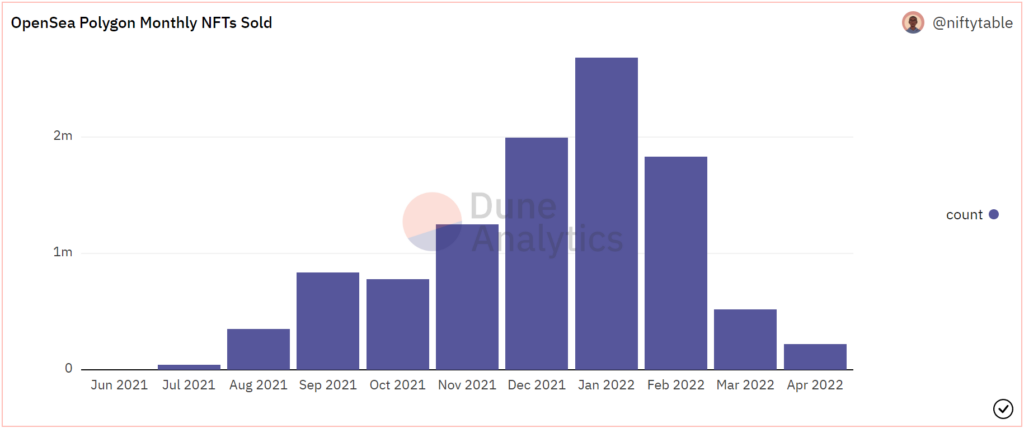 An NFT story this week highlighted the end of the collectible fervor as the first Jack Dorsey tweet saw its value plummet. A Malaysia-based entrepreneur bought the digital collectible of the tweet for $2.9m and received a top offer of only $6,200 when he auctioned it on OpenSea.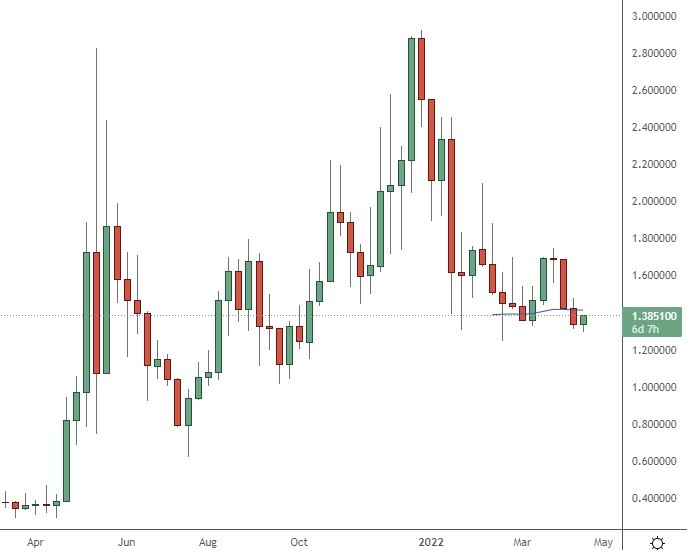 The price of MATIC was 1% higher this week despite the slump in NFTs. The token saw a high of almost $3.00 back in November but is now rangebound from the July lows.
META
On the subject of NFTs, Meta, the company formerly known as Facebook, has laid out its plans to monetize its virtual world, and it is not good news for content creators.
The company plans to take a cut of up to 47.5% on the sale of NFTs and digital assets on its "Horizon Worlds" virtual reality platform. The digital world is an integral part of grander plans to develop a Metaverse.
Meta announced its plans to monetize its platform in a blog post on April 11th, stating that it is rolling out a test with a "handful of creators" which it will allow to sell virtual items.
According to CNBC, a Meta spokesperson said that the company will take a "hardware platform fee" of 30% in addition to its own fee of 17.5% for digital items sold through its Quest Store.
By comparison, leading NFT marketplace OpenSea takes a 2.5% cut for each transaction, and LooksRare charges just 2%. The significant difference is that these platforms are Web3, and Meta is still following the Web2 model.
DCR
The price of Decred was 45% higher in one day last week but settled for a 25% gain. The move was based on an upcoming hard fork. The key upgrade slated for early May would reduce the DCR mining reward share to 10% from the current 60%.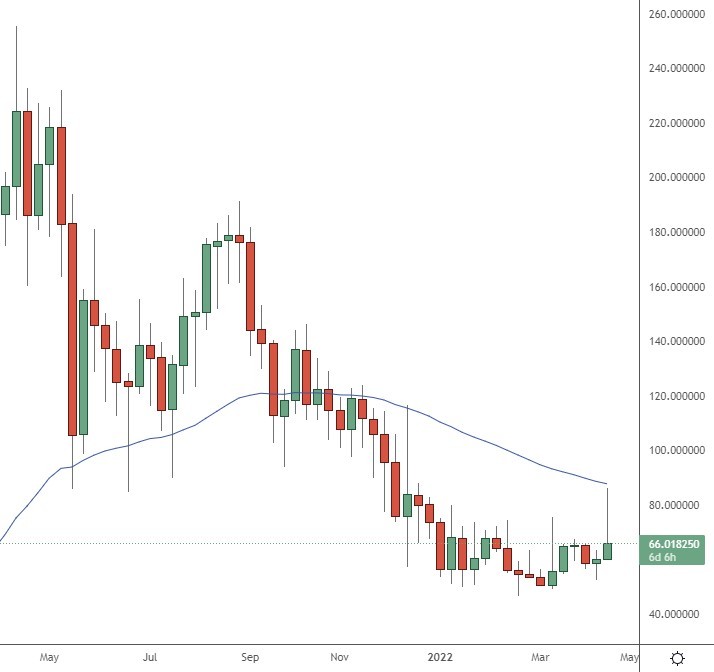 The update comes in response to a community vote that agreed to limit "malicious miners" — those with a history of artificially pumping-and-dumping DCR — from accessing Decred.
However, the community agreed to raise the rewards for Decred's proof-of-stake (PoS) validators — entities that validate blocks submitted by miners — from 30% to 80%, which implies that consensus wants to switch primarily away from proof-of-work (PoW) consensus to PoS on-chain governance.
The price of DCR trades at $59 XRP but is a long way from the previous all-time high of around $250.
Disclaimer: information contained herein is provided without considering your personal circumstances, therefore should not be construed as financial advice, investment recommendation or an offer of, or solicitation for, any transactions in cryptocurrencies.