Writer

Martin is a nerd of various stripes with an affinity for paradox and interests in systems design and trans-disciplinary intersections. Martin is a child of the world having lived in Bulgaria, Czech Republic, Denmark, Israel and currently Taiwan.
READ FULL BIO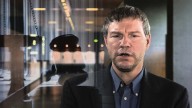 Szabo's Law, Crypto-Libertarianism, Techno-Utopias, & Decentralized Governance Part 1
A look at decentralized governance from Szabo's law to Bruce Schneier's crypto-economy critique and Vlad Zamfir's thoughts on crypto governance.
All the post are loaded